10 Simple Gifts for the Hard to Buy For Dad
The old Father's Day dilemma is back again. We all know how notoriously difficult dads can be when it comes to identifying the ideal present. In fact, a recent survey from hardtofind.com.au found that 58 per cent of fathers admit to pretending not to be interested in Father's Day gifts. A further 37 per cent said they were 'pretty excited' at the prospect of receiving something on their special day, and the remaining 5 per cent said they genuinely didn't care.
"The results didn't really come as a surprise," Eri Stewart, founder and CEO of Hard To Find said. "This is a busy time of year for us at Hard To Find because the idea that 'Dad is difficult to buy for' has become a cliché for good reason – it's true. The perfect gift for the man in your life is indeed, hard to find. And him pretending he's not that interested doesn't make it any easier."
The gift-giving expert said the key to identifying dad's perfect gift is thinking about his interests. Is he into cycling? Cooking? Gardening? Art? Once you've got a good idea about what he likes, you'll be better placed to find him a great Father's Day gift, one he'll actually like.
So, just what exactly do you get the dad who simply isn't fussed about the gift you give? With the help of Stewart, we took a deep dive into 10 gifts for the dad who isn't bothered.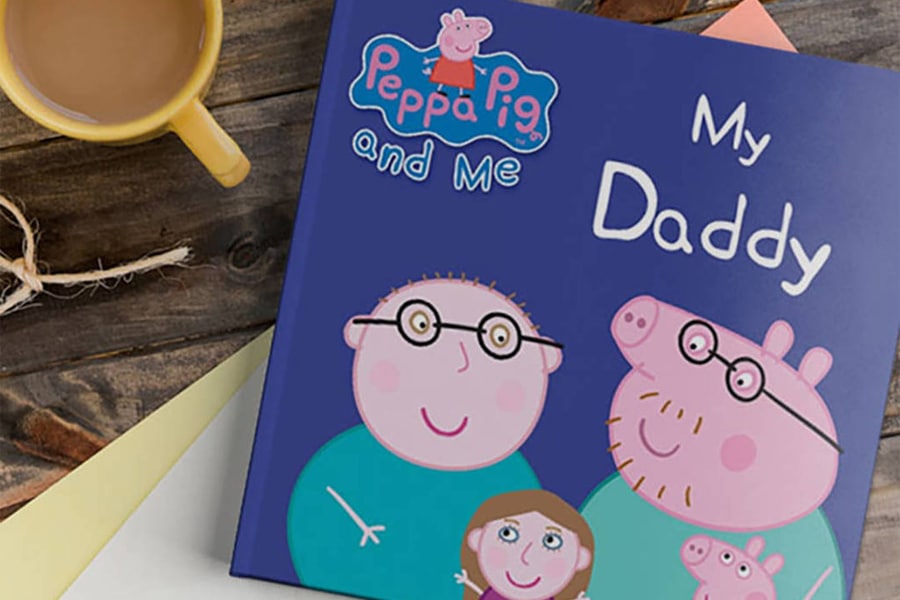 1. Personalised Peppa Pig Book: My Daddy
Daddy Pig is the perfect man, but does yours come close? One for the new fathers, this Peppa Pig storybook stars one customised child and their daddy in a cheeky tale you can read over and over again. If you're looking for something that will spark interaction and get the kids involved, you can't go past a good storybook.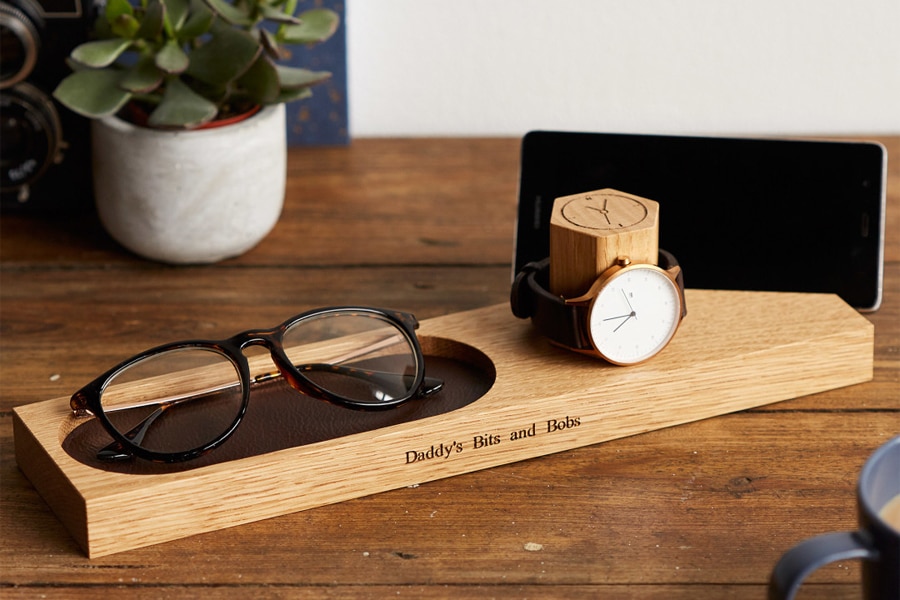 2. Bedside Watch and Phone Stand
One for the dads that have all the gadgets but nowhere to store them. This multi-use stand is handcrafted in walnut, comprising of storage for phone, watch, rings, coins, glasses and more. Even better, this stand can be complemented with an engraved message, so you can make sure dad knows he is appreciated. When you can't find anything that dad actually wants, you may as well get him something he needs.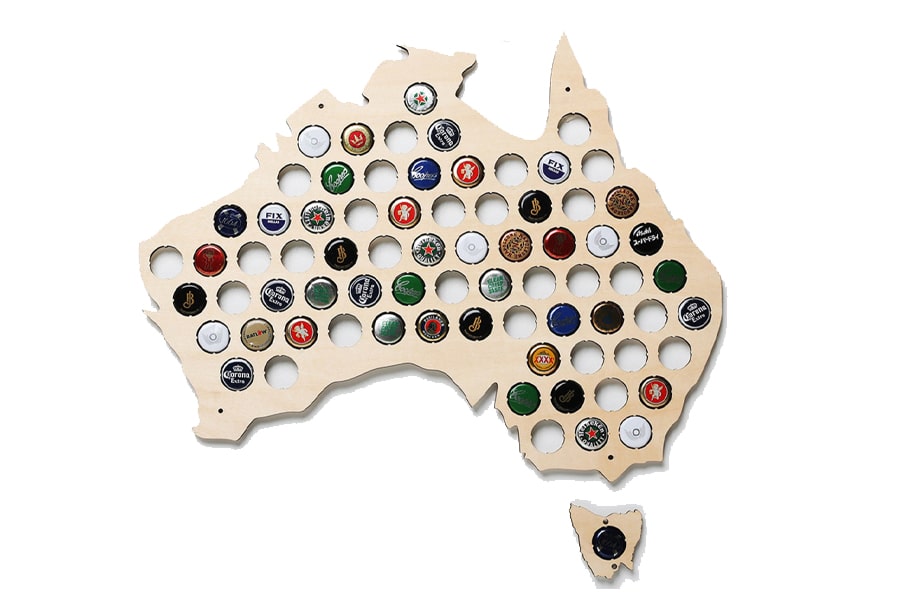 3. Beer Cap Map Wall Art
Now there is somewhere to place all those beer caps you keep finding under the lounge and out on the back deck. Precision cut to fit all standard beer caps, this is art that's close to the beer lover's heart. We might be able to travel right now, but there's no reason why we can't enjoy a sneaky beverage from far and wide. Pop the cap off a fresh frothy and add to the mix for a tasty trip around Australia.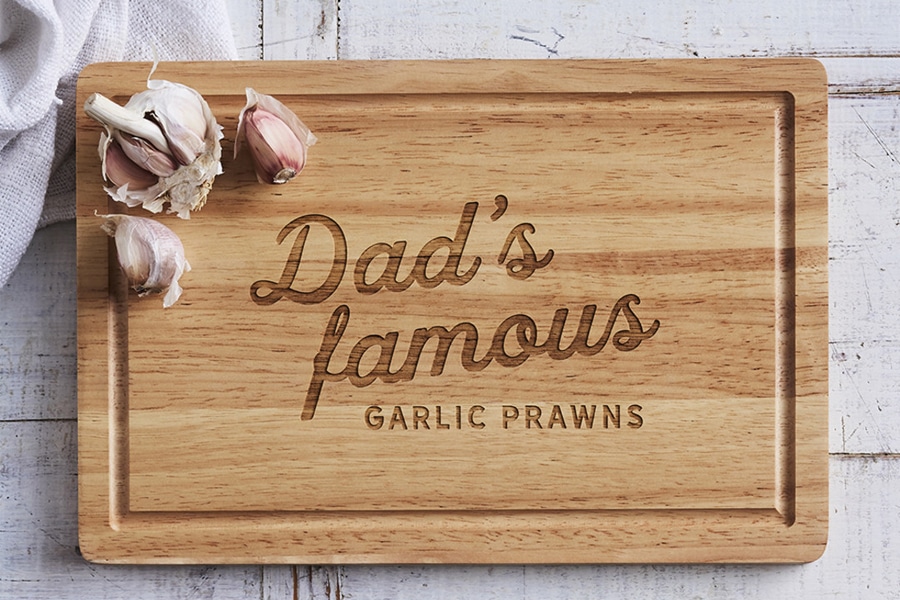 4. Dad's Famous Serving Board
A great option for the father who prides himself on his prowess in the kitchen, this small serving board can be personalised with his speciality. Got a dad who loves steak, or has a famous fish dish? Celebrate his signature cuisine in style with this Australian-made serving board. Every dad loves to barbeque and rather thank forking out hundreds on an expensive and overly complex addition every year, pick up something simple that elevates the experience.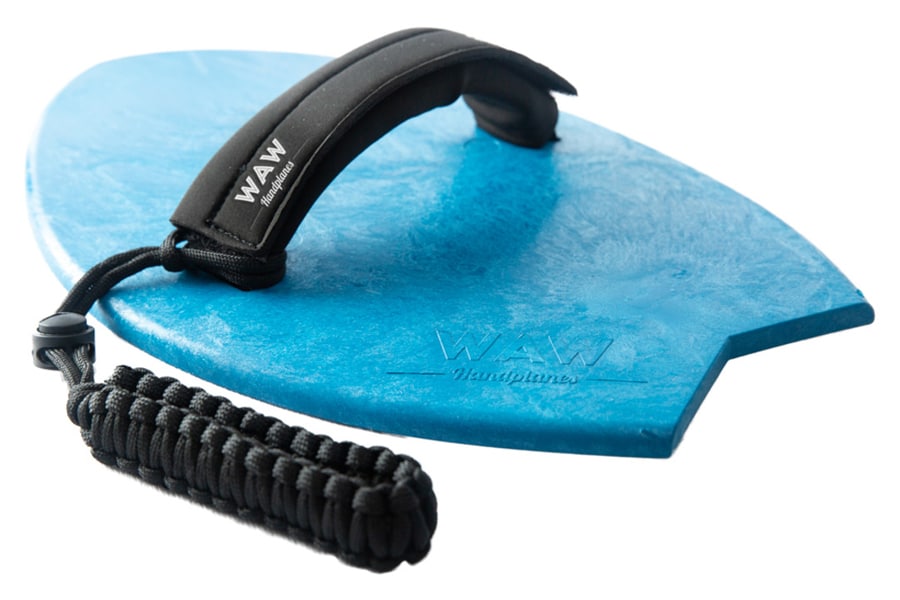 5. Bodysurfing Handplane
Dad might have been a surfer in his prime, but nowadays, the old boy has fallen off the wagon. The good news is with this mini surfboard, he can get back into the swing of things easily and anytime he wants. What's more, because it's made from recycled ocean plastics, he'll be leaving a cleaner ocean in his wake. Sustainable surfing is in this year.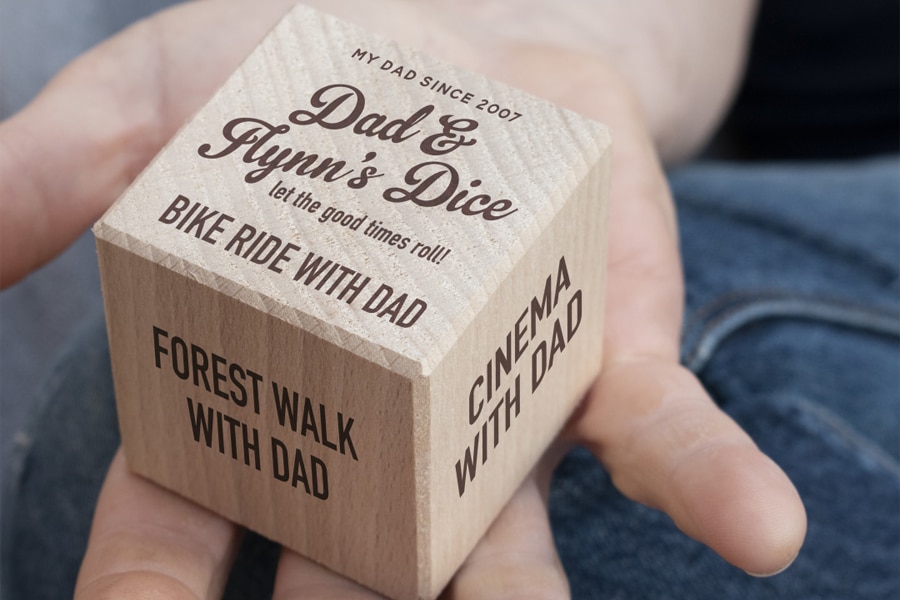 6. Wooden Dad Dice
Pick your six favourite things to do with dad and etch them into this customised dice. Once you've got some spare time, crack out the dice and roll away. This way, you don't have to worry about thinking of a good idea, you can just let the good times roll.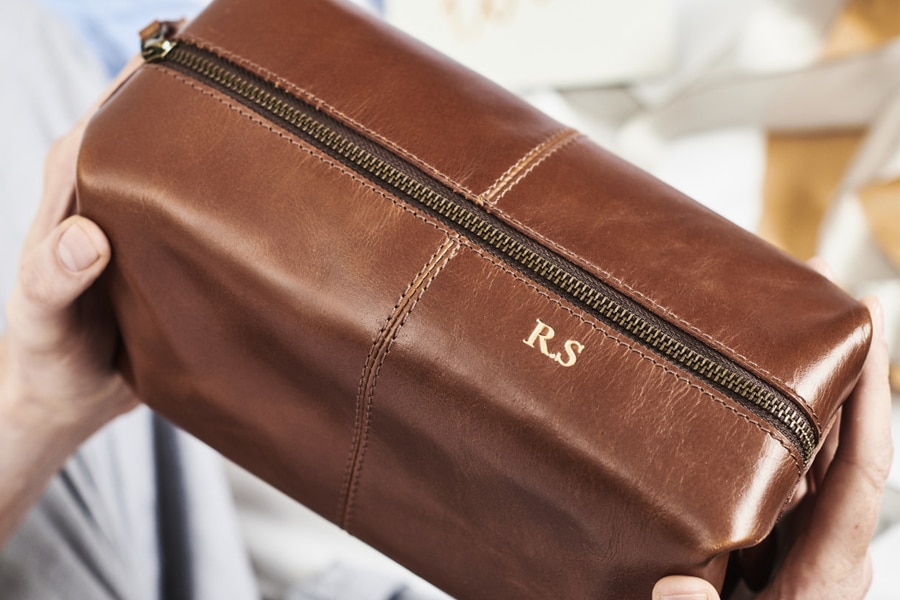 7. Classic Leather Wash Bag
Classy, elegant and personalised, this handmade leather wash bag is ideal for the travelling dad. Perfect for someone who likes to keep their style sharp and ready to go, this classic leather wash bag is a safe and affordable option.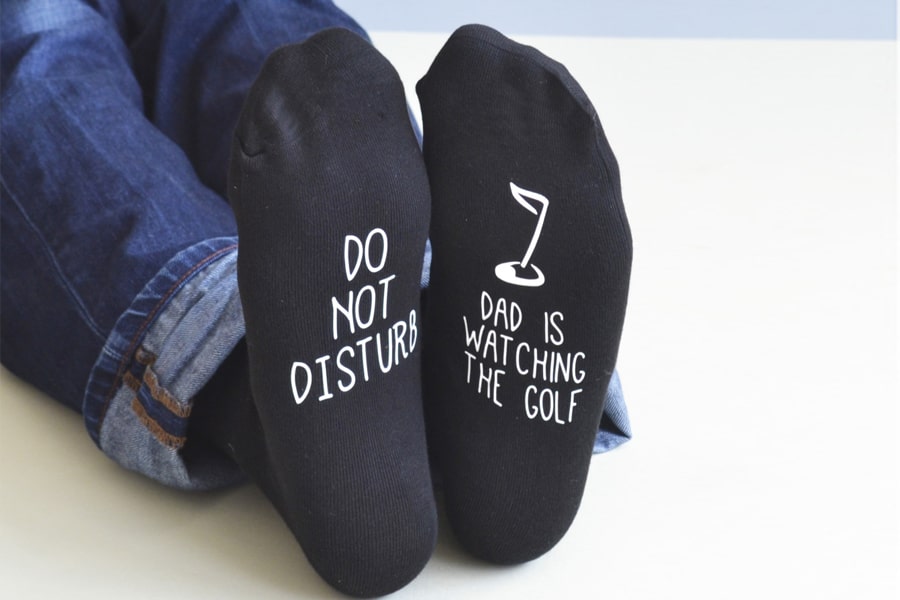 8. Do Not Disturb Golf Socks
You've got to do socks, it's Father's Day after all. With these personalised socks, you can keep things interesting and fresh while also functional. Rather than focusing on boring old socks that are designed for the boardroom, you can show a little personality and give dad a reason to shine. Hit the course in style and send a message.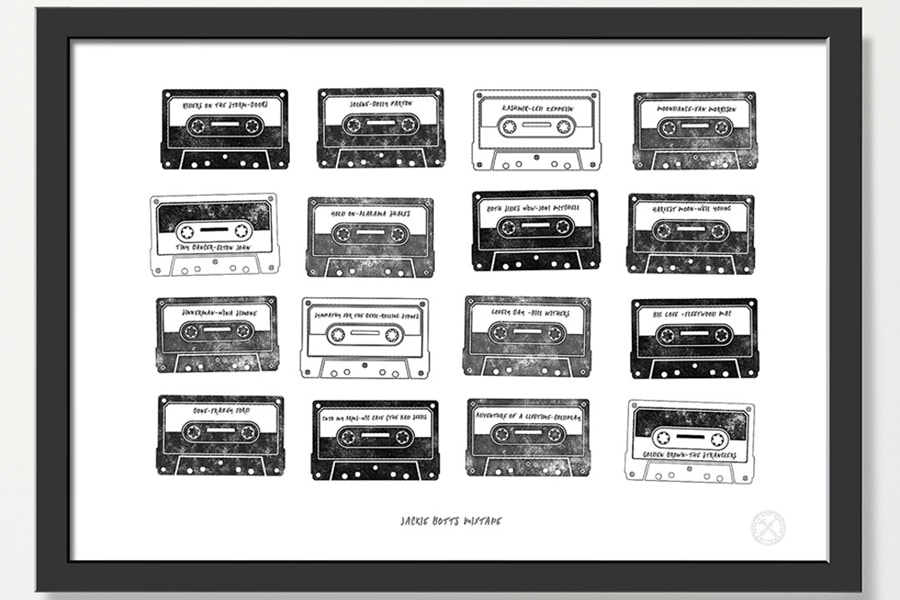 9. Mixtape Personalised Playlist Print
Every dad has their distinct soundtrack, however daggy, and that needs to be celebrated. With this mixtape personalised playlist print, you can help remind him of his favourite tracks and perhaps a time when he was a little cooler.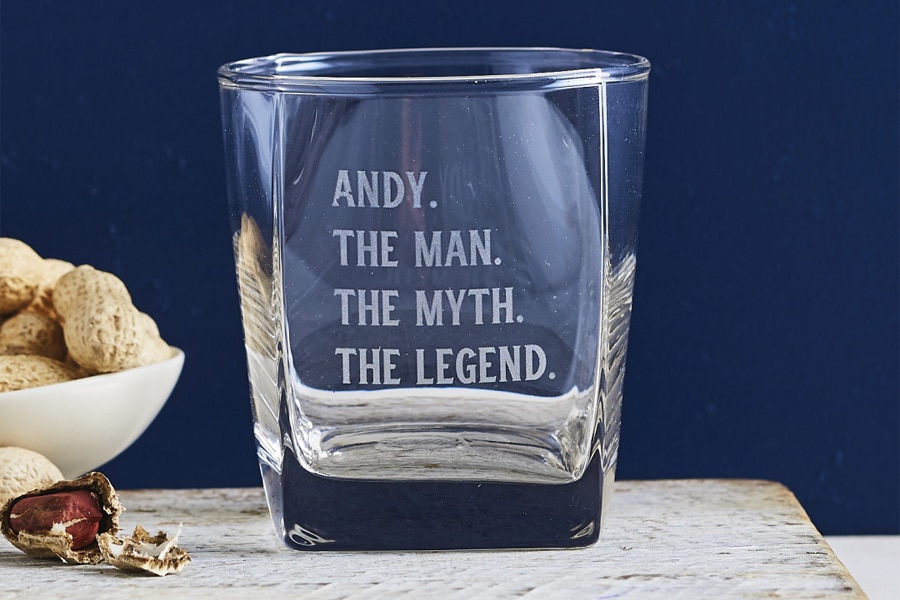 10. Man Myth Legend Square Scotch Glass
All dads deserve a fine dram and to accompany it, a classic tumbler is a must-buy. These classy and sophisticated Scotch glasses can be engraved with his name so he can enjoy those moments of quiet contemplation to the full. Even better, these tumblers are machine washable.
You can find all these gifts and a whole lot more over at Hard to Find, Australia's-own creative gift-giving business. The site brings together an expertly sourced local community of cottage industries, independent studios and hole-in-the-wall retailers with people looking for something different – and creating a much more personal maker-to-customer shopping experience.