CryptoWhisky – The World's First Collectable NFT Whisky
Before we delve into things, this is in no way intended as financial advice (please see the clear disclosure at the bottom of the article). If we've learnt anything over the past few weeks, investing in cryptos or NFTs is an incredibly risky business. It's got the highest of highs and the lowest of lows from one day to the next with everyone scrambling to jump on the next big thing, and often with little technical research or financial knowledge.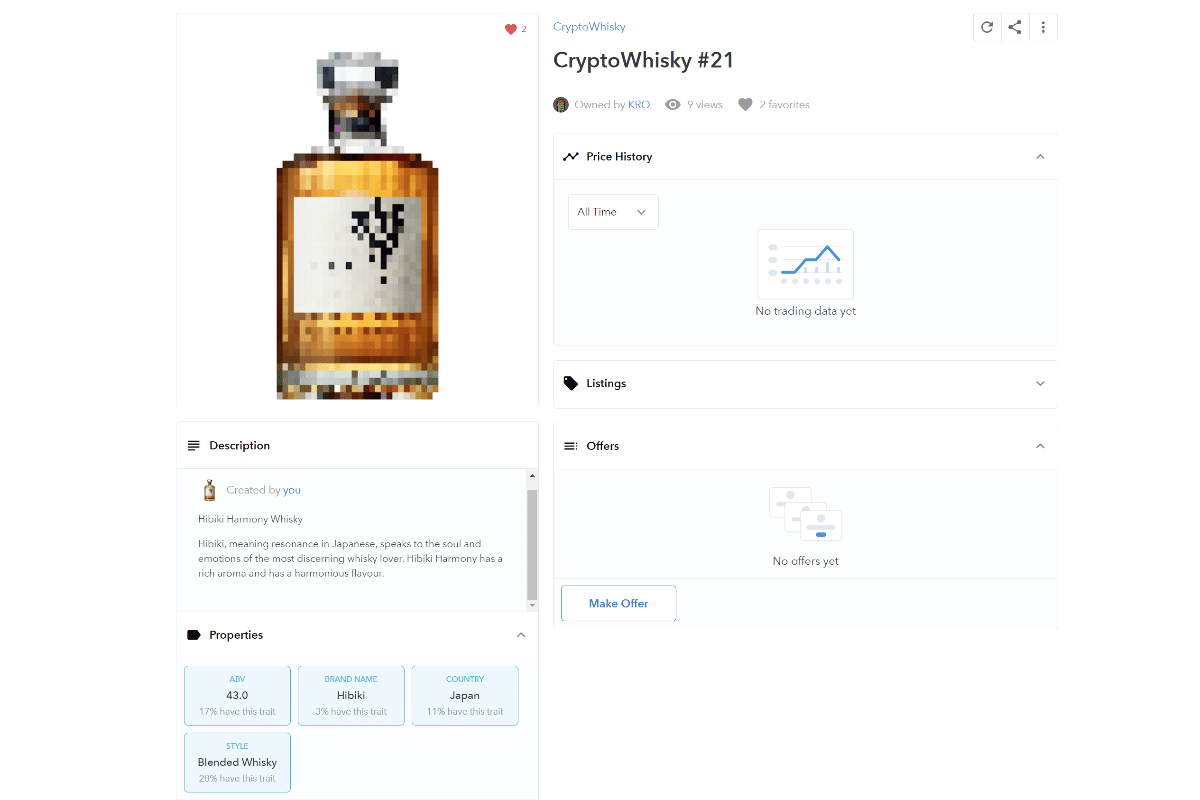 But here's where a particular NFT project took our interest when we came across it on OpenSea after looking into the Bored Ape Yacht Club. CryptoWhisky. What is it exactly? While on the surface it might seem nothing more than pixelated artworks or images of some of the world's rare whiskies, bourbons and rums (or what some in the whisky community have since referred to as "f*cking ridiculous", it might represent a unique investment opportunity with an already thriving online NFT community and whisky as a collectable item, something which all successful NFT projects seem to have in common.
That, combined with the fact that Turns Out Anyone Can Invest in High-End Artwork, beating out almost every other alternative physical asset, might mean collecting these digital CryptoWhisky artwork assets could have some longevity. There's also some precedence in the space with the NFT collection Bit Wine already having a transaction volume of ~AUD$281,082 at the time of writing.
Since the time of writing this original article, many in the whisky community have in fact expressed disgust at the whole artwork concept with one expressing, "Hell, if this is a way to make money off of bad Photoshop work, I'll put the toddlers down the street to work with an IPad and make millions!" and another "I thought nonfungible token, but apparently it is nasty forgettable trash. Please tell me the distilleries aren't in on this. WTF". So it's very clear that not everyone has jumped on the hype train of NFT's or see any tangible value in the project.
So far, there are only 200 whisky artworks that have been released inspired by many well-known brands but they promise to have "more rare whiskies coming soon" with over 1,000 unique digital whisky NFT's being minted according to their OpenSea page. It's also important to note that they claim they are not affiliated with any brands or labels so it does not appear to be an official project.
Want to learn more about Crypto and NFT's? We strongly recommend checking out Kevin Rose's new podcast Modern Finance.
Disclaimer: The advice provided on this website is general advice only. It has been prepared without taking into account your objectives, financial situation or needs. Before acting on this advice you should consider the appropriateness of the advice, having regard to your own objectives, financial situation and needs. If any products are detailed on this website, you should obtain a Product Disclosure Statement relating to the products and consider its contents before making any decisions. Where quoted, past performance is not indicative of future performance. The user must accept sole responsibility associated with the use of the material on this site, irrespective of the purpose for which such use or results are applied. The information on this website is no substitute for financial advice.