40+ Best 2020 US Election Memes
The 2020 US  presidential election will go down as one of the most polarising campaigns runs the country's history. Whether you ended up voting for Trump or Biden, it doesn't really matter. Just know that the rest of the world is watching on in awe like it's the series finale for some stupid reality TV Show. Like Love Island. Or maybe some weird f*cked up version of Fear Factor.
Anyway, while we sit back we've got our right hand in a bowl of popcorn and the left hand scrolling Twitter for the latest and greatest election day memes. So while most of the free world is steadily rotting from the top-down, we're distracting ourselves with a bit of light-hearted fun. To make it easy for you, we've collated our favourites from the darkest corners of Twitter. Here are 40+ of the best US election memes.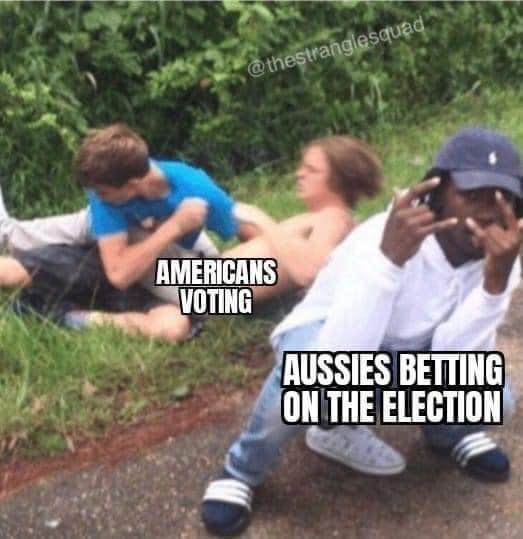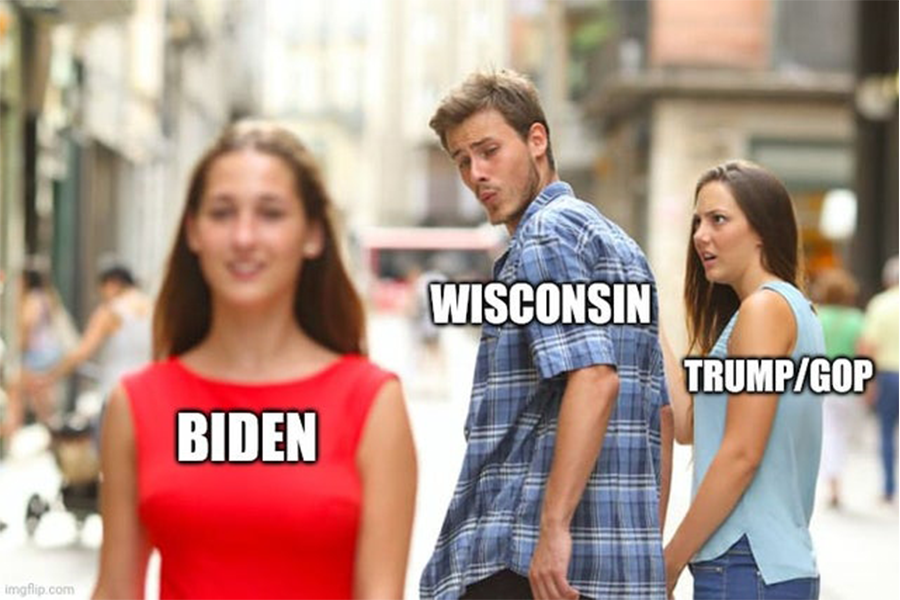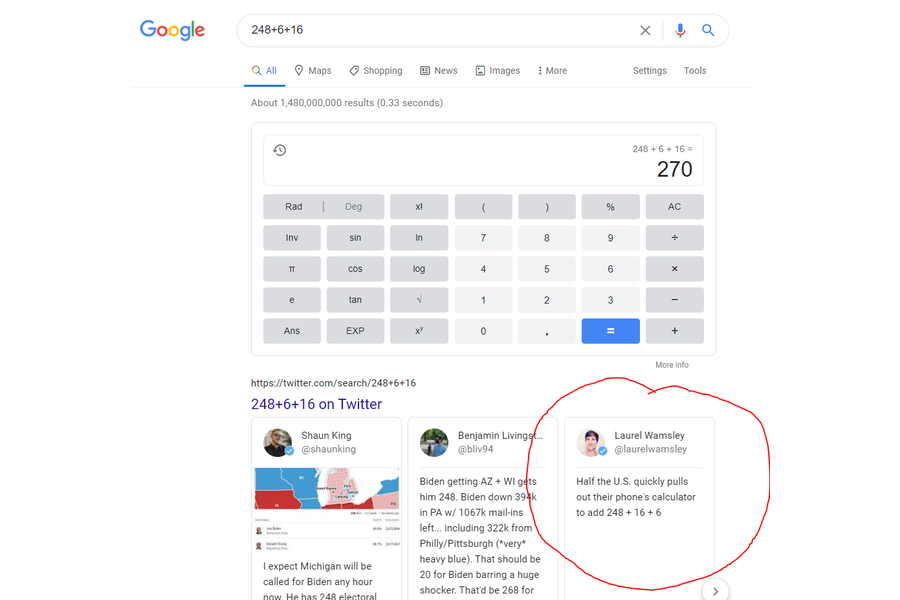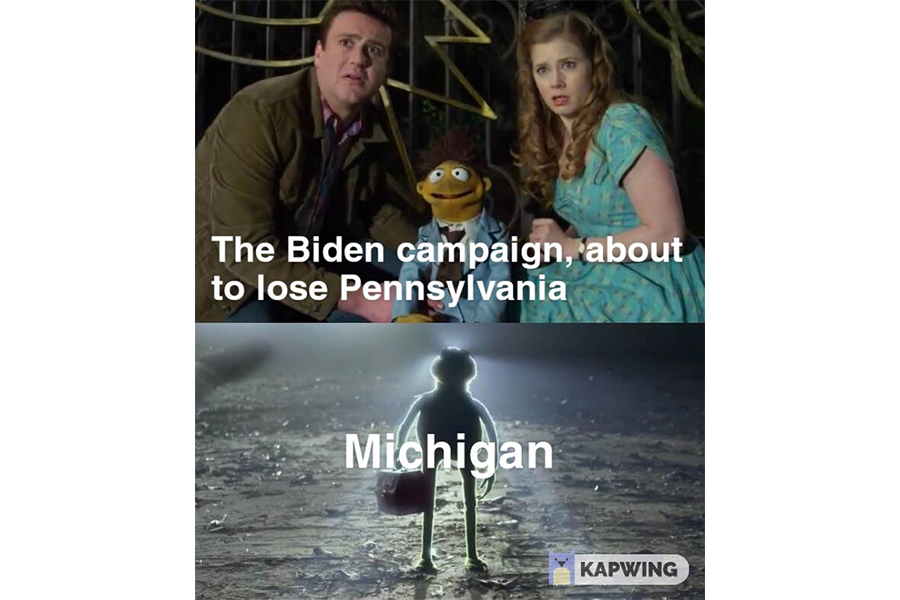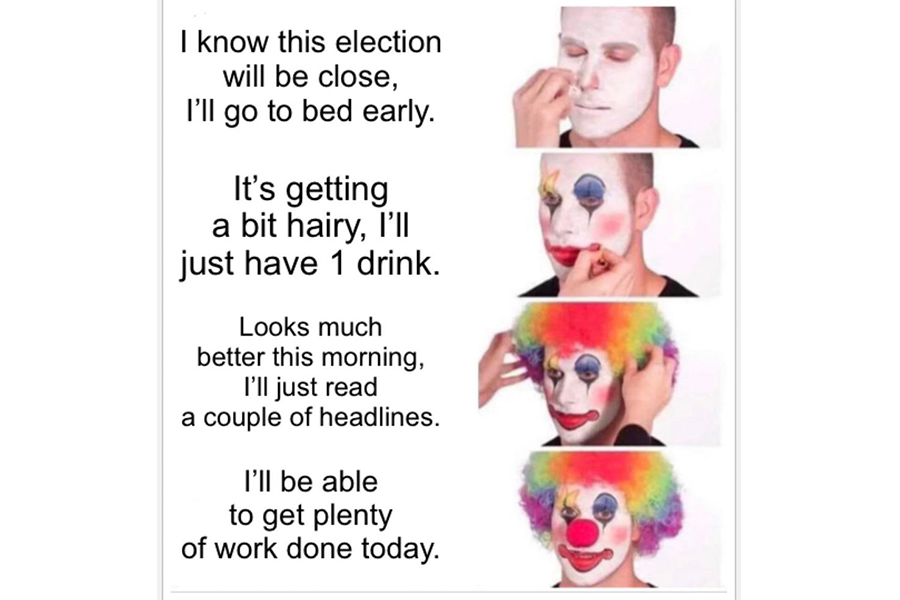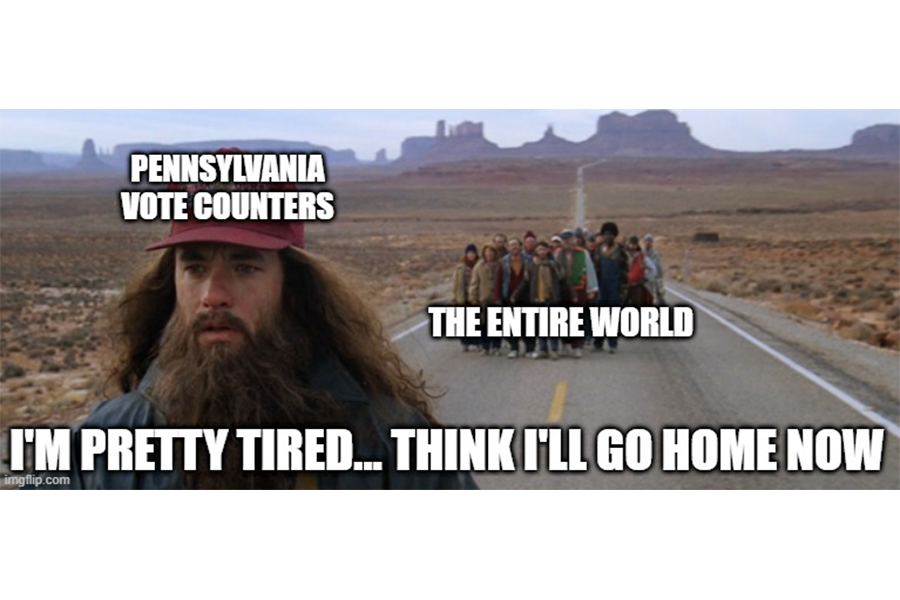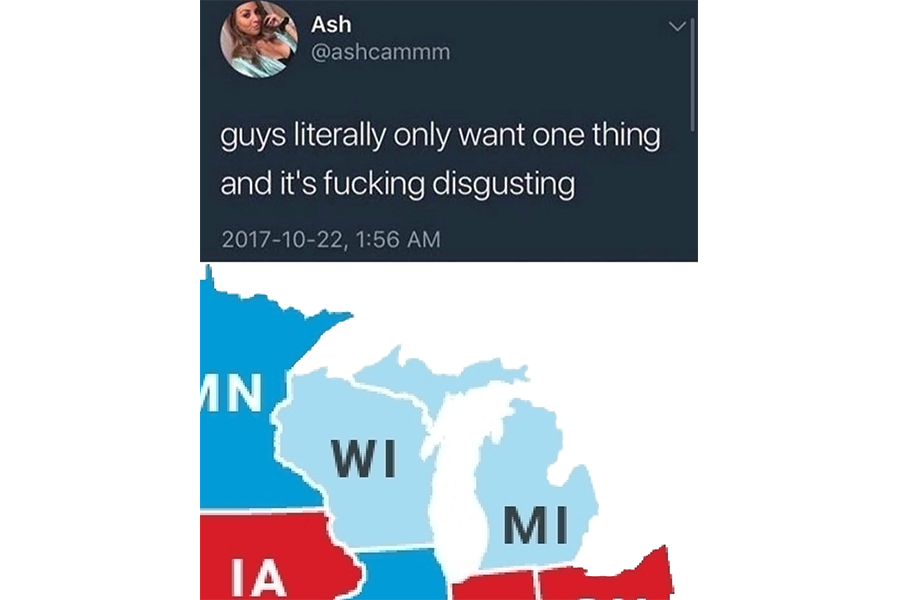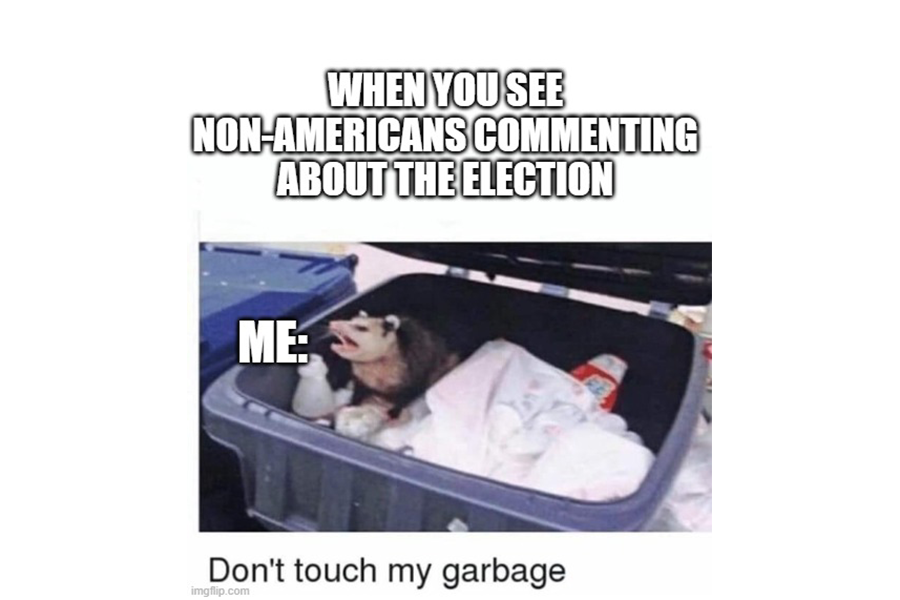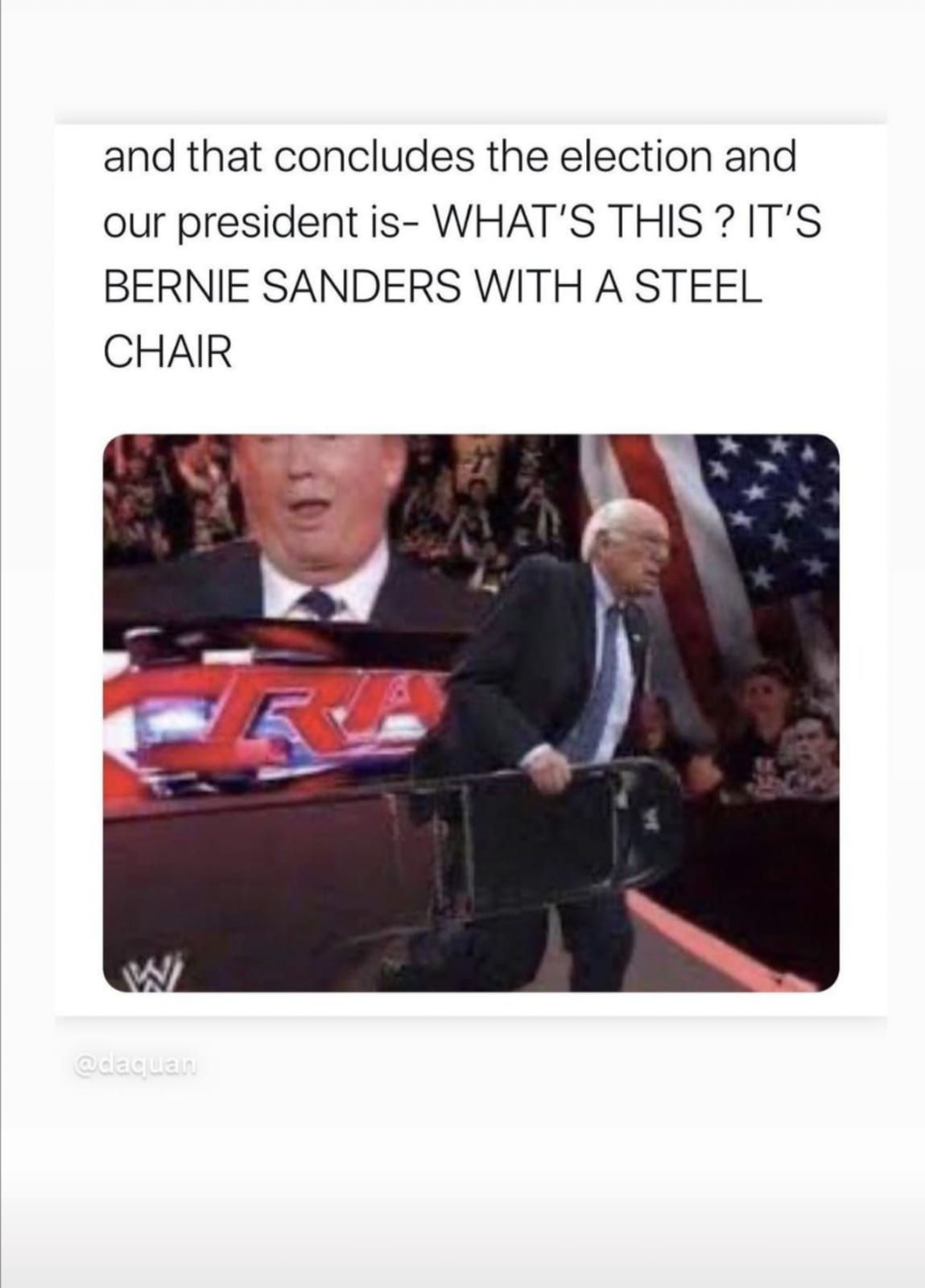 Today's mood pic.twitter.com/SgiwCtHrOa

— Americana at Brand Memes (@americanamemes) November 3, 2020
#Americans today.#election #election2020 #theoffice #usa🇺🇸 #kellykapoor #ivoted #wevoted #sotired #makeitstop #republican #democrat #electionday #electionday2020 pic.twitter.com/Ijed7QMkNe

— 🎭 From the Middle 📺 (@fromthemidpod) November 3, 2020
Whatever happens I know I will be disappointed in a great many of you come Wednesday morning

— 싫어 (@hermit_hwarang) November 2, 2020
This is too good to be only on insta pic.twitter.com/9O0xdlGrQH

— Silky Shah (@silkys13) November 3, 2020
It's true tho#ElectionDay pic.twitter.com/XdERu61opJ

— O Ricardo (@_odracir__) November 3, 2020
— Jordan Peele (@JordanPeele) November 4, 2020
starter pack for this week pic.twitter.com/glUJjotVwF

— Elly Belle, notably not a woman 🔮 (@literElly) November 2, 2020
me waiting for results #Election2020 pic.twitter.com/UM5cOKwOJI

— Cpt. Nikol 🌈 (@Alexka25) November 3, 2020
Me opening twitter after 23 hr break / hours away of the 2020 US election- in a meme: pic.twitter.com/rrfeMpYa8s

— MerShadeEs (@MerShadeEs) November 3, 2020
election day moodboard pic.twitter.com/rx90Bc0OYt

— ryan farr (@rymfarr) November 2, 2020
If #ElectionDay was a meme. pic.twitter.com/zzoZgrKQGA

— The Dumb, Found Dead (@tdfdpod) November 3, 2020
relevant election meme pic.twitter.com/OsdJwmoYU2

— Oliver (@OlliesNeverHere) November 3, 2020
the rest of the world watching the usa pic.twitter.com/jaboDwfYqF

— wilfre (@Wilfreyy) November 2, 2020
I have never seen Total Wine this busy.😂 #Election2020 pic.twitter.com/BFLox5yY1N

— CCP IS ASSHOE (@noahsmom7) November 3, 2020
Presidential Election Day state side. Brace yourself, I voted for Kodos memes are coming. pic.twitter.com/WDsuiWT9g1

— Nathan Carr (@nathancarronair) November 3, 2020
Dear America,

I just want to tell you all 'good luck', we're all counting on you.

— Mark Nunn (@M4rkNunn) November 2, 2020
When I say the world is watching.. please America trending in the UK pic.twitter.com/HdN4R9zQHd

— M (@MileyOwnsMySoul) November 3, 2020
Traditional election meme pic.twitter.com/f8Ojw1bTBT

— эволюционно консервативный рак (@di_Grigio) November 3, 2020
loading up my meme arsenal for election day. pic.twitter.com/qwvtCH7YP8

— Loge (@loganshouldstop) October 29, 2020
Describe your mood for the election using a meme go pic.twitter.com/sRmAmsC2fU

— khaleesi 🧝🏾‍♀️ (@queenzingha__) November 2, 2020
I made a meme.#ElectionDay #Election2020 #ElectionNight #Democracy #GoVOTE2020 #GoVote #BidenHarris2020 @JoeBiden @realDonaldTrump @Dosal_E pic.twitter.com/08RiDQ4wiE

— jose jasso (@jossejasso) November 3, 2020
Me laughing at election memes vs when I think about the election pic.twitter.com/DJYXKgfGCD

— MyTherapistSays (@MyThrpstSays) November 3, 2020
one more sleep. pic.twitter.com/HjsOu3OSwx

— SELF (@SELFmagazine) November 2, 2020
For all your Election Day meme needs. pic.twitter.com/MnIKWtY0j6

— 🌈Erin Explosion, Social Justice Druid. (@erinexplosion) November 2, 2020
Today's Election Day! This meme is how I feel already… pic.twitter.com/bKEitaP5Ac

— Adam Kirasic (@Kirasic_Park) November 3, 2020
I did it I found the cringiest election meme of all time pic.twitter.com/YgpqHmz4co

— mallika 🌙✨ (@mallikappal) November 3, 2020
#ElectionDay #Memes pic.twitter.com/7JT7UHCHx2

— ClaudiAlessiaColucci (@CormioClaudia) November 3, 2020
Whoever wins, there's going to be no shortage of memes. #USElections2020 #ElectionDay pic.twitter.com/J0Zglr62Ts

— Arkae (@ram_arkae) November 3, 2020
Me: ima stay off social media for my mental health today
Also me: pic.twitter.com/5M82z10Tgd

— Mona (@KARMEN300) November 3, 2020
Me right now #Election2020 pic.twitter.com/zexjYP0Ntz

— David Logan (@A_DavidLogan) November 3, 2020
election moodboard pic.twitter.com/7s31jPpzMS

— d 🦋 (@dana1t) November 2, 2020
Election day is tomorrow moodboard pic.twitter.com/jfxkrgXRFq

— Holly 🐿✨ (@gruntsandpoetry) November 2, 2020
— clit slinging slasher (@shayxonline) November 2, 2020
can't believe we find out who's the next hokage tomorrow

— ?'???????????? (@dykealectics) November 2, 2020
election girl autumn starter pack ✨🍂🗳 pic.twitter.com/pLbpR4YWLR

— 💎ry-nestone💎 cowgirl (@RylieECooper) October 5, 2020
— Mad Men Quotes (@MadMenQts) November 4, 2020
election day eve pic.twitter.com/E1W2aIsZ9y

— Andrea González-Ramírez (@andreagonram) November 2, 2020