Dad Wrestles Alligator at World's Most Chaotic Kid's Party
Rarely does the opportunity to showcase your alligator wrestling skills to the wider public arise, so when Utah father Donnie Wiseman saw his opportunity, he took it with both hands. Attending the Scales and Tails reptile centre in West Valley City, Utah on Saturday, Wiseman and his family witnessed an eight-foot-long alligator known as "'Darth Gator' attack a zookeeper. Without a second thought, Donnie launched into action, leaping on top of the reptile in what can only be described as the most chaotic fifth birthday party of all time.
You'll also like:
MMA Fighter Smashes World Burpee Record with 951 Burpees in an Hour
Watch the Moment an Entire Truck of Fireworks Explodes Prematurely
Crazed Fan Causes the 'Worst Tour de France Crash' Ever Seen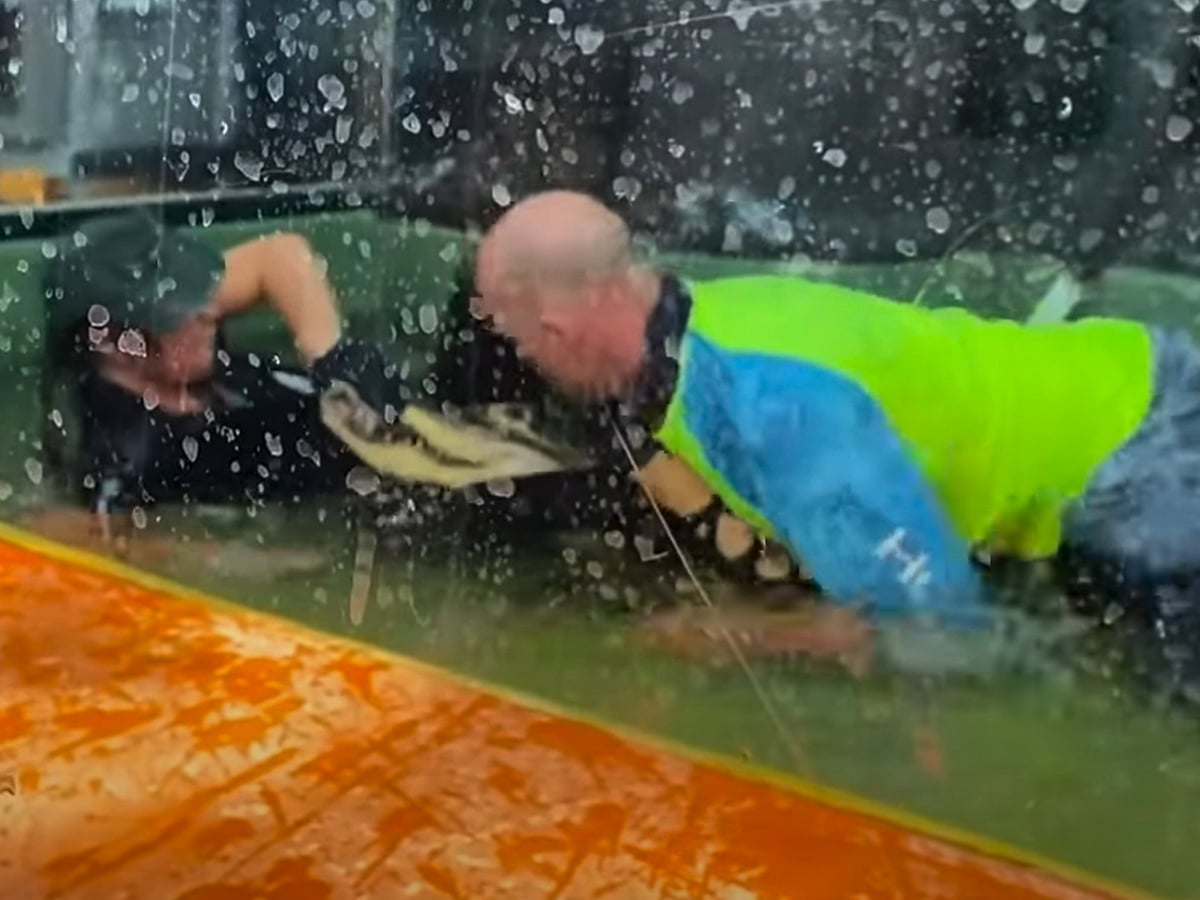 The entire ordeal was captured by Donnie's wife Theresa and it makes for nervous viewing. The video begins with several children standing at the glass around the alligator's tank while a zookeper explains how to handle the reptile. She then opens the enclosure and gives a hand signal to the alligator to send it back into its tank, but that's when things go haywire. The clip shows the exact moment the gator turns on its keeper, grabbing her by the hand and attempting to roll. At first, Donnie calls for help but with time of the essence, he dives in himself.
Wiseman jumps into the enclosure, circles around behind the gator and climbs on its back, wrapping his arms around its jaws. Locked in a stalemate, the gator, Donnie and the keeper lie still for several seconds, before the animal performs one last thrash, releasing the keeper. While she manages to escape, it leaves Donnie in a precarious position. The two competitors were locked in a wrestle for several minutes before he was able to manoeuvre his way on top of the animal, quickly escaping. According to reports, the staff member, who asked not to be publicly identified, is doing well and is in recovery.
Needless to say, the chaotic scenes have been beamed across the globe, with Wiseman becoming an instant sensation. A random guy taking his kids to the zoo has fast become the coolest dad on earth. So, how do you celebrate successfully wrestling an alligator at your kid's fifth birthday? According to reports, he stepped outside and punched a cigarette.
You'll also like:
MMA Fighter Smashes World Burpee Record with 951 Burpees in an Hour
Watch the Moment an Entire Truck of Fireworks Explodes Prematurely
Crazed Fan Causes the 'Worst Tour de France Crash' Ever Seen