5 Workouts Disguised as Video Games
As you're probably aware, not every workout is the same, just as not every video game is played with a traditional controller or a keyboard and mouse. To celebrate the launch of Beat Saber on PlayStation VR, we're taking a look at five noteworthy titles that force you off your arse and moving about. So are they workouts or are they video games? It's hard to say. Most likely somewhere in between. What we do know is that each of these five is fun and engaging. If you use them often, they could also help you reach fitness goals. Or at least they could fool others into thinking you've taken a break from gaming when in fact, you have not. Presenting 5 workouts disguised as video games.
You might also like:
2018 Christmas Gift Guide – The Gamer
Red Dead Redemption 2 is the Most Astonishing Game Ever Made
Wireless NES Controllers for Nintendo Switch
---
Beat Saber
Beat Saber is an addictive VR rhythm game, where your goal is to slash beats represented by small cubes as they come towards you on the display. Every beat has an arrow that indicates which direction you need to slash. The red and blue colours represent which hand needs to do the slashing. Plus you need to duck and move your body left and right to avoid obstacles. The soundtrack is full of high energy tunes that when combined with the beats will have you moving like you're deep into a personal aerobics class. You could call Beat Saber a mash-up of Guitar Hero and Fruit Ninja but with significantly more physical exertion.
Players achieve combos by slashing consecutive beats which add points to the overall score. This adds a layer of competitiveness, encouraging players to battle it out over high scores. Increasing the difficulty makes everything move faster and more complex. Beat Saber is a lot of fun but requires a decent fitness level to play for more than a few tracks in a row. Beat Saber is playable with PlayStation VR, HTC Vive and Oculus Rift.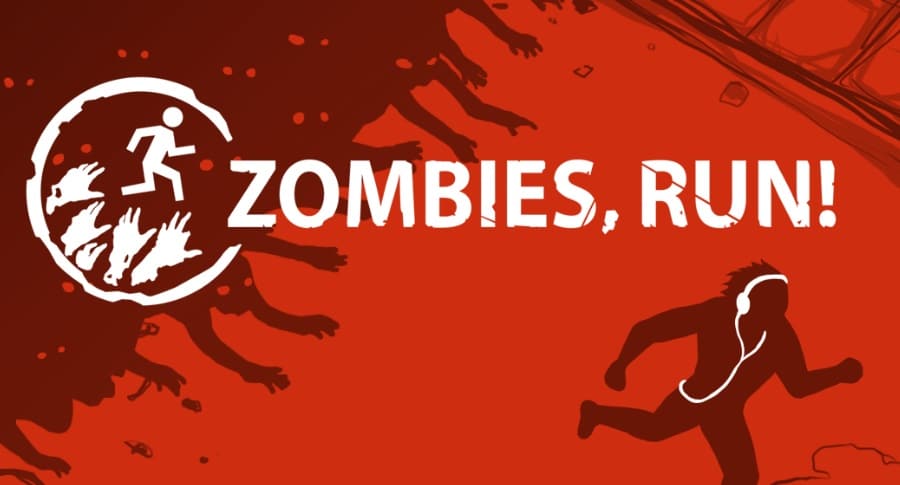 Zombies, Run!
Forget those mundane fitness apps and instead outrun a horde of ravenous zombies. Tie your shoes, put on your headphones and take a step outside. You've barely made any ground before you hear their rattling groans. They're everywhere. There's only one thing to do: run. Zombies, Run! is an immersive running game and audio adventure for iPhone and Android. The game works anywhere so you can outrun the living dead through parks, along the beach and even on treadmills.
There's also an engaging story: You are a runner en-route to one of humanity's last remaining outposts. They need your help to gather supplies, rescue survivors and defend their home. The app displays detailed graphs and stats for your running and game progress as well as which songs you play the most. Each year the game receives stacks of new missions, so there's always plenty of content to explore. Zombies, Run! Has been downloaded over 5 million times and of course, fleeing zombies is a helluva lot more motivating then using a typical fitness app.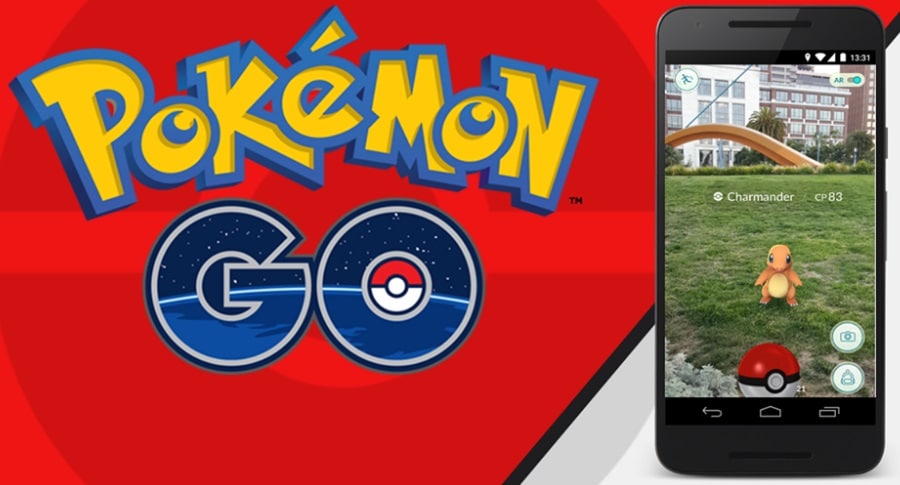 Pokémon Go
The augmented reality game that took the world by storm is renowned for bringing childhood dreams of being a Pokémon Trainer to life, or at least as close as realistically possible. But at its core, Pokémon Go is about walking. The app forces you out of the house exploring the streets, cities and countryside to catch Pokémon. You have to search far and wide for rarer types which can be region specific. Pokéstops and gyms appear on the Google Maps-like display and players have to walk to each to engage their content.
Pokémon Go is an inspired way to grab some vitamin D, get basic exercise and complete your daily step goals. It's also a great way to meet people. Recent additions to the game allow social trading, and the new raid battles encourage you to work with up to 20 players to defeat bosses while earning extra powerful Pokemon along the way. It's time to get moving. Pokémon Go is available as a free download on iPhone and Android. It's even compatible with smartwatches for streamlined play.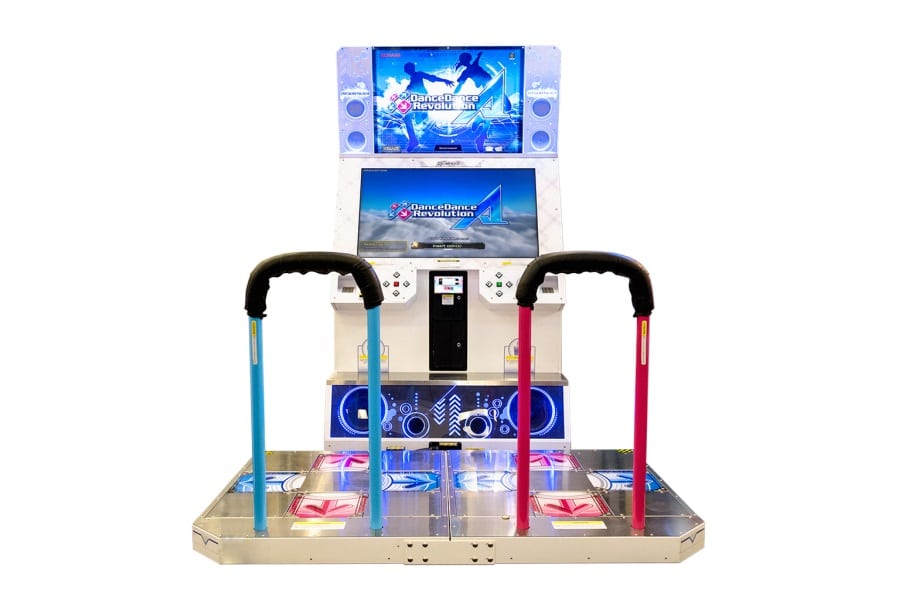 Dance Dance Revolution
20 years ago Dance Dance Revolution began appearing in arcades around the globe, and to this day, remains the pioneering series of the rhythm and dance genre. Players stand on the dance platform or "stage" and hit coloured tiles with their feet to musical and visual cues. Again, if you haven't played, it's similar to Guitar Hero. Players are judged by how well they time their dance to the patterns and earn a score. As it's an arcade game, Dance Dance Revolution is all about high scores.
The dancing game is hard work. You're dancing to increasingly difficult Japanese techno beats while reading the cues on screen, trying not to look like a knob to all the people around you. DDR is as much about confidence as it's about stamina. The latest Dance Dance Revolution game released in 2016, although there's a good chance your nearest arcade will still have an older machine. If not, maybe someone has a PlayStation 2 version packed away somewhere.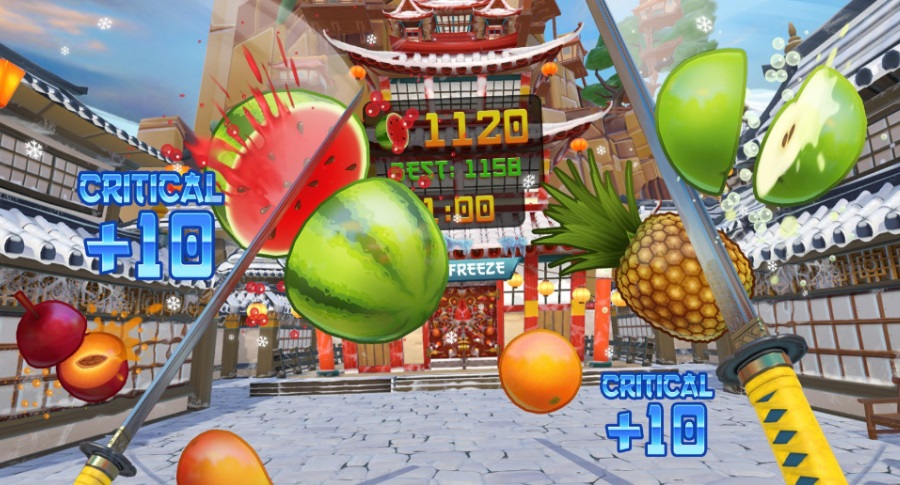 Fruit Ninja VR/ Kinect 2
We've all played Fruit Ninja on the phone. Although the Australian developed game also made its way to VR and Xbox Kinect. In VR, you slice fruit from all angles while dual wielding swords – just don't hit the bombs! Slice, juggle and skewer fruit, hit huge combos and stake your claim on global leaderboards or relax with some Zen Mode. Fruit Ninja VR is available on HTC Vive, Oculus Rift and PlayStation VR.
It's easy to hate on Kinect. The Xbox camera never reached any real potential, but Fruit Ninja Kinect 2 is a solid and fun party game. Instead of holding swords, players see their silhouette represented on screen as a shadow and move their arms and legs to slice fruit. This version even allows local multiplayer with competitions, mini-games and two players can share the screen at the same time. It's a delicious way to work up a sweat.