A LEGO Caterpillar Dump Truck Hauls Almost 5 Pounds
"It started with tyres." That's how the LEGO model of a Caterpillar dump truck started out. LEGO modeller Sariel noticed that LEGO tyres "tend to be much wider than their real-life counterparts, which is troublesome when building realistically proportioned models." But that's not a problem when you're building a model of the Caterpillar 797F.
As the largest dump truck built by Caterpillar with the highest payload, the 797F is an off-road truck that usually used for mining operations. Standing at nearly 50 feet tall and measuring at almost the same in length, this truck is a behemoth. Something that big needs pretty huge tyres, and the tyres for the 797F are just over 13 feet tall.
That's why Sariel turned to the Baja Claw TTC tires by RC4WD. Not only do they fit LEGO's 56mm rims, they're also the exact proportions of the 797F's actual tires. Knowing that, Sariel couldn't resist putting the model together.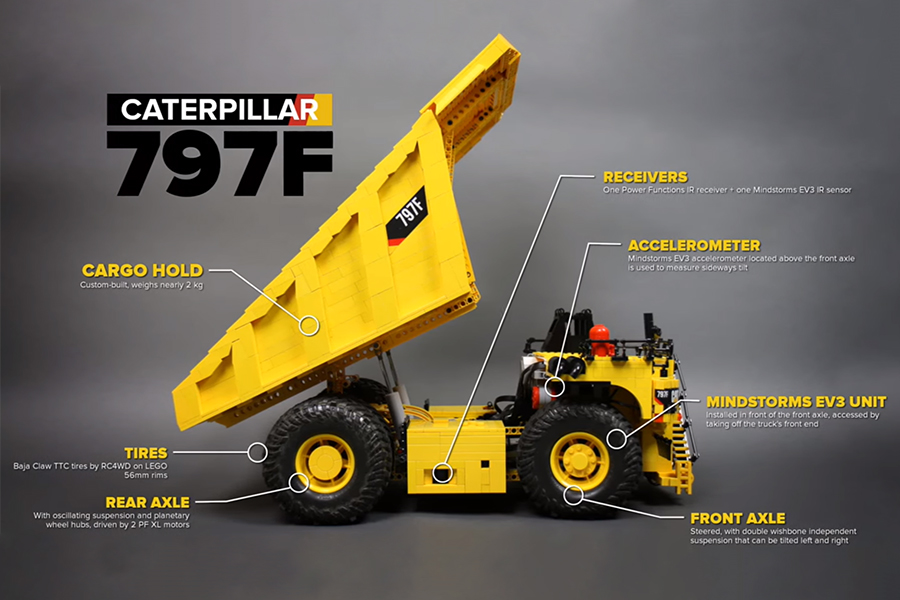 Much like the actual truck, the model dump truck is a monster. It weighs in at over nine pounds and can transport a 4.4-pound payload. It measures in at over 19 inches long, 12 inches wide, and 10 inches tall. Using the LEGO Technics Mindstorms and Power Functions components, the truck drives, has working lights, and has a functioning dump body.
Sariel also created a self-levelling double wishbone independent suspension for the truck so that it always stays level. To power the model, Sariel recruited a pair of PF XL motors that are coupled to a 12.6:1 gear. There are also tow more PF XL motors, a PF M motor, and two EV3 motors to power the trucks other functions.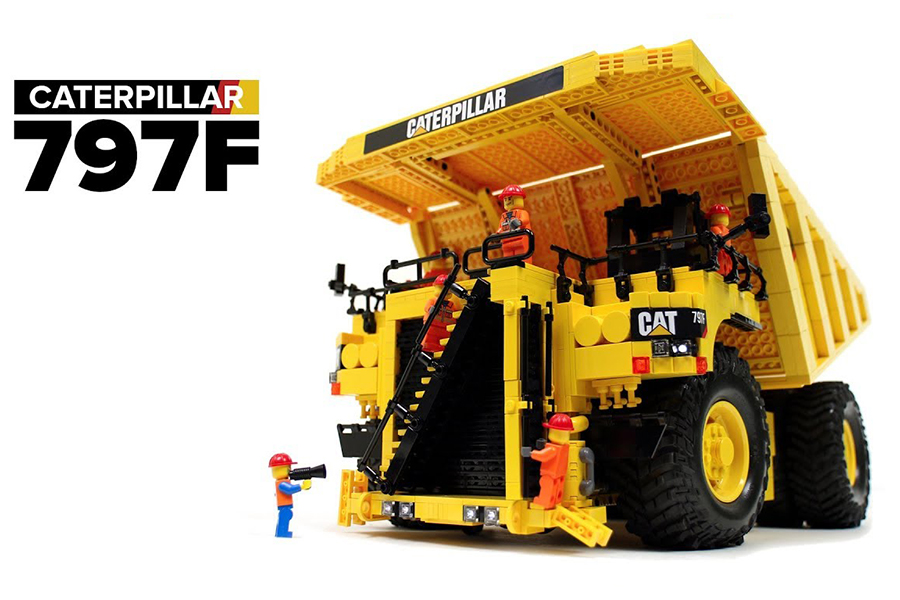 Sariel's work is always impressive, but this time he's really outdone himself. You get a true sense of just how massive the real 797F is, especially with the minifigs crawling all over the model. Now the question is what things around the house need to be hauled away?
---
Featured Video from Man of Many
---
---
Featured Video from Man of Many