Make Game-Night Digital with the Arcade1Up Infinity Table
How would you feel about reclaiming a closet? You know, that one closet—maybe it's in the hall or down in the family room—that's chock full of old board games? Stacks of ragged cardboard boxes that are barely held together, regardless of the copious amounts of tape that has been strategically placed to keep the box in one piece, fill the space that could be put to good use otherwise. Yet, you don't want to ditch all those board games. After all, game night wouldn't be game night without…, well, the games. But there is a better way, and Arcade1Up has cornered that idea in a pretty amazing way. Enter the Arcade1Up Infinity Table.
You'll also like:
The Real-Life 'Halo' Warthog with 1,060-Horsepower
Hot Wheels Teams Up With Tesla for Road-Faring RC Cybertruck
Nerf Some Xenomorphs With the Aliens M41A Pulse Rifle
The Arcade1Up Infinity Table looks a lot like any other coffee table you might add to your home décor. It has a modern flair to it, and it's sleek and stylish enough that it will be a welcome addition. But this isn't any old coffee table.
The top of the table is actually a giant touchscreen tablet that stores nearly 40 digital versions of your favourite games, including old standbys like Monopoly, Scrabble, and Battleship. From jigsaw puzzles to Sudoku puzzles, even word searches and colouring, the Arcade1Up has something for everyone. And when it is time for game night, there's space for six people to gather around the Infinity Table.
Arcade1Up is making the Infinity Table available in two versions: a 24-inch version marked at $650, and a 32-inch version that costs $850. The screens offer 1920 x 1080 pixel resolution, so you'll have a sharp, crisp board to play on. The price includes a library of board games like Trivial Pursuit and Sorry, which Arcade1Up plans to boost up to 50 titles eventually. The additional slotted games include modern favourites as well, like Ticket to Ride.
The table runs off of a modified Android operating system, though existing digital versions of games aren't supported on the Infinity Table. If game night gets a little rowdy, no need to worry. Arcade1Up says that the table is impact and water-resistant (you will have to clean finger smudges with a microfiber cloth, however). If it's time to reclaim your closet while still being able to host game night, then the Arcade1Up Infinity Table is what you're looking for.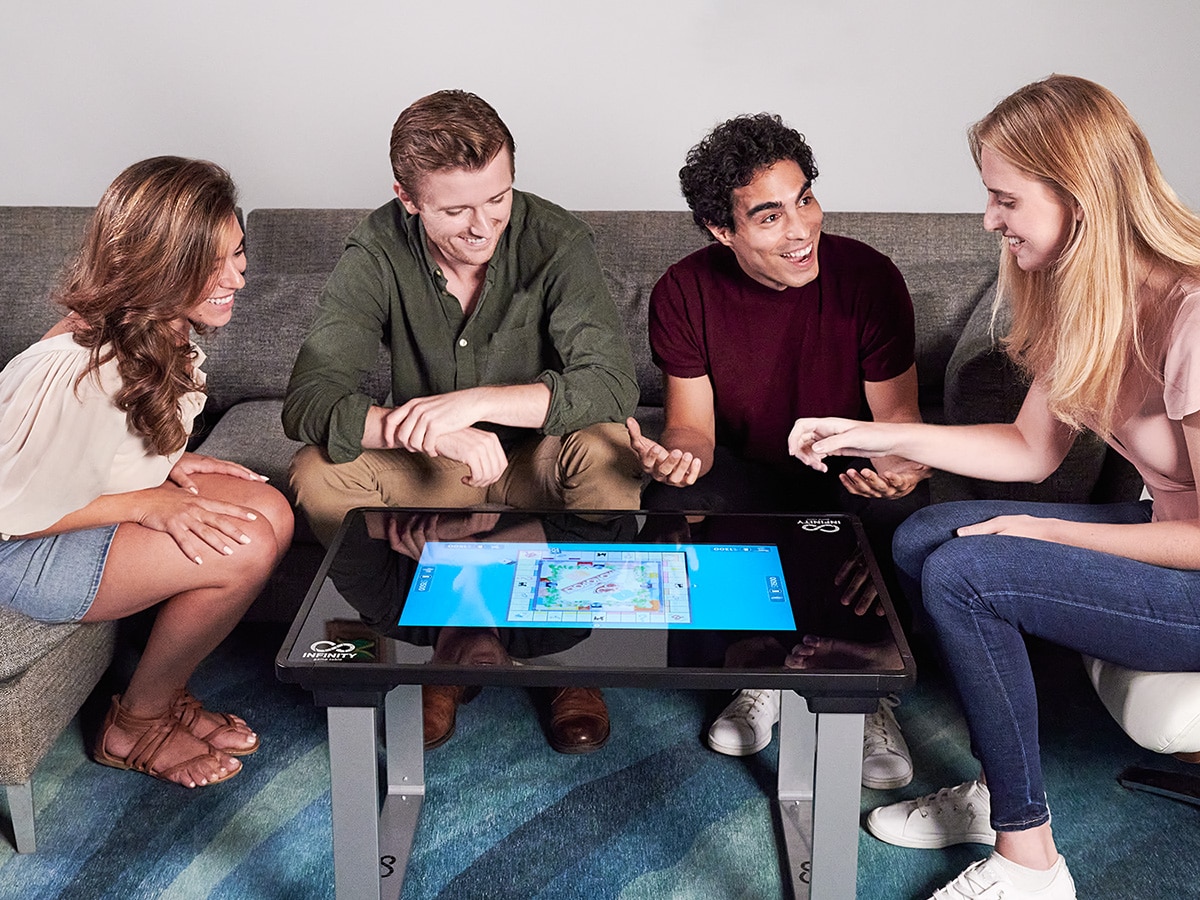 You'll also like:
The Real-Life 'Halo' Warthog with 1,060-Horsepower
Hot Wheels Teams Up With Tesla for Road-Faring RC Cybertruck
Nerf Some Xenomorphs With the Aliens M41A Pulse Rifle