Ariana Grande Glides Into Fortnite for Rift Tour Concert
It's official people. After leaking posters around the map, Epic Games has confirmed Grammy-winning and multi-platinum artist Ariana Grande will be hosting an equally epic Rift Tour concert series this weekend for 9 Things You Need to Know About DOOM Eternal fans. Scheduled to take place across the map from August 7-9 Downunder, we can't wait to jump in and check it out.
Update 05/08/2021: The Ariana Grande Fornite Skin has officially hit the shop and we're revealing all the official details including price and accessories. Available as a bundle the Ariana Grande Icons Series Bundle costs 2800 V-bucks and includes two skins, a piggy smallz back bling, 7 rings smasher harvesting tool, sweetener sailshards glider, and lil' floaticorn emote. We've listed the prices individually below, should you want to purchase them individually.
Ariana Grande Bundle: 2800 V-Bucks
Ariana Grande Outift: 2000 V-Bucks
7 Rings Smasher: 800 V-Bucks
Sweetener Sailshards: 1200 V-Bucks
Lil' Floaticorn: 500 V-Bucks
Like many fans, we're looking forward to getting our hands on the new items which are set to include two new skins, a kiss emote, spray, glider, loading screen and emoticon. There's also a special surprise for monthly subscribers who'll receive a different glider, another spray and a loading screen. Let's check out the full details of the event and our guide to the Ariana Grande Fortnite skin, and how to watch the Ariana Grande Fortnite concert.
This isn't the first time Fortnite has teamed up with a mega-star to hold a concert for fans. We remember the hype that was generated for the game when Travis Scott held his Astroworld concert virtually in the game and generated a whopping "$20 million in merchandise sales" according to a Forbes report. As for the artist herself, Ariana Grande is probably Epic Games biggest yet, and she references her excitement to bringing her concert into the game.
"Working with Epic and the Fortnite team to bring my music to life inside the game has been so fun and such an honour… I can't wait to join my fans and see all of your reactions to such an unforgettable, magical journey to new realities," said Ariana.
As for now, all fans have to do is wait and see what the concert brings. And that won't be hard with a number of sought after skins, cosmetics and emotes hitting the Fortnite item shop from August 4 2021. Check out the details below, what are you looking to pick up?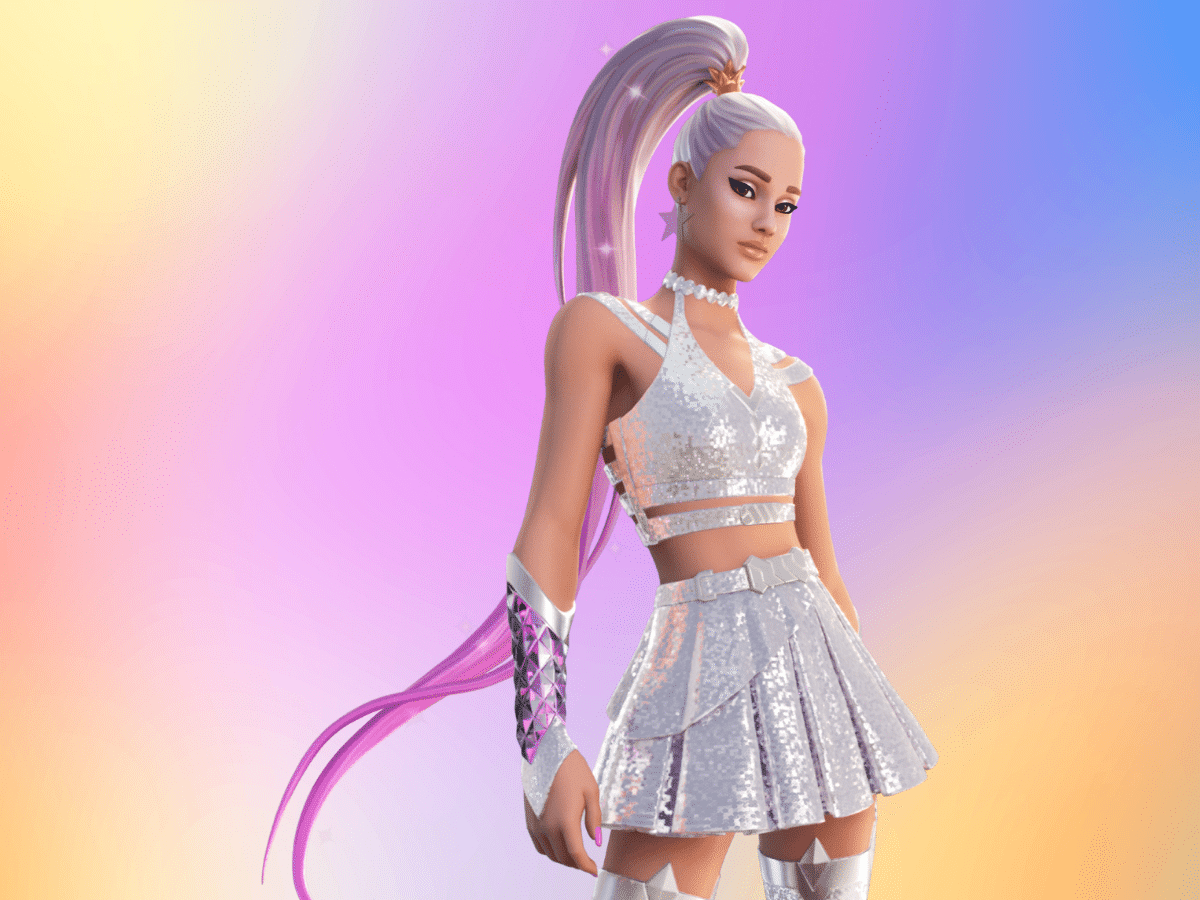 How Do to Get the Ariana Fortnite Skin
All Ariana Grande Fortnite items will be available in the item shop from August 4 2021. The page updates daily at 00:00 UTC, so there's not long to wait! While the exact price is yet to be confirmed, expect the skin to cost between 1200 and 2000 V-bucks, there will also likely be a bundle with all items for 2000-2800 V-bucks and feature sought after cosmetics.
Cost: 1,200 to 2,000 V-bucks (approx.)
Bundle: 2,000 to 2,800 V-bucks (approx.)
Date: 4 August 2021
What Does the Ariana Fortnite Skin Look Like?
There will be two versions of the Ariana Grande skin in Fortnite. One features a bright white reflective pattern that seems to mirror that of a disco ball, and the other (seen in the feature image) highlights that of a galaxy-like ensemble with a crystal collar and skirt. We're not sure which we prefer, but all we know is camping in a bush all game simply isn't an option with this skin on… damn.
How to Watch Ariana Grande Fortnite Concert in Australia
Building on and incorporating other celebrated Fortnite moments such as the Travis Scott 'Astroworld' concert and other's such as Marshmellow. Fortnite says "The Rift Tour will begin with experiences that pair popular tracks with moments based on elements from the game" and that's about all we're going to get out of them, as they keep the lid on most of the surprises up until release.
The good news is players will be able to travel side by side with their friends on a journey to magical new realities where Fortnite and Ariana collide at the times listed below. So get ready, and don't be that person that knocks everyone out.
Show 1 | Saturday, 7 August 8AM AEST
Show 2 | Sunday, 8 August 4AM AEST
Show 3 | Sunday, 8 August 2PM AEST
Show 4 | Monday, 9 August 12AM AEST
Show 5 | Monday, 9 August 8AM AEST
General FAQ
When is the Ariana Grande Fortnite Concert in Australia?
Here are the details for the concert in Australia: Show 1 | Saturday, 7 August 8AM AEST Show 2 | Sunday, 8 August 4AM AEST Show 3 | Sunday, 8 August 2PM AEST Show 4 | Monday, 9 August 12AM AEST Show 5 | Monday, 9 August 8AM AEST
How long does the Ariana Grande Fortnite concert go for?
Expect the Ariana Grande Fortnite concert to go for about 15mins, according to the Playstation store.
Is the Ariana Grande skin rare?
The Ariana Grande skin was released on August 4, 2021. It carries a Legendary rarity, although its a very popular skin.
You'll also like:
Top Video Games and Release Dates for August 2021
SteelSeries Arctis Prime Review: Brilliant Basics
50+ Best Online Games to Play With Friends