'Call of Duty: Modern Warfare 2' Beta Dates Are Here And It's Confusing as Hell
Get ready to witness a "new era of Call of Duty," as Modern Warfare 2 beta dates have finally been revealed, but it's exactly straightforward. In fact, the game's release schedule might leave you scratching your heads, so we are here to walk you through everything, including an unexpected trip to the Formula 1 race circuit (no Danny Ric slander intended).
The sequel to 2019's Modern Warfare is all set to drop on October 28 and the developers are planning to show off the game in bits and pieces to audiences. Slated to kick on September 16 (or 17 depending on where you live), the Modern Warfare 2 beta will allow players to check out the different maps, weapons, and modes, among other things.
RELATED: GoldenEye 007′ Mod Turns 'The Spy Who Loved Me' into a Full James Bond Game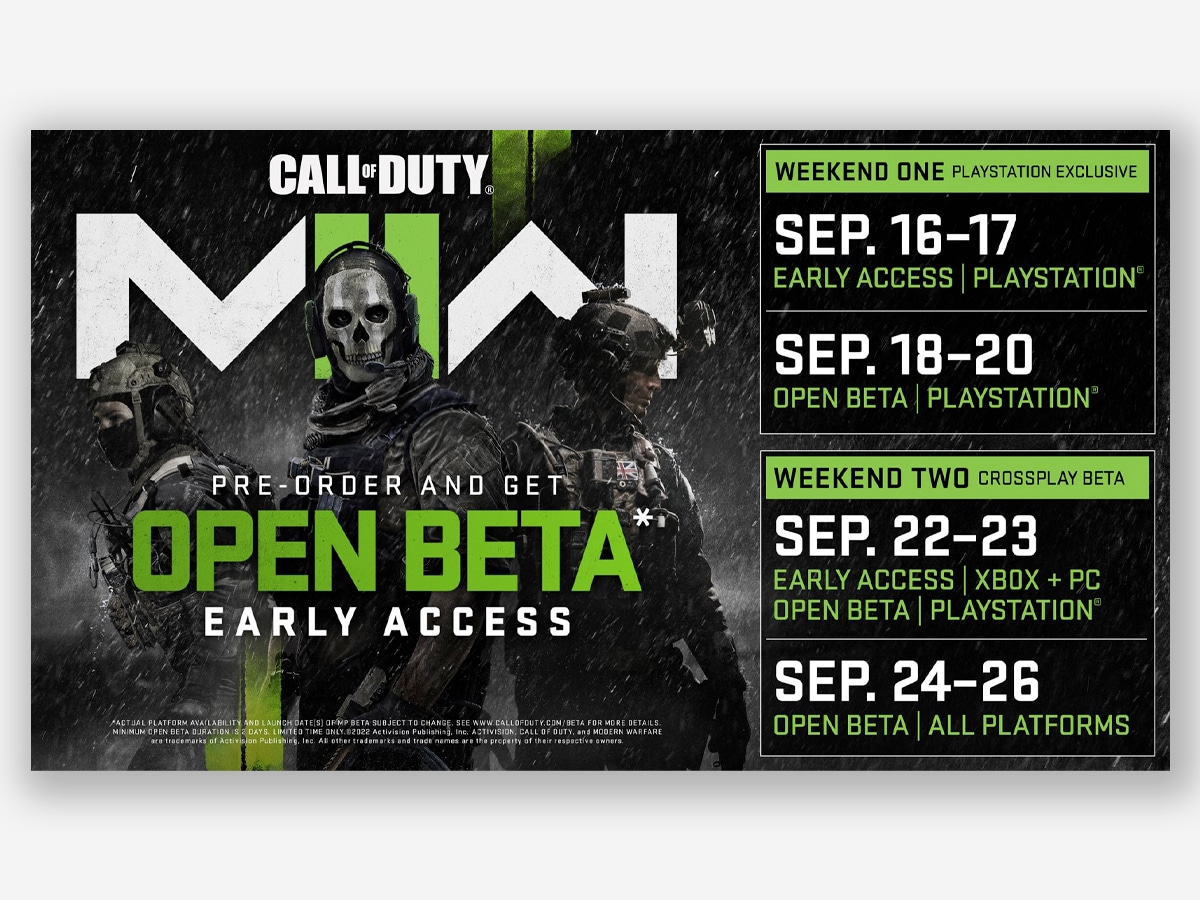 'Call of Duty: Modern Warfare 2' Beta Dates
As confirmed by game developers Infinity Ward themselves at the CDL Champs (Call of Duty League Championship) tournament, PlayStation users are getting VIP treatment and will be able to experience the beta before others and for longer too. Activision and Co. have split the beta dates based on the console and whether one has preordered the game or not. However, the beta schedule isn't very straightforward and seems haphazard to say the least.  Currently, the best way to experience everything the upcoming Call of Duty Modern Warfare 2 beta has to offer is by simply pre-ordering the game. That said, if you aren't intending on preordering the game just yet, you can still take part in the upcoming beta; however, it will be short-lived.
PlayStation users will have beta access for a full two weekends, whereas Xbox and PC players will only get it for the second weekend. According to the schedule laid down by Activision, the first early access will commence on Saturday, September 17 here in Australia at 3 am AEST and run until Tuesday, September 20 for PlayStation 4 and 5 players who already have preordered the title.
This will then be followed by an open beta for all PlayStation players, which begins on Monday, September 19 at 3 am until Tuesday, September 20. During this open beta, everyone will be able to jump in and experience the game as no pre-order will be required.  Then, starting Friday, September 23 at 3 am AEST until Monday, September 26, Xbox Series X|S, Xbox One, and PC players who have pre-ordered the game will get early access to the beta along with all PS4/PS5 players (no pre-order necessary).
Lastly, from Sunday, September 25 at 3 am until Monday, September 26, the Call of Duty Modern Warfare 2 beta will be available for all console and PC players, irrespective of whether you have pre-ordered the game or not. There will be a ton of things for you to check out during the beta and as per Activision, "a robust multiplayer experience going beyond the Core 6v6 experience with a variety of meticulously designed maps of various sizes, and an equally impressive set of Modes, Progression experiences, and other aspects" awaits. Furthermore, Infinity Ward has scheduled a Call of Duty: Next showcase, ready to take place on September 15. So, set a reminder as next month is going to be packed.
'Call of Duty: Modern Warfare 2' Beta Marina Bay Sands
In a shock announcement, Activision also unveiled one key proponent of the new game. A new map called Marina Bay Grand Prix was revealed during the Call of Duty League finals on Sunday night and bears a familiar format. In a stark departure from the traditional concept, the map is a 6v6 format set on Singapore's real-life F1 circuit, complete with a bevy of automotive obstacles that threaten to take you out at every turn. Best of all, the Marina Bay Grand Prix map does appear to have some small indoor spaces for close-range firefights and long, open lanes for snipers. You can check out the full teaser above.