$563,000 Charizard Card Sale Shatters Auctions Records
Children of the 90s are all searching their parent's attics after a new record price for a base Pokémon Charizard card was set in the PWCC March Premier Auction. Selling for US$420,000 (AU$563,000) over the weekend, this 1999 Pokémon Base Set Shadowless 1st Edition Holo Charizard broke the all-time record for a base set Charizard card and is now the third-highest price paid in a public marketplace for a Pokémon card of all time.
You'll also love:
Baccarat Celebrates 25 years of Pokémon with $25,000 Crystal Pikachu
An Original Live-Action Pokemon Series is Coming to Netflix
Logan Paul Rocks $150,000 Charizard Pokémon Card to His Fight with Mayweather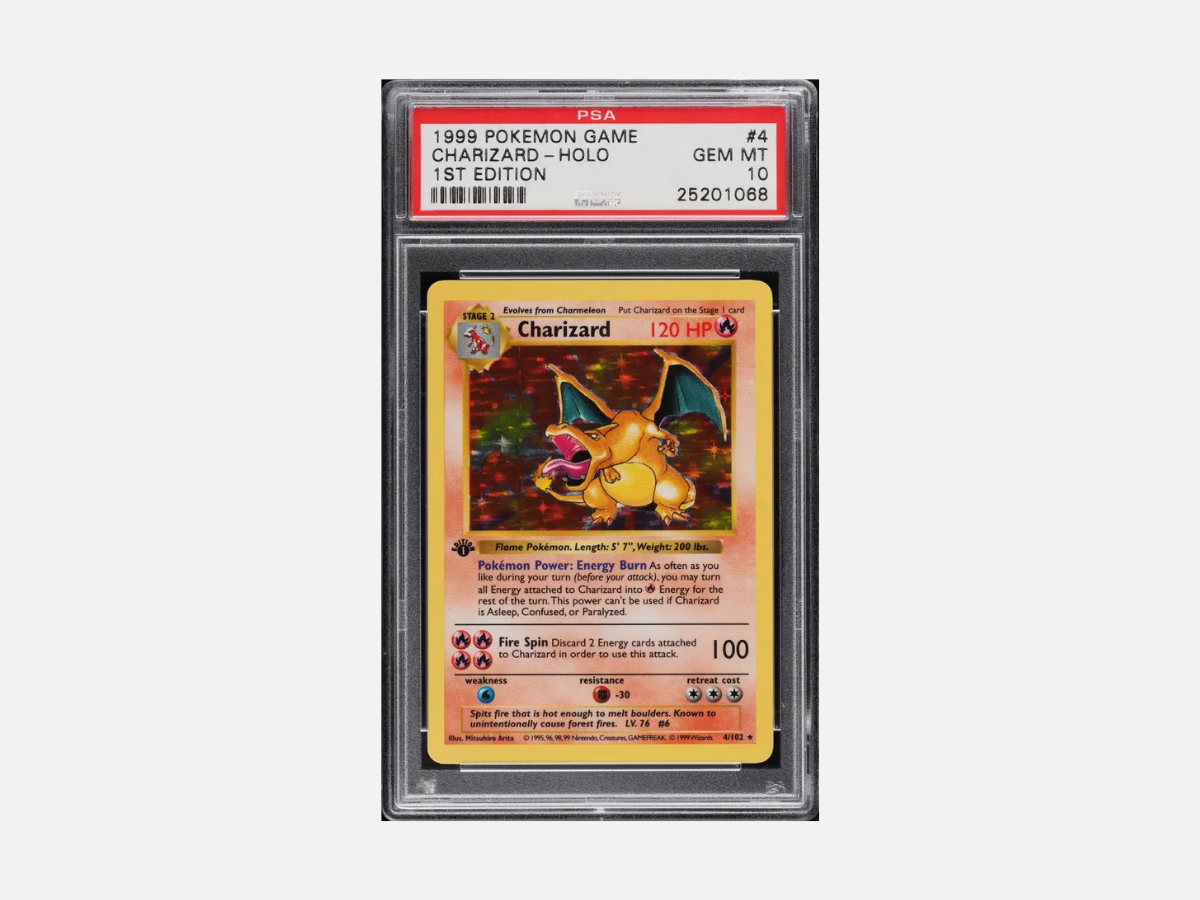 Like most collectables, scarcity and condition are behind the ridiculous price tag. This card was buoyed by its PSA 10 Gem Mint Grade – only 121 PSA 10s existed at the time of the auction. Furthermore, many of these PSA 10 copies of this card are believed to be owned by long time collectors or celebrities, meaning the 121 copies are very unlikely to hit the market with frequency. In addition to its rarity, the card is also one of the cleanest copies in existence, including no visible whitening on the back, near-perfect centering, and no holo imperfections. The previous Charizard record was USD$399,000.
Final Sale Price: $900,000

An all-time record public sale for any Pokémon card. pic.twitter.com/BgO9yPA42I

— Goldin (@GoldinCo) February 24, 2022
Reigning as the most valuable Pokémon card ever is the Pikachu Illustrator (above) that sold for a whopping USD$900,000 via collectables marketplace Goldin. Only 39 of these cards were originally awarded to winners of a Pokémon fan art contest in 1998, exclusively in Japan. And while the card in question is the ultimate titleholder, it was only graded a Near Mint 7 by PSA out of a possible 10, meaning if a better condition version were to surface (incredibly unlikely), we could see a new 1st place record holder.
As the collectable gold rush continues to rage, let's have a moment of silence for all the people who lost their collection to Mum's garage sale in the early 2000s…
You'll also love:
Baccarat Celebrates 25 years of Pokémon with $25,000 Crystal Pikachu
An Original Live-Action Pokemon Series is Coming to Netflix
Logan Paul Rocks $150,000 Charizard Pokémon Card to His Fight with Mayweather