Horizon Forbidden West Review: A Must-Play PS Exclusive
Quite a bit has transpired these past five years, so you'd be forgiven for not immediately making sense of Horizon Forbidden West. This highly-anticipated sequel assumes you recall key plot points and supporting characters from the 2017 best selling PlayStation exclusive. There's a brief refresher at the start, but it doesn't go far enough to remind you of who's who. So, I hope you know the importance of GAIA, HADES, Elisabet and Varl, among others. Or else, the first few hours could be a real slog. But do your best to persevere, as everything that follows makes Horizon Forbidden West a rich and rewarding experience.
You'll also love:
Top Video Games Releasing in February 2022
Don't Overlook This Creepy PlayStation 5 Exclusive
Rainbow Six Extraction is a Thrilling if Not Uneven Spin-Off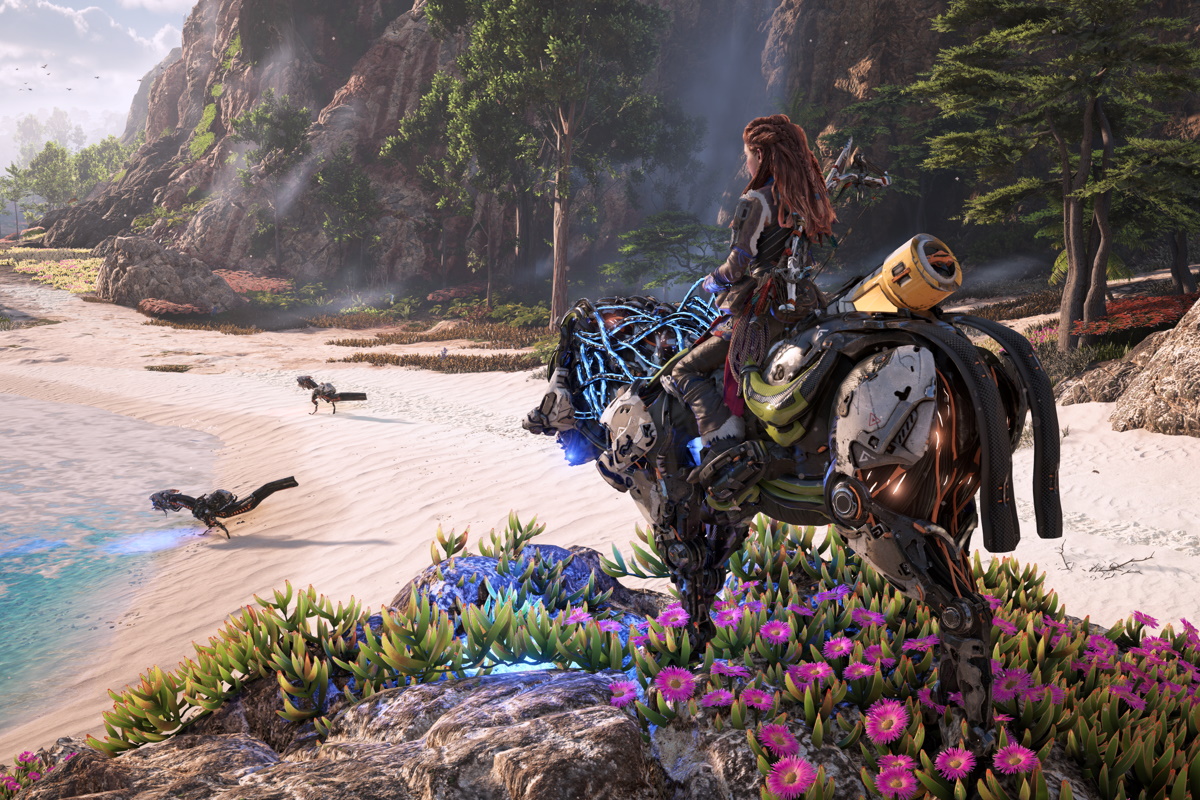 Image: Sony
Just six months have passed since the events of Zero Dawn. Hero Aloy returns to explore the history of her post-apocalyptic world, which is ravaged by blight and ambling towards another extinction. Her quest for answers leads beyond the original game's locations and into the Forbidden West, a sprawling open-world brimming with diverse biomes, menacing machines, and an escalating feud between rival tribes.
After the lengthy tutorial that doubles as the prologue, you're finally unleashed on this gorgeous world and mostly free to explore and complete objectives at your own pace. Of course, many of the locations and challenges cannot be completed until you've unlocked additional equipment, but that won't stop you from exploring and stumbling across a seemingly endless selection of things to do.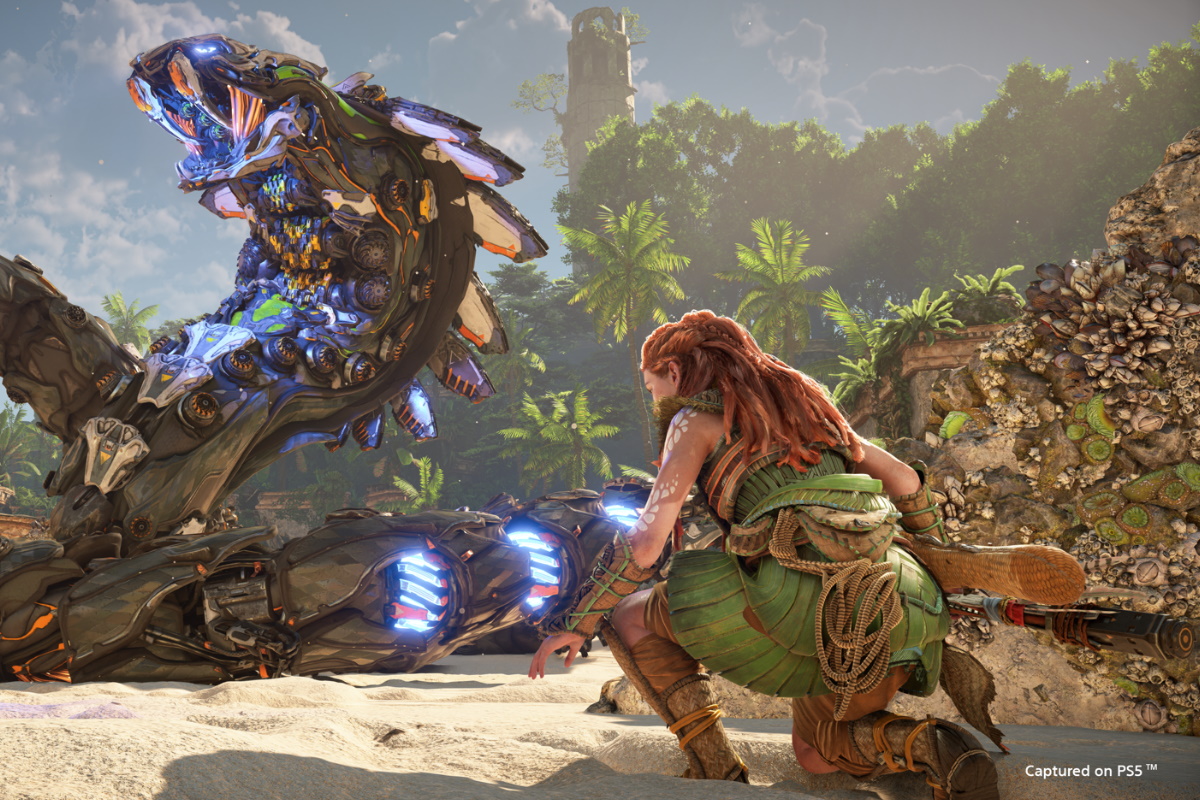 Image: Sony
The Horizon franchise introduced us to a world of machines resembling Earth's prehistoric creatures. Dealing with these creations is again a primary focus and source of wonder. They're both a threat, and a means to an end, whether the quest involves eliminating acidic Bristlebacks threatening the settlement of Chainscrape or overriding a Sunwing to traverse the West by air to reach elevated points of interest.
Many of the original machines return along with plenty of new ones, including the deadly snake-like Slitherfang and Mammoth-inspired Tremortusk. These robotic creations are encountered both freely in the world and appear as boss battles. Regardless of the type of machine, taking them down is once again the drawcard and key factor that sets Horizon apart from the many other open-world games.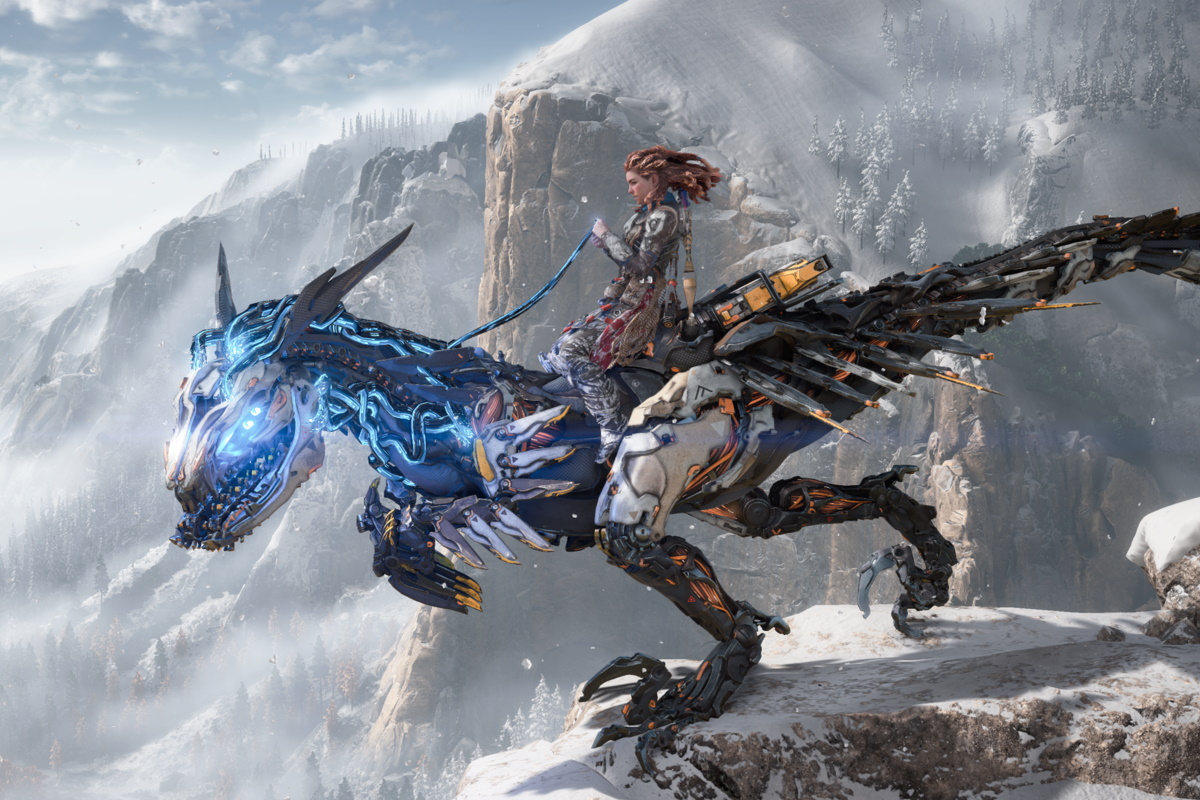 Image: Sony
Forbidden West refines and expands the familiar gameplay in almost every way. The most significant improvements are felt in the deep melee combat system and improved environmental traversal. Humans play are larger adversarial role this time around and so the multiple combos, counter attacks and breakers add a great deal of variety to enemy encounters.
The Pullcaster grapple-hook and Shieldwing glider make traversal a breeze rather than a chore when it comes to exploration. And now, many rock faces are climbable, making a direct approach a reality rather than just appearing that way. Aloy seems to have learned a trick or two from Nathan Drake.
The other big inclusion is Aloy's ability to swim. By diving below sea level, you can explore sunken ruins and encounter aquatic machines, which work to make this sequel feel like a more realised version of the original concept. There are many systems at work across the melee and ranged combat, stealth, traversal, traps, lures, gadgets and crafting. The learning curve for getting aquatinted with all of these could be steeper than expected.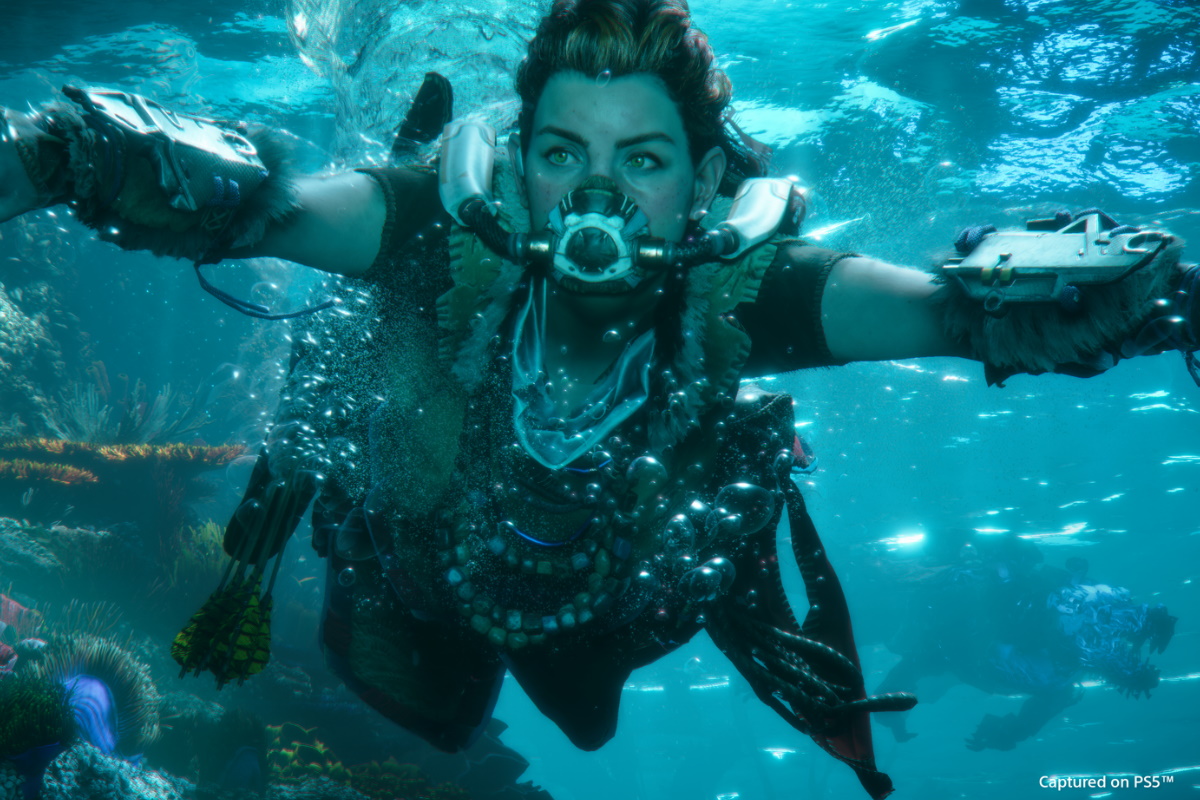 Image: Sony
Presentation-wise, Horizon Forbidden West is equal parts stunning and cinematic. You'll be visiting lush jungles, snow-covered mountains, sandy beaches and rustic ruins – all of which appear bright and vibrant on the PlayStation 5.
The diverse landscapes are dotted with encampments of human settlers, most of which are brought to life with naturalised voice acting and a big selection of dialogue options. Players can tailor dialogue and choices to their playstyle, but it doesn't appear as though the outcomes greatly differ depending on your choices.
A few big names are present in this blockbuster sequel. Ashley Burch returns as Aloy, and Lance Reddick returns as the villainous Sylens. The other prominent inclusions are Angela Bassett as the rival war chief Regalla and Carrie-Anne Moss as the mysterious Tilda.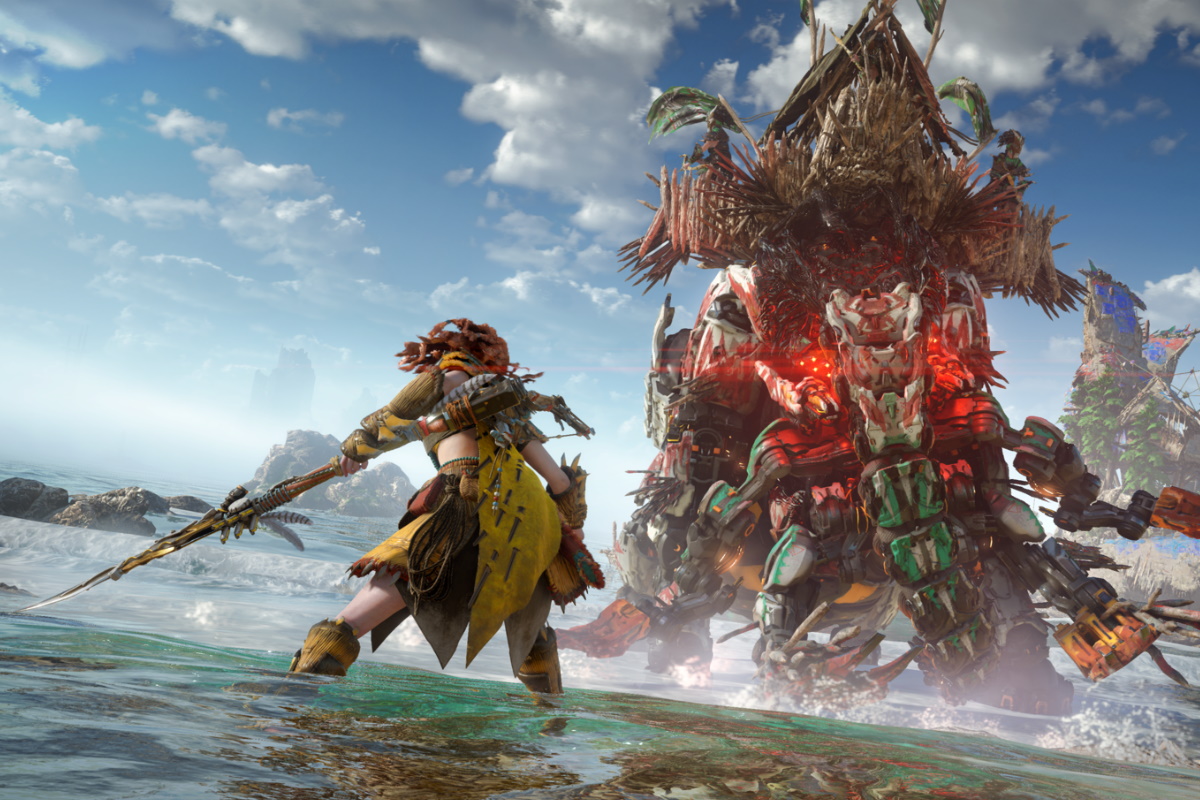 Image: Sony
Beyond the lengthy campaign, expect to spend a few dozen hours completing the staggering amount of side content. There are Assasin's Creed-like puzzle dungeons, fighting pits and a chess-like game called Machine Strike, where you select pieces from a growing set and take turns to wipe your opponent off the board. New pieces are collected throughout the game and added to your set to change and improve strategies.
Machine Strike and the way it's played throughout the world will be instantly familiar to anyone who sunk countless hours into Gwent within the world of The Witcher III: Wild Hunt.
There are also dozens of side quests covering stock standard gathering and fetching, with some more interesting than others. Developer Guerilla Games has tried and mostly succeeded to make these filler quests worthwhile. All quest givers are realised through voice acting and backstory through dialogue options. Many show up repeatedly to make their journeys feel important, and the rewards for helping out are generally valuable additions to your repertoire. This makes the side quests feel more than just an essential factor in chasing one hundred per cent completion.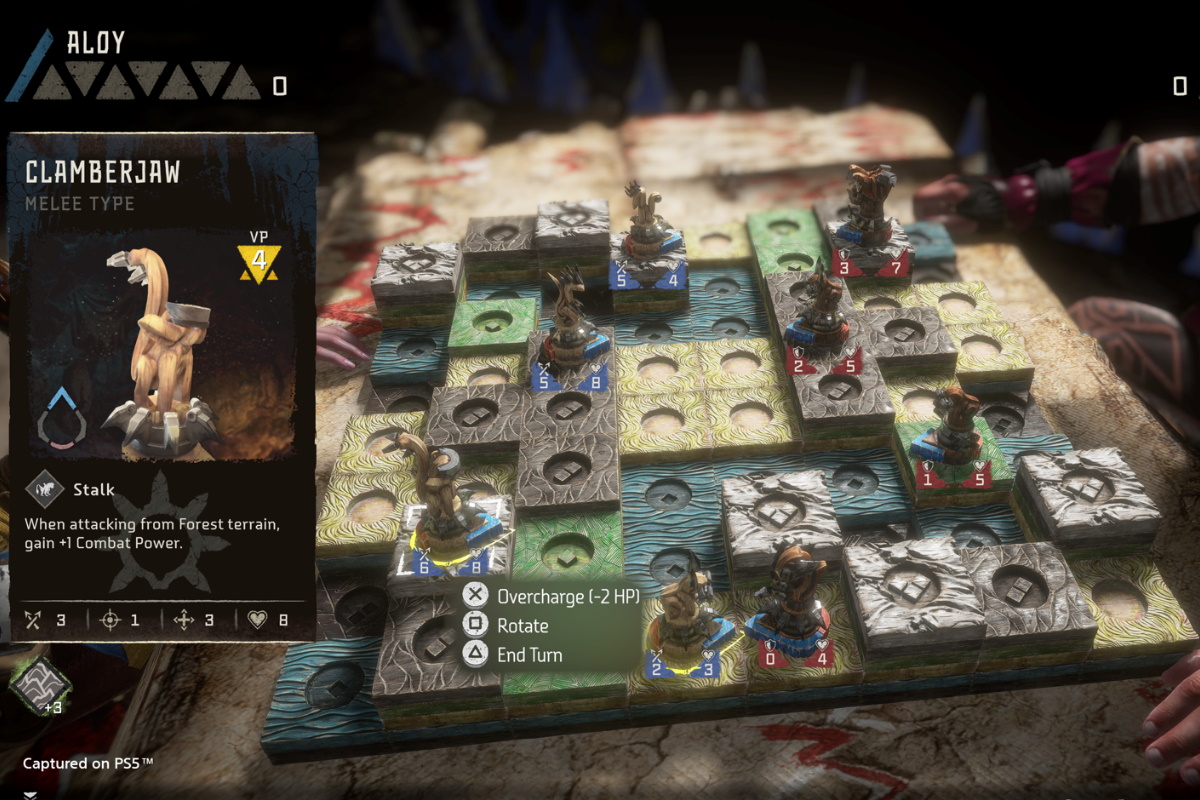 Image: Sony
Horizon Zero Dawn was a breath of fresh air in a market overcrowded with derivative open-world games. Horizon Forbidden West builds on the original's strongest elements while filling its unique world with richer and more rewarding content. The result is another stellar PlayStation exclusive that further cements Sony's first-party superiority.
The story is dense with pre-established lore and throws you right in the deep end. But thankfully, Aloy can now swim. And once she's surfaced, you'll be glad to have ventured into Forbidden (West) territory. Horizon Forbidden West launches on February 18 for PS5 and PS4.
The writer received a copy of the game courtesy of the publisher
You'll also love:
Top Video Games Releasing in February 2022
Don't Overlook This Creepy PlayStation 5 Exclusive
Rainbow Six Extraction is a Thrilling if Not Uneven Spin-Off