Recapture the Nostalgia with Legends Ultimate Home Arcade
Even though you can buy a gaming platform that will play more games than you can imagine, there's still something about the nostalgia that comes from an arcade. But just because you want to experience the feel of the good old days, you don't have to sacrifice the library of games. Legends Ultimate Home Arcade offers you the nostalgic feel of a game arcade with a library of games to match.
You'll also like:
Supreme's Mortal Kombat Arcade Cabinet is Ready For a Fight
Locked Down with Capcom Home Arcade, the Peacock of Retro Gaming Consoles
Neo Geo Arcade Stick Pro Brawls Through 20 Games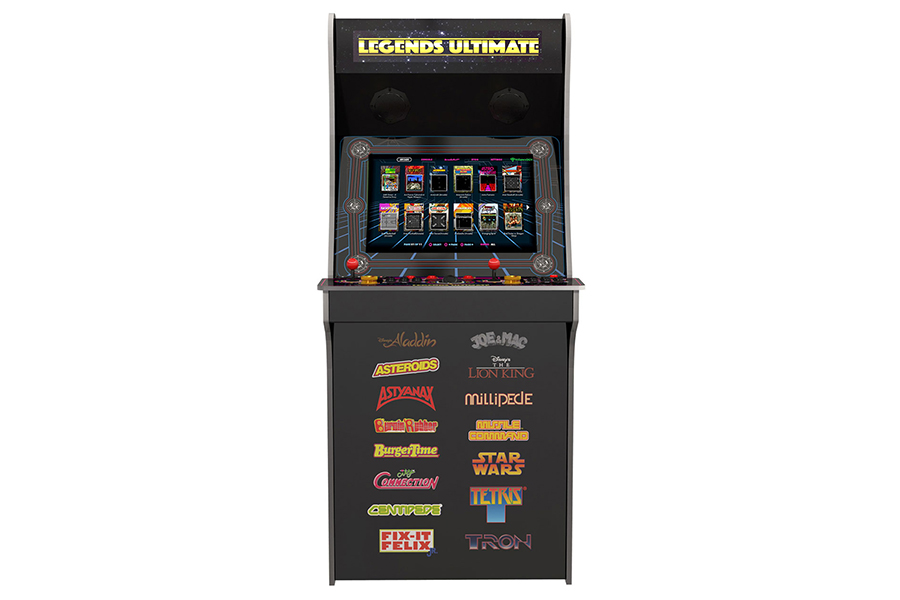 Priced at $599.99, AtGames Ultimate Legends arcade offers over 350 titles in a quality cabinet. Mead of heavy MDF, the cabinet stands 66 inches tall and sports a 24-inch, 1080p panel. The control panel consists of two joysticks with six buttons as well as two spinners and a trackball. Navigation buttons run along the top, which is where you will also find a pair of HDMI ports and a couple of USB ports, although you don't need the ports as the cabinet also supports Bluetooth connectivity. The cabinet also features stereo speakers.
As for the games, the majority pull from Data East and Jaleco, which means you'll have classics like Burger Time and City Connection. You'll also get a few Disney-licensed games like Sega Genesis Aladdin, The Lion King, and TRON. The library includes standard classics like Centipede and SPACE INVADERS as well. Legends provides online multiplayer gameplay and leaderboards for the games. If the list of games doesn't suffice, the Legends cabinet is also internet-capable, and updates happen fairly regularly. You could see your library of games change as AtGames gets new licensing deals.
You can also play a selection of Neo-Geo games using a remote server, or you can connect via Bluetooth to your gaming PC and play your own games on the cabinet. Finally, you can also pick up the optional Pinball Kit for even more games. If you want the nostalgia of an arcade, then AtGames' Ultimate Legends is a good starting point.