Listen to Tony Hawk's Pro Skater 1 + 2 Remastered Spotify Playlist
You're going in for the epic 900, and suddenly Guerrilla Radio by Rage Against The Machine comes on just as you nail the landing. Ah, the memories. Now, with the launch of Tony Hawk's Pro Skater 1 & 2 remastered just around the corner, Spotify has kindly put together an epic compilation of all your favourite tracks from the historic game series.
You'll also like:
Tony Hawk's Pro Skater 1 & 2 are Being Remastered for PS4, Xbox One and PC
'Halo: Infinite' Gameplay Revealed in Xbox Teaser
Sony PS5 Revealed – Hardware, Games and Accessories Unveiled
A mix of quintessential 90s/00s staples with a few added goodies, the Tony Hawk's Pro Skater 1+2 playlist features 46-tracks and already has over 37,000 followers. Featuring all your favourites like Billy Talent, Naughty By Nature and Dead Kennedys, you can relive those days in front of your 90s game console mashing buttons to get a new high score.
"Skate to songs from the era-defining soundtrack along with new music" or you can check out the virtual concert performance on YouTube.
Whether you were team Nintendo or a PlayStation owner, everyone can join in the nostalgia when the remastered version released on 4 September. But if you can't wait that long, then be sure to check out this amazing playlist, which even features a few Aussie artists too.
Featuring names such as Alex Lahey, Baker Boy, DZ Deathrays, and even A. Swayze & The Ghosts, our homegrown talent joins a list that includes newcomers like Skepta, Machine Gun Kelly and Fidlar.
While not a part of the original video game soundtracks, the additional tracks are sure to breath new life into what is likely the most anticipated video game series return. With a soundtrack brimming with punk, rap, ska and hip-hop beats lose yourself for a few hours and relive the glory days.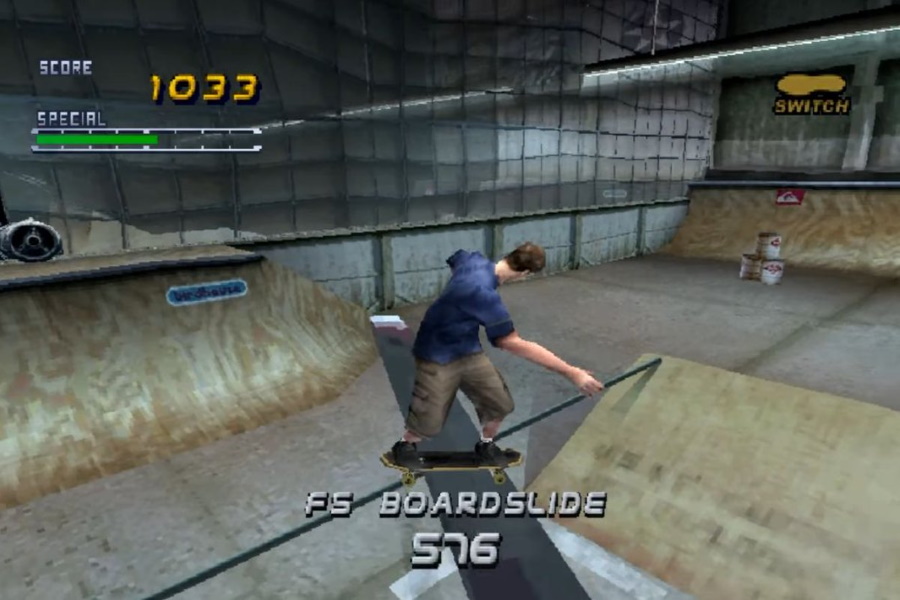 Available for Playstation and XBOX, a demo is expected to drop on 14 August, featuring the iconic warehouse level, allowing new and old players to practice their crazy skateboard tricks before the game's launch in September.
Rebuilt from the ground up, the HD remastering combines the most iconic skateboarding games ever made, bringing together both Tony Hawk's Pro Skater and Tony Hawk's Pro Skater 2 into one epic collection.
The full artist list includes:
A Tribe Called Quest
A. Swayze & the Ghosts
Alex Lahey
All Talk
American Nightmare
Anthrax
Backchat
Bad Religion
Baker Boy
Billy Talent
Black Prez ft. Kid Something
CHAII
Charlie Brown Jr.
Cherry Kola
Chick Norris
Consumed
Craig Craig ft. Icy Black
Crush Effect ft. KARRA
Dead Kennedys
Destroy Boys
Dub Pistols
DZ Deathrays
Even Rude
FIDLAR
Fu Manchu
Goldfinger
JunkBunny
Lagwagon
Less Than Jake
Machine Gun Kelly
Merkule
Millencolin
MxPx
Naughty by Nature
Papa Roach
Pkew Pkew Pkew
Powerman 5000
Primus
Rage Against the Machine
Reel Big Fish
Rough Francis
Screaming Females
Skepta
Speedealer
Spilt Milk
Strung Out
Styles of Beyond
Sublime
Suicidal Tendencies
Swingin' Utters
The Ataris
The Ernies
The Suicide Machines
The Super Best Frens Club
The VandalsToken
Tyrone Briggs
Viagra Boys
Zebrahead
You'll also like:
Tony Hawk's Pro Skater 1 & 2 are Being Remastered for PS4, Xbox One and PC
'Halo: Infinite' Gameplay Revealed in Xbox Teaser
Sony PS5 Revealed – Hardware, Games and Accessories Unveiled