Moving Out is the Ultimate Family-Friendly Lockdown Game
When April 28 was set as the release date for Moving Out, we were still in the early stages of the COVID-19 crisis. The game's Sydney-based developer SMG Studio likely had no idea how the world would change over the coming months. Yet, their new co-op game about moving furniture just so happens to be ideal for keeping entire families entertained during the lockdown.
In Moving Out, each player takes on the role of a Furniture Arrangement and Relocation Technician (or F.A.R.T for short). Working together with up to three other players, you accept a series of removalist jobs, moving all sorts of gear across the town of Packmore, and beyond.
Racing against the clock, you and the other players work together to gather up boxes, white goods, awkward-shaped furniture and more, then load it in the removalist truck with bronze, silver and gold medals awarded for performance. Anyone familiar with the series Overcooked will feel right at home here.
You'll also like:
21 Best Multiplayer Games to Play While Social Distancing
Cards Against Humanity Unveils Family Edition
Pass Go and Collect the $250 Monopoly Luxury Edition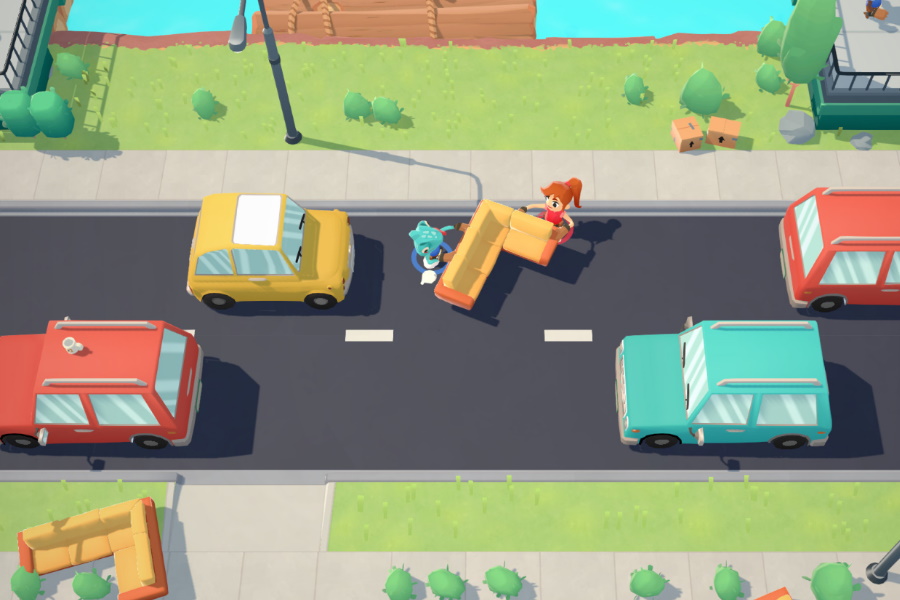 The concept is simple, but things quickly become chaotic when L-shaped couches don't fit around corners, farm animals won't behave, and in later levels, navigating waterways, conveyer belts and oncoming traffic all stand between you and your goal. The gameplay can be tense, also hilarious, and the more players, the better.
Moving Out is set across 30 levels of increasingly difficult and vastly different jobs. Standard-sized houses and mansions take up the early levels, before factories, farms and locations in outer space all require the assistance of Relocation Technicians. Each level has 3 bonus objectives. Completing them all unlocks a series of extra challenging mini-games adding to the already robust offerings.
There's also sweet 80's aesthetic running behind everything on show. From the instructional video and soundtrack to the classic movie and video game references, adults will get a kick out spotting iconic moments from their youth. Keep an eye out for references to Frogger, Pac Man and even Ferris Bueller's Day Off.
I say Moving Out is ideal for keeping entire families entertained because it is accessible to everyone. There are plenty of colourful characters to choose from with some unique customisation options – like placing your cute character in a wheelchair or hijab. Possibly a first for gaming?
There's also remappable controls, dyslexia-friendly text, a scalable user interface and assist mode that ensures players of all abilities can join in. Developer SMG Studio recently made it clear that they wanted it so that anyone who picks up a controller can potentially finish the game. Of course, experienced players can always play with the settings as-is and chasing all of those gold medals can be quite challenging.
Getting roped into moving furniture is a sure-fire way to ruin a weekend, yet this indie game turns the world's worst job into the ideal way to spend a few hours indoors. It's worth noting that Moving Out is couch co-op only. There's no online multiplayer here.
At just $24.95 AUD for a digital copy, Moving Out is also the most affordable must-buy new releases. The other must-buys being Resident Evil 3 and Doom Eternal.  A physical copy will set you back a bit more.
Moving Out is available now for PlayStation 4, Xbox One, PC and Nintendo Switch.
The writer received a copy of the game courtesy of the publisher.