Top New Games Releasing in July '18
If you can step away from Fortnite for a few minutes, I'll reveal all the other great games you could be playing this month. Whether you're looking for some short entertainment or a month-long distraction during Dry July, we've got you covered.
---
You'll also like:
Top Video Games and Release Dates for February 2021
Hitman 2 Suggests a Return to Form for Agent 47
---
Octopath Traveler – 13th July – Switch
Don't let its ridiculous name fool you. Octopath Traveler is the newest game from Square Enix, the developer behind the Final Fantasy franchise. Players embark on a journey as one of eight characters, each with their own origin, talents, and goals. Where will you begin? Who will you team up with? And where will you go next? All these decisions and more are entirely up to you.
Octopath's battles are a fusion of simple, turn-based combat infused with an all-new Boost system. Use it to target enemy's weak points to break their guard or, if an ally's in trouble, use it to get them right back into fighting shape. Identifying the right time to Boost may be the key to victory. There's a deep well of strategies to draw from, and your tactics will be rewarded.
Captain Toad: Treasure Tracker – 13th July – Switch
Equipped with nothing more than a neck scarf, backpack and oversized headlamp, Captain Toad explores isometric worlds, finding hidden gems, coins and power-ups on his way to the gold star at the end. Twist the camera to reveal dangerous traps, nasty enemies and tricky platforms. Each stage is a puzzle to solve, Can you help the tiny adventurer survive to find all the stars?
Captain Toad: Treasure Tracker initially launched for Wii U, and is now coming to Switch with new courses based on various Kingdoms from Super Mario Odyssey. Also, anyone can play with a friend or family member by sharing a pair of Joy-Con controllers. While one player controls Captain Toad, the other can assist with things like cover fire.
Sonic Mania Plus – 17th July – PC, PS4, Xbox One, Switch
The best Sonic the Hedgehog game of the past 25 years returns with a sweet physical collectors edition and new in-game content. Originally launching as a digital-only title in 2017, Sonic Mania received critical acclaim for successfully reviving the pixel-perfect graphics and speedy platforming gameplay 90's kids adored.
In 2018, Sonic Mania Plus adds new playable characters and a new and improved multiplayer mode called Competition. The other big addition is Encore mode which adds a fresh look to familiar locations while challenging new and veteran players alike. Players who already own the original Sonic Mania can upgrade their digital version and receive the Plus contents for a small fee.
Mothergunship – 17th July – PC, PS4, Xbox One
Mixing bullet-hell intensity with first-person shooting, and promising you one of the most extensive gun customization options seen in video games, Mothergunship sees you equip an over-the-top arsenal and defeat a robotic alien armada that has conquered Earth.
Craft gun monstrosities that no reasonable person could ever lift, fight gigantic bosses and experience randomized mayhem as you battle your way to the heart of the fleet to destroy the Mothergunship.
Join the ranks of the global resistance movement and take back Earth together with your friends. Fight together with a friend in a full co-op experience, or participate with the community while you work together to cut through the alien fleet.
Mothergunship arrives as a digital title on the 17th of July. A physical version is available from August 21.
Mega Man X Legacy Collection 1 & 2 – 24th July – PC, PS4, Xbox One, Switch
Mega Man returns for a massive collection spanning 8 legendary 16-bit and 32-bits titles. Through Mega Man X – X8, play as the heroic robot as he takes down Mavericks and steals their weapons while dashing and wall jumping in fast-paced combat. Mega Man X's mysterious friend, Zero, also joins the fray as a playable character in the later titles.
Both Mega Man X Legacy Collection and Legacy Collection 2 are loaded with new features. Test your skills in the new X Challenge mode, which pits players against two deadly bosses in a series of two-on-one battles. Additionally, the collection includes a vast museum filled with rare production art, catalogs of classic merchandise, a playlist of nostalgic commercials, and more. There's even an animated prequel film revealing the origins of Mega Man X villain, Sigma.
Mega Man X Legacy launches as two digital collections with four games in each, or the physical version includes all 8 games in one package.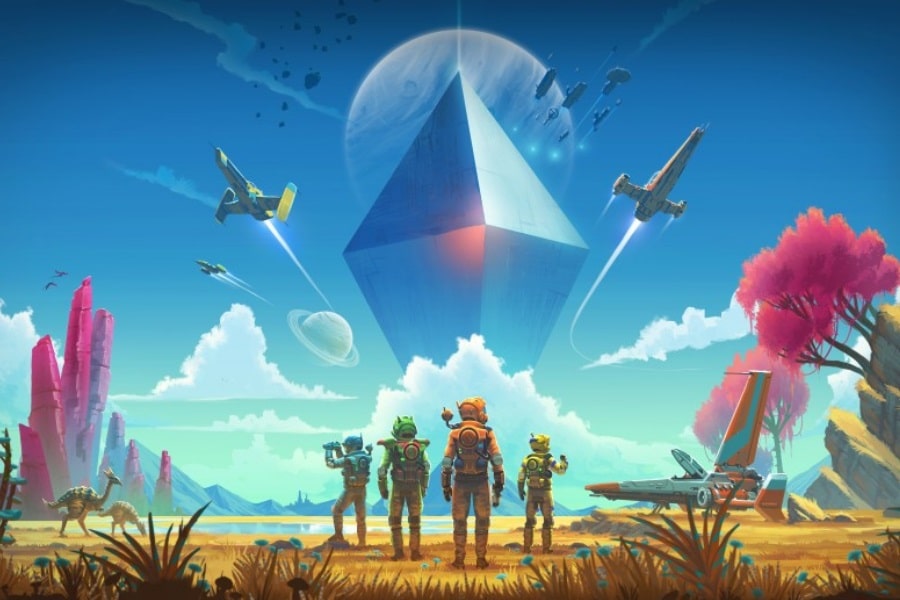 No Man's Sky Next – 26th July – PC, PS4, Xbox One
No Man's Sky is arguably both the most hyped and controversial game of the last few years. It's the epic space exploration adventure that offers an infinite number of planets to explore. It didn't quite live up to the hype, resulting in wave after wave of online outrage.
That was 2 years ago. Since then, No Man's Sky has received a steady stream of updates and finally looks set to become the game we were promised.
No Man's Sky Next has the game come to Xbox One for the first time and also offers a free update for PC and PS4 players. Next provides a full multiplayer experience for exploring the infinite universe with friends. Together, be space pirates or wingmen in epic space battles, race exocraft across weird alien terrain or build bases conquering the universe one planet at a time.
You'll also like:
The Mega Man 2 30th Anniversary Cartridge
All the Trailers from E3
Top Game Releases of June 2018