NBA 2K23 MyTeam Details Revealed
The release of NBA 2K23 will see MyTeam return with a host of new game modes, gameplay features, and rewards. This is going to be the biggest year of MyTeam yet and we wouldn't be surprised if this game mode kept players entertained throughout the year. The list of new features is long, but the news that there will be no player contracts in NBA 2K23 MyTeam is resonating loudest. The new Co-Op game mode for Triple Threat is also grabbing fans' attention as it will have players linking up with their friends online for the first time in MyTeam history.
Choose from one of three new 'Starter Players' including Ja Morant, Joel Embiid, or Jimmy Butler before jumping into MyTeam. And then check out our guide to NBA 2K23 MyTeam below for everything you need to know from thereon.
Related: Looking for more on NBA 2K23? Check out our guide to the game right here.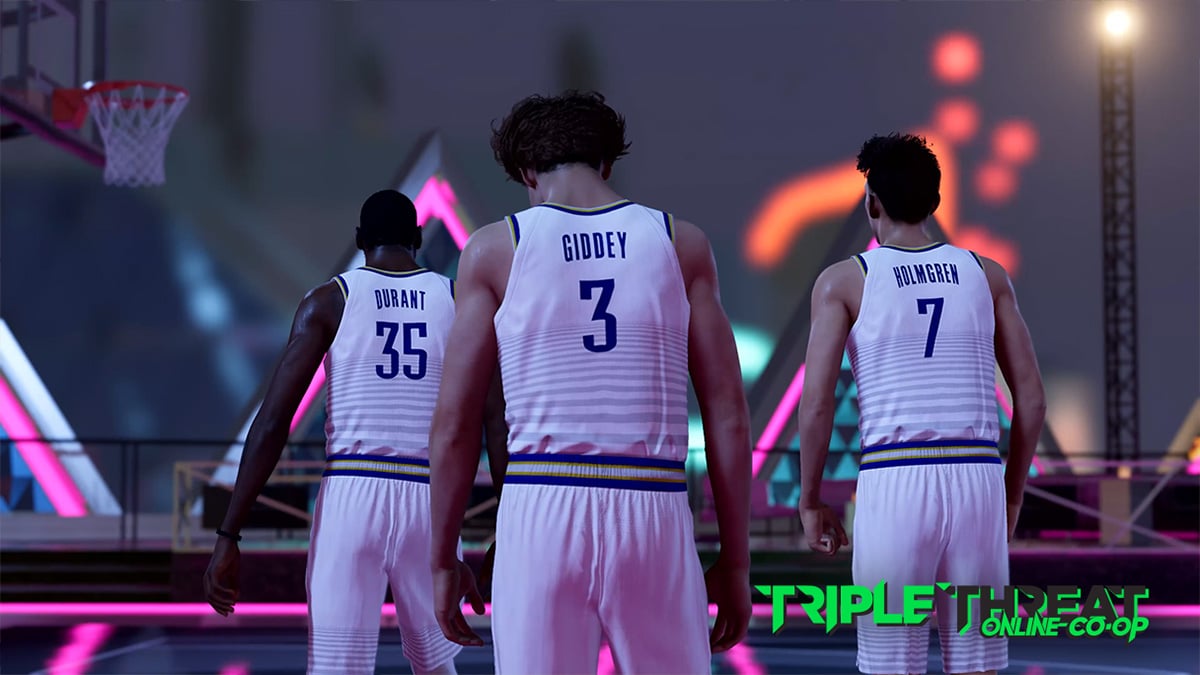 NBA 2K23 MyTeam Game Modes
Triple Threat Online: Co-Op
The biggest change to NBA 2K23 MyTeam game modes is the addition of co-op Triple Threat Online gameplay. We like to think of this game mode as a pseudo 'park' for MyTeam players who want to team up with their friends. The game mode features a redesigned court and supports any combination of two to six players in first-time-ever player-locked gameplay in MyTEAM.
Party Mode brings up a team vs. team situation with you against your friend, and if you're down a friend or two, the AI will fill out any empty slots.
Co-Op Mode on the other hand will see you and your friends join together and team up and take on some AI opponents on your way to climbing up your individual reward ladders for the Season – similar to single-player triple threat offline.
Competition Mode brings your team online against other teams of three and offers better rewards in the form of MyTEAM Points, Tokens, Packs, and a special Takeover Reward Player.
Clutch Time Single Player
Clutch Time single player is basically what it says on the packet. A single-player version of the great Clutch Time game mode that was added in NBA 2K22. Gameplay remains fast-paced, with a single five-minute quarter, a 4-point line, sudden death overtime, and a 14-second shot clock.
---
Featured Video from Man of Many
---
Related: NBA 2K22 Review: The Best in Franchise History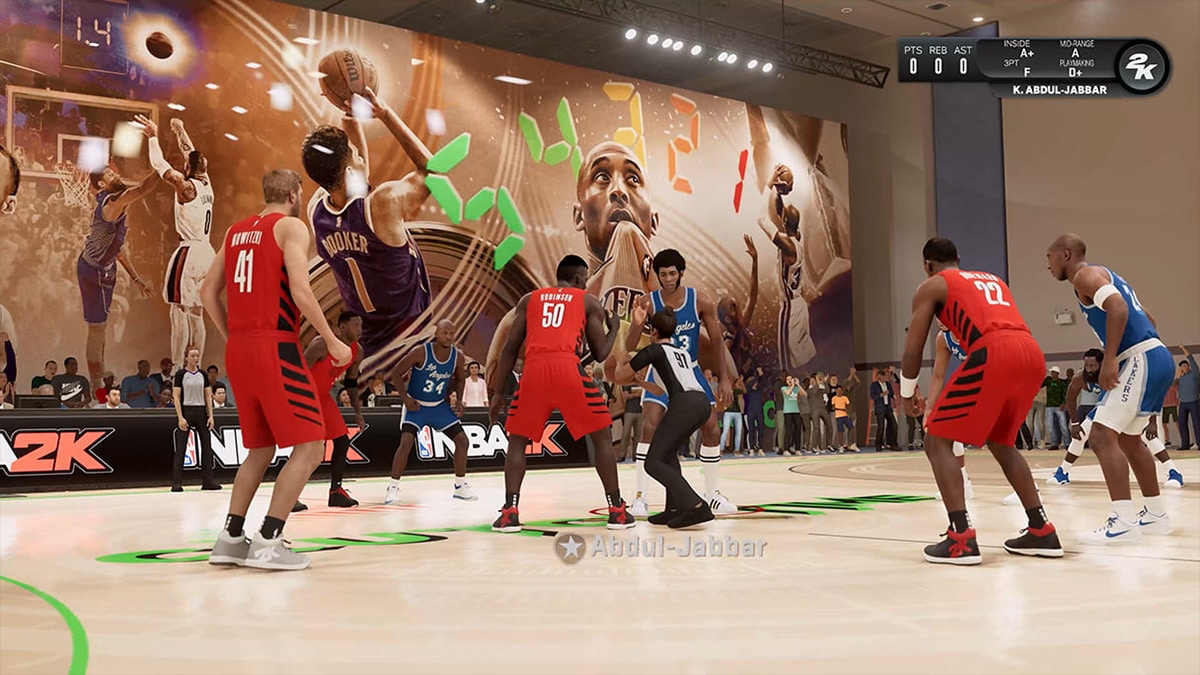 Returning NBA 2K23 Game Mode Changes
These are all the changes made to the returning NBA 2K23 MyTeam game modes.
Single Player Triple Threat
Triple Threat win rewards will now refresh with every Season, this is great news for those who take a season off to focus on Unlimited and online game modes. The Vault returns for the new game.
Domination
Domination tiers return with five sets of 33 games that are now judged based on how many points you beat the opponent by. Completing each tier will get you player rewards, starting with Amethyst Julius Randle, Diamond Mitch Richmond, Diamond Mike Bibby, Diamond Bill Walton, and Pink Diamond John Havlicek as the final reward of each tier out of the gate.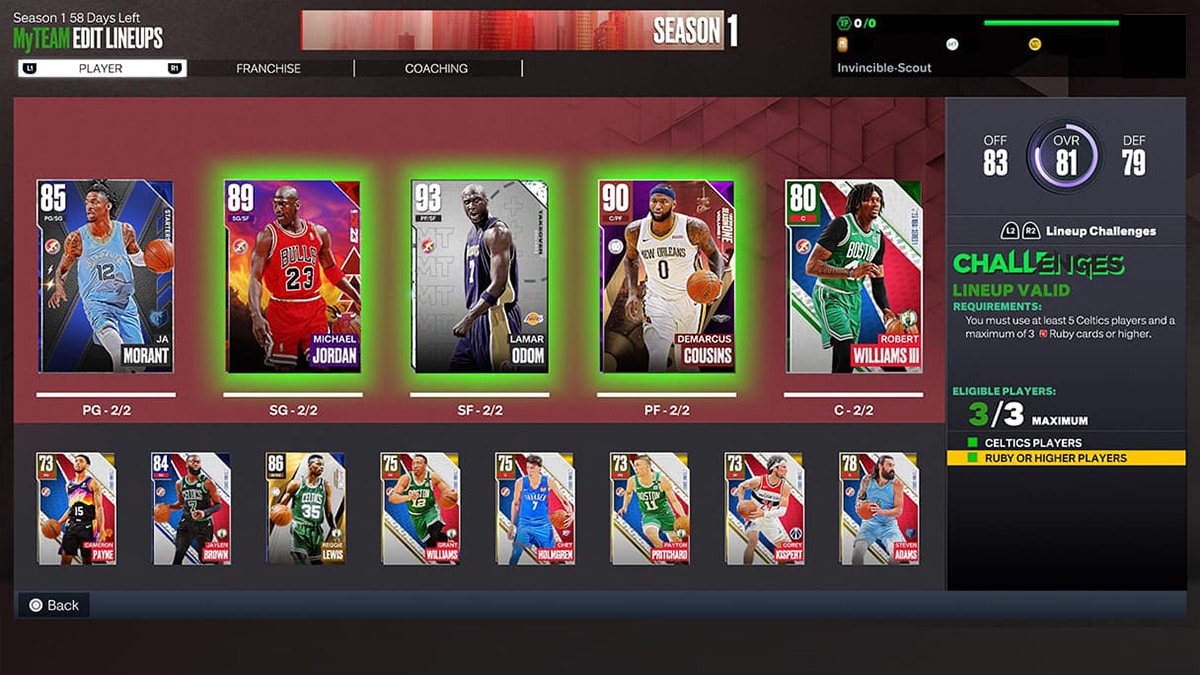 Challenges
Challenges return with a new lineup helper to make picking easier.
The first challenge of the season will feature Michael Jordan, defeat his starting five and you'll be rewarded with a Diamond Jordan Shoe Colorway, shoe boosts, and a Hall of Fame badge. Next-gen players will also have exclusive Activity Challenges that will include games where you face off against Michael Jordan's greatest teams. In Season 1, you'll be facing his Rookie Bulls squad, win and you'll be rewarded with an exclusive Diamond Jordan I colourway card and shoe boosts to fill it out in the MT Shoe Lab.
Limited
Lineup helper will also apply to the Limited game mode that's been extended to more unique lineups. Most importantly, you can now earn every ring prize in a season so there's no more waiting until the end to get your Seasonal reward.
Draft
Draft mode returns with an improvised ticketing system that sees MyTeam points become usable if a player runs out of tickets. There's also been a change to lineups, where after you draft your lineup you'll now be able to edit your starting lineup to adjust to your playing style, rather than being forced into the best fit to your drafted coach's system.
Each Draft Kit comes with an exclusive Ascension board that includes the weekly Takeover reward player as the grand prize at the top of the tower.
Related: NBA 2K23 'MyNBA' Answers the NBA's Biggest "What If" Questions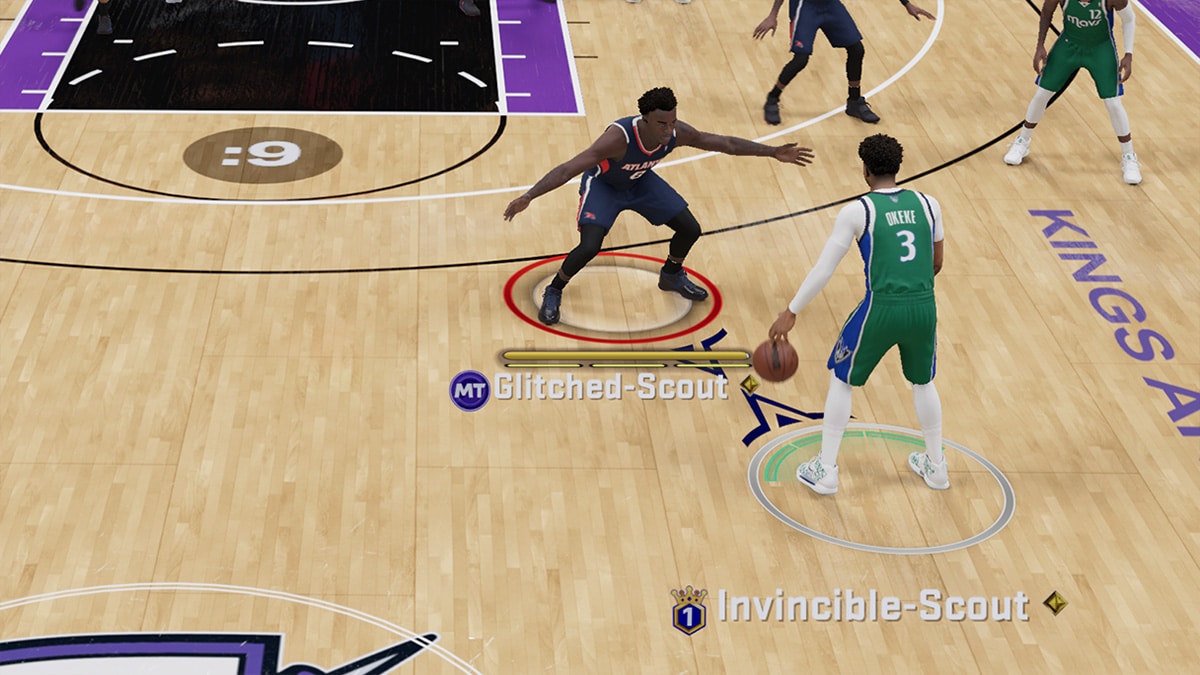 New Features in NBA 2K23 MyTeam
Control Lock to Any Position
You can now control lock to any position on the court for the duration of the game in any MyTeam game mode. While we're not sure what advantage that would bring in online game modes, the ability to grind offline challenges while sitting in the paint, corner, or running point guard will make a big difference.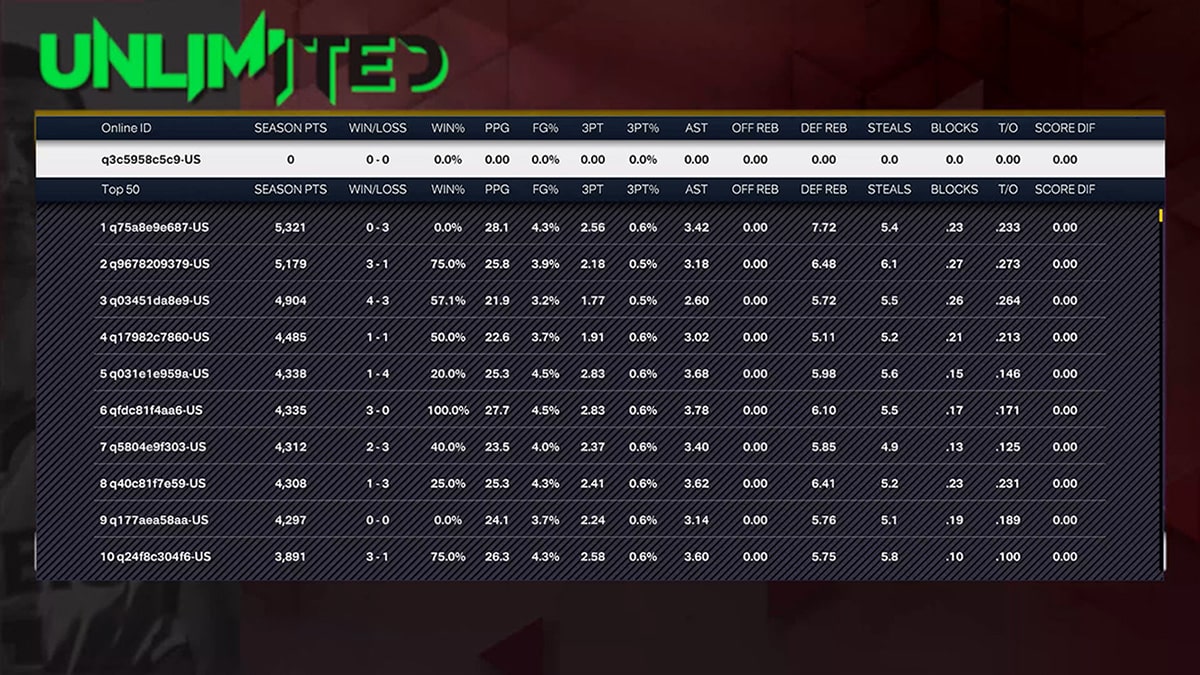 Unlimited is Now a Leaderboard
Unlimited will now see Season Points added with records being thrown to the wind in favour of rankings. Earn enough points and your rank will climb tiers where you will receive rewards for each, the Dark Matter tier will be the top for the casual player, but a 'Prestige Tier' has been added for those who spend a lot of time in this game mode and will unlock even more rewards. A vault will be opened after every win.
The leaderboard returns to MyTeam with new icons to show your place in the Top 10 or have completed any special achievements such as 'Prestige Tier'. Each Season will reset the leaderboard and progression, giving everyone equal ground to climb to the top.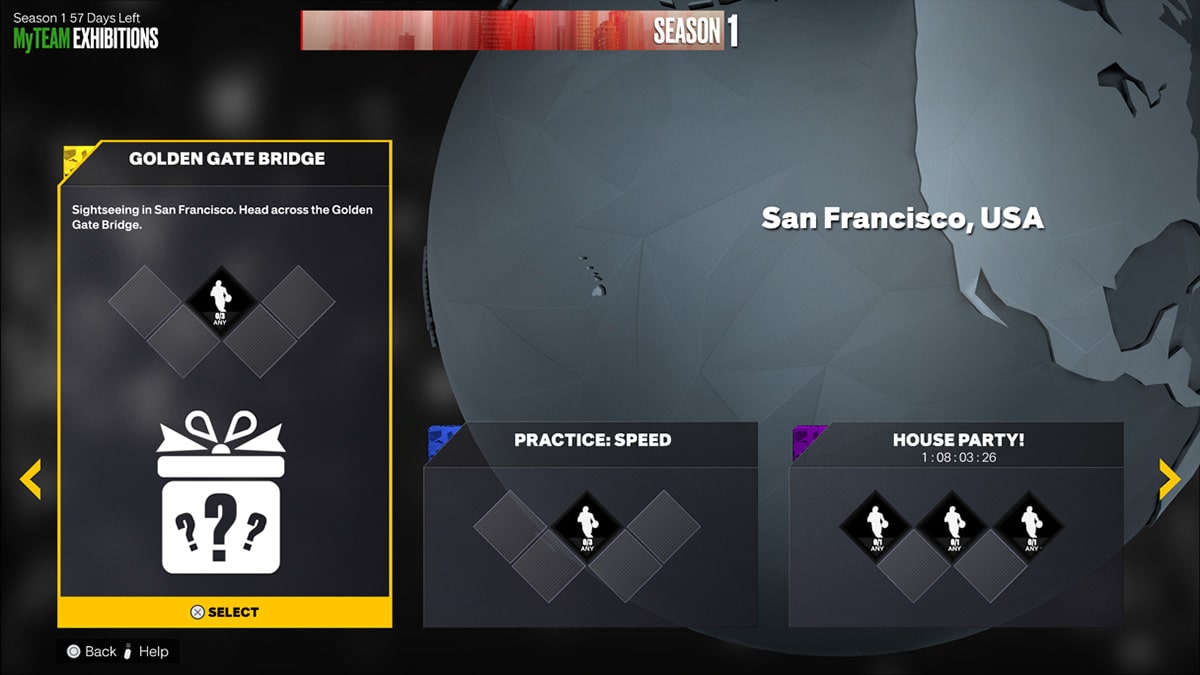 Exhibition Missions
NBA 2K23 MyTeam is including a new exhibitions game mode that will make use of the players that sit in your collection but are never used for games. You can now send your Player Cards out on an Exhibition Mission around the globe where the player visits Honolulu, Rio de Janeiro, or Paris before returning with a special reward from their mission.
This is an excellent new passive way to improve your lineup and collection, but we do fear this will artificially inflate the prices of certain cards on the card market to it's worth checking before quick selling any players this year.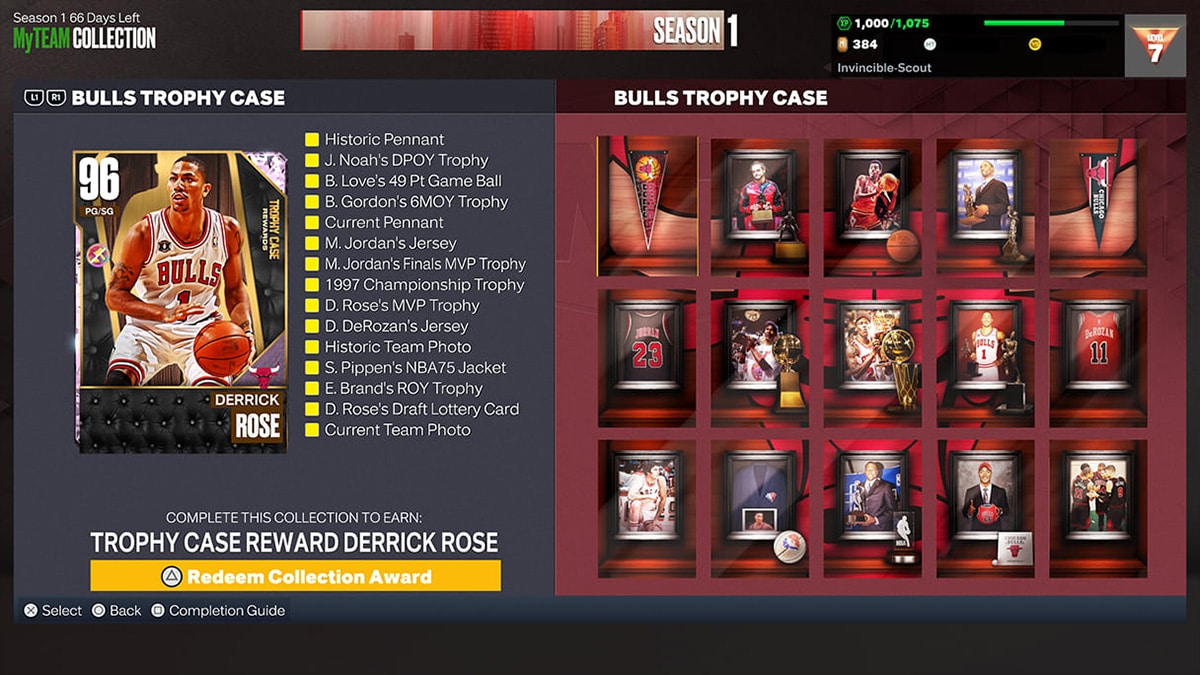 Trophy Case Collections
One of the easiest ways to earn Pink Diamond cards in NBA 2K23 MyTeam is by completing the new Trophy Cases. These cases hold 15 Event Cards for each NBA franchise, showcasing key moments of their history. Your task is to complete these collections for the reward of a Pink Diamond player for each team, collecting 5 from a division will unlock a Galaxy Opal reward player. Complete a conference and then the NBA collection to unlock three 99 OVR Dark Matter players.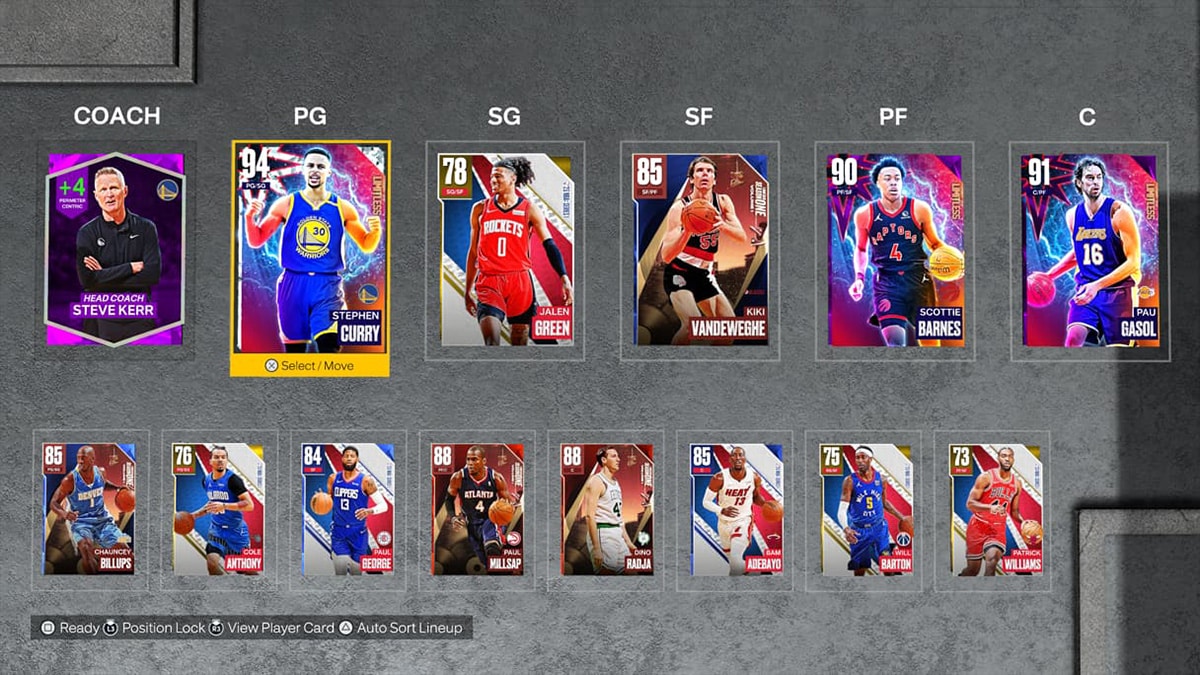 Other Notable Additions
2023 NBA: Series 1 collection players will launch on the Token Market.
Defensive settings can now be saved.
Agenda tracking in the pause menu.
75 collector-level rewards.
Triple threat online "The 100" has been removed in favour of 10-game or 3-loss.
Card grading returns with a subtle appearance.
The MyTeam Unlimited $250,000 tournament is set to return.
Current Gen will now compete on Triple Threat courts based on New Gen's Pink Diamond Plaza courts.
The penthouse court used in Single Player Triple Threat has a new night variant.
New Gen players will now be able to set matchups and change key defensive settings On-The-Fly during Triple Threat games.
The era-style cinema camera featured in the Jordan Challenge will be enabled in Domination games.
Related: NBA 2K23 'The Jordan Challenge' Relives MJs Best Games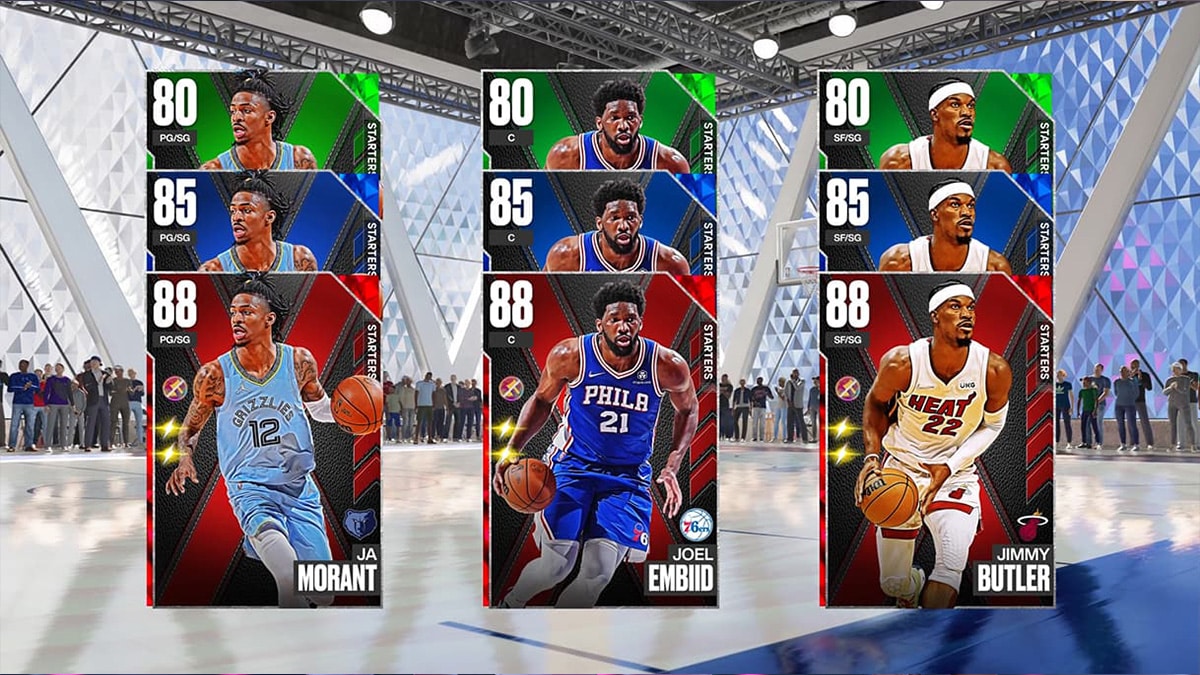 NBA 2K23 MyTeam New Rewards
After selecting your starter player, get stuck into a few games offline and work your way towards 10 games in any MyTEAM mode and earn a 90 OVR Amethyst SG/SF Fred Jones. Once your teams are built, you'll be ready to unlock a few more rewards, including the newly added Prize Balls that have the potential to break after you win a game and claim a reward hidden inside.
More rewards and information will be unveiled as the MyTeam seasons progress.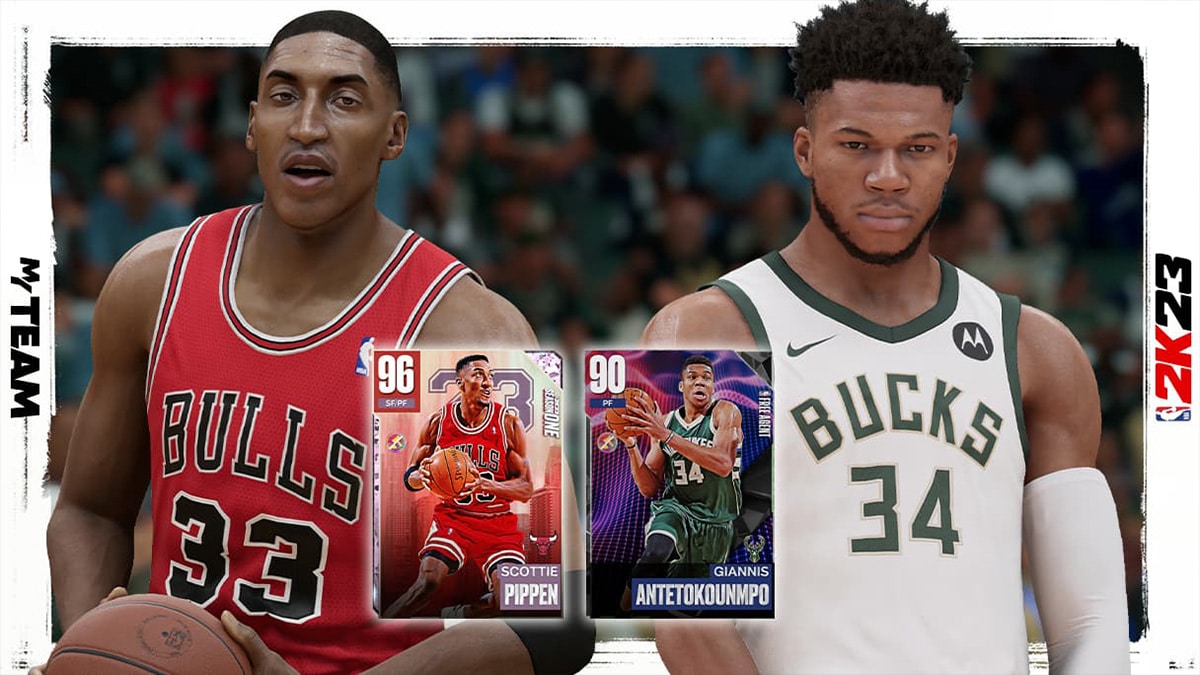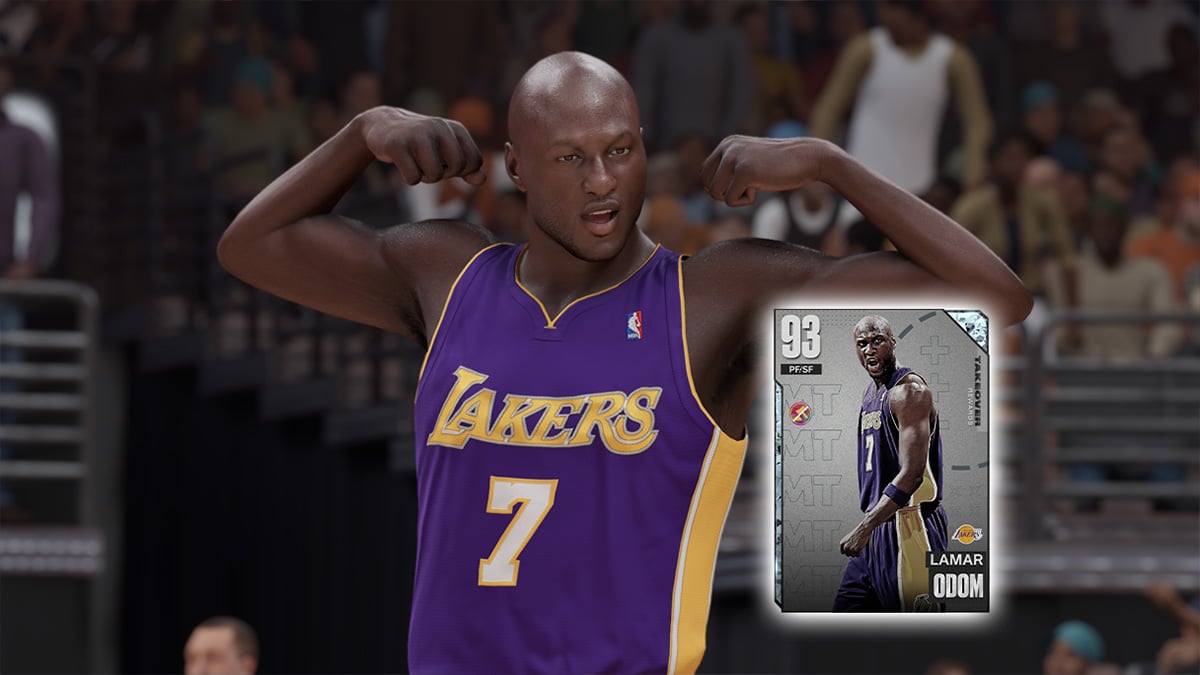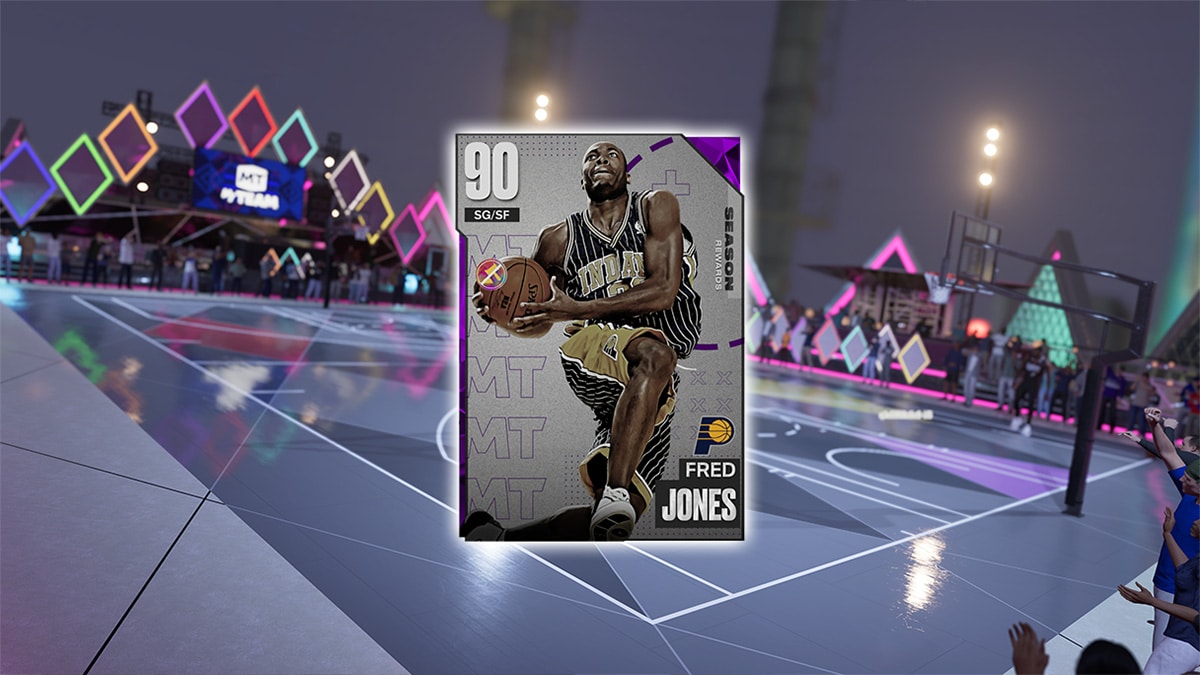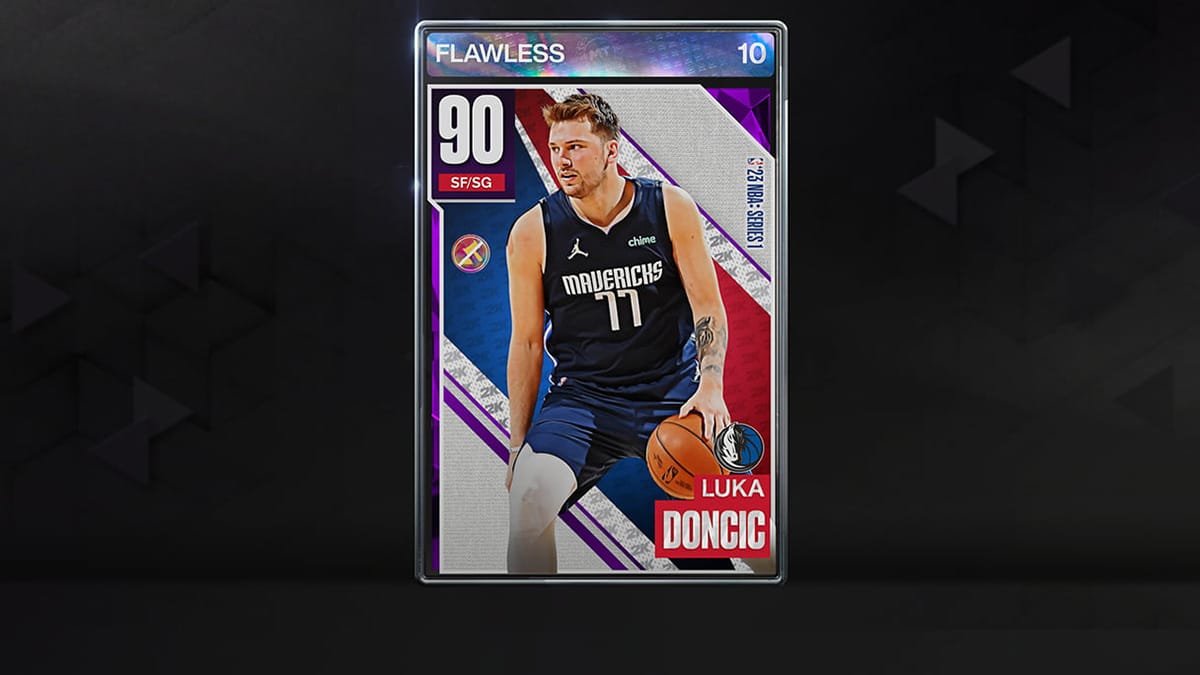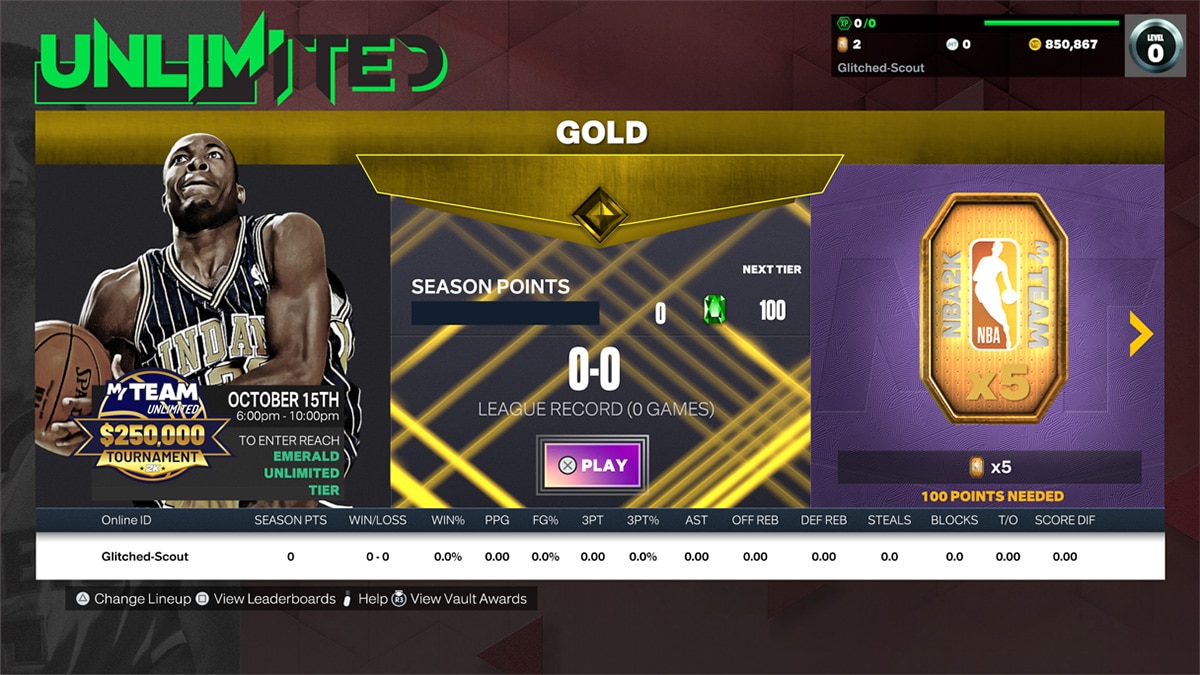 General FAQ
When is the first Galaxy Opal coming to NBA 2K23?
The first galaxy opal player will arrive as a reward for completing a Trophy Case division before the end of Season 1.
Who are the Starter Cards in NBA 2K23?
Players can choose from Ja Morant, Joel Embiid, or Jimmy Butler for starter cards in NBA 2K23. These cards can then be evolved from emerald to sapphire to ruby.
You'll also like:
Michael Jordan is a Playable Character in PGA Tour 2K23
The NBA Celebrates Australian Basketball Culture with a New Pop-Up Exhibition
Juancho Hernangomez AKA 'Bo Cruz' from 'Hustle' Signs New NBA Deal and the Memes are Wild
---
Featured Video from Man of Many