Super Mario 3D All-Stars Collection Brings All Your Favourites to Switch
Nintendo is celebrating Super Mario's 35th anniversary in a big way with a tonne of upcoming Mario-themed releases that should appeal to old school gamers and modern fans alike. In the latest Nintendo Direct, the Japanese gaming giant revealed multiple new and returning games for Switch and some surprising hardware and accessories that need to be seen to be believed.
You'll also like:
Hands-on with the Interactive LEGO Super Mario Sets
Backbone Turns Your Smartphone into a Mobile Gaming Platform
Bioshock, XCOM 2 and Borderlands Now Available on Switch
Super Mario 3D All-Stars
The rumours were true. Super Mario 3D All-Stars is a collection of three classic Mario games enhanced for Nintendo Switch. We're talking Super Mario 64, Super Mario Sunshine and Super Mario Galaxy bundled together with higher resolutions and optimised for smoother gameplay. In addition, 3D All-Stars includes an in-game music-player mode to play the music and songs from all three games. Players can also listen to music on their Nintendo Switch systems even when the screen is off.
Super Mario 3D All-Stars launches exclusively for the Nintendo Switch on September 18, but will only be available for purchase until March 31, 2021. This last part is confusing, and we're not certain why the games won't remain on sale for the foreseeable future.
Mario Kart Live: Home Circuit
Next up, Nintendo announced a new Mario Kart game although it's not quite what we expected. Mario Kart Live: Home Circuit sees you race a physical kart around your house controlled and monitored via a Nintendo Switch. The physical kart responds to boosts in-game and in the real world, stops when hit with an item, and can be affected in different ways depending on the race.
Players can place gates to create a custom course layout in the home. Race against AI opponents in Grand Prix to unlock skins to customise courses and costumes for Mario and play with up to four players in local multiplayer mode. Mario Kart Live: Home Circuit will be available in Mario and Luigi versions launching on October 16.
Super Mario Bros. 35
Battle royales are all the rage, so it only makes sense that Mario gets in on the action. Super Mario Bros. 35 sees the classic 1980's game remixed for 35 players. In this competitive online battle game, 35 players will compete to be the last Mario standing. Enemies defeated will be sent to other players' courses making it more difficult, but that also works the other way around. Super Mario Bros. 35 launches October 1 as a digital-only game exclusive to Nintendo Switch Online members.
Game & Watch: Super Mario Bros.
This new collectable device is inspired by the original Game & Watch systems first released in the 1980s. Game & Watch: Super Mario Bros. features a modern Control Pad, plays Super Mario Bros., The Lost Levels and the classic Game and Watch game Ball. This nifty device also acts as a Mario-themed clock with 35 "little touches" to discover. The new Game & Watch launches on November 13.
Super Mario 3D World + Bowser's Fury
Super Mario 3D World first released for the short-lived Nintendo Wii U console. It's now given new life on Switch with some technical enhancements and all new content in the form of the Bowser's Fury expansion. This one was originally praised by critics for its charming, yet difficult gameplay and fun four-player co-op action. Super Mario 3D World + Bowser's Fury launches on February 12, 2021.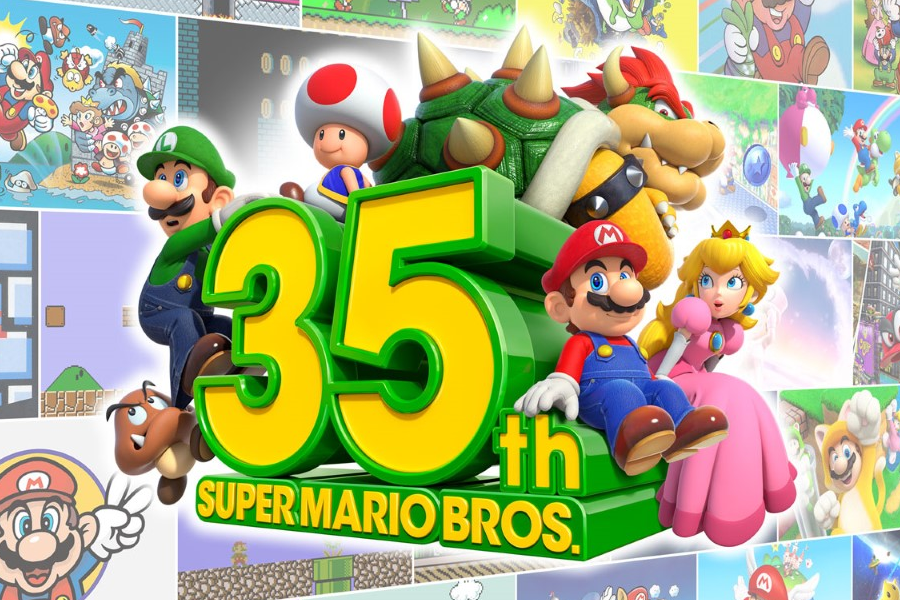 Other Announcements
Nintendo is planning other anniversary events between now and March 2021. Mobile game Mario Kart Tour is scoring new characters in the form of pixelated Mario and pixelated Donkey Kong Jr. ripped straight from the SNES version of the racer. These characters are available between September 9-23.
During November and December, Super Mario Maker 2 will receive an anniversary speed run course. Plus, Super Smash Bros. Ultimate will receive a special Mario-themed online tournament. In January 2021, Spatoon 2 gets Mario content, and in March, Mario-themed furniture is coming to Animal Crossing: New Horizons. There will also be Cat Mario and Cat Peach Amiibo figures launching in February 2021.
You'll also like:
Hands-on with the Interactive LEGO Mario Sets
Original Super Mario Bros on Game and Watch Handheld
Bioshock, XCOM 2 and Borderlands Now Available on Switch