Top Video Games and Release Dates for March 2021
As we move into March, the video game releases continue to flow. There's no shortage of entertainment for those craving time on the couch or in front of the PC. So scroll down to see what's launching throughout the month and maybe you will find something to draw you away from FIFA or Call of Duty for a few hours…maybe.
And why you're at it, here's what you missed in February.
You'll also like:
Pokemon Legends: Arceus Announced for Nintendo Switch
Valve's Bonkers New Steam Deck is a Nintendo Switch For PC
Mario Kart Goes Live in Your Living Room with Home Circuit
1. Monster Hunter Rise
The popular Monster Hunter franchise makes its way to the Nintendo Switch with a new entry built from the ground up. Monster Hunter Rise is a four player co-op adventure set in the surroundings of the ninja-inspired Kamura Village. Players will venture out solo or with friends to explore lush ecosystems, battle new monsters and craft a huge variety of weapons and armour.
New gameplay systems include the high-flying "Wire Action" which shakes up traversal and you can go hunting with a new canine companion 'Palamute' who doubles as a ridable mount. Grab some friends, craft some armour and get hunting! You can check out a free demo right now available on the Nintendo Switch eShop.
Platform: Switch
Release date: March 26
2. It Takes Two
You may recall 2018's A Way Out, the game about a prison break that could only be played in co-op. The same studio is releasing their followup. It Takes Two, is a genre-bending adventure with a twist. It requires two players to work together.
You and a friend play as clashing couple Cody and May, two humans transformed into dolls by magic. Trapped in a fantasy world, the couple is challenged with saving their relationship by the suave love guru Dr Hakim. A variety of disruptive gameplay challenges stand between them and their return to normal.
It Takes Two includes a friend pass, meaning only one copy of the game is needed to play online co-op with a mate.
Platforms: PC, PS4, PS5, XB1, XBX
Release date: March 25
3. Evil Genius 2
It's time to live out those Bond villain fantasies in Evil Genius 2. In this strategy sequel for PC, players set their plans for world domination into action. Build a secret lair, train henchmen, dominate with a doomsday device, sell off the British Royal Family and more! With hundreds of potential objectives, variety is the spice of strife.
Shape the internal structure of your hazardous hideaway to fit your play-style, and construct wonderfully wicked devices for your minions to put to use. Research and develop traps to send the forces of justice spinning with pinball bumpers or put the chomp on them with the Venus Spy-Trap. While one trap is good, more is…evil-er.
This one is the sequel to the 2004 hit Evil Genius. 17 years on, it's safe to say Evil Genius 2 has been a long time coming.
Platform: PC
Release date: March 30
4. Loop Hero
The Lich has thrown the world into a timeless loop and plunged its inhabitants into never-ending chaos. It's up to you to overcome a series of unholy guardian bosses in order to save the world and break the cycle.
Loop Hero is a pixelated strategy rogue-like/deck builder where you use cards to place enemies, buildings, and terrain along a unique expedition loop for the brave hero to follow. Discover and equip loot on each run to expand and reinforce the camp and improve the hero's chances in battle to eventually end the loop. Don't let the simple graphics fool you. Loop Hero is a tough tactical game that sold over 500K copies in its first week.
Platform: PC
Release date: March 4
5. Spacebase Startopia
Spacebase Startopia is said to offer an original blend of empire building, RTS skirmishes, economic sim and a good dose of humour.
By being the only surviving rational life form in the sector, you become commander by default. Congratulations! Your new roles include maintaining order across three decks of the space station and managing energy and entertainment for the eight races of extraterrestrial visitors. And all the other decks are brimming with enemies, so there's that to deal with too.
In addition to a challenging single player campaign, players can engage in a battle mode along with competitive and cooperative modes for up to four players.
Platforms: PC, PS5, PS4 XB1, XBX
Release date: March 27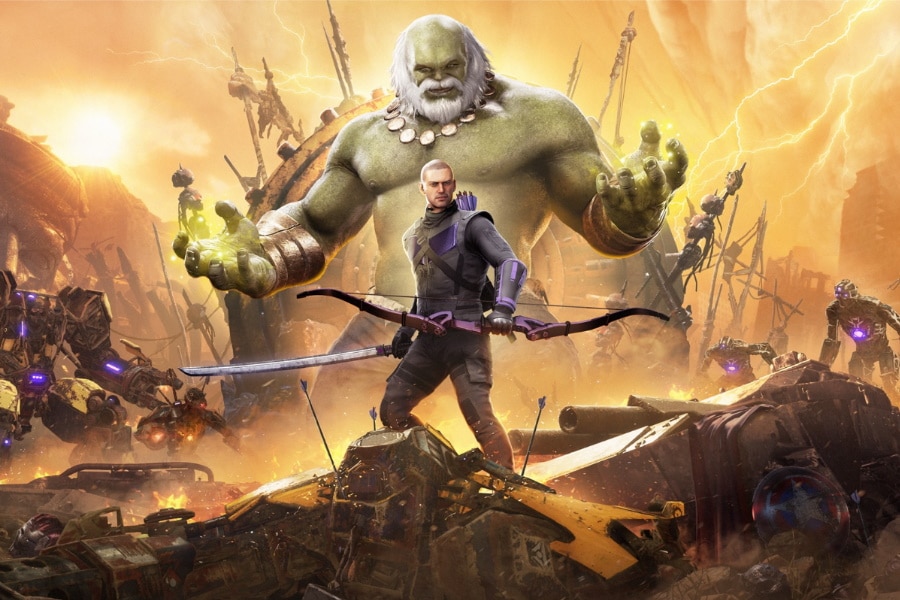 PS5 / Series X Upgrades
Are you still chasing a PS5 or Series X? Well, you may not want to hear that four of 2020's heavy hitters return with enhanced versions for these hard to find consoles. The enhanced version of Marvel's Avengers offers faster load times, higher resolution textures, improved destruction systems and more. This one arrives on March 18 and the upgrade is free for those who already own the game.
Next up, Tony Hawk's Pro Skater 1 + 2 is back with graphical improvements, faster load times, 120 frames per second at 1080p, dynamic shadows and enhanced skater textures. Next-gen Tony Hawk's arrives March 26. Unfortunately, this one won't be a free upgrade. Existing owners will have to pay a small fee to receive the enhancements.
Yakuza: Like a Dragon scores a free upgrade to PS5 and it's available right now. The Xbox Series X free upgrade has been available since late last year. Finally, Crash Bandicoot 4: It's About Time comes to PS5 and Xbox Series X with a free upgrade offering enhanced visuals and faster load times. March 12 is the date for this one, and the game also comes to Nintendo Switch for the first time on the same day.
March 2021 Video Game Release Dates
Yakuza: Like a Dragon (PS5) – March 2
Maquette (PC, PS5, PS4) – March 3
Loop Hero (PC) – March 4
Harvest Moon: One World (Switch) – March 5
Two Point Hospital: Jumbo Edition (PS4, XB1, Switch) – March 5
The Elder Scrolls Online: Flames of Ambition (PC) – March 8
Apex Legends (Switch) – March 9
Monster Truck Championship (PS5, XBX)
Crash Bandicoot 4: It's About Time (PS5, XBX, Switch) – March 12
The Elder Scrolls Online: Flames of Ambition (PS4, XB1) – March 12
Kingdoms of Amalur: Re-Reckoning (Switch) – March 16
Stubbs the Zombie: Rebel Without a Pulse (Switch) – March 16
Marvel's Avengers – (PS5, XBX) – March 18
Minute of Islands (PC, PS4, XB1, Switch) – March 18
Story of Seasons: Pioneers of Olive Town (Switch) – March 23
Tunche (Switch) – March 23
Overcooked! All You Can Eat (PC, PS4, XB1, Switch) – March 23
Balan Wonderworld (PC, PS4, PS5, XB1, XBX, Switch) – March 26
Monster Hunter Rise (Switch) – March 26
Tony Hawk's Pro Skater 1 + 2 (PS5, XBX) – March 26
It Takes Two – (PC, PS5, PS4, XB1, XBX) – March 26
Spacebase Startopia (PC, PS5, PS4, XB1, XBX) – March 27
Evil Genius 2: World Domination (PC) – March 30
You'll also like:
Pokemon Legends: Arceus Announced for Nintendo Switch
PlayStation's Next-Gen Virtual Reality Revealed
Splinter Cell Animated Series Reportedly Coming to Netflix
General FAQs
What games are coming out in March 2021?
Games releasing in March 2021 include Monster Hunter Rise, It Takes Two, Loop Hero and next gen upgrades for Marvel's Avengers, Tony Hawk's, Crash Bandicoot 4 and Yakuza Like a Dragon.
What consoles is Monster Hunter rise on?
Monster Hunter Rise will debut exclusively on Nintendo Switch on March 26. A PC version is expected sometime in 2022. There's currently no word on the game also reaching PlayStation and Xbox.
Is Tony Hawk's Pro Skater 1 + 2 coming to Switch?
Yes it is. A Nintendo Switch version of Tony Hawk's Pro Skater 1 + 2 is coming later in 2021. However, there's currently no news on a release date.