Xbox Serves Up 'World's First Ever Pizza-Scented' TMNT Controllers
Gaming just got a whole lot tastier (or smellier) with Microsoft's latest announcement of their delectable 'first ever' pizza-scented Xbox wireless controllers. It's all part of an exciting collaboration with Paramount for the upcoming Teenage Mutant Ninja Turtles: Mutant Mayhem movie, which hitts theaters this August. Xbox has never shied away from creating unique and unconventional accessories and controllers in the past, but their latest reveal of their custom-designed TMNT Xbox controllers undoubtedly takes the cake.
RELATED: Porsche and Xbox Team Up for Six Limited-Edition Series X Consoles and Controllers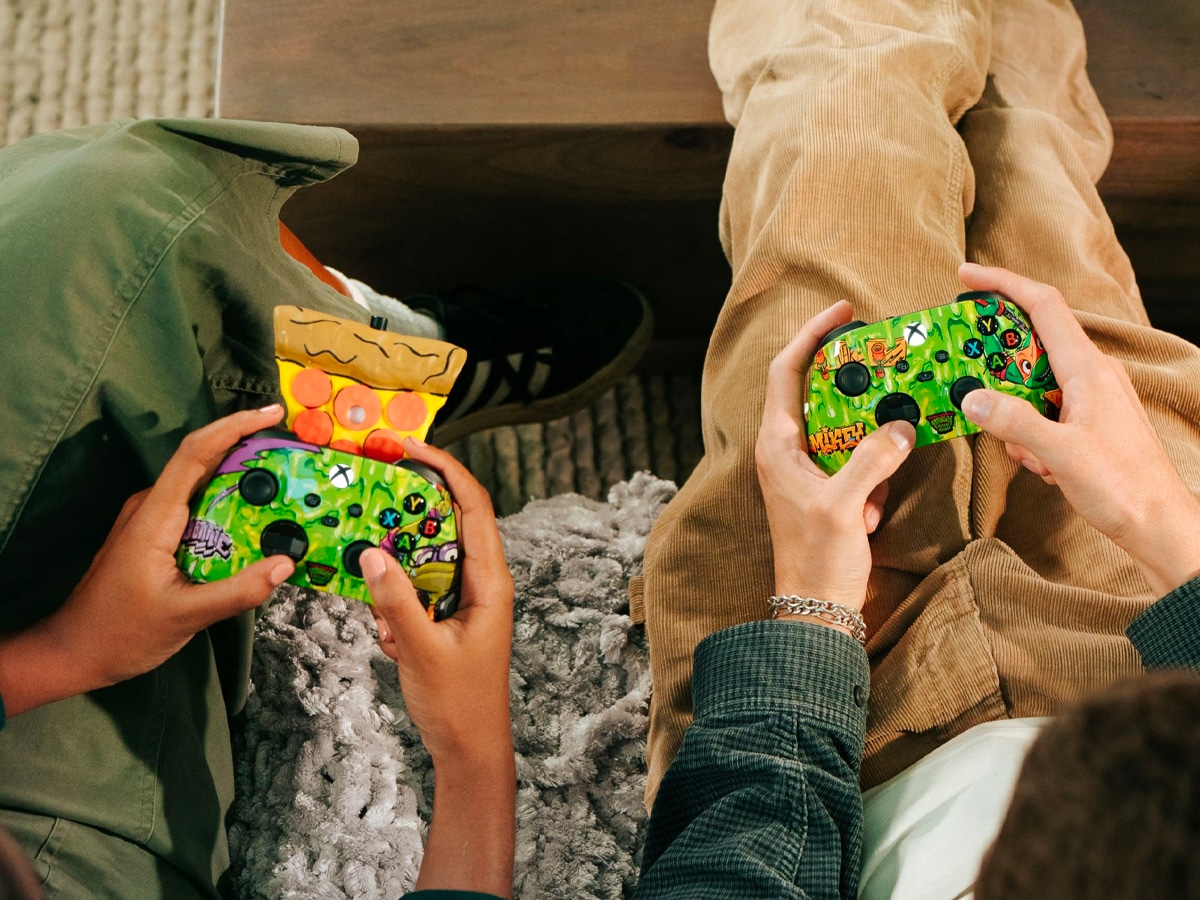 Billed as the "world's first ever pizza-scented controller," this innovative new gaming accessory comes with an ingeniously designed scent diffuser, cleverly shaped like a mouthwatering slice of pizza, making your gaming experience truly one-of-a-kind. "Designed to deliver the smell of the Turtles' beloved meal to your game time, these exclusive Xbox Wireless Controllers come with a built-in scent diffuser shaped like a slice of delicious New York 'za," says Xbox.
These controllers pay homage to the Teenage Mutant Ninja Turtles with four distinct variants, each reflecting the style of the four beloved half-shell heroes – Donatello, Leonardo, Michelangelo, and Raphael. Beyond the mouthwatering scent, there's nothing new on offer and these controllers retain all the familiar functionalities of stock Xbox controllers. However, getting your hands on one of these awesome controllers isn't gonna be your typical stroll to the store, as Xbox is making it an exclusive affair.
In order to stand a chance to win these, you'll need to follow Xbox Game Pass on Twitter X and retweet the official Xbox Game Pass sweepstakes tweet before the deadline on August 13. However, if you are hell-bent on experiencing the pizza-scented goodness, there's a workaround too. You can score these epic TMNT: Mutant Mayhem Pizza-Scented Controllers at Microsoft's Experience Center on New York's Fifth Avenue during a killer promo event on August 2 and can check out all the official rules and eligibility details here.
The upcoming Teenage Mutant Ninja Turtles: Mutant Mayhem is bringing everyone's favorite pizza-loving reptile siblings and they're looking more vibrant than ever. The movie is all set to bring back that long-lost "teenage" essence of the Teenage Mutant Ninja Turtles, something that fans have sorely missed in the franchise. It promises to reignite that special charm that made the turtles so beloved in the first place.
Teenage Mutant Ninja Turtles: Mutant Mayhem features a jam-packed with A-list talent, featuring the likes of Hannibal Buress as Genghis Frog, John Cena as Rocksteady, and the legendary Jackie Chan lending his voice to Splinter. There's also Ice Cube as Superfly, Post Malone as Ray Fillet, Seth Rogen as Bebop, Paul Rudd as Mondo Gecko, and the incredibly funny Maya Rudolph stepping into the shoes of Cynthia Utrom. The movie is slated to hit the big screens on August 2.
---
Featured Video from Man of Many
---
---
Featured Video from Man of Many