Hooplight 2.0 Lets You Dunk in the Dark
Not that a good game of pick-up basketball on the driveway needs any help in being more fun, but if you want to increase the enjoyment you should consider the Hooplight 2.0. The ring of LED lights adds a new element to any game with its light and sound effects.
You'll also like:
Home Décor Scores with White Leather Mini Basketball Hoop
HoopLight Lets Anyone Be a Basketball Star
Converse Basketball Shoes Shoot for '90s Hoops Vibes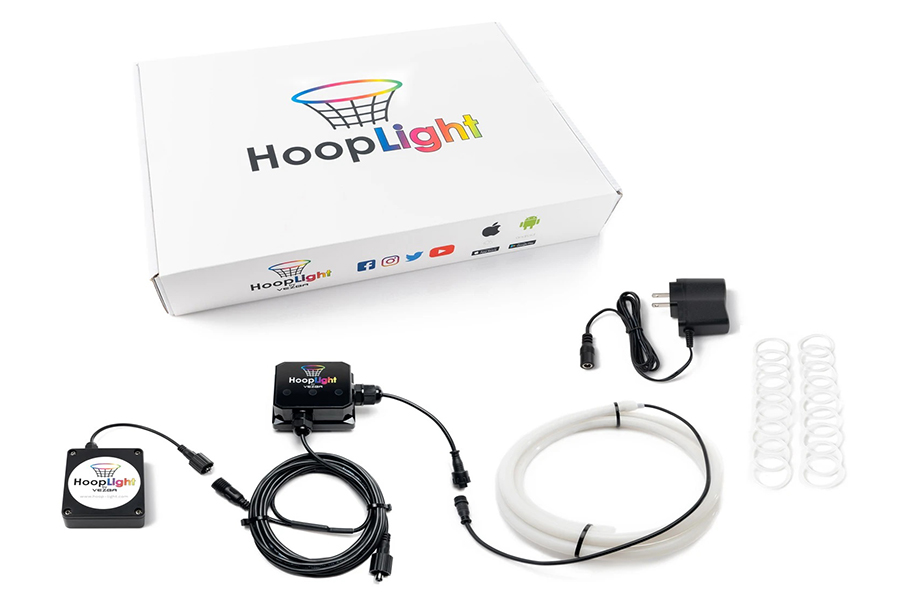 The Hooplight installs in just minutes, so you can install it on your home court or take it with you for other games. The light features literally thousands of colour pattern combinations that light up when you score a shot. The new version also features over 100 different sound effects as well as the ability to count your successful shots. It works by way of a motion sensor that detects when a ball passes through the hoop. Once the ball is detected, the Hooplight lets loose a celebration of light and sound.
You can set up your Hooplight using the free app, which is available for both iOS and Android. With the app, you can select colour combinations, adjust brightness, control the sensitivity, and check on the battery level. The Hooplight is completely weather and waterproof, and it is UV resistant, so you can leave it on the hoop without worrying about it being damaged. Finally, the constant light mode will light up your court, letting you play longer into the night instead of shutting the game down when things are just getting good.
The Hooplight sells for USD$120, and it's worth every bit of it. You'll enjoy your time on the court even more—whether you're just practising or you're playing with friends. The light and sound show offers instant reward for your successful shots, and you'll never wonder if there will be anyone around for your pick-up game. The Hooplight 2.0 gives new meaning to home-court advantage.
You'll also like:
Home Décor Scores with White Leather Mini Basketball Hoop
HoopLight Lets Anyone Be a Basketball Star
Converse Basketball Shoes Shoot for '90s Hoops Vibes