HYPE x NERF Blasters Get You Ready for a Steezy Shootout
If you were to visit the headquarters of HYPE., you might just stumble in upon a pitched NERF battle. Evidently, shootouts with the foam darts are a fairly common occurrence there, and now you can be properly outfitted for your own HYPE. X NERF battle with a pair of ultra-limited blasters.
You'll also like:
"Skyrim in Space" – 'Starfield' Launching in 2022
The Largest Ever Forza Game is Coming this Year
Battlefield 2042: Get Ready for the 'Biggest Map Ever Seen'
HYPE. is approaching ten years of being in business, and the UK brand is continuing its meteoric rise. "We've come a long way as a brand since just selling printed t-shirts," says the company. "Our complete range now covers menswear, womenswear and kidswear and no includes more than just t-shirts and backpacks."
Adding NERF blasters to that lineup seems a natural fit for the company's philosophy. There are two types of blasters sporting the HYPE. look. The first uses HYPE.'s core colour palette of purple, cyan, blue, and green. The second has a stealth heat map printed on it, using green, orange, yellow, and navy. Each blaster comes in its own custom packaging and includes six exclusive darts with the signature NERF orange top and a white base with dual branding embossed onto it.
Both soft-play toy guns are NERF's Disruptor, which features a rotating drum that holds six darts. The Disruptor features quick-draw action and "Slam-Fire" which allows you to fire all six darts rapidly. The darts fire up to 90 feet.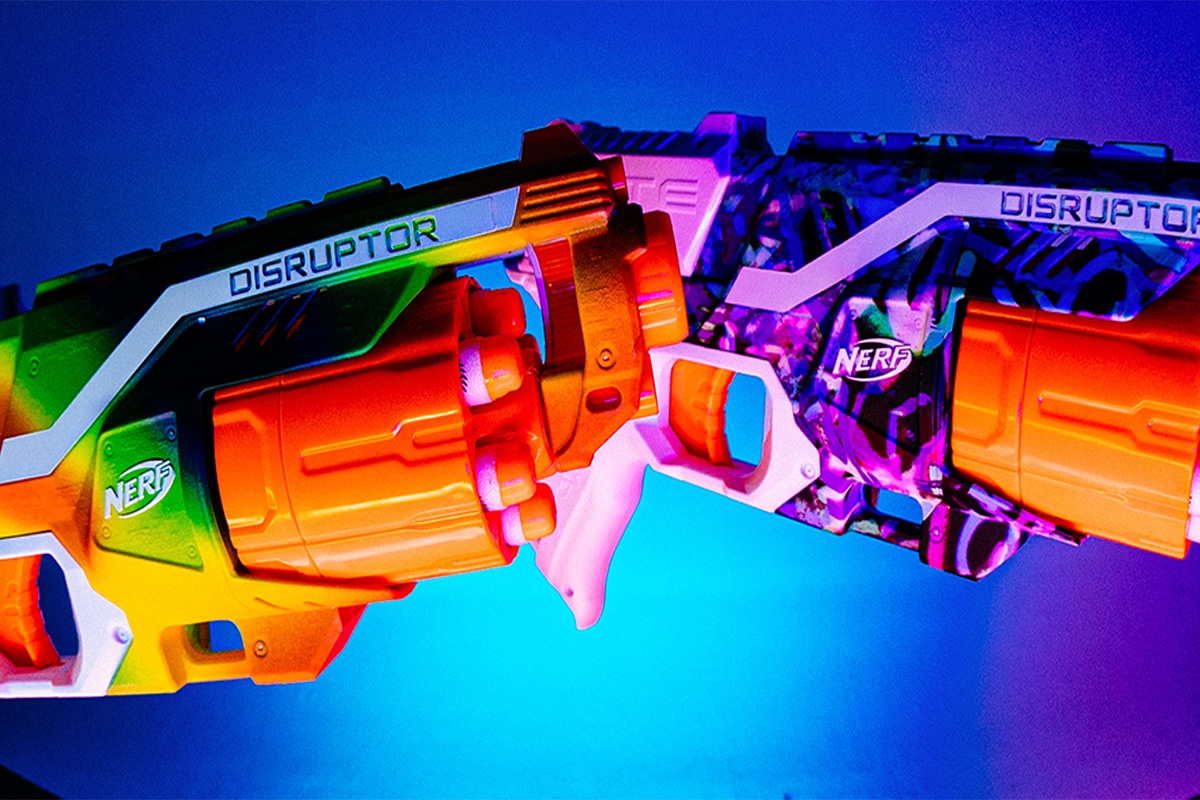 Getting the blasters may be a challenge as they are a part of a drawing offered by HYPE. You can enter on their site, and while you're there, check out the line of clothes and accessories that match the collaboration. The line includes clothes for boys and girls, water bottles, slip-on sandals, and backpacks. So when you're ready for your visit to HYPE. HQ, make sure to come properly equipped and outfitted—if you're lucky enough to get one of these ultra-rare HYPE. X NERF blasters.
You'll also like:
"Skyrim in Space" – 'Starfield' Launching in 2022
The Largest Ever Forza Game is Coming this Year
Battlefield 2042: Get Ready for the 'Biggest Map Ever Seen'