Joe Rogan Moderating a Trump v Biden Debate is Absurdly Possible
We're putting this Tweet at the top because we couldn't believe it when we saw it. The 45th President of the United States, Donald J. Trump wants the king of podcasts, DMT, and MMA colour commentary to moderate a presidential debate with Democratic candidate Joe Biden. What the f**k even is 2020?! How did we get here?
You'll also like:
Joe Rogan's New Studio Looks Futuristic AF
What is Joe Rogan's Net Worth?
Elon Musk Tells Joe Rogan Why He's Selling All His Possessions
I do! https://t.co/H9Eghnqpuy

— Donald J. Trump (@realDonaldTrump) September 14, 2020
Here's the tale of the tape – speaking to retired MMA fighter Tim Kennedy on The Joe Rogan Experience, Rogan made his offer to moderate a presidential debate while discussing the current antiquated debate format. Asked to be the "control mechanism" for the presidential candidates, both Kennedy and Rogan are looking to avoid determining such an important political decision on a soundbite contest between media outlets. Rogan even went so far as to suggest having zero audience members.
"First of all, I want no one else in the room, just the three of us, and you'd have to stream it live so no one can edit it, and I would want them in there for hours," said Rogan, before calling on both men to come down to Austin. If only it was to put them inside the octagon. We've already seen Trump clothesline (poorly), Vince McMahon, in the WWE. Now we want to see him go one on one with Sleepy Eyed Joe. Anyway, back to the debate.
"I would 100% do it," he continued. "But I don't think that Biden can handle it. I think Biden is like, I think he's, I mean people get mad at me for saying this, I think there's something wrong, and I don't think there's something wrong, because I'm guessing, or because I'm pro-Trump. I've seen him fall apart," said Rogan. Inb4 Rogan screams, "he's rocked!"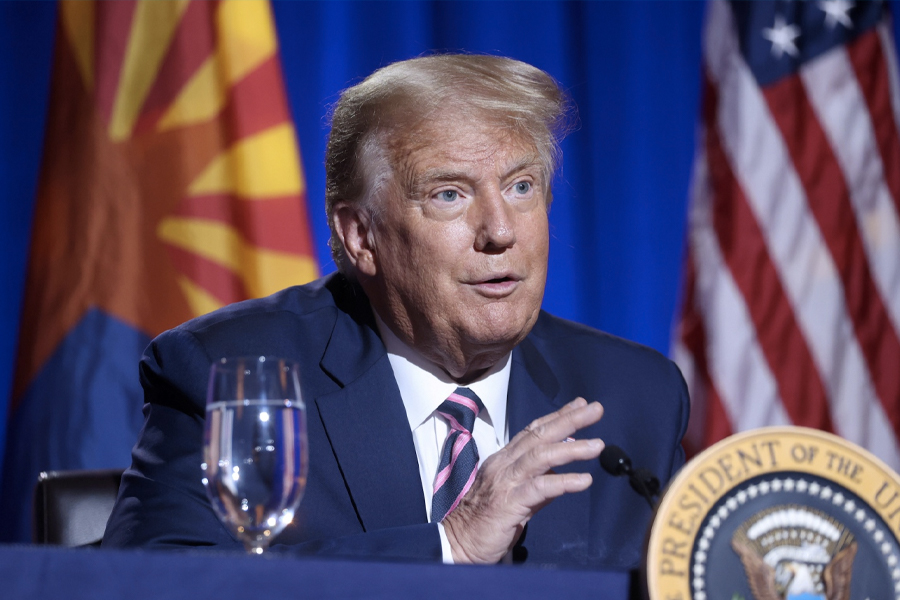 So, does Trump even have the authority to make a decision like this? Well, we don't know if you've been paying attention, but that's kinda his schtick. Regardless, just the sheer absurdity that is 2020 already – we are now possibly going to see the guy from Fear Factor take on a role held by some of America's elite media professionals, from Jim Lehrer of PBS to Chris Wallace of everybody's favourite, Fox News.
Already setting the media world on fire, everyone seems perplexed by the President's desire to see Rogan moderate a four-hour-long debate. Sure, he's got the experience with his marathon podcasts, but how will he resist asking Jamie to bring something up on screen to fact check? Let alone try to suggest DMT as a solution.
Of course, host of the Late Night Show is weighing in on the proposed significant format change to what he calls, "two grandpas argue about politics." Stephen Colbert, however,  is warning Rogan not to get his hopes up, citing the President's long record of "not meaning it" when he says the words "I do." Ouch.
While we won't run you through Colbert's counteroffer for an 8-hour debate with no cameras and a collection of caricatures depicting the two men with big heads, we will leave you with a bunch of hilarious social media responses, because that's how you end an article in 2020 right?
— Ace-o-aces (@aceoaces) September 14, 2020
"Joe Rogan is a comedian, podcast host, and mixed martial arts color commentator. He has also worked as a television host and an actor." THIS is the man Trump will debate in front of? Another actor? Great ?? Doesn't sound fishy at all ?? Maybe someone more qualified to moderate

— Tina (@a_friend_1970) September 14, 2020
i thought he got married again when he said, "i do"

— ringskie (@ringskie1) September 15, 2020
How about we stop making politics about entertainment? Look where we are.

— Jaime (@jaimepricea) September 14, 2020
You'll also like:
Joe Rogan's New Studio Looks Futuristic AF
What is Joe Rogan's Net Worth?
Elon Musk Tells Joe Rogan Why He's Selling All His Possessions