Four-Legged Legend That Saved Koalas From Bushfires Gets His Own Doco
Australia's most in-demand dog has finally got his own tv show, thanks to a little help from model, presenter, wildlife activist and all-round top bloke Tyson Mayr. Bear: Koala Hero is the new one-hour documentary produced by Foxtel that tells the story of the goofball border collie/koolie cross that shot to fame sniffing out our furry tree-dwelling national icons in the midst of torrid bushfire presence. The bright blue-eyed, red bootie wearing canine was trained specifically to locate koalas in danger, and when the bushfires hit the east coast of Australia at the tail end of last year, he wasn't short of work. More than one billion animals are estimated to have perished in what has been described as the worst wildfire event in recent memory. But every great hero needs a sidekick, and luckily enough for Bear, he had a pretty decent one.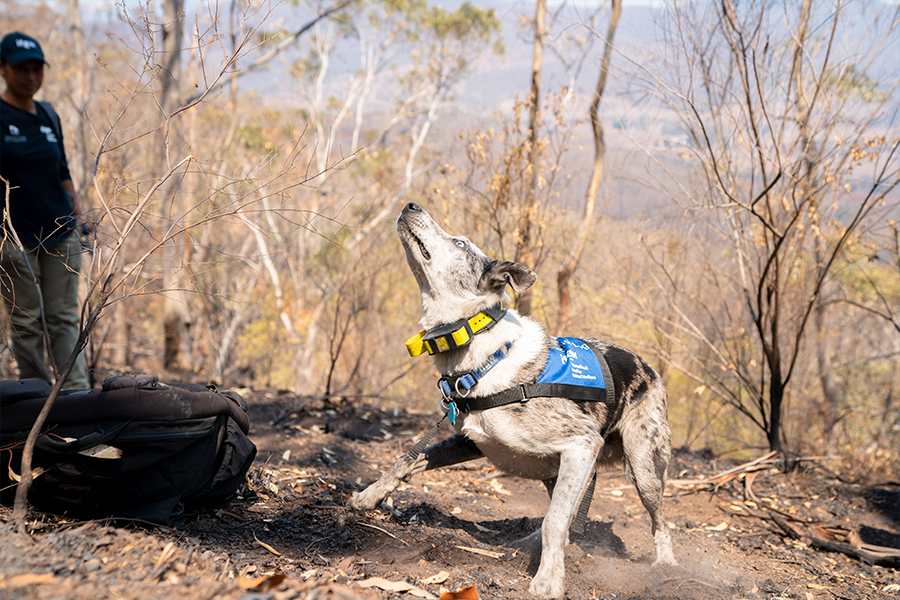 Mayr, better known as The Naked Traveller, joined Bear and his team of handlers on the cross-country journey, tracking down more than 50 koalas in the process. But it was something the wildlife activist had to do.
"It all started when the bushfires came through our property in Queensland back in November. I remember looking out and seeing all the animals; the kangaroos and wild horses escaping, everything was going down to the creek, but the koalas were just scurrying around the trees, looking out at the smoke. They were extremely vulnerable, but it also made you feel helpless," Mayr said. "When the bushfires hit, everything else in my life; my work, any projects or travel plans just stopped. It became about helping family, extended and close, and helping animals who are suffering as a result of something humans are ultimately responsible for."
Mayr, Bear and a team of animal welfare workers were on the job from early December, but it wasn't until January that Foxtel jumped on-board with the idea for the documentary. "It's definitely been a very different show than I've ever been a part of before. Everything happened so quickly. One moment we'd be out of the vet, and the next we'd get a phone and be on our 10 hours south to help someone else," Mayr said. Watching the documentary you can tell, there are a lot of tense, quiet moments separated by vast expanses of open roads and desolate, barren landscapes. It's these confronting images that sent shockwaves around the globe, with our once pristine scenery reduced to ash and rubble. Mayr revealed that the horrendous conditions often made it difficult for vehicles to reach endangered areas, but thanks to a fortuitous partnership with off-road icon Jeep, he was able to navigate the concerns.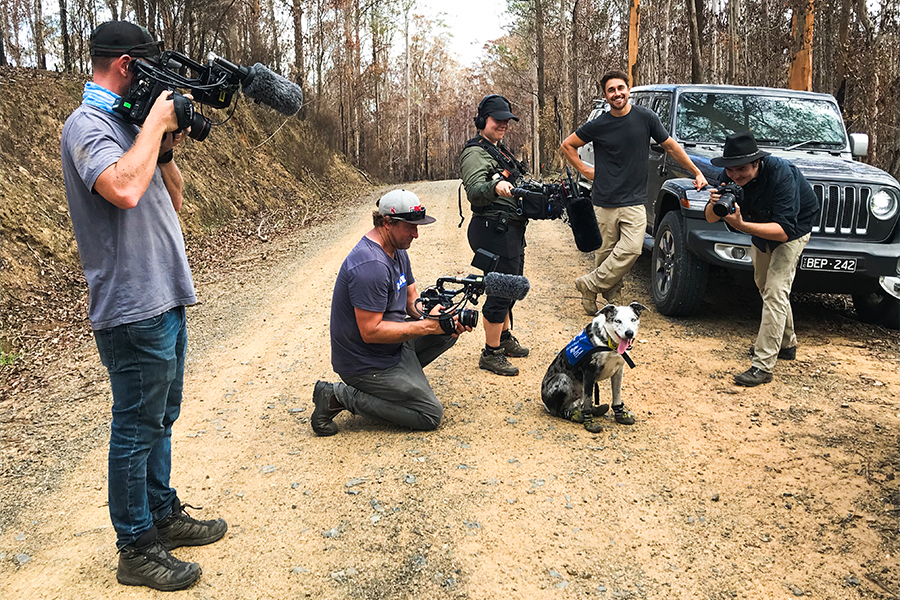 "The Wrangler that I've got took us through every situation imaginable," he said. "There were countless days where it was filled with koalas, we passed through fire grounds; some really dangerous terrain. In many cases, it actually took us to places that no other car could reach. Other koala researchers would jump in and we'd get to the site. Without the Wrangler, I don't think we would have been able to get there." But undoubtedly, despite some decent cameos from himself and the Wrangler, Mayr admits it's his four-legged that steals the show. "I've spent about four months travelling with Bear, and no matter how many times I see home do what he does, it still blows my mind.
Bear: Koala Hero premiered on the Lifestyle channel on Wednesday and is available on-demand now.