Disney is Using Stormtroopers to Enforce Social Distancing Rules
When strict regulations and procedures are handed down from the higher powers, it can be hard to police, and that's exactly what communities and businesses around the globe are coming to terms with. Social distancing measures, while critical to reducing the spread of COVID-19 aren't particularly popular and getting people to adhere to them is a challenge in itself. Wouldn't be easier if we just had a bunch of mindless drones to police it? Well, that's not a problem entertainment giant Disney has to worry about.
You'll also like:
NSW Police are Using a Smash Mouth Banger to Explain Social Distancing
22 Best Multiplayer Games to Play While Social Distancing
Priest Uses Squirt Gun Full of Holy Water to Shoot Worshippers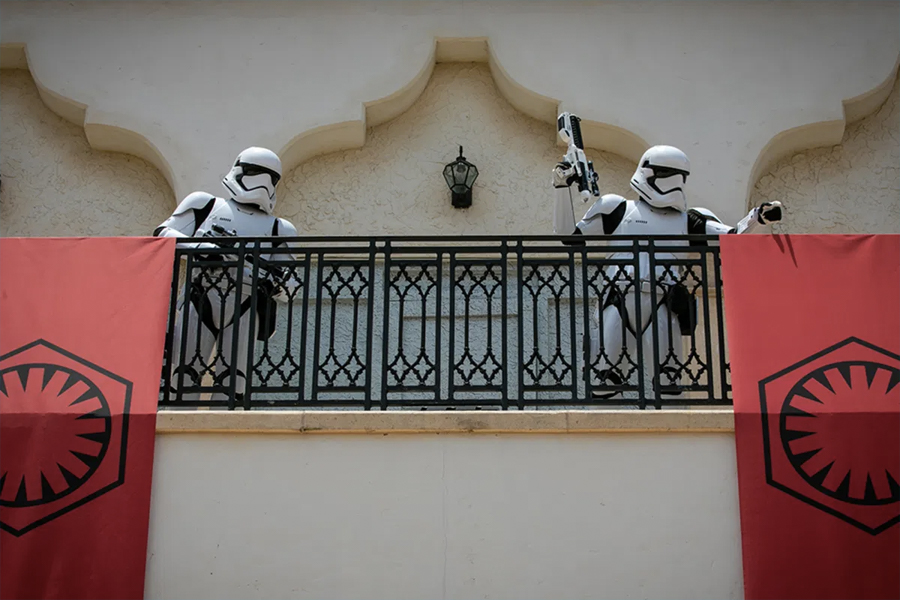 According to Entertainment Weekly, at its Disney Springs shopping area in Florida, the company is using Stormtroopers from the Star Wars franchise to encourage social distancing etiquette. The nameless, faceless henchmen patrol the park playfully enforcing pandemic protective measures.
A video captured by Attractions Magazine also shows a pair of First Order Stormtroopers standing on a balcony while prerecorded dialogue is blasted to the guests beneath. Should a patron come too close to them, the Stormtroopers will shout "Stay in your sector!", before drawing an imaginary line to separate them. Additionally, one Stormtrooper notes that you should move "one bantha's length away", a reference to the large, hairy creatures ridden by Stormtroopers on the planet Tatooine in A New Hope.
The Disney Springs shopping mall requires all guests to wear a facemask while inside. While the Stormtroopers note that our recreational-use masks aren't quite as cool as theirs, they applaud us for trying. Disney Springs reopened May 20, despite the main Disney World park remaining closed until mid-July. You can check out the video of the Stormtroopers patrolling the shopping mall below.
You'll also like:
NSW Police are Using a Smash Mouth Banger to Explain Social Distancing
22 Best Multiplayer Games to Play While Social Distancing
Priest Uses Squirt Gun Full of Holy Water to Shoot Worshippers