Get Schwifty with the New Pickle Rick Mint Maxibon
Wubba lubba dub dub! The mulitverse's favourite odd-couple are getting their own sweet treat. Thanks to Maxibon, the dual-sided dessert sandwich, Rick and Morty are being immortalised in ice cream with the new limited-edition Maxibon Pickle Rick Mint flavour. Get schwifty team.
Bringing together two of Australia's best-loved cult-favourites, the new collaboration pays homage to the iconic Pickle Rick episode. Perhaps the most famous instalment of the hit Adult Swim series, the Pickle Rick chapter sees Rick turn himself into a pickle to avoid family therapy. This time around, Maxibon is turning itself into a Pickle Rick Mint to deliver a flavour that will "blow the minds of Maxi-blokes and Rick and Morty fans alike".
The new exclusive flavour has all the classic Maxibon bits with a minty twist, featuring a mint slab with galactic mint crisps sandwiched between the iconic Maxibon biscuit and half dipped in a Pickle Rick inspired green coloured white choc with cookie crumbs.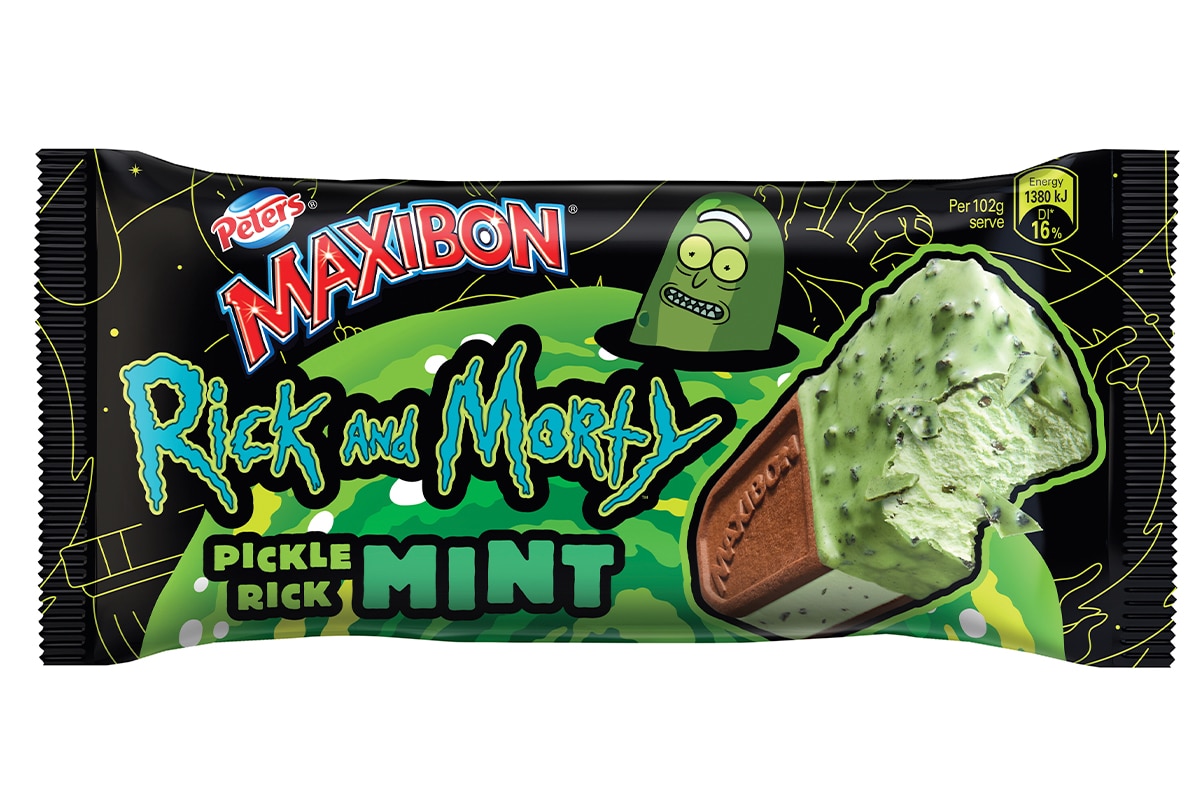 "We heard the calls for a mint upgrade and we know there was no better way to launch our most requested flavour than with Pickle Rick," Carla Spadafora, marketing manager at Peters said. "As pop culture icons and the world's biggest ice-cream lovers, we knew Rick and Morty would authentically bring our exclusive mint flavour to life."
According to Maxibon, the new Pickle Rick Mint flavour has been developed to coincide with the launch of Rick and Morty season 5, which will be released on June 20, but the good news is, you can get your hands on the new ice cream early. The limited-edition Maxibon Pickle Rick Mint is available exclusively at  7-Eleven stores in Victoria, New South Wales, Queensland and Western Australia now. While South Australian fans can pick one up at OTR stores from July.
You'll also like:
Krispy Kreme's Rick and Morty Themed Doughnuts
Rick and Morty Season 5 Release Date Revealed with New Trailer
Rick and Morty Season 5: Everything We Know So Far