10 Best Music Videos of All Time as Picked by Lime Cordiale
When it comes to Aussie legends, there aren't too many more legendary than Lime Cordiale. Brothers Oli and Louis Leimbach have been riding a pretty enigmatic wave for the last few years. After racking up over 95 million streams online, the band hit the ground running in 2020, recording the follow up to their 2017 album, Permanent Vacation. Normally, a new album offers opportunities to get out and tour, connect with fans and spread the gospel of Lime Cordiale, but like so many other things to slated for this year, fate stood in the way of a seamless release.
You'll also like:
35 Sexiest Music Videos of All Time
7 Best Joe Exotic Tiger King Music Videos Ranked
Guy Turns 1920s Typewriter Into an EDM Drum Machine
"It's a weird combination of being very productive and incredibly domestic," the boys tell Man of Many of their time in isolation. "This is the first time we've been able to try it as we've been living in a great house with a bunch of mates for about a year, but haven't spent more than two weeks here until now. Never thought there'd be so much you can do from your own home."
It's an unfamiliar experience for the Lime Cordiale boys. After scoring four songs in the top 40 of Triple J's Hottest 100 earlier this year, the Sydney act has been catapulted in the cultural zeitgeist. "We didn't think we had any chance of making the Hottest 100, let alone in the 40s," Oli says. "When the 2019 countdown was approaching, people kept asking where they thought we'd place. It put a bit of pressure on and we were hoping we'd get a couple of songs in the Hottest 100. Four songs in there is a dream. Absolutely insane."
Recognition on a national scale is something the boys hadn't expected, but it's a welcome addition. "It makes us realise that there are more people out there that know our music then we think," Louis says. "We just go about our lives, playing shows and recording music and sometimes we forget that it's not just ourselves looking forward to the release of our album and enjoying our tunes. Since then, I think more people have been fighting for tickets to our shows and we seem to have jumped to later festival time slots. I still don't have a Hottest 100 CD though. I want one of those!"
Lime Cordiale x Post Malone
Off the back of the band's Hottest 100 success, the Lime Cordiale star has continued to rise. A somewhat odd collaboration saw the band signed by hip-hop superstar Post Malone and his manager Dre London in a co-management deal with Chugg Music.
"It's a different scene, that's for sure," Louis jokes. "When you hang out backstage at a Post Malone show, it's an experience. There's a bigger space with more people than most house parties. He's such a chiller and when you're with him, it doesn't feel like he's a hip hop artist. Backstage he has a full backline set up… drums, guitars and amps. He jams out all day and plays rock and roll, so we have a strong point of interest. We have a lot of fun when we see them in the USA. It's an amazing experience to be walking around with the biggest artists in the industry."
We could well see Lime Cordiale on that level soon enough.
14 Steps to a Better You
Indeed the whole album is an exercise in self-reflection. A parody of self-help books filled with lessons on 'How to be your best self', the latest release from Lime Cordiale is as sharp and pointed as it is powerful and fun. The messaging is as clear as ever in the film clip for On Our Own, which saw the band reunite with director Jack Shepherd for a polished, fully live studio rendition.
"We've never had a music video like this. We wanted a studio video that was honest and closer to our live show than we've ever had before," the boys explain. "We only decided to do it all in one take once director Jack had seen it on the day. There's no bullshit when you don't cut. This is who we are and this is how we play 'On Our Own'."
It's a level of realness that you don't often see in the music industry, and one we're pretty stoked to talk to the lads about. Following that up hasn't been easy, but Oli and Louis' latest clip may have surpassed it. Just this week, the brothers dropped a new single Screw Loose and a music video to go along. The clip is already making the rounds online, copping a huge response from fans, but rather than just plug the clip online, we wanted to delve deep into what makes the best music videos work. Is it the lighting? The theme? Christopher Walken's dance moves? According to Lime Cordiale's Oli and Louis Leimbach, it's all of the above.
Lime Cordiale's 10 Best Music Videos of All Time
We got the boys behind our favourite Like a Version cover to chart their 10 best music videos of all time. Here are the bangers Lime Cordiale picked and the reasons behind the choices, in their own words.
1. The Pharcyde – Drop
Performed in reverse and then replayed backwards. Spike Jones' early work and has been recreated many times since. Can't beat this original. And banging track. The song features a sample from the Beastie Boys and a cameo in the clip. Shot in the not-so-pretty parts of LA.
Released: 1995
Album: Labcabincalifornia
Director: Spike Jonze
2. Fatboy Slim – Weapon of choice
Christopher Walken dancing his butt off to Fat Boy Slim. The clip just gets more and more outrageous until Walken is flying off the walls. You can't not dance like that when you hear this song.
Released: 2000
Album: Halfway Between the Gutter and the Stars
Director: Spike Jonze
3. Fat Freddy's Drop – Clean the House
Definitely a hype up song for us before we play live. The Fat Freddy's crew have been made into puppets. A poker game goes sour which results in a high-speed getaway shootout.
Released: 2013
Album: Clean the House
4. OutKast – Ms. Jackson
When this song came out I was in primary school and my teacher's name was Mrs Jackson. I remember she told me that she had gone grey at 20 because of stress. I'm sure that a whole classroom of students yelling out "I'm sorry Miss Jackson, OOO!" for the whole year didn't help that stress. Poor thing, she was a lovely teacher.
Released: 2000
Album: Stankonia
5. Beastie Boys – Intergalactic
A tribute to Japanese Kaiju films and filmed in Japan. Just one of many classic fish eye Beastie Boys clips. We always try and add this into our clips but I think it only really works fish eye.
Released: 1998
Album: Hello Nasty
Director: Nathanial Hornblower (Adam Yauch)
6. The Strokes – You Only Live Once
Definitely one of our biggest influences and favourites, musically and the natural coolness of the band. We love clips that can be shot in one location and still remain interesting. Makes you feel a bit nauseous and dirty as the room fills up with what looks like sewage water.
Released: 2006
Album: First Impressions of Earth
Director: Samuel Bayer
7. The Black Keys – Lonely boy
The whole clip is just one guy, one shot standing outside what looks like a dodgy motel. He's dancing and singing kind of awkwardly but obviously really into it.
Released: 2011
Album: El Camino
Director: Jesse Dylan
8. Eminem – The Real Slim Shady
I was a pretty die-hard early Eminem fan when I was in primary school. Pretty intense lyrics for a 10 year listening back on it now but most of it probably went over my head.
I clearly remember using dial-up internet to illegal download this clip. It took a whole day to download and then I probably watched it 200+ times. I also remember my parents letting me put this album on at one of their parties and all of my parent's friends loving it and all getting up to dance. Pretty cool.
Released: 2000
Album: The Marshall Mathers LP
9. Gotye – Hearts a mess
Pretty weird one and kind of haunts me but perfectly eerie. Wally's voice is crazy.
Released: 2007
Album: Like Drawing Blood
Video Production: PictureDRIFT
Direction and Animation: Brendan Cook
Character Design: Duncan Irving
3D Modeling & Animation: Mayumi Kaneko
Character Rigging: Stefan Litterini
Cinematography: Barnaby Norris
10. D'angelo – Untitled (How Does It Feel)
Cause who doesn't want to see D'angelo's sweet nude bod for 4 and a half minutes. Great track too.
Released: 2006
Label: Virgin Records
What's Next For Lime Cordiale
With 14 Steps to a Better You officially dropping on Friday, July 10, the boys in Lime Cordiale have a lot on their plate. The album launch has already kicked off with seven sold-out shows in Sydney and once the borders open, touring will be firmly back on the cards. In the immediate future, however, it's all about soaking up the downtime while it lasts; whatever that may look like.
"This album release on July 10 is all we're thinking about at the moment, but we've managed to get a bit of writing happening as well," the boys say. "Amongst all that, we've put together a run-around boat and raised some chickens from eggs. Trying to get all that stuff happening that we can't do whilst touring."
You can pre-order the new album 14 Steps to a Better You via the link below.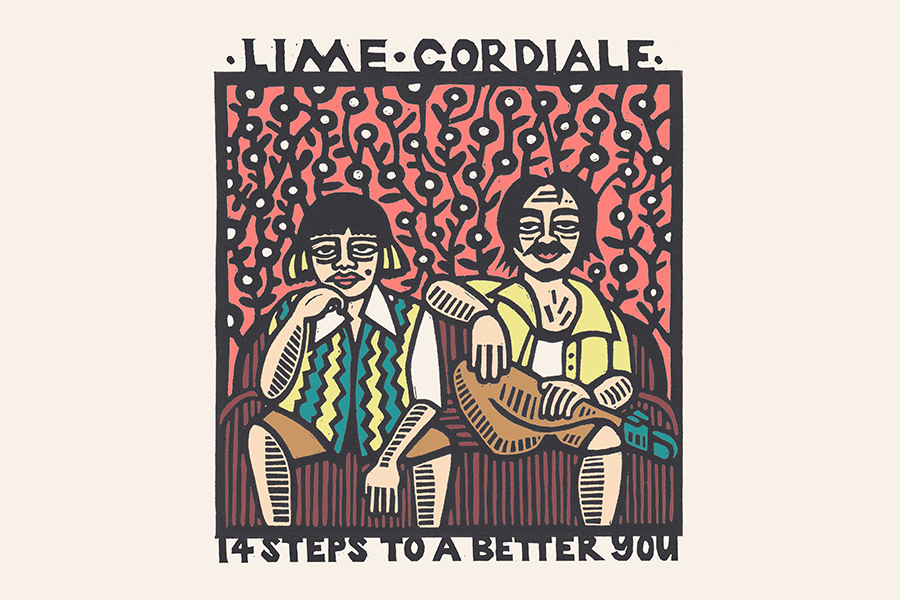 You'll also like:
35 Sexiest Music Videos of All Time
7 Best Joe Exotic Tiger King Music Videos Ranked
Guy Turns 1920s Typewriter Into an EDM Drum Machine