40+ Best Memes from the 2020 US Presidential Debate
It's been described as an absolute 'sh*tshow' by CNN, but the first Presidential Debate of 2020 was well worth the price of admission. The showdown between President Donald Trump and Democratic nominee Joe Biden at Case Western Reserve University in Cleveland this week saw meltdowns, tantrums and most importantly, a wealth of the best debate memes we've seen in years. For 90 minutes on Tuesday night, the two politicians went toe-to-toe on issues ranging from COVID-19 and Swine Flu, to Trump's taxes and Biden's son.
You'll also like:
27 Best Memes of 2020 (So Far)
True Story of Barry Wood: 'Wood Sitting On a Bed' Meme
Who is Daquan? The Meme Page Warner Music Just Paid $85 Million For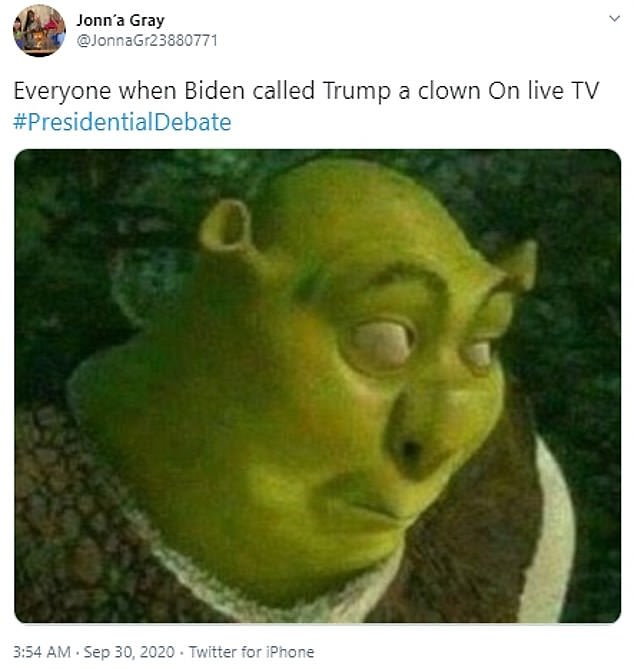 But while the face-off on-screen was more than entertaining in itself, the real show was happening on social media. Twitter was absolutely slammed with fresh debate memes, each more spicy than the last. From reaction gifs to the now-infamous "Will you shut up, man?", the night birthed some new Trump memes and Biden folklore that will undoubtedly go down in internet history. But it's hardly surprising.
A poll by CBS News showed that 83 per cent of viewers found the tone of the debate to be negative, with the most common reaction being 'annoyance'. You could argue that with two older men bickering on-stage for 90 minutes straight, it was bound to end this way. "That was a hot mess, inside a dumpster fire, inside a train wreck. That was the worst debate I have ever seen," CNN anchor Jake Tapper said on the network following the debate. "In fact, it wasn't even a debate. It was a disgrace."
The worst debate ever? Maybe, but the fallout has been glorious and it's not over yet. "Can't believe there's two more of these. It's like making a sequel to Cats," comedian and political commentator Bill Maher wrote on Twitter. So, while the cavalcade of fresh Trump and Biden memes rolls in, we're taking stock of the very best. Here is a list of the best debate memes from the first Presidential Debate of 2020.
#Debates2020 (CREDIT GIVEN TO THE MAKER OF THIS) pic.twitter.com/fa66BWtad1

— 💙Thunder Strike❤️🔞 (@TeGryphNextDoor) September 30, 2020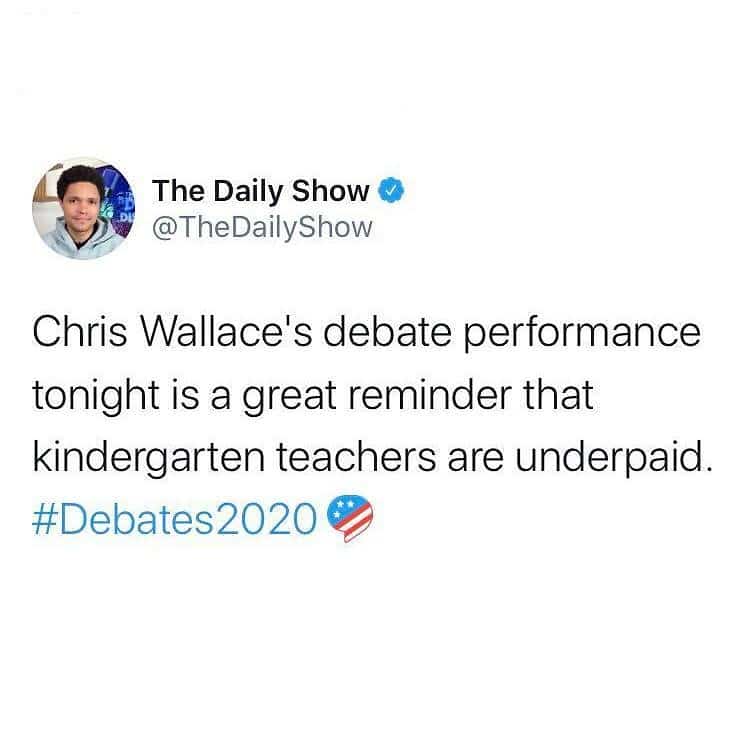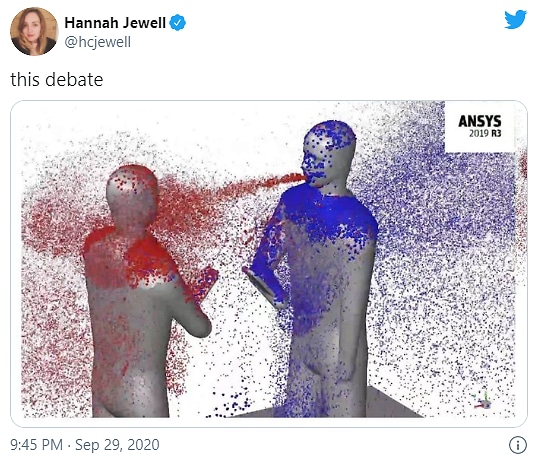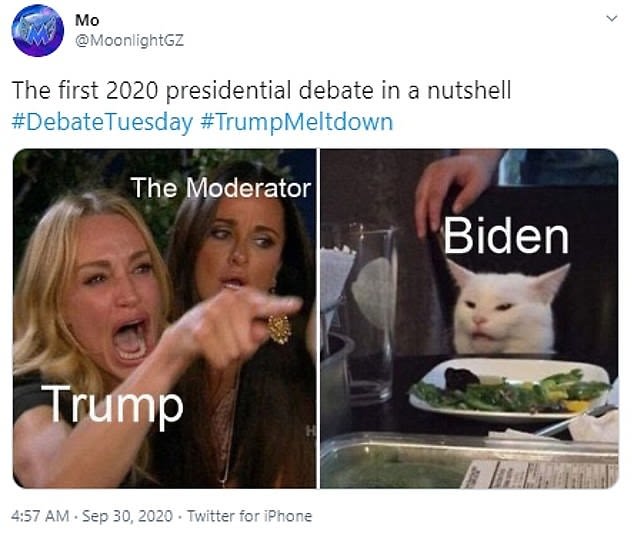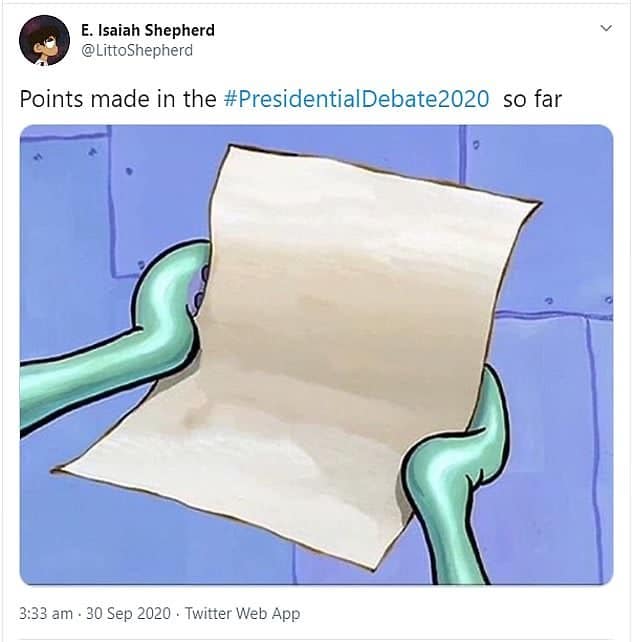 Jake Tapper says what we are all thinking: "That was a hot mess. Inside a dumpster fire. Inside a train wreck. That was the worst debate I have ever seen."

Danan Bash adds that it was a "shitshow." pic.twitter.com/EiX8h6zEWQ

— Justin Baragona (@justinbaragona) September 30, 2020
Definitely a one sided debate.. #Debates2020 pic.twitter.com/nnwN3j0N8f

— London (@blisstunes) September 30, 2020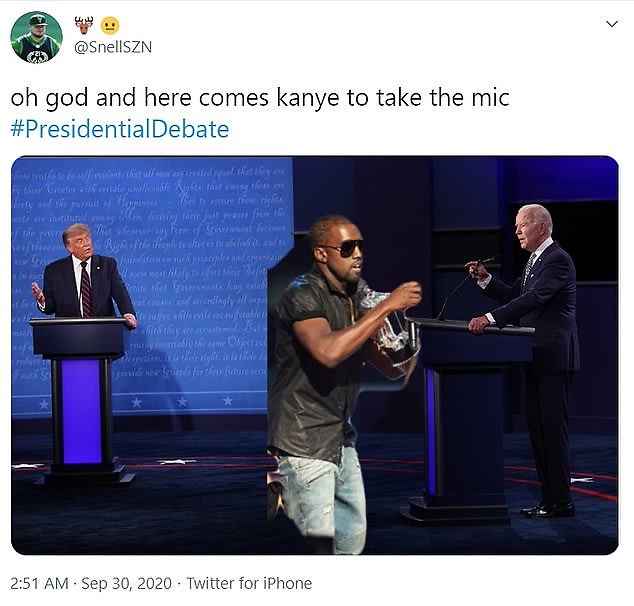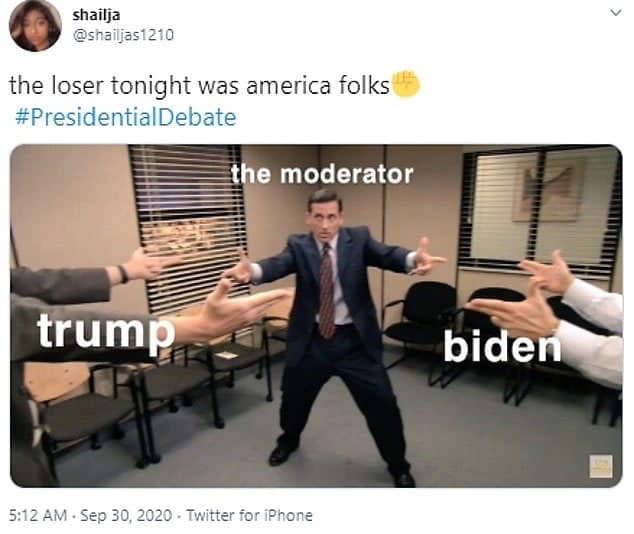 This is worse than the Real Housewives Reunion. #Debates2020 pic.twitter.com/fcWtjeDTQK

— iAMaDesigner (@sutherngeorgian) September 30, 2020
If "will you shut up, man" is not on a tshirt in 20 minutes I swear y'all are not serious about winning this 😆#Debates2020 #PresidentialDebate2020 #TastyDebate 🍝

— Renee (@PettyLupone) September 30, 2020
You have no idea.

— Hillary Clinton (@HillaryClinton) September 30, 2020
.@JoeBiden to @realDonaldTrump: "Will you shut up man…" #Debates2020 #debate #DebateTuesday pic.twitter.com/ANwLgu0hbg

— Jon Nicosia (@NewsPolitics) September 30, 2020
Chris Wallace literally sounds like my 7 year old's teacher trying to get their Zoom under control. #PresidentialDebate2020

— Trae in Denver 8/19 – 8/21 (@traecrowder) September 30, 2020
Who would have thought the mute button we've been screaming for on Zoom for months was really just practice for this #debate pic.twitter.com/I5TPF7pDRB

— Brian Fanzo 🧢 $ADHD (@iSocialFanz) September 30, 2020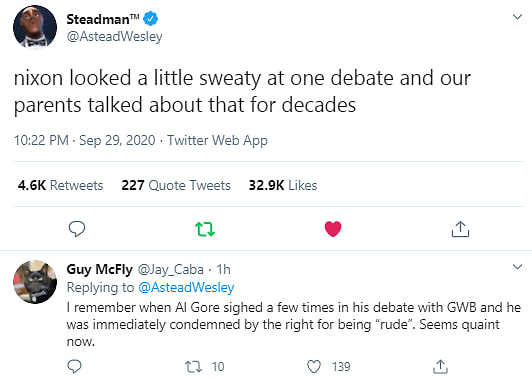 THE WOMAN ALSO SPEAKS TRUTH pic.twitter.com/5mhgkdEKse

— Timothy Burke (@bubbaprog) September 30, 2020
Absolutely everyone after watching the #Debates2020 pic.twitter.com/GLWR69QtUQ

— Prof. Oak⚡️ (@Raixhu_) September 30, 2020
really enjoying this debate tbh pic.twitter.com/K1BxFV3zpq

— Josh Butler (@JoshButler) September 30, 2020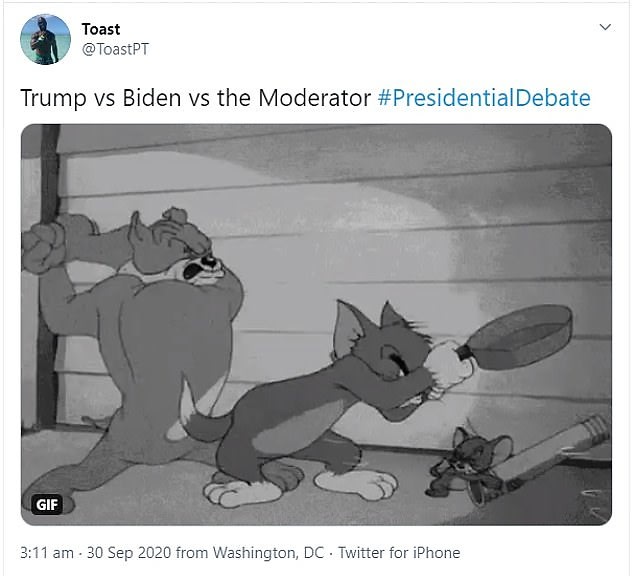 Chris Wallace literally sounds like my 7 year old's teacher trying to get their Zoom under control. #PresidentialDebate2020

— Trae in Denver 8/19 – 8/21 (@traecrowder) September 30, 2020
That was the worst thing ever committed to television, and I watched the fourth season of Arrested Development

— Daniel Bader (@journeydan) September 30, 2020
Joe Biden wearing the biggest mask I've ever seen #Debates2020 pic.twitter.com/ZQFpayEOSd

— Nick Nicosia (@NickJNicosia) September 30, 2020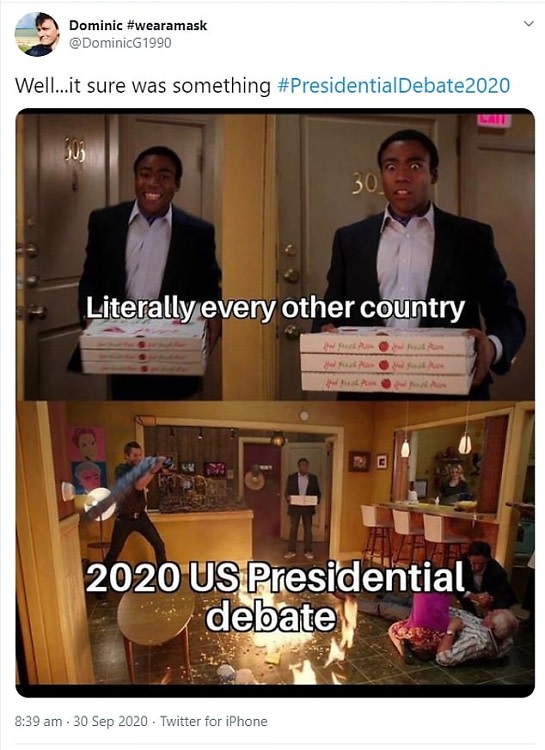 Can't wait to find out whether the Times styles "shitshow" as one word or two

— James Poniewozik (@poniewozik) September 30, 2020
I know what I'm voting for. Will You Shut Up Man 2020 #willyoushutupman pic.twitter.com/cRWP0z9nRI

— Derek Whitacre (@derekwhitacre) September 30, 2020
If you missed the debate here's a quick recap pic.twitter.com/QucwDyR0eX

— kayzo (@KayzoMusic) September 30, 2020
— Natalie Walker (@nwalks) September 30, 2020
Trump: I spoke to the leader of the forest city
The leader of the forest city: pic.twitter.com/mAWIMfkYQf

— Sammy ALL Cap (@SammyNoCap) September 30, 2020
"in Europe they live in their forest cities" – does he think Ewoks are European? pic.twitter.com/rXJ2OfIU6m

— CJ Fogler #BlackLivesMatter (@cjzero) September 30, 2020
"Bad things happen in Philadelphia…."

Philadelphia: pic.twitter.com/8INWjrGkkO

— Shawny Hill (@ShawnyHill) September 30, 2020
"bad things happen in philadelphia"

philadelphia: pic.twitter.com/fF4XfImftB

— lex (@jorilextera) September 30, 2020
This is ridiculous. These two are worse than a Real Housewives fight. #Debates2020

— Shannon Carter (@imShannonCarter) September 30, 2020
Can't believe there's 2 more of these. It's like making a sequel to Cats.

— Bill Maher (@billmaher) September 30, 2020