13 Best Sports Bars in Melbourne
As the major sporting seasons reach their triumphant finals seasons in Australia, you're no doubt in desperate need of the most ambient and passionate sports bars in Melbourne. Luckily, there's no shortage in this sport-centric city, so if you're looking for a sports bar Melbourne has you covered.
We're well aware of the ever-present conundrum of where to cheer on your favourite team on away games or those unfortunate times you didn't nab tickets (or flights) to the big game. Luckily there is a huge array of atmospheric sports pubs in Melbourne with massive screens, live local and international games and a huge selection of beers and delicious pub food. When it comes to sports bars Melbourne will make you feel like you're at the real thing just without the exorbitant prices or massive queues. Immerse yourself in the sporting atmosphere at the best rugby union pubs in Melbourne or the best bars to watch AFL in Melbourne, or any other international game or tournament.
If you don't want to miss any of the action of your favourite local and international games and sporting events, these 13 best sports bars in Melbourne (in no particular order) will have your sporting fix covered.
You'll also like:
20 Best Rooftop Bars in Melbourne
Top 50 Bars in Melbourne
10 Best Whisky Bars in Melbourne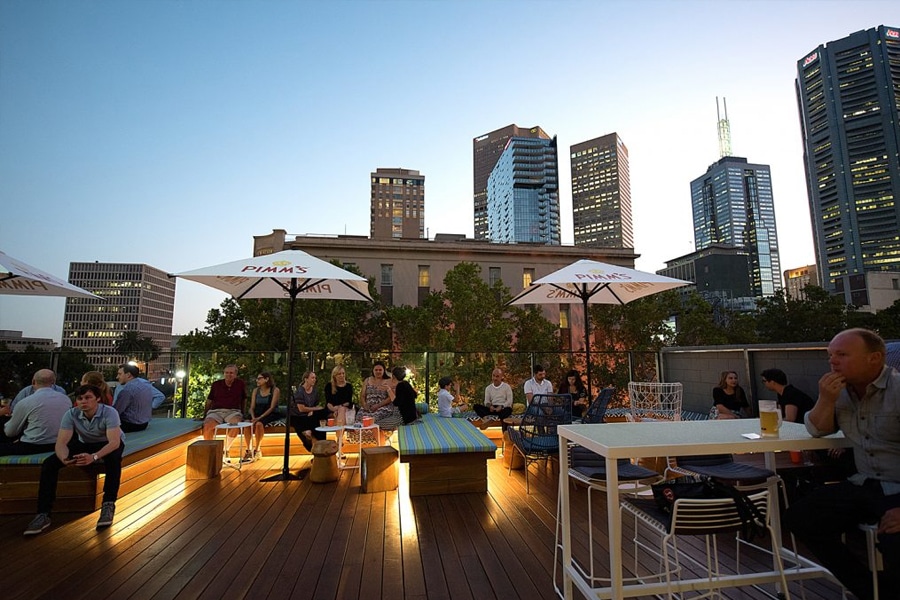 1. The Imperial
The Imperial boasts being one of the oldest and best sports bars in Melbourne CBD. The incredible rooftop bar, scrumptious English food menu and impressive beer and wine list, not to mention their comprehensive display of live sport from around the globe, make the Imperial your go-to sports bar in the city. Their mantra is if someone around the world is playing it – they're playing it. So naturally you should be watching it.
2-8 Bourke Street, Melbourne VIC 3000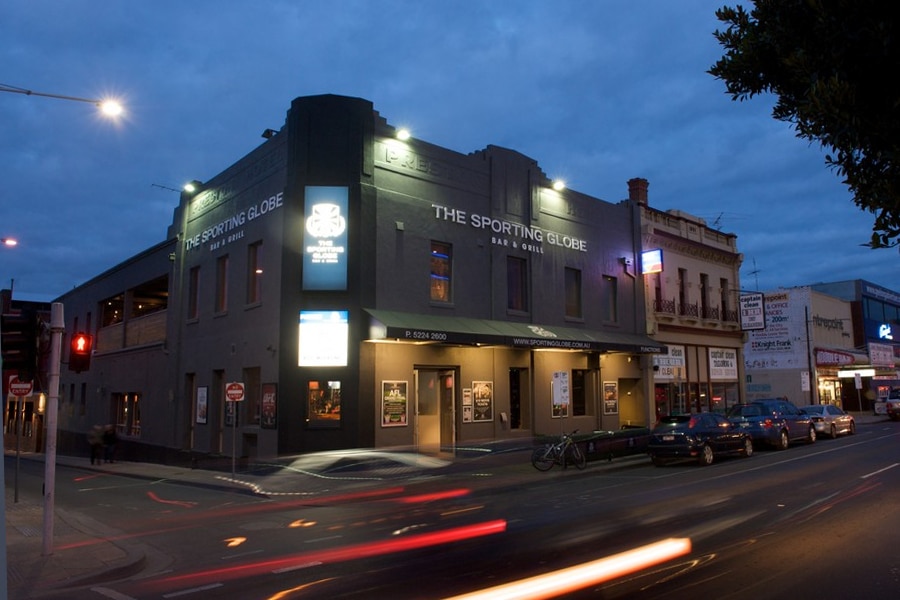 2. The Sporting Globe
With multiple locations across Melbourne and beyond, the Sporting Globe can be everyone's local. Each one of their sports bars in Melbourne has over 30 screens showing the UFC, NRL, AFL, Bledisloe Cup and any other sporting event you might desire. They've got delicious food, TAB facilities and huge events with unparalleled atmosphere for the big games.
Fountain Gate, Geelong, Moonee Ponds, Plenty Valley, Richmond, Watergardens, Werribee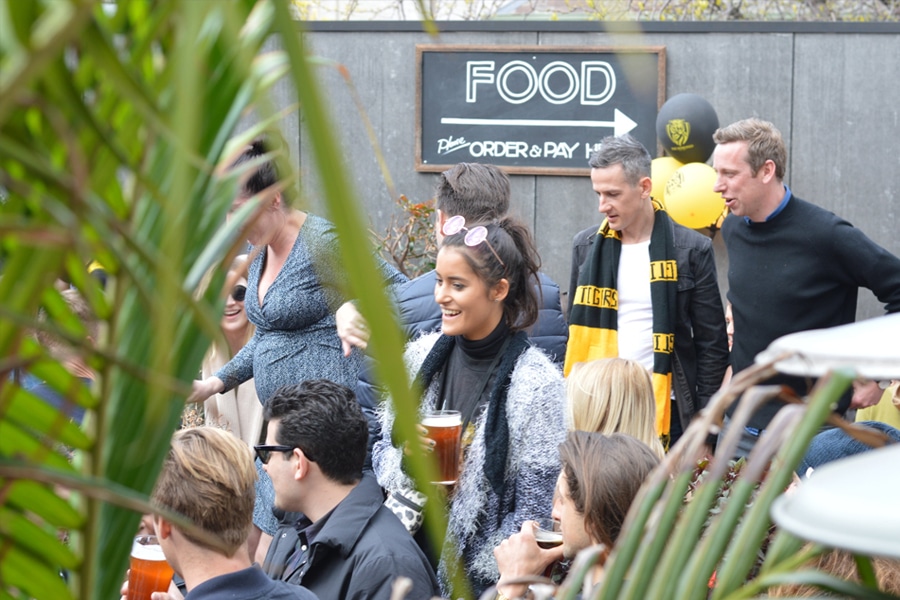 3. The Great Northern
Whether you're an AFL fanatic, a Union supporter or a UFC watcher, The Great Northern is one of the best sports bars Melbourne has to offer. They also show NRL, cricket, A-league, EPL and NFL, plus if you'd like to watch a particular sporting match, they'll ensure one of their ten HD screens or one of two massive projector screens are showing it. If it's a middle-of-the-night overseas match, this sports pub in Melbourne will even open up their doors early for you and your mates. Be welcomed with an unparalleled selection of beers, leafy beer garden and delicious pub grub.
644 Rathdowne Street, Carlton North VIC 3054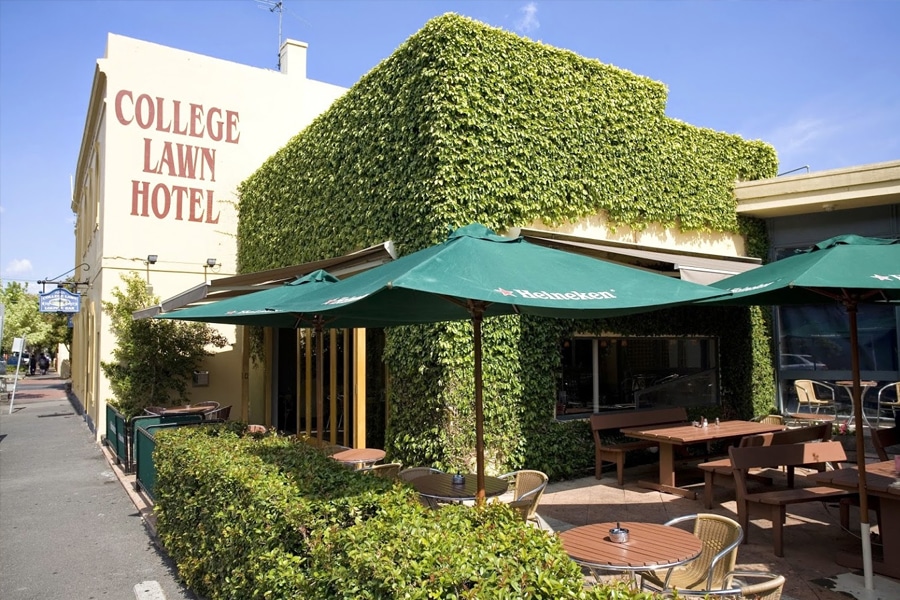 4. The College Lawn Hotel
Spend your Saturdays at the lawn…at the College Lawn Hotel that is, and catch all the biggest live sporting games on their big plasma screen TVs. With a main bar, restaurant and beer garden, this sports bar in Melbourne makes for the perfect weekend sport viewing locale.
36 Greville Street, Prahran VIC 3181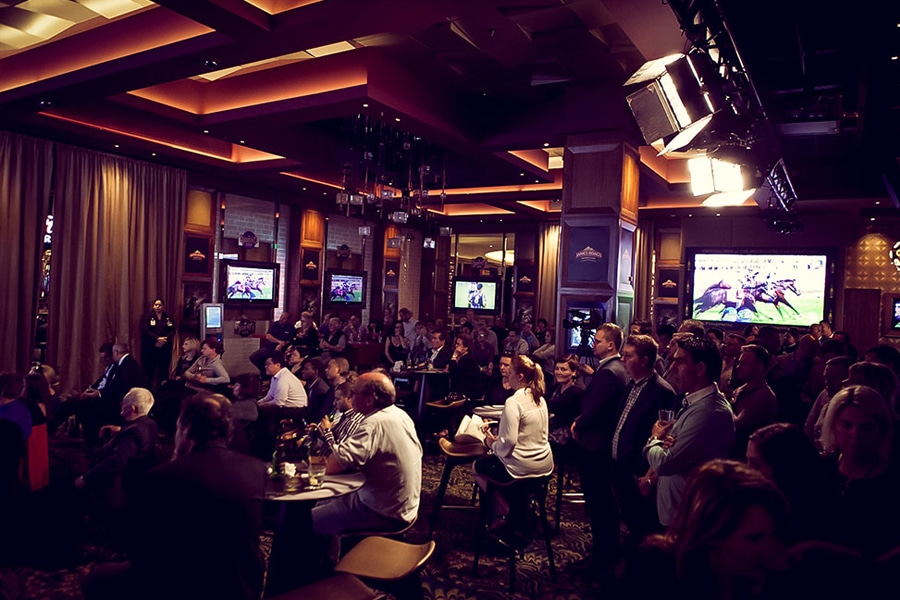 5. CrownBet Sports Bar & Pub
With both a dedicated Sports Bar and Pub, the Crown is easily one of the most action-packed sports bars in Melbourne. Feel the passion of every major international sporting event and sate all your sporting desires. The Crown's Sports Bar has 20 screens plus TAB facilities, while the pub's got 8 huge screens and 1 mega screen to ensure you don't miss a second of any action you're after.
8 Whiteman Street, Southbank VIC 3006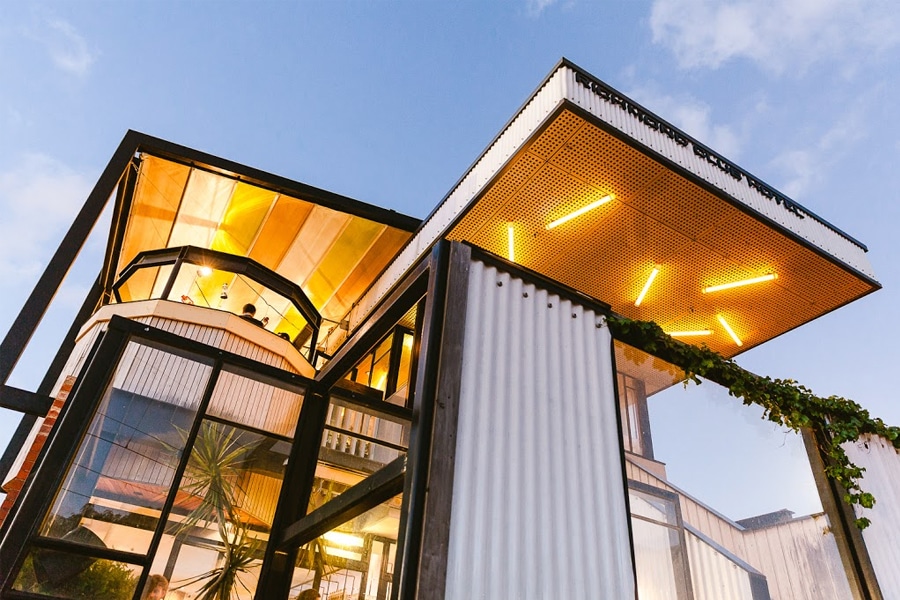 6. Richmond Club Hotel
The Richmond Club Hotel is one of the top rugby union pubs in Melbourne, as well as just about any other sport. They've got unbeatable happy hour prices, spectacular city views and an ideal laid back atmosphere for cheering on your favourite player or team.
100 Swan Street, Richmond VIC 3121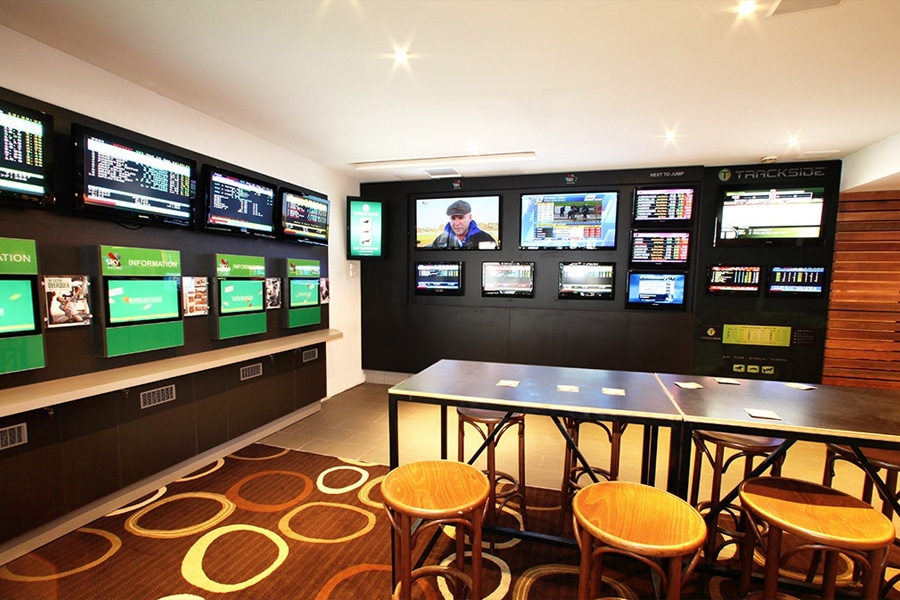 7. The Bells Hotel
If you're on the hunt for a South Melbourne watering hole featuring live game broadcasts, local and international sporting events and seasonal attractions, you've come to the right place: Bells Hotel. Their dedicated sports bar has 38 screen showing sports from Foxtel and Sky and features a full range of betting facilities and street seating. It's the perfect sports bar in Melbourne CBD to soak up the thrilling atmosphere of any race day, grand slam or world cup.
157 Moray Street, South Melbourne VIC 3205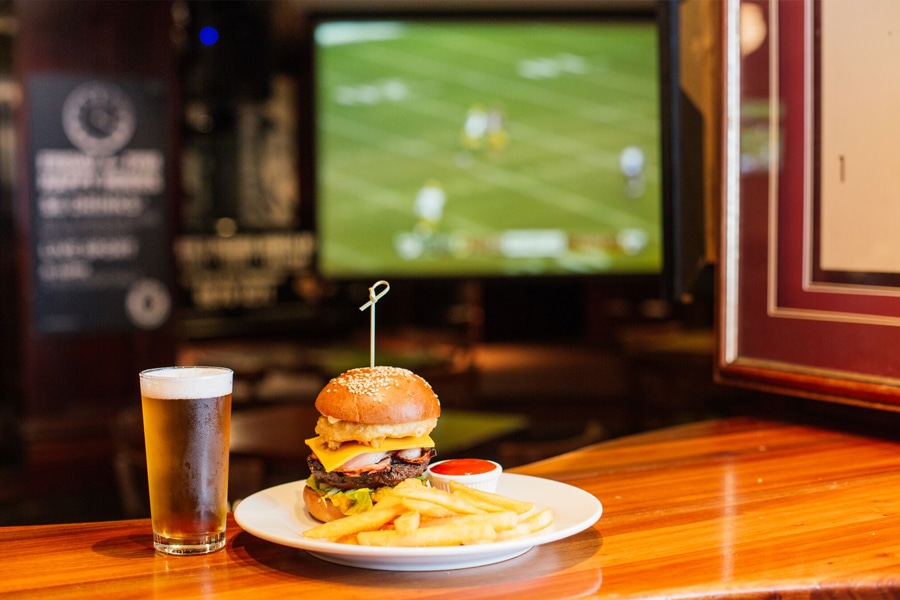 8. Turf Bar
Immerse yourself in the bustling atmosphere of Turf Bar and you'll feel at the centre of the action. It's one of the best sports bars in Melbourne CBD thanks to its warm and welcoming nature, extensive food and beverage list and central location.
131 Queen Street, Melbourne 3000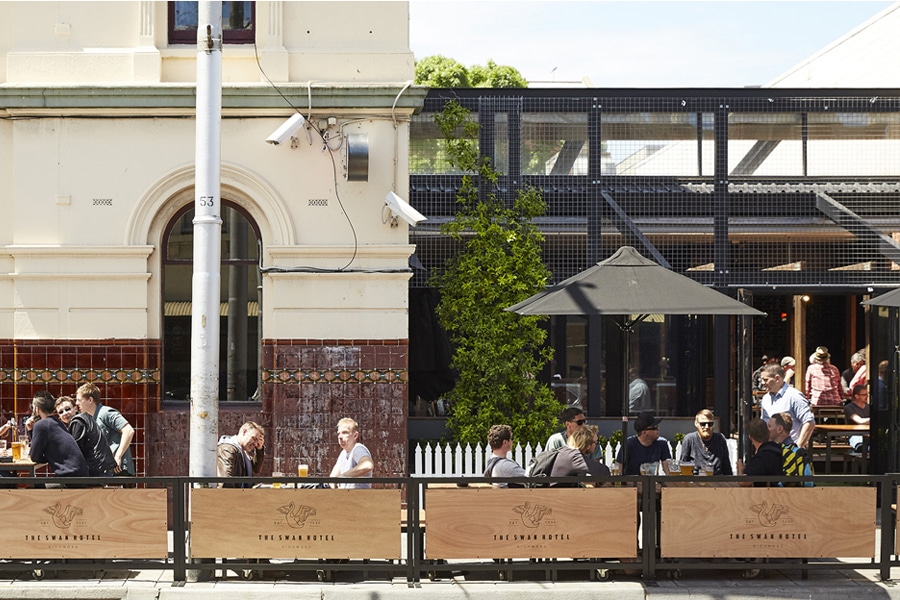 9. The Swan
The Swan is hands down one of the best bars to watch AFL in Melbourne. The ample charm of their many rooms is beaten only by their wide selection of sports on their big screens. Come for the live entertainment and great atmosphere and stay for the delicious pub food at great prices.
425 Church Street, Richmond VIC 3121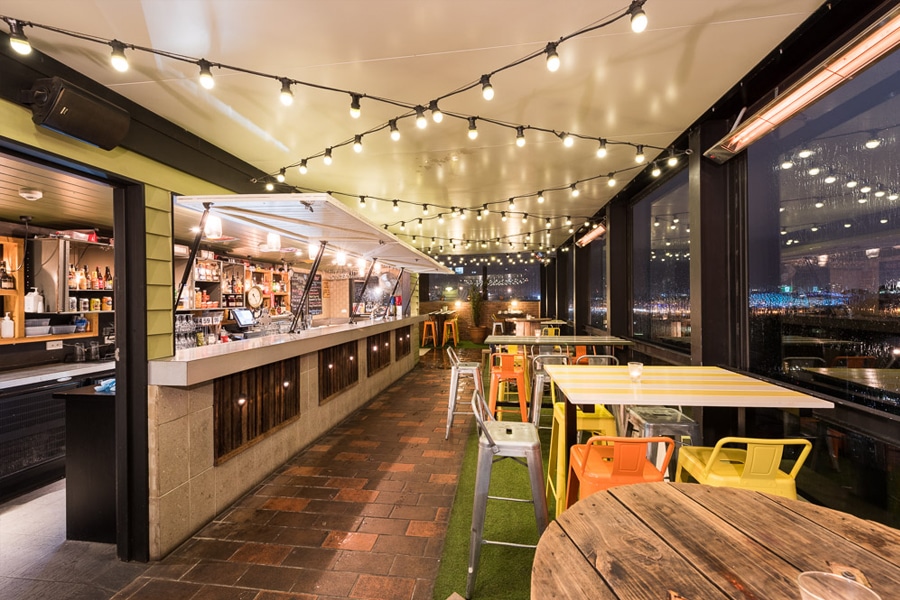 10. Mt. View Hotel
You may have discovered the award-winning rooftop bar and crafty cocktails at Mt View Hotel, but have you also experienced what was recently voted the best sports bar in Melbourne? Combine everyone's favourite bar classics with this iconic Richmond drinking spot.
68-70 Bridge Road, Richmond VIC 3121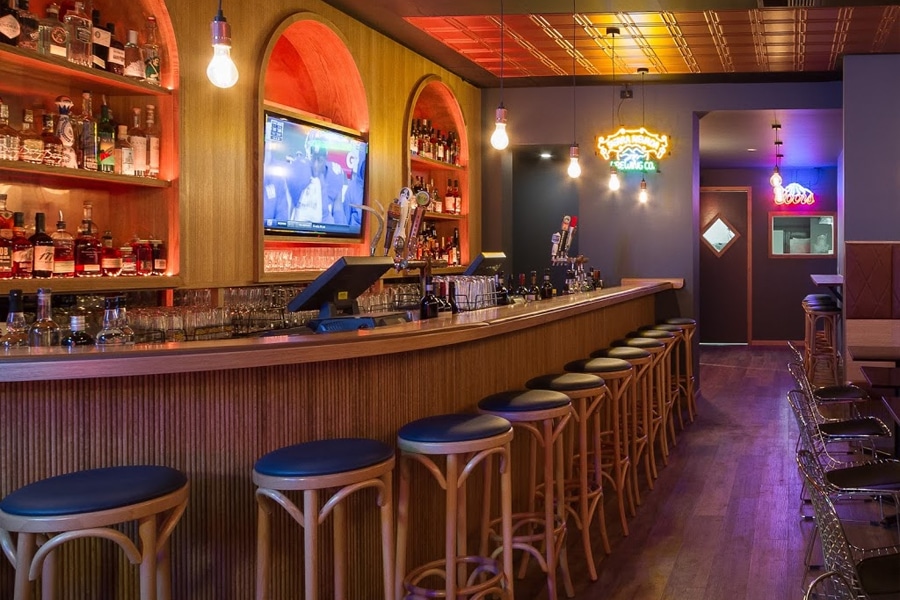 11. Silverlake Social
Get your dose of the chilled out Southern California Local Taphouse vibe (plus the classic Californian snacks, craft beers and American-famed sports that come with it) at the Silverlake Social. As well as all the biggest NFL and baseball games, this sports bar in Melbourne CBD will also be screening the biggest and best local games – live and loud.
198 Chapel Street, Prahran VIC 3181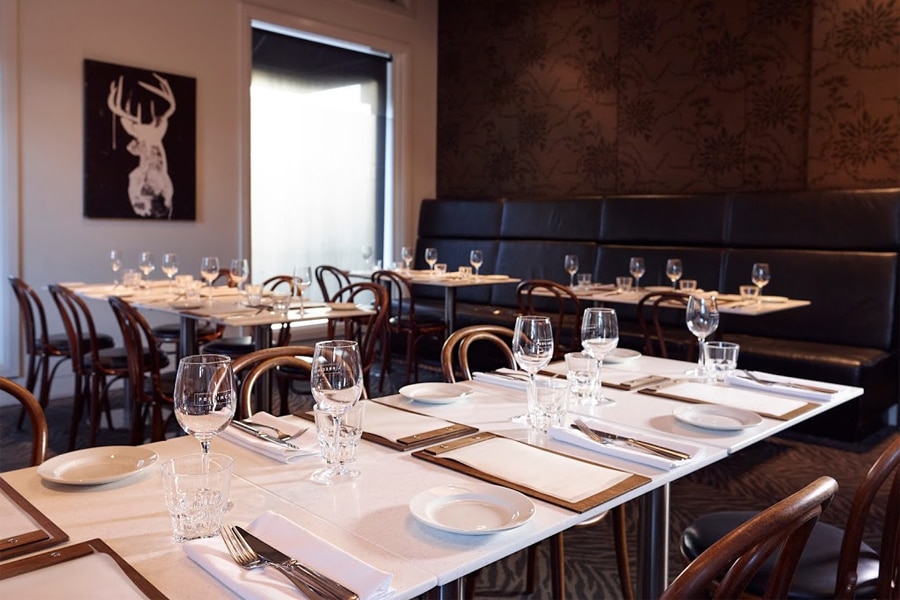 12. The Precinct Hotel
Across the road from sporting and entertainment areas, Richmond's historic Precinct Hotel has all the hustle and bustle of a sporting game but the a huge courtyard, shorter bar lines and incredible pub meals of your favourite local. It's easily one of the best bars to watch AFL in Melbourne – just watch your back if you're not an avid Tigers supporter.
60 Swan Street, Richmond VIC 3121
13. The Castle Hotel
This Belgian beer bar in North Melbourne is one of the liveliest rugby union pubs in Melbourne. If their wide selection of Belgian beer doesn't get you drooling, their comprehensive menu of share plates, classic pub meals and contemporary gourmet dishes certainly will. And if that weren't enough The Castle Hotel sports bar just underwent refurbishments to make it the most action-packed place to support your team.
56 Courtney Street, North Melbourne VIC 3051
General FAQ
Where can I watch the Superbowl in Melbourne in 2020?
Sporting Globe, KICKS Melbourne, TGI Fridays or Beer Deluxe.
Where can I watch the AFL Grand Final in Melbourne in 2020?
Imperial Hotel, The London Tavern, The Hawthorn Hotel, College Lawn Hotel or Royal Standard Hotel.
Have you subscribed to Man of Many? You can also follow us on Facebook, Twitter, and Instagram.
You'll also like:
20 Best Rooftop Bars in Melbourne
Top 50 Bars in Melbourne
10 Best Whisky Bars in Melbourne