All the Best Memes from the 2021 Super Bowl
The 2021 NFL season is over and it's one that has given us a wealth of stories. Starting with Tom Brady's triumphant rise from Buccaneers obscurity to the ongoing Antonio Brown saga, the past 12 months have been huge for American Football, but for us, it was all totally eclipsed by one thing – that half-time show. Love it or hate it, The Weeknd's performance was memorable, spectacular and outrageously meme-worthy. Within minutes of the Super Bowl half-time show ending, Twitter was flooded with The Weeknd memes, making use the now-iconic spinning camera and awkward staging. But that wasn't all.
You'll also like:
The Best Among Us Memes on the Internet
The Best Memes From the 2020 US Presidential Debate
27 Best Memes of 2020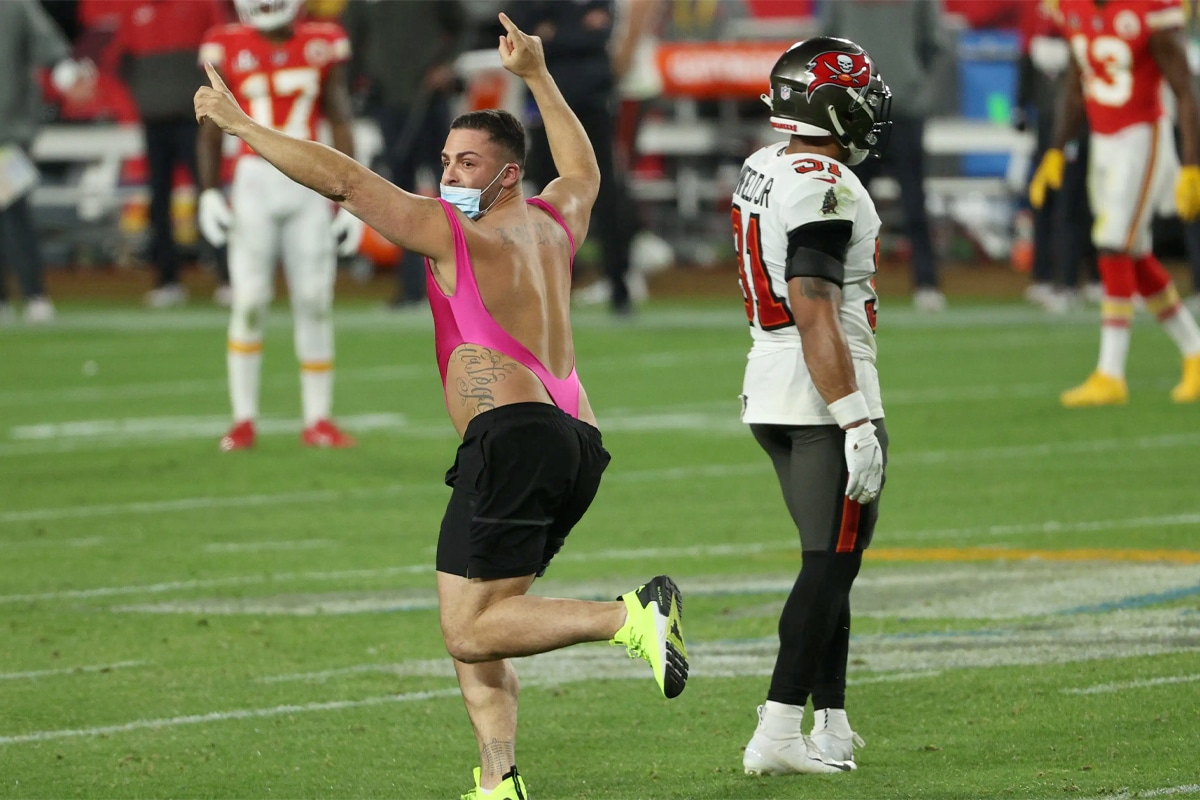 Best Super Bowl LV Memes
Fans got their money's worth in all meme-fronts, posting images from the game, fan reactions and any hint of possible humour. Here's everything you may have missed in this list of the best Super Bowl memes for 2021.
Patrick Mahomes Superbowl experience in summary. #SuperBowl #PatrickMahomes pic.twitter.com/kuyHdOV9Tv

— Erich Schmidt (@BF_Spy) February 8, 2021
Super Bowl https://t.co/0ZzvvH8jUi pic.twitter.com/88FHPrSgnA

---

Featured Video from Man of Many

---

— ?????????? (@itanimeirl) February 8, 2021
Chiefs fans mad about the officiating in a Super Bowl?? Oh pic.twitter.com/iqTTgXgPet

— Jordan (@splash_cousin) February 8, 2021
super bowl mood 😍✨💖💖 pic.twitter.com/DX5I9uYzEC

— ally (@heartsssally) February 8, 2021
I'm bout to be on a hot streak with memes after this super bowl!! pic.twitter.com/dwzP6ICePD

— Michael Scott (@Dick_Zimmerkal) February 8, 2021
Obviously I can't sleep yet the last 4 Times Brady was in the Super Bowl his teams had a total of 12 penalties And the other teams had a total of 35 penalties 11 tonight for the Chiefs pic.twitter.com/KYwKhJ0XyV

— Ted Infranca (@therealinfranca) February 8, 2021
https://www.instagram.com/p/CLDBfX8FFGW/
https://www.instagram.com/p/CLCpeA4lwcG/
Best The Weeknd Memes
While the game was definitely fraught with great meme content, viewers have been quick to jump on The Weeknd's half-time show as a source of good quality banter. Making use of the heavily spinning camera, the internet creations were almost as good as Tom Brady's Super Bowl LV performance. Here are some of our favourite The Weeknd memes.
https://www.instagram.com/p/CLC9HBElZxr/
The last thing my food sees in the microwave #SuperBowl #TheWeeknd pic.twitter.com/MByT7EKfZF

— Antonio Hughes III (@ARHughesIII) February 8, 2021
me performing at the halftime of the super bowl and i'm the weeknd https://t.co/42Lve3MnQC

— Caleb DeCoteau (@bobby) February 8, 2021
OMG I can't believe The Weeknd had Mudvayne preform with him at the Super Bowl 💯 pic.twitter.com/xiDhmngy9x

— Skeletor Dad 💯 (@LimpBizkitDad) February 8, 2021
Mahomes looking for useful players on his team #SuperBowl pic.twitter.com/gW9B0N4vpv

— Jacob White (@JacobWhite_01) February 8, 2021
Me getting up for work tomorrow. 🥴 #SuperBowl
https://t.co/PU8uowLJ7B

— D'Eric Watson (@DEricWatson) February 8, 2021
When you're in a rush looking for that specific makeup product 😭#TheWeekend #PepsiHalftime #Superbowl #BoxyCharm pic.twitter.com/IcYhrIiNf8

— BoxyCharm (@boxycharm) February 8, 2021
Best Social Superbowl move went to…the halftime show. We're loving these Weekend Memes. pic.twitter.com/adsZcSFqJD

— Go Social (@TheGoSocial) February 8, 2021
This is me trying to blend in in a zombie apocalypse.#SuperBowl #HalfTimeShow pic.twitter.com/OK88lbGFsb

— Kenneth Loh (@iamkenloh) February 8, 2021
That's me whenever I'm looking for my house keys… ⬇️😂🤣 #PepsiHalftime #SuperBowl pic.twitter.com/HYy5KPD3LJ

— 🎶 I'm just a poor boy… nobody loves me! 😂 🎶 (@AwesomeAntho91) February 8, 2021
Entering an apartment where I know a dog lives https://t.co/31MhCFu2kx

— push push (@itspushpush) February 8, 2021
You'll also like:
The Best Among Us Memes on the Internet
The Best Memes From the 2020 US Presidential Debate
27 Best Memes of 2020
---
Featured Video from Man of Many