Conor McGregor Cancels Poirier Rematch Amid $650,000 Broken Charity Promise
The third and long-awaited decider between Conor McGregor and Dustin Poirier may be scrapped after a war of words erupted on Twitter this week. The social media spat kicked off on Monday when Poirier accused the Irishman of failing to make good on a charity promise outlined as part of the pair's UFC 257 bout. In the lead-up to the event, McGregor promised to make a USD$500,000 (AUD$655,000) donation to Poirier's The Good Fight Foundation, a figure that Poirier claims have yet to be seen.
You'll also like:
Conor McGregor vs Dustin Poirier 3 'Close to Being Finalised' For July
Watch Charles Oliveira Choke Out Dustin Poirier to Retain Title at UFC 269
Conor McGregor Sold Proper No. Twelve Whiskey for…How Much?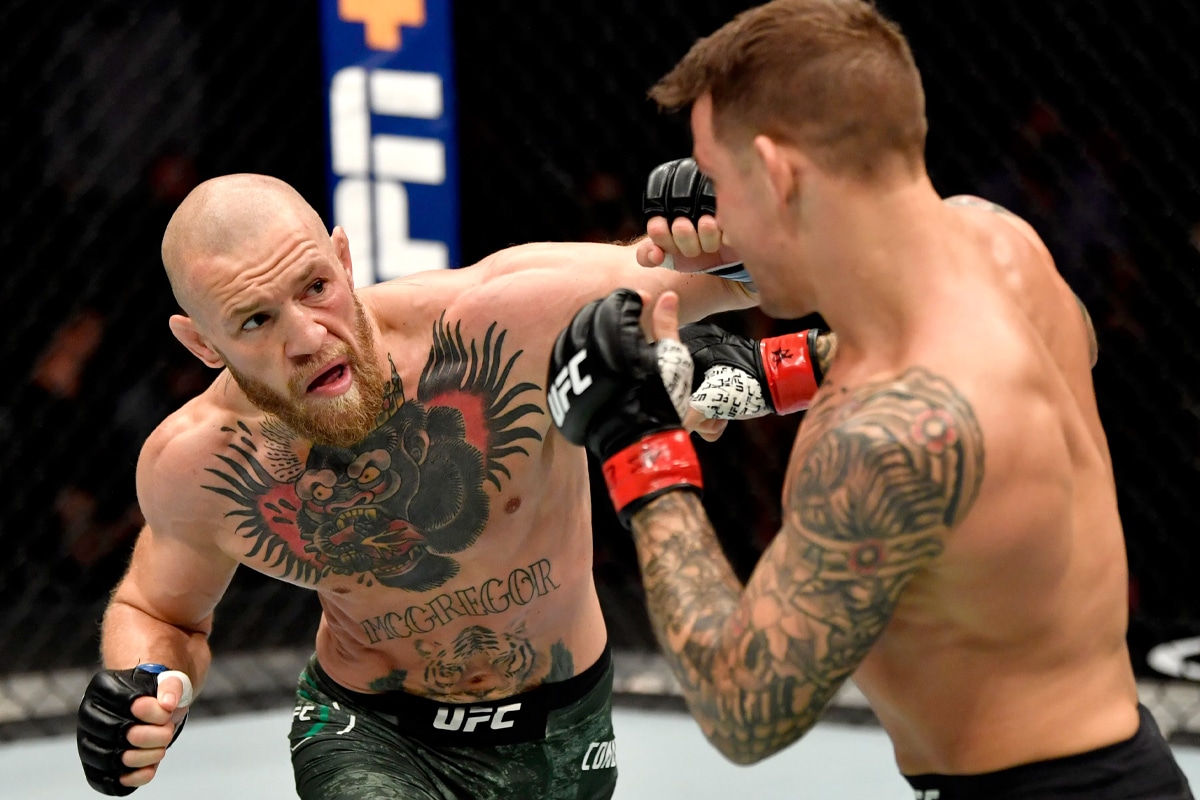 "That's a fun prediction! @TheNotoriousMMA you also predicted a donation to my foundation and you and your team stopped responding after the fight in January. See you soon, July 10th paid in full," Poirier wrote on Twitter.
The shocking claims left a sour taste in many fight fans' mouths, with several Twitter users voicing their disgust with McGregor. However, never one to shy away from a verbal argument, the Irishman hit back, claiming that he was withholding the money until he knew exactly what it was for. "A donation, not a debt," McGregor wrote on Twitter. "We've been awaiting the plans for the money that never came. I do with all my donations. Know where it's going dot for dot, otherwise, it goes walking. As is the case with a lot of these foundations, sadly. You choose the McG over the belt shows I was right."
We thanked him because his team reached out fight week to initiate the process but ghosted us the past 2 months after the fight. My foundation has reached out 3 times since with no reply. We've moved past it! We will be announcing our next goal soon! Its a big one🙏 https://t.co/mtiOFBsd2q

— The Diamond (@DustinPoirier) April 12, 2021
The final line appears to be a reference to Poirier opting to undertake the McGregor rematch over a potential title fight, something that UFC president Dana White confirmed earlier this year. The verbal assault was only just getting started, however. Poirier rebuked McGregor's claims saying "You offered, we accepted, and like I said, your team never responded to our emails regarding the process of where funds would be put to work".
From there, the highly public spat divulged into baseless name-calling and trash-talk, and you'd expect nothing less from the two superstars. Things really hit a boiling point when McGregor seemingly walked away from the pair's scheduled July fight.
At this point, there is no way of knowing who is telling the truth, or whether it's just another elaborate scheme to sell more tickets for the rematch, but fans have been quick to point out the differences in reputation between the two.
According to his foundation's website, Poirier and his wife Jolie started the organisation to auction off pieces of memorabilia, before growing to become a full-register international nonprofit. "Over the years, The Good Fight has raised thousands of dollars for initiatives including fallen LPD officer Michael Middlebrook, local Acadian Middle School, and a playground for disabled children," the mission statement reads.
Conversely, we've seen Conor McGregor rise from relevant obscurity to the loftiest heights of sports entertainment and back down again. In recent times, the Irishman has come under fire for a string of contentious and outlandish behaviour. From punching a pensioner in a bar because he refused a shot to throwing a dolly at a bus, injuring several people to trying to cheap shot Khabib Nurmagomedov's trainer, the long list of poor behaviour appears to be growing. It almost feels like the former UFC Champion seems hellbent on destroying his own image, with his most recent debacle setting a new low if proven accurate.
At present, no formal cancellation has been made and with McGregor well-known for playing things up, you can't be certain he is being serious. It may well be another case of waiting until July to see what The Notorious is really up to.
You'll also like:
Conor McGregor vs Dustin Poirier 3 'Close to Being Finalised' For July
All Hail King Verstappen? F1's Most Controversial Championship Ever
Conor McGregor Sold Proper No. Twelve Whiskey for…How Much?