UFC President Dana White Targeted in Sex-Tape Scandal
In the latest edition of 'Did I read that headline correctly?', UFC boss Dana White has reportedly been named in a lawsuit as the victim of a $200,000 sex-tape extortion case. That's right, the same bald-headed Dana White that we regularly see pressing himself in between riled up martial artists has found himself between a rock and a hard place. According to the Las Vegas Review-Journal, White is facing legal action after being included in a Clark Count District Court suit, filed by a man who served time for an extortion charge relating to the UFC boss' sex-tape.
The case goes back to 2014 when White was accused of engaging in a series of overseas rendezvous with an adult performer whilst overseeing a UFC event in Brazil. The stripper and her boyfriend, Ernesto Joshua Ramos allegedly conspired to film her and White's sexual encounters, before extorting the married UFC boss for a grand total of $200,000. Ramos was apprehended by the FBI in 2015 and plead guilty to extortion in federal court, serving 366 days in prison, however, new details have emerged.
You'll also like:
16 Best NBA Games of All Time and Where to Watch Them For Free
Conor McGregor Lends His Skill to Reebok for ZIG Kinetica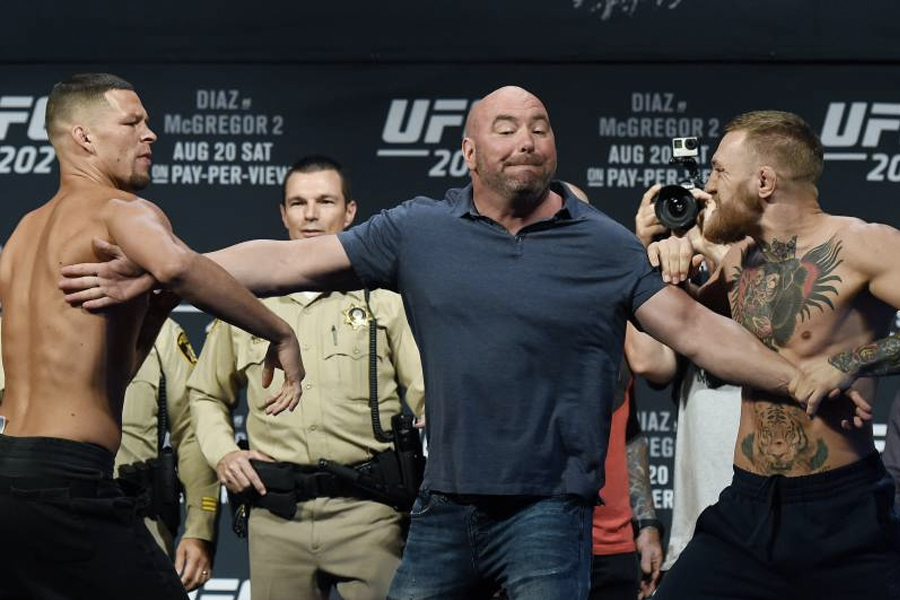 The 42-year-old Ramos, a real estate agent and personal trainer has now revealed he only plead guilty after White's lawyer's offered him hush-money. Ramos claims the money never came though and has since accused White of breaking an April 2016 deal which would have paid him $450,000 for not disclosing White's name publicly. Ramos also suggested that White's lawyers gave the FBI derogatory information about him in order to spark an investigation. White's name was originally withheld from the 2015 criminal case after a federal magistrate judge agreed to a protective order prohibiting disclosure of his name, identifying him only as an "unnamed businessman" who had access to a company jet.
"Over a two-year period, the businessman tipped the stripper roughly $200,000, usually at $10,000 per visit, to dance and have sex with him in a private room at an adult nightclub," the Las Vegas Review-Journal report said. White has vehemently denied the allegations, however, as recently as Saturday.
"I just found out that a bullshit lawsuit was filed against me yesterday," White said in a statement to the Review-Journal. "This guy went to federal prison for trying to extort me over five years ago. Now he's hired a lawyer who is also a convicted felon, and he's trying to extort me again for $10 million. He got no money from me last time and he won't be getting any money from me this time. I look forward to the court dismissing this quickly so I can get rid of these scumbags forever."
It's a crazy story for sure, but it bears reminding that White recently came into a bit of money. Like $4 billion worth of money when he sold the UFC back in 2016. The suit is ongoing, but this definitely won't be the last we hear of the Dana White sex-tape. We just hope it doesn't make its way to Pornhub.
You'll also like:
16 Best NBA Games of All Time and Where to Watch Them For Free
Conor McGregor Lends His Skill to Reebok for ZIG Kinetica
General FAQ
What is Dana White's net worth?
Dana White's net worth is an approximate $500 million.
Who is the owner of UFC?
The UFC is owned by Endeavor.