Fury vs Wilder III Highlights and Result
The Gypsy King is no joke. In the pair's third and penultimate bout, WBC Heavyweight champion Tyson Fury knocked out long-time rival Deontay Wilder to retain his title, but it wasn't easy. The 11-round grudge match at T-Mobile Arena saw bodies flying to the ground more often than not, but the big Irishman proved to be too good, once again.
You'll also like:
Watch Alex Volkanovski Retain his Belt in 'Fight of the Year' Candidate
Watch Anderson Silva KO Tito Ortiz in Just 81 Seconds
Jake Paul's Victory in 'Bullsh*t' Fight with UFC Champ Tyron Woodley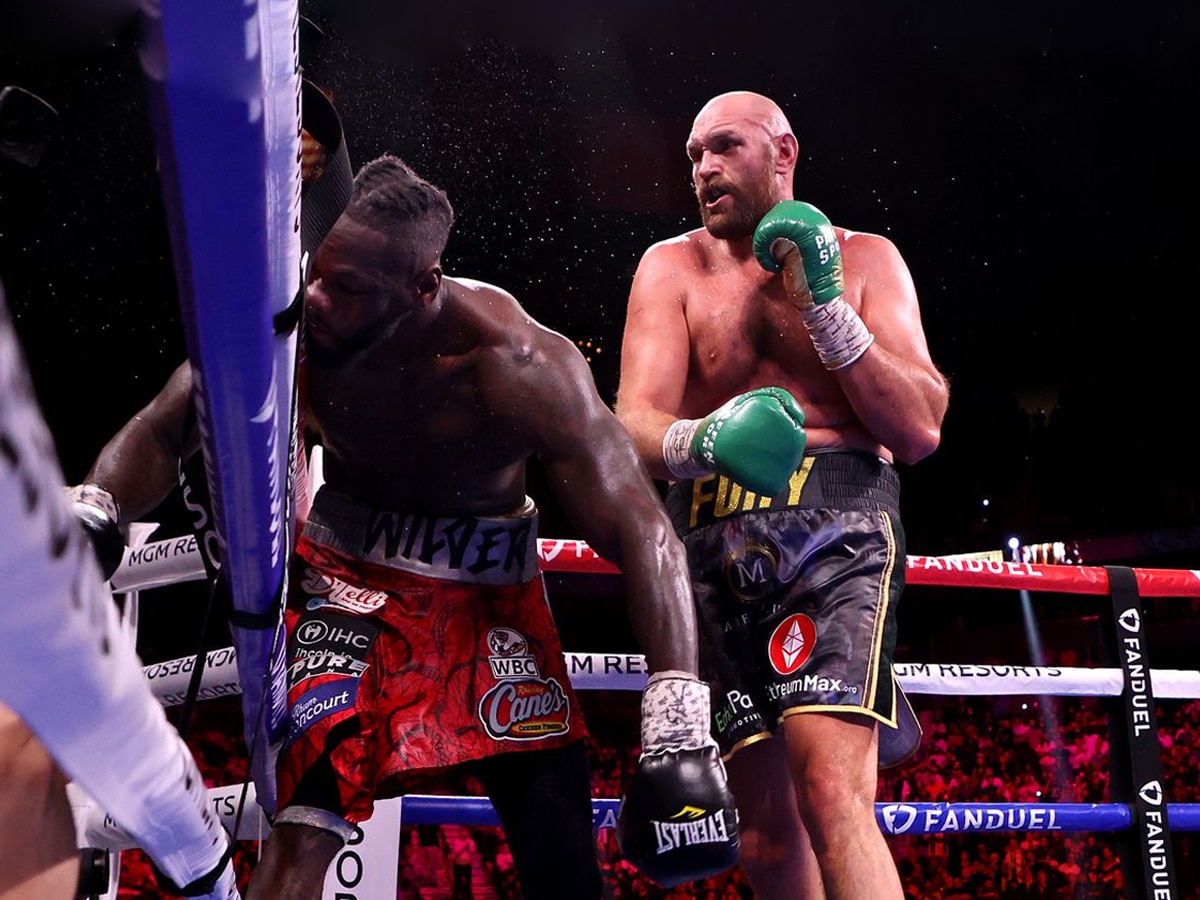 After a lead-up that saw sparks fly in the weigh-in, tempers flare and some unsurprisingly bizarre antics from Fury, the stage was set for an epic. Fury vs Wilder III did not disappoint. From the initial bell, it was clear this one wasn't going the distance. The two powerhouse fighters were intent on delivering a knockout blow and it was the Bronze Bomber who struck first.
In the third round, Wilder sent Fury to the canvas but his stronghold on the fight was short-lived. Over the next six rounds, the WBC Champion threw a series of haymakers and expertly crafted combinations at his opponent, levelling him on more than one occasion.
By the 10th round, Wilder looked out on his feet. Holding on for another round, the knockout blow came in the 11th, when backed against the ropes, Wilder copped a fierce right-hand to the jaw, sending him tumbling to the canvas and out for the night. Following a split draw in the first fight and a knockout victory for Fury in the second bout, the Gypsy king now holds a commanding lead in the rivalry stakes, and he wasn't about to let Wilder forget it.
In trademark fashion, Fury serenaded the crowd with a rendition of American Pie before proclaiming himself as the greatest heavyweight boxer of this generation. "I always say I am the best fighter in the world and he is the second-best. Don't ever doubt me. When the chips are down I can always deliver," he said.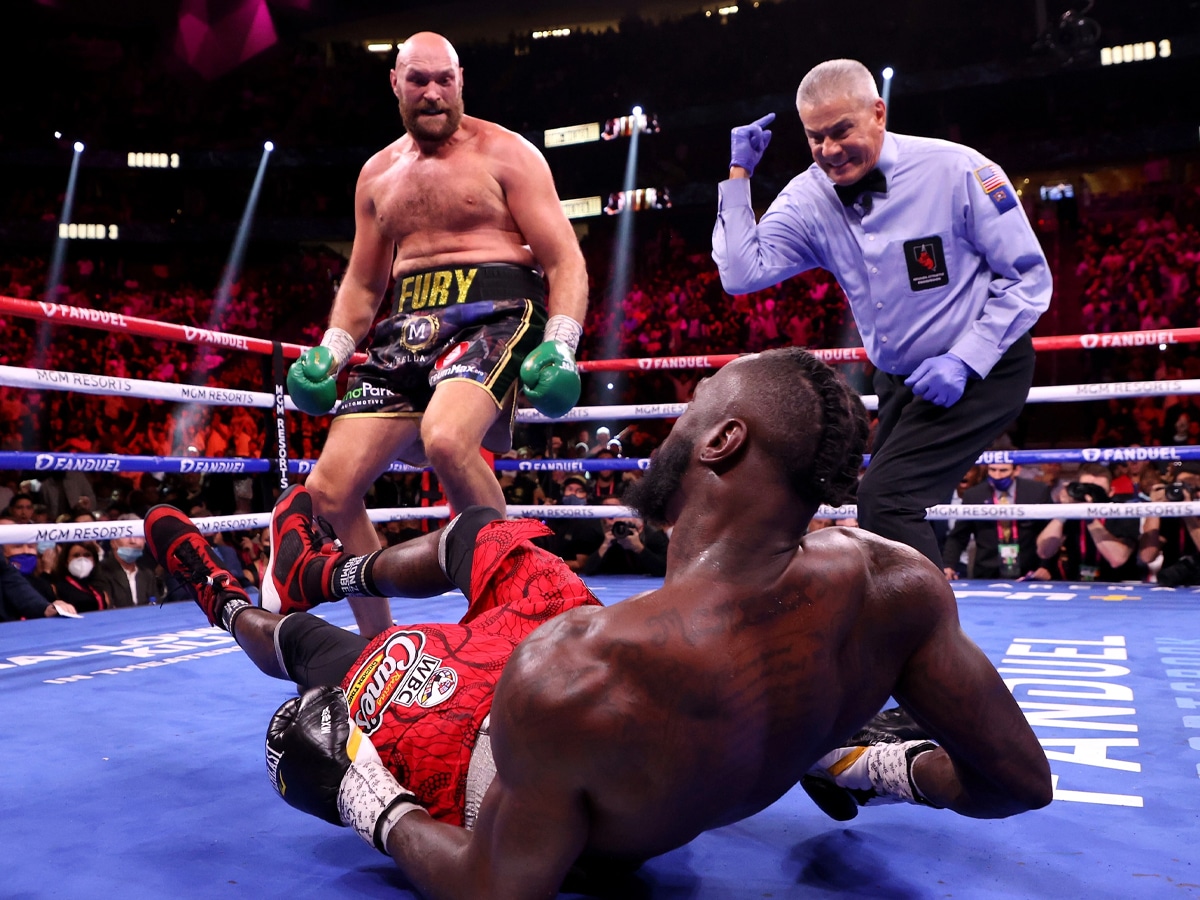 Adding insult to injury, Fury has since described Wilder as a 'sore loser'. The Gypsy King explained that the Bronze Bomber refused to shake hands or show mutual respect after their shared ordeal.
"I said, 'Well done.' And he said, 'I don't wanna show any sportsmanship or respect.' I said, 'No problem'," Fury explained. "I was very surprised by that but he's a sore loser, an idiot. To be a top fighting man, you've got to show guts and respect and he couldn't do it tonight. And that's it. He couldn't do it so I'll pray for him. I'm just thankful we all got out the fight in one piece and go home to our lovely families."
For Wilder, a second successive loss to Fury puts him in an interesting predicament. The former champion is ageing and his inability to capitalise on knockdowns raised questions, but no one can deny the Alabama native still put on one hell of a show. In a post-match interview with Boxing Scene, Wilder praised Fury's strategy.
"I did my best, but it wasn't good enough," he said. "I'm not sure what happened. I know that in training he did certain things, and I also knew that he didn't come in at 277 to be a ballet dancer. He came to lean on me, try to rough me up and he succeeded."
For Fury, the victory silences what few critics he still had left.  The win over Wilder improves his record to an incredible 31-0-1. What lies next for the Gypsy King, is anyone's guess.
You'll also like:
Watch Alex Volkanovski Retain his Belt in 'Fight of the Year' Candidate
Watch Anderson Silva KO Tito Ortiz in Just 81 Seconds
Jake Paul's Victory in 'Bullsh*t' Fight with UFC Champ Tyron Woodley