"I Came From Nothing" – LeBron James' Emotional Speech on the Set of Space Jam 2
After watching the film periodically for the past 20 years, the Man of Many team has an appreciation for Space Jam that can only be described as deeply emotional. Incredibly, we and NBA superstar LeBron James have that in common. James has come close to breaking down on the set of Space Jam: A New Legacy, the film that sees him band together with the Looney Tunes in a sequel to Michael Jordan's incredible 1996 original.
You'll also like:
Tom Cruise and Elon Musk Might Be Filming an Action Movie in Space
'Space Jam: A New Legacy' Title, Logo and Release Date Revealed By Lebron James
Watch Lebron James Relive the First Time He Met Michael Jordan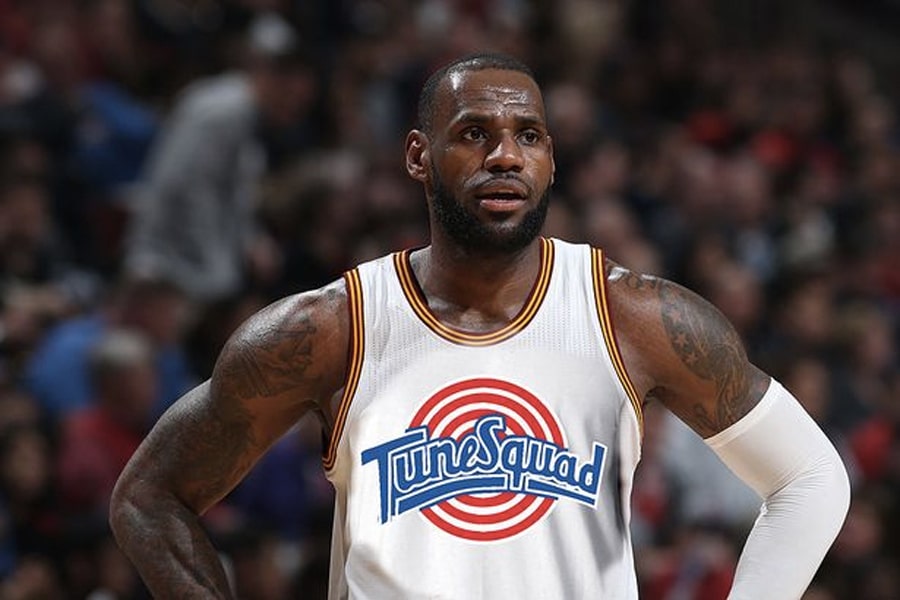 In a recently unearthed speech given to the cast and crew on his last day of filming back in 2019, James explained why it was so important that he take on the role. "I'm gonna be honest completely with you guys — when I found out about the project, I was like it's 'Space Jam'! It's a movie that I grew up watching. People in the movie that I idolize. I was like absolutely, I gotta do it. There's no way I can turn down 'Space Jam'!" James said in the video obtained by TMZ Sports.
"I'm just a small kid from Akron, Ohio — a very small town outside of Cleveland. From a single-parent household, I'm the only child, my mother had absolutely nothing. She was walking around high school when she was 16 years old and she was pregnant with me as a high school sophomore. So I'm really not supposed to be here."
It's true, the rise of the NBA superstar has been nothing short of incredible. From the skinny kid in Ohio with the world's expectations on his shoulders to the giant of the game he is today, James has surpassed nearly everyone on the basketball totem pole. What's more, he's done it with charity, humility and an unwavering dedication to supporting youth initiatives.
"Growing up in the inner city, as an African-American kid, there's no way you're supposed to f*cking make it out," James told his Space Jam 2 cast and crewmates. "And, the fact that I'm who I am as an African-American adult now with three kids of my own, and I made it out of the situations that I was in. This sh*t is like extra credit for me man."
Tune Squad new jersey from Space Jam 2! pic.twitter.com/vinB9QEZ3w

— Angga Aditya (@anggaXnicholls) August 16, 2020
What is extra for us is the sneaky little tidbit of information TMZ leaked after the clip, which appears to show the new Tune Squad uniforms in full. They aren't the staple white with red and blue highlights we're used to, instead, the LeBron-led Tunes team is sporting a wild orange and aqua ensemble that fans are absolutely despising. Honestly, some of the comments are savage, confirming that even 17 years into his career, the LeBron hate is still very real.
This might actually be the first time we see fans cheering for the Monstars.
Just like the original 23 Lejoke can't fill this one either

— john rye (@rye32) August 17, 2020
Noooooooooooooooo why bron had to ruin space jam for me???

— Jeremiahs (@Jeremia37380838) August 17, 2020
If it ain't broke don't fix it.

— vno (@vnolab) August 16, 2020
Looking like a walking Tide box pic.twitter.com/Dk1RE6jcfh

— Joshua Anzaldua Sr. (@JJacob79) August 16, 2020
If 2020 was ajersey that would be it

— steve cook (@stevecook) August 16, 2020
@UniWatch tell me that's not an ad on the left chest of the new Tune Squad Jersey.

— Stanley Cup Maniac (@ThePastamaniac) August 16, 2020
You'll also like:
Tom Cruise and Elon Musk Might Be Filming an Action Movie in Space
'Space Jam: A New Legacy' Title, Logo and Release Date Revealed By Lebron James
Watch Lebron James Relive the First Time He Met Michael Jordan