The NASCAR Driver Who Quit Due to the Confederate Flag Ban is Getting Roasted Online
In one of the more progressive moves NASCAR has made over the last few years, the motor racing organisation this week announced it will be banning the Confederate Flag from its races and events. While a huge step forward in the acknowledgement of racial inequality and recognition of the South's questionable pro-slavery past, not everybody is a fan of the move.
You'll also like:
Conor McGregor Lends His Skill to Reebok for ZIG Kinetica
Banksy Pays Tribute with Bold New Black Lives Matter Artwork
25 Powerful Black Anthems You Need to Listen to Right Now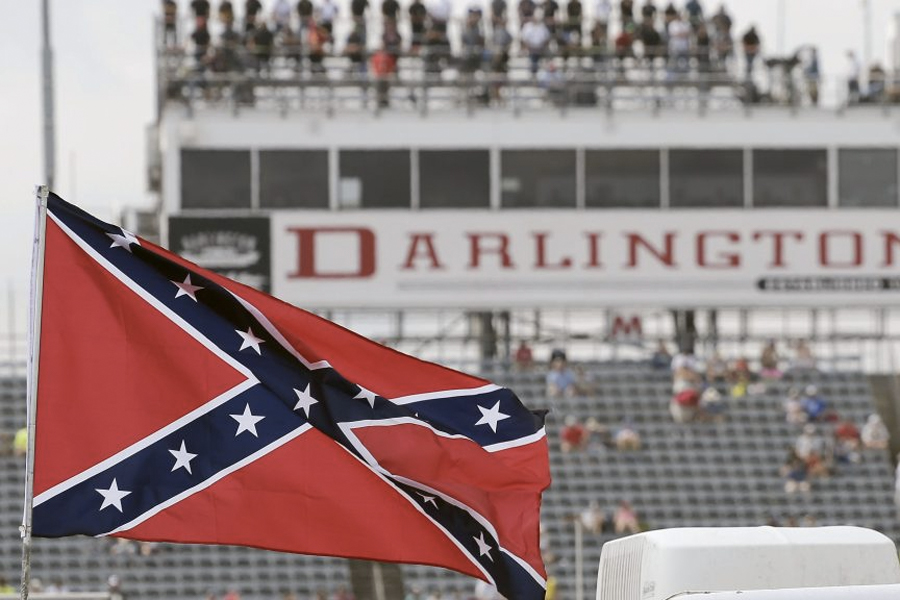 NASCAR Truck Series driver Ray Ciccarelli has reportedly announced in a since-deleted Facebook post that he will be quitting racing at the end of the season due to the ban. "Well its been a fun ride and dream come true but if this is the direction Nascar is headed we will not participate after the 2020 season is over," Ciccarelli wrote. "I don't believe in kneeling during Anthem nor taken ppl right to fly whatever flag they love. I could care less about the Confederate Flag but there are ppl that do and it doesn't make them a racist all you are doing is f–king one group to cater to another."
Bizarrely, the rant somehow manages to simultaneously confirm and deny support for the flag, leaving a lot of NASCAR fans confused, but not overly concerned. In fact, Ciccarelli's announcement has had the exact adverse reaction that he may have been hoping for. Anyone who has watched the 50-year-old race would know that Ciccarelli has a less than impressive track record. Out of 32 career races, Ciccarelli has won precisely zero, to go along with his zero podiums, zero pole positions and zero fastest laps. Since his Facebook post emerged, Twitter has been quick to remind him of that, in absolutely brutal fashion.
NASCAR Truck series is going to have to find someone else to finish 28th each week because Ray Ciccarelli is done with this racial equality BS.
#BLM pic.twitter.com/xdZpWgIN5r

— George Wrighster III (@georgewrighster) June 11, 2020
Since the online carnage took hold, Ciccarelli has deleted his Twitter, taking with it a bunch of less than inspiring messages from NASCAR fans and others who oppose the Confederate Flag. One online troll has capitalised on the situation, launching a fake Ray Ciccarelli account which is going viral. Politics aside, it doesn't appear that Ciccarelli will be missed. Here are some of the more savage roastings going around at the moment.
NASCAR truck driver Ray Ciccarelli has never even won a race. Like the confederacy, he knows how to quit while he's behind.

— Palmer Report (@PalmerReport) June 11, 2020
It's official he's insulted more races than he's won https://t.co/QDOaPSb6KU

— Jason Isbell (@JasonIsbell) June 11, 2020
The flag of the confederacy will always be displayed at NASCAR events. Don't worry. pic.twitter.com/32AnPblrKJ

— WWElliott (@elliott_ww) June 12, 2020
He should delete himself.

— Lew & Gizmo (@lgarf3) June 12, 2020
Massive race fan. Been to 30+. Glad he's gone and he's been irrelevant in every race he's been in. Hope people who aren't fans focus more on the positive steps nascar is making instead of this guy.

— Connor Chase (@ConConTweetin) June 11, 2020
You'll also like:
5 Best Places to Go Skydiving in Sydney
Banksy Pays Tribute with Bold New Black Lives Matter Artwork
25 Powerful Black Anthems You Need to Listen to Right Now