UFC 270 Ngannou vs Gane: Results, Winner, Highlights
Featured Image: Chris Unger/Zuffa LLC
Is there a better way of kicking off a sluggish start to 2022 than with some good ol' highbrow violence? Probably not. At UFC 270, heavyweight knockout artist Francis Ngannou retained his title against interim champ Cyril Gane via a unanimous decision win. The co-main event featured Deiveson Figueiredo slugging it out to defeat Brandon Moreno, reclaim the featherweight title & bank the Fight of the Night. And who can forget when Australia's golden boy Jack Della Maddalena brought the thunder from Down Under in his UFC debut bout?
You'll also like:
Rock Your Workout with Dwayne Johnson's New 'Outlaw Mana' Collection
10 Best Core Exercises and Workouts for Men
OnlyGains: Why Matador Meggings Are Better For Your Workout
When you go to fight Francis "The Predator" Ngannou, you go to sleep — but not tonight. At the main event, Ngannou established himself as a more well-rounded fighter. You see, up until today, Ciryl "Bon Gamin" Gane, had had a perfect professional MMA record of 10-0, that is until the scariest knockout artist in UFC history outclassed his former training partner with his grappling and wrestling to retain his heavyweight throne and chalk up his first title defence.
Gane had been the most touted threat to Ngannou, and while the Good Kid is not of the one-punch-knock-out calibre, his fluidity, technicality and deft footwork are not to be sneezed at. But Francis Ngannou had evolved into a refined fighter — a Francis Ngannoumedov. Albeit a pedestrian start, the first two rounds of the bout were Gane's. The Frenchman managed to maintain distance from the firing zone of Ngannou. And whilst both made modest swigs and leg kicks, Gane pocketed the judge's scores with his significant strikes.
Round three is when The Predator ramped up the damage. What appeared to be a high kick to Ngannou was caught and followed by an earthquake of takedown. The champion had ultimate side control and showboated some clean Jiu-Jitsu moves and even a cataclysmic judo throw. That round was quite taxing on the fighters with both breathing heavily and their hands down. The succeeding round was not much different. A takedown by Ngannou with control from the back, then into the mount guard for over three of the five minutes. Kudos to Gane for managing to keep moving and escaping the hits of the Cameroonian. To Jon Anik's credit, the round had shades of Anderson Da Silva and Chael Sonnen.
The final round saw the gargantuan pugilists swinging somewhat recklessly and quite fatigued before Gane secured his first takedown and make it into the half guard. This had then backfired when Gane's attempt at an anklelock flunked and Ngannou manoeuvred himself to a more dominant position wherein the French national had been glued to the canvass for most of the round with his opponent atop of him. At the end of the bout, it was clear that the hardest-hitting man in MMA had banked a unanimous decision win (48-47, 48-47, 49-46). And with the victory, Ngannou unifies the UFC undisputed heavyweight title.
"I know that he's gonna be a tough opponent… But the only thing that I had to do, and my coach reminded me all the time, like stay composed, calm down, don't chase him, you know, trust yourself, and we get it."
A dominant performance from your HW champ 👏🏆 #AndStill [ @Francis_Ngannous | #UFC270 ] pic.twitter.com/mZfbX8Qrdf

— UFC (@ufc) January 23, 2022
Deiveson Figueiredo dethrones Brandon Moreno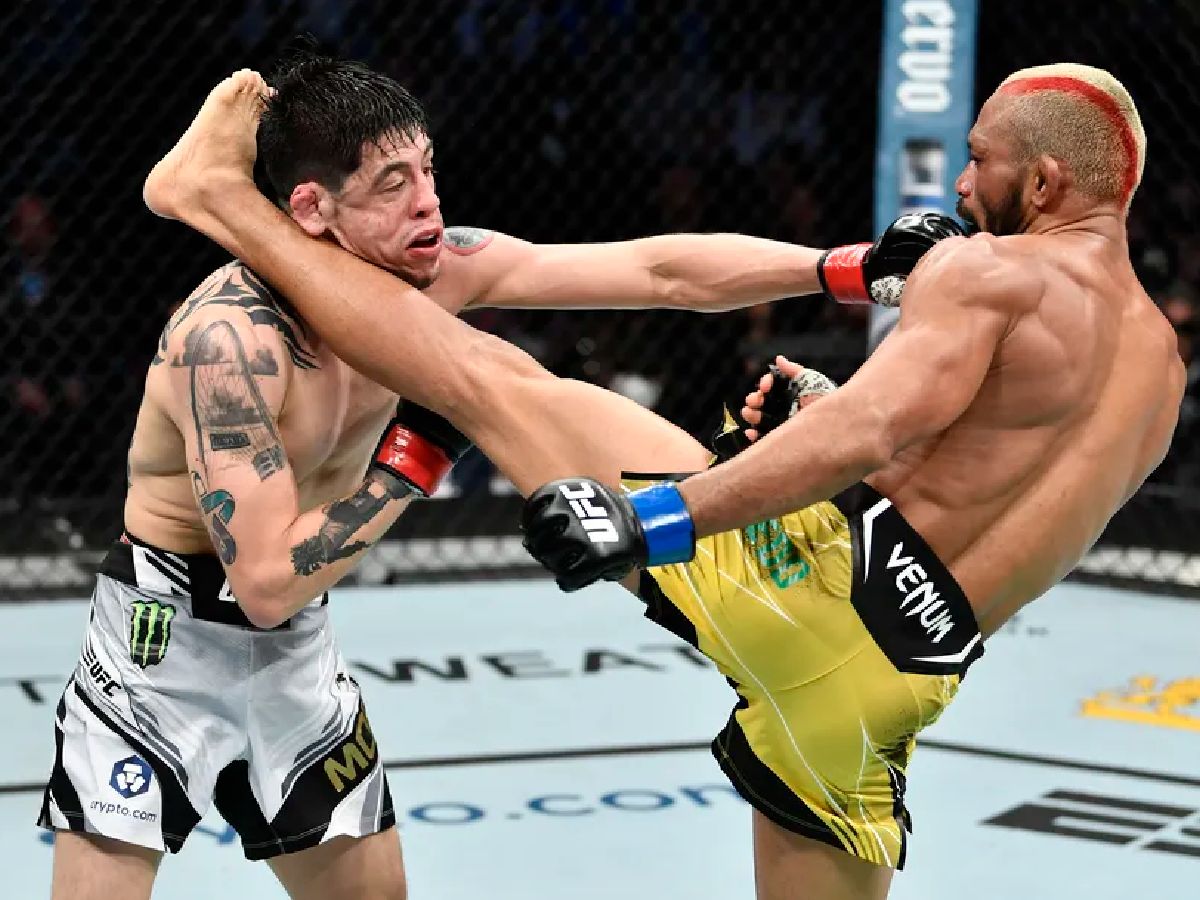 The 25-minute war between the 125-pounders was phenomenal and had them bank the drool-worthy $50,000 Fight of the Night bonus. Deiveson Figueiredo and Brandon Moreno rendezvoused for the third time in the octagon tonight, and the Brazilian couldn't have been more dominant & crisp in performance. With the Honda Centre stadium roaring with Latino fandom for Moreno, the UFC's first Mexican-born champion, to defend his title for the first time, Deiveson Figueiredo had much work to do to wow the crowd.
Daico reclaimed the title he lost to The Assassin Baby by defeating his rival in a unanimous decision win. The three judges scored the flyweight championship bout 48-47 in favour of Figueiredo. The two initially fought to a draw in December 2020, before Moreno submitted the Brazilian in their second dust-up. However, Figueiredo appeared to be a reinvented fighter in the trilogy, as his stamina and mentality transpired to have been tweaked; probably by dint of Triple C.
Although Moreno out-landed Figueiredo in strikes, Figueiredo landed more damaging strikes, particularly a strong right hand that knocked Moreno down at the end of round three. Overall, the bout saw the best of the fighters. Moreno's striking and fluidity were everpresent. He had his moments in the fight with his left hook at the end of exchanges as well as his exceptional defense in wrestling/grappling. While Figueiredo reciprocated with heavy low leg kicks that knocked Moreno off balance and many powerful right jabs.
"Today is my day. For this moment, for Brandon, for us to give you the gift of a fight of the night, for everyone who was here. I've been away from my family for four months. I'm ready for a fourth fight against Brandon in Mexico," said Figueiredo.
Figueiredo tried to put Moreno away, but the champ was unfazed 🚫 #UFC270 pic.twitter.com/G0oFC2ArPa

— ESPN MMA (@espnmma) January 23, 2022
Aussie Star Jack Della Maddalena's sleeper hit UFC debut
The highly touted 25-year-old Jack Della Maddalena made it eleven in a row tonight when TKO'ing Pete Rodriguez in the first round to make it a very enviable UFC debut. Interestingly, the Perth native flew to the United States without a scheduled fight; that is when his initial opponent was ruled out. But Rodriguez stepped in to fight, and the Aussie prospect closed the show with his striking power and high fight IQ.
In his post-fight interview, Della Maddalena said that he was a tad perturbed about his UFC debut, but had clearly shown the moxie to muster a stellar performance. "To be honest, I was waiting for the jitters and they never came," said Della Maddalena. And when asked about the jab that knocked down his opponent, Della Maddalena told Joe Rogan: "That's what I like to call the 50g spot, baby". Displaying exceptional performance in his first UFC fight, the Aussie may also be in the mix to take the torch from Alexander Volkanovski and Robert Whittaker.
You'll also like:
Rock Your Workout with Dwayne Johnson's New 'Outlaw Mana' Collection
10 Best Core Exercises and Workouts for Men
OnlyGains: Why Matador Meggings Are Better For Your Workout