Sugar Ray Leonard Talks Rivalries in Time to Walk Episode
Over 20 years, five divisions and 40 professional fights, Sugar Ray Leonard carved out a reputation as one of the greatest boxers of all time. Light on his feet with blistering hand speed and a deadly big overhand lead right, the Wilmington native was etched from the very same fabric as his childhood heroes Muhammad Ali and Sugar Ray Robinson, but with the charisma of a modern-day superstar.  The first boxer to earn more than USD$100 million in purses, Leonard set the world ablaze with his dazzling in-ring performances, but it wasn't always an easy ride.
"You know, where I am today as a boxing champion, it's hard to even fathom that I was not athletically inclined. I was not an athlete."
In the latest episode of the new Apple Fitness+ Time to Walk series, the sporting great reveals his long and storied journey to the Mount Rushmore of boxing, alongside the very fighters who inspired him. Remarkably, Leonard explains that while success came to him with relative ease, he never considered a career in the ring.
"When I won the Olympic gold medal in Montreal, 1976, I had no thoughts whatsoever to turn professional as a boxer because I've heard some horrible stories about boxing champions making some money and, at the end of the day, they had nothing. Everything was gone. And I didn't want that to happen to me," he says in the latest episode. "So my thoughts was to attend University of Maryland because I had a scholarship, further my education, get a great job, and go from there."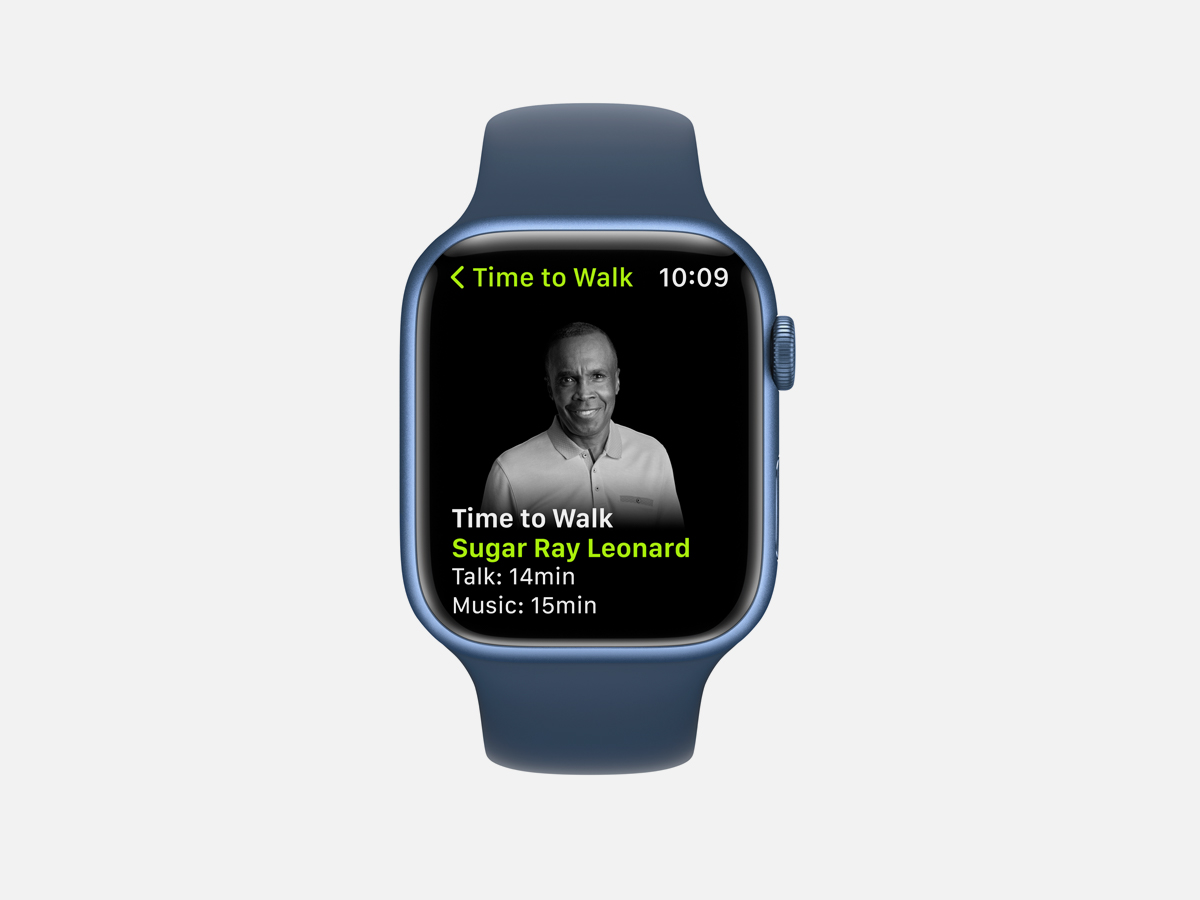 But things came crumbling down when Leonard's father's health took a turn for the worst. In an effort to 'make fast money', he turned pro immediately and the rest, as they say, is history. Never forgetting where he came from, the boxing great kept his cards close to his chest, making sure that his family was set up in the process.
"It all happened so quickly. I turned pro in 19-, what, '77. I became world champion in 1979," he says. "I was making money, and because I was doing so well financially in such a short period of time, that's why I felt that it was so right to give them what they'd dreamed about for so many years. My parents never owned a home. My parents did the best they could with what they had. And that's why I felt that it was so right to give them their first home, I mean, even before me."
With success came rivalry and none more compelling than Leonard's long-time battle with Panamanian legend Roberto Durán. For years, the two traded blows in and out the ring, causing controversy amongst the industry and sending fans into a fever pitch.
"Roberto Durán was one of the most intimidating fighters prior to Mike Tyson," Leonard says during the Apple Fitness+ episode. "He got inside my head, no question about that. He cursed me. He cursed my wife. He gave my wife the finger and gave me the finger and that kind of thing."
When they finally did take it to the ring, Durán beat Leonard fair and square, but an unprecedented rematch six months later saw the American reclaim his honour. From there, rivalry turned to hate and the two became intrinsically linked, but as Leonard explains, things can change.
"Most people don't know this, but I considered retirement (after the loss to Durán) because I said, "I can't be hit like this ever again…After I beat Durán, things got ugly. I really did hate him, but, you know, time heals," he says. "It took a lot of years and time for me to accept Roberto, and it took years and time for Roberto Durán to accept me because of the sincerity of how much it means to each other…We came together. Even to this day, we're friends."
Leonard isn't the first professional boxer to feature on the new Time to Walk series. The Apple Fitness+ audio experience previously featured Anthony Joshua sharing his incredible journey to sporting glory, alongside other notable guests such as Dolly Parton, Kurt Fearnley, Naomi Campbell, Draymond Green and Dr. Sanjay Gupta. The Apple Watch series shares personal stories and memories, photos, and music from influential people, generating conversation and thoughts on purpose and gratitude. Each episode is recorded while the guest walks outside or in locations that are meaningful to them.
Hearing Leonard's story in his own words is a remarkable experience. Softly spoken and effortlessly calm, the boxing legend feels a far cry from the deadly athlete that dominated the sport in the 70s and 80s, but it's exactly the contrast Time to Walk represents. You can check out the latest episode with Sugar Ray Leonard via the link below.