Super Swell: Surfers Charge as Hawaii is Smashed by Biggest Swell of the Year
The biggest swell of the year hit Hawaii over the weekend and it was a sight to be seen. While there are spots around Hawaii, like Peahi or the North Shore, that are no strangers to big waves, only every couple of years does a truly XXL swell hit the shores of Hawaii with the perfect balance of conditions. Last weekend (16th-17th of Jan), saw exactly that. Big wave surfers flocked to the shores on Saturday to catch the biggest and baddest waves possible.
You'll also like:
Officials Ban Big Wave Surfing at Nazaré, Portugal
$100 Million Surf Park Could Be Coming to Melbourne
Big Wave Surfer Tames Record-Breaking 22-Metre Monster
Surfers, safety teams, photographers and the locals all spend Friday night prepping for the incredible swell. The last time a swell like this occurred was in 2018 and it the conditions turned out to be too big. Yep, with some sets clocking in at the 60+ft range the sporadic Big Wave Surfing comps were called off. This year, its set to be a little less violent and the events all went ahead as planned.
As of 7:00 am Maui time, Buoy 51101 – 480 km's, or 6-12 hours, north of Jaws – was clocking 22 feet at 17 seconds… In other words, it was f*cking enormous.
Oahu's Outer Reefs
As expected, the outer reefs of Oahu were hit first and surfers like Jamie O'Brian, John John Florence, Will Skudian and Aussie Mikey Wright were getting towed into some absolute bombs. Check out Mikey and John John's waves below.
We could just watch John John all day.
Kelly decided he'd join the fray as well and, of course, carves it up.
If you've ever wondered what the Jetski's do when a closeout set comes through, check this video below:
Waimea Bay
Waimea maxed out on Saturday afternoon and had some brave paddlers charging. Unfortunately, the Eddie (the Eddie Akiau inaugural big wave comp) wasn't on the cards for yesterday but everybody is in agreement it would have been one of the best days ever.
Waimea is usually considered one of the safer big wave spots – that is, until it's not. Pictured above, Matt Rode takes a gnarly drop and goes head over heels. Copping four stitches for his effort.
Jaws, Peahi
Jaws was tipped to get the best waves of the weekend and it did not disappoint. The morning saw it still quite paddable with a couple of ski teams floating around. Soon enough, it got bigger and windier and the tow teams started to be more prolific.
On top of surfers, you could also find Brad Domke getting towed into some beasts on his skimboard and Zane Schweitzer whip out the old standup paddleboard.
Check out WSL's video below for all the tow action on Saturday.
Catch the likes of Nathan Florence, Kai Lenny, Justine Dupont, Eli Olson, Paige Alms and many more charge 50+ foot bombs. There's also footage of 12-year-old surfer, Steve Roberson, getting on some absolute beasts.
Here's the view from the channel and a huge wipeout from young gun, Adam Warchapol the windsurfer charging.
Here's another still from that epic wave before the wipeout.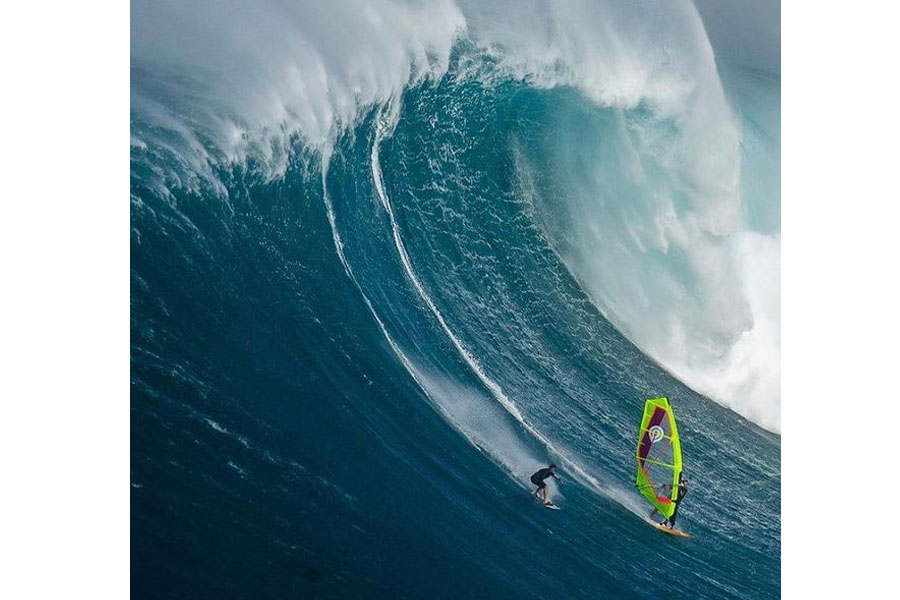 If we had to pick one set that took the cake, it's got to be this monster.
First up, Justine Dupont in one of the best barrels you'll ever see. Wave two of the set sees Niccolo Porcella and Shaun Walsh share a bomb and finally big wave royalty Nathan Florence cleans up the rest.
That's all for now, but you can head over to Surfline for more coverage.
You'll also like:
Officials Ban Big Wave Surfing at Nazaré, Portugal
$100 Million Surf Park Could Be Coming to Melbourne
Big Wave Surfer Tames Record-Breaking 22-Metre Monster