Watch Robert Whittaker's Bloody Win Over Darren Till at UFC Fight Island
Another UFC Fight Island card is in the books and it was one for the ages. Former UFC Middleweight Champion Robert Whittaker made his long-awaited return to the octagon, facing off against outspoken fifth-ranked division contender Darren Till. While fans were eager to see Whittaker hit the mat running, it wasn't a stand-up KO or submission result that ended the fight. Indeed this was a brutal five-rounder that more than lived up to the hype.
You'll also like:
Kickboxer Breaks Record for Most Punches Thrown in a Minute
Mike Tyson Comeback Fight Against Roy Jones Jr. Confirmed
Mike Tyson Fighting a Shark is the Most 2020 Thing Ever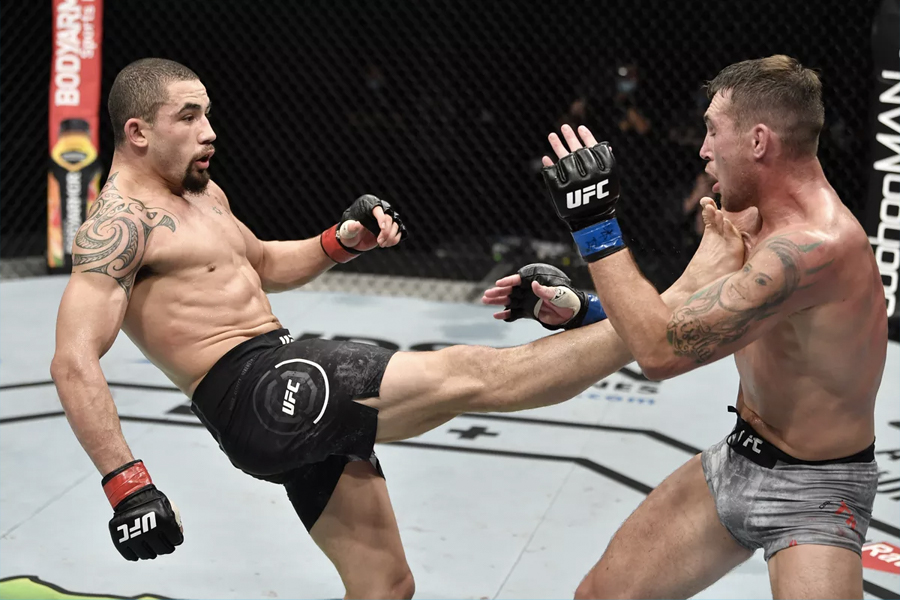 After several months off, you'd be forgiven for being a little slow, and that's exactly how the former champ kicked things off. Whittaker took a fierce elbow to the jaw in the first round, but recovered quickly to even the ledger before the first bell. From there, the middle rounds were a proverbial chess match, seeing Sydney-based Whittaker utilise his tactical skills to great effect. He dropped Till with a right hand over the top in the second, and apart from a few sneaky shots that got through the guard, the former champion was in control, claiming the victory in a full five rounds.
It was the first fight back after Whittaker withdrew from a scheduled bout against Jared Cannonier earlier this year. The former champ had admitted he was facing "career-ending' burnout, but it appears the Aussie star is back and fully recharged. "When a champ loses his belt, the first fight back is terrifying," Whittaker said in the post-fight interview. "That for me was one of the most technical fights I've ever had to fight."
According to Till, the Englishmen 'blew out' his knee in the second round after a stomp from Whittaker. The move caused him an immense amount of discomfort, which Whittaker was able to use to his advantage for the remaining rounds. It was a valiant performance from Till, who more than proved his worth in the 185-pound division. "I feel like we both won the fight. I'm not saying I feel like I won it, but we just both won. It was a clinically great match," he said in the post-match interview.
With Whittaker back in fighting shape, the focus turns to recapturing the middleweight title. Come UFC 253 in September, we could very well see the Aussie star back on top of the world.
You'll also like:
Kickboxer Breaks Record for Most Punches Thrown in a Minute
Mike Tyson Comeback Fight Against Roy Jones Jr. Confirmed
Mike Tyson Fighting a Shark is the Most 2020 Thing Ever