Top 10 Halloween Costumes
Halloween – a time for pumpkins, fake cobwebs and drunk chicks dressed like vampire hookers. If you're attending a Halloween party: PUT SOME EFFORT INTO YOUR HALLOWEEN COSTUME. No one likes the guy wearing his regular threads with a set and a set of devil horns and acting like he's too cool to party. Check out our favourite Halloween costumes trending this year.
You'll also like:
40 Most Ridiculous Halloween Costumes of 2020
Best Celebrity Halloween Costumes in 2018
Sneaker News #17 – Nike and adidas Get into the Halloween Spirit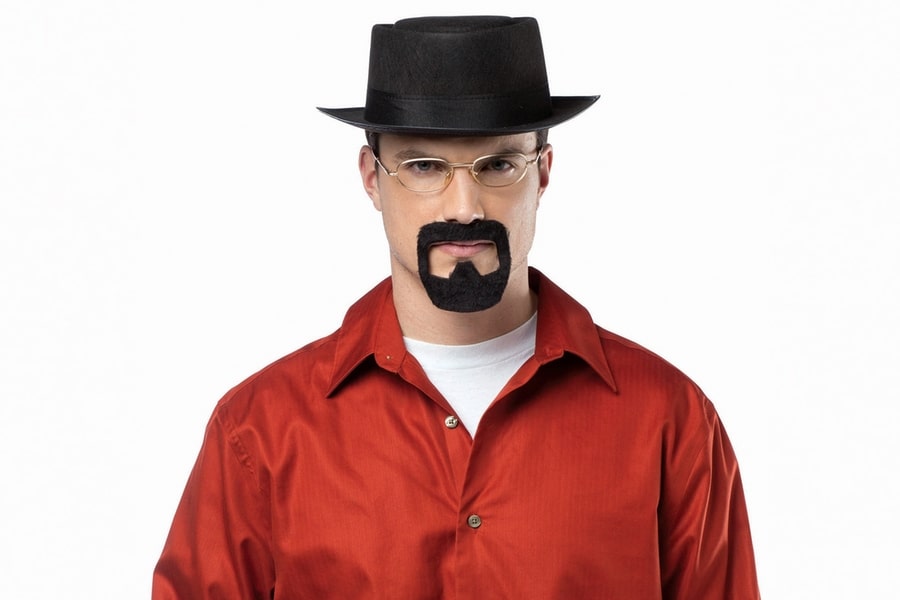 1. Walter White – Heisenberg
He teaches science, cooks meth and crushes those who dare to get in his way. As charming as Walter White might be, his alter-ego, Heisenberg, the #1 contender for badass of the year. We have a feeling this will be one the best Halloween costumes you can sport long after the series ends.
2. Dark Harvest Animotion Mask
This scary-ass pumpkin mask doesn't just sit lifelessly on your face – it's actually animated. The mask moves as the wearer opens and closes their mouth, revealing some creepy jagged pumpkin teeth. This is one of the best Halloween costumes for scaring the crap out of everyone who crosses your path.

3. Rocky Horror Picture Show Frank N Furter
Nothing is scarier than a man in lingerie. If you want to gross people out this Halloween, why not do it in rock opera style by dressing as Frank N Furter the Transylvanian transvestite from the "Rocky Horror Picture Show."
4. Big Head Evil Gnome
Gnomes are way creepy at the best of times, let alone when they're adult-sized with a big-ass head. This Halloween costume won't get you laid, but it could be amusing to answer the door to a group of unsuspecting neighbourhood kids on their trick-or-treat route.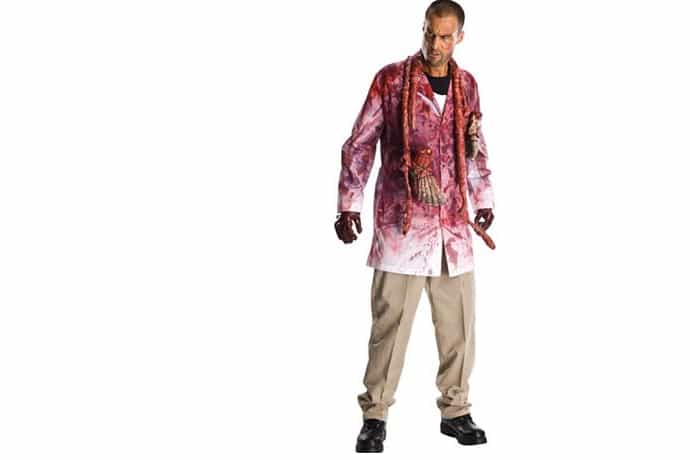 5. Silo Rick
The "Walking Dead" TV series has taught us that the zombie apocalypse is coming any day now. This Halloween, why not wear a costume that demonstrates how you would make those zombies your bitch?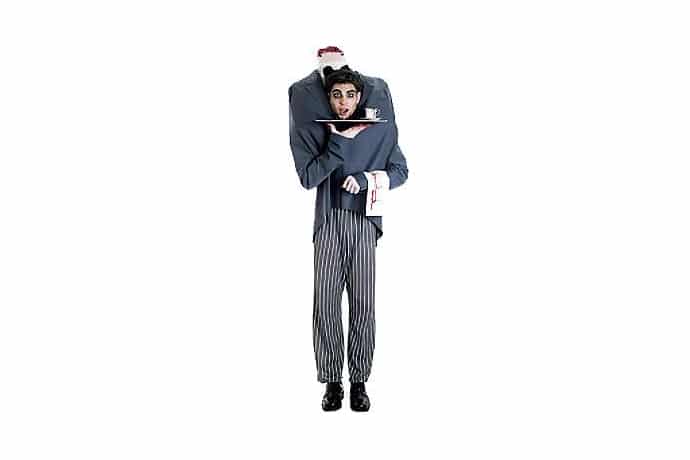 6. Headless Butler
What better way to take out a best-dressed award than by walking into a Halloween party holding your own head on a tray. With this elusive costume, you'll be the life of the party.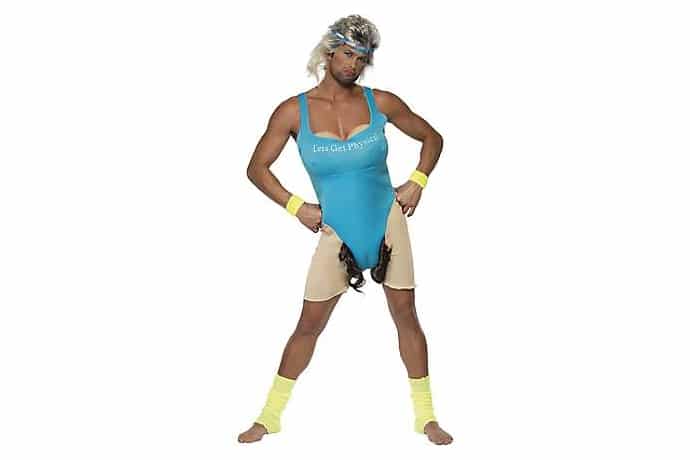 7. Let's get Physical
In 1981 Olivia Newton John made this outfit sexy. When a man tries to replicate that outfit 2013, the results are horrific. Perfect attire for the 31st of October.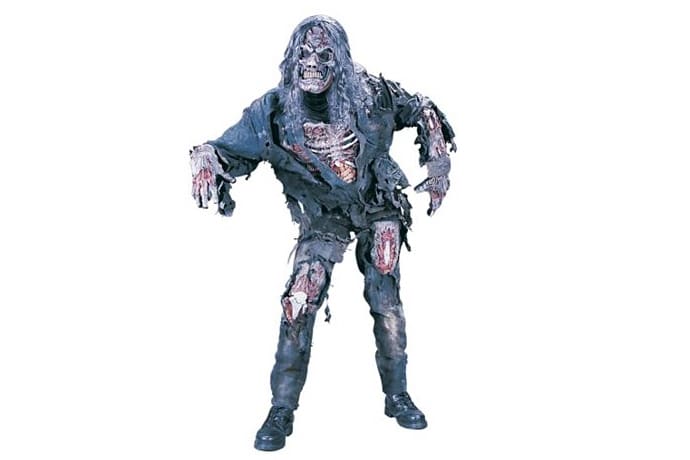 8. Zombie
Tattered clothing, rotting body parts, weeping blood and a face like a meth addict. Now that's a real zombie outfit.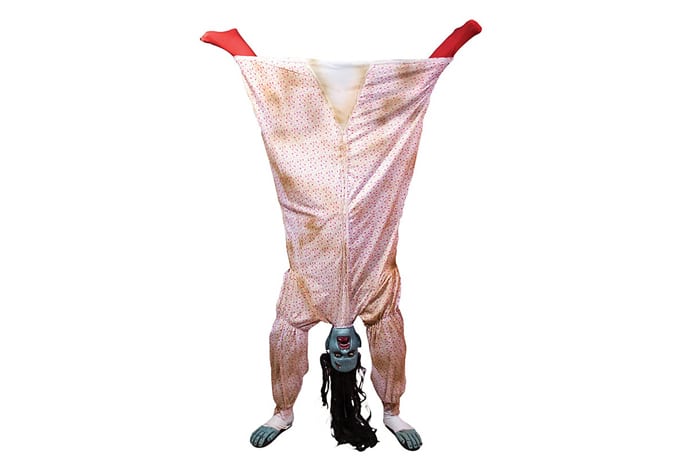 9. Upside Down Crazy Woman
This is one of those outfits that leaves us saying – "WTF?" From the blue skin, to the poo-stained dress, this costume makes absolutely no sense. It's weird, whacky and we love it.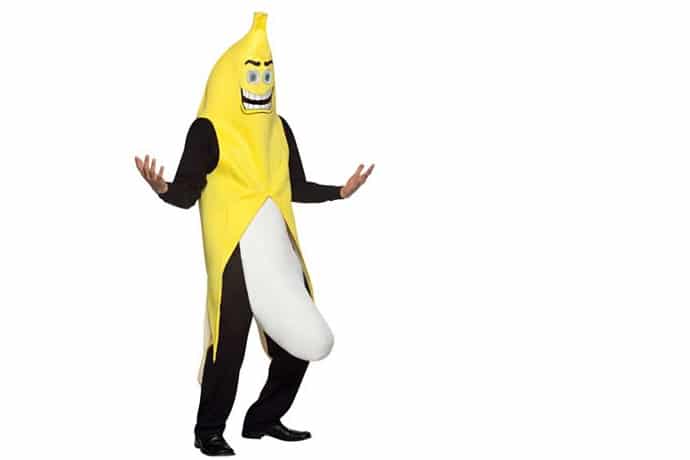 10. Banana Flasher
Everyone likes a good boner joke. With the Banana Flasher suit, you can actually be the boner joke. This is a great ensemble for those with a good sense of humour, but I wouldn't recommend wearing this outfit around children.
You'll also like:
40 Most Ridiculous Halloween Costumes of 2020
Best Celebrity Halloween Costumes in 2018
Sneaker News #17 – Nike and adidas Get into the Halloween Spirit