David Blaine Ascends 24,000ft in the Air Using Balloons
Have you seen the movie UP? That ridiculous premise where a man ties a heap of balloons to his house and gently sails off into the sunset? Well, magician/human cheat code David Blaine has literally done just that. In a stunt entitled Ascension, Blaine took to the Arizonan desert, armed only with helium and a harness to soar higher than any balloon-propelled adventurer has done before. The results were…underwhelming.
You'll also like:
Doctor Explains Conor McGregor's Leg Injury at UFC 264
10 Best Hotels in the World for 2020
Netflix Hired Hans Zimmer to Fix its 'Ta-Dum' Sound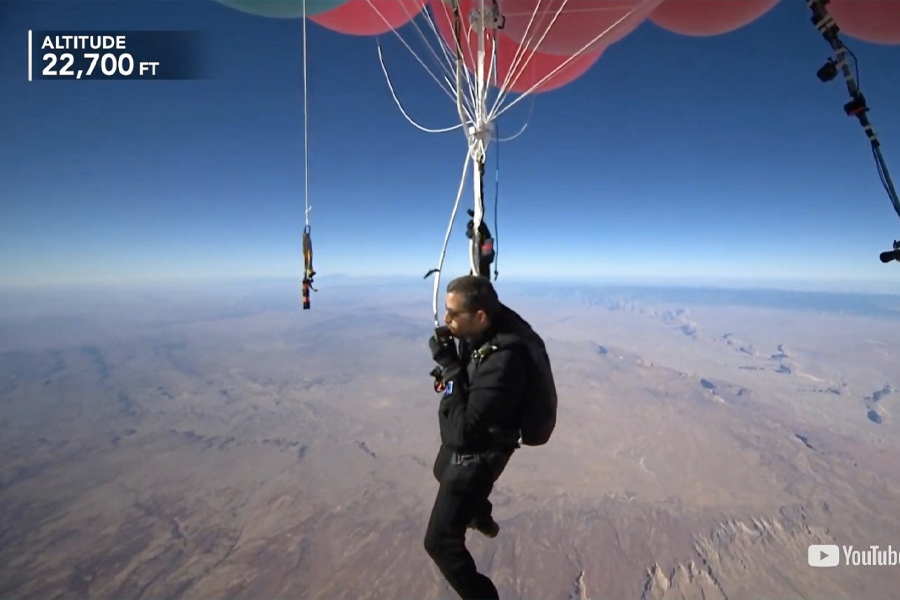 The three-hour livestream saw Blaine engage in a series of rigorous safety checks before daughter Dessa attached the final balloon. Slowly, the ballasts were removed one-by-one and at around 4pm, the magician began to drift higher and higher into the skies. As you would expect, Blaine used his infamous breathing and purging techniques to maximise his oxygen intake on the one hour journey.
The biggest question surrounding the endeavour was just how Blaine planned to descend, particularly as he was not attached to a parachute. Unfortunately, it turns out, the parachute was simply hidden in the mass of colour above, which he promptly reached for and attached at around the 10,000 feet mark. To end the journey, Blaine let go of some balloons and plummeted thousands of feet before activating his parachute and coasting back to the ground. Before he landed, Blaine confirmed that the stunt was the most ambitious of his career, explaining that beyond the obvious risk of balloons popping, wind, oxygen deprivation and hypothermia were very real risks. In fact, the magician revealed that the stunt was 10 years in the making, detailing the incredible challenges impeding the launch.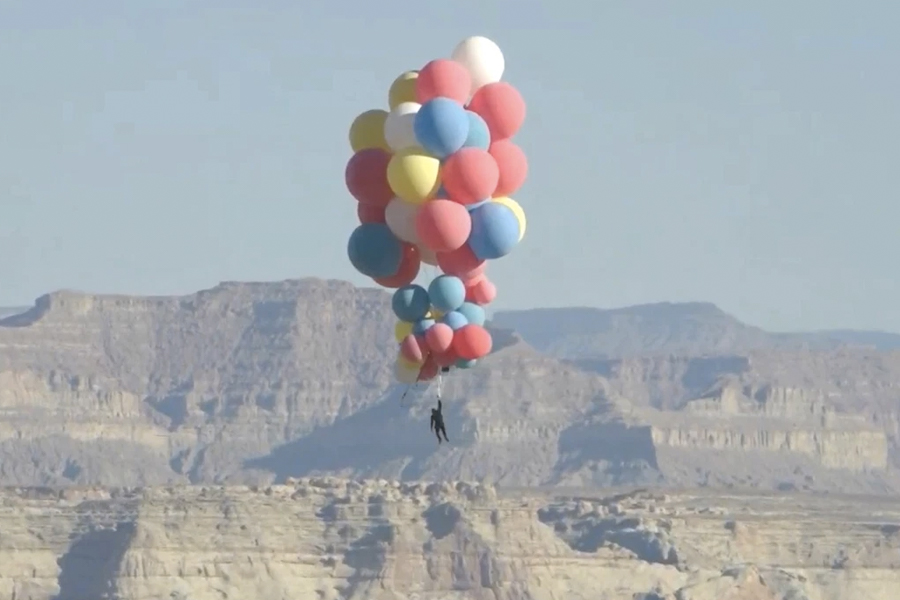 While the premise of watching a human being attached to balloons fly 24,000ft into the air is exciting, the footage was almost too simple and explained to be fully enjoyable. Perhaps it was the buildup and delays (Blaine was supposed to kickstart the stunt in New York last week but poor weather prevented the launch), or maybe we're just used to magic with smoke and mirrors, but Ascension failed to reach the lofty standards Blaine has set for himself.
Just in case you were wondering how many balloons you'd need to reach space, molecular physicist Dominik Czernia has got you sorted. The PhD candidate has created the Helium Balloon Calculator, which allows you to put your weight, balloon size and desired height in, with the machine spitting out just how many balloons you'll need. Check it out.
Helium Balloons Calculator
You'll also like:
Verdict on the 2020 Land Rover Defender's Off-Roading
10 Best Hotels in the World for 2020
Netflix Hired Hans Zimmer to Fix its 'Ta-Dum' Sound