"I Ain't Waiting" – Star Wars Actor John Boyega's Passionate Anti-Racism Speech
Star Wars actor John Boyega is renowned for his open, honest and refreshingly candid approach to public life. Previously, the star has openly criticised Disney for creative decisions, putting his career and place in the monster franchise in jeopardy. Boyega is a celebrity who isn't afraid to have his voice heard. He's also a passionate activist in the fight for racial equality.
You'll also like:
What's Keeping Us Sane This Week – June 6
What You Can Do to Take a Stand Against Injustice
Taika Waititi Will Direct and Co-Write New Star Wars Film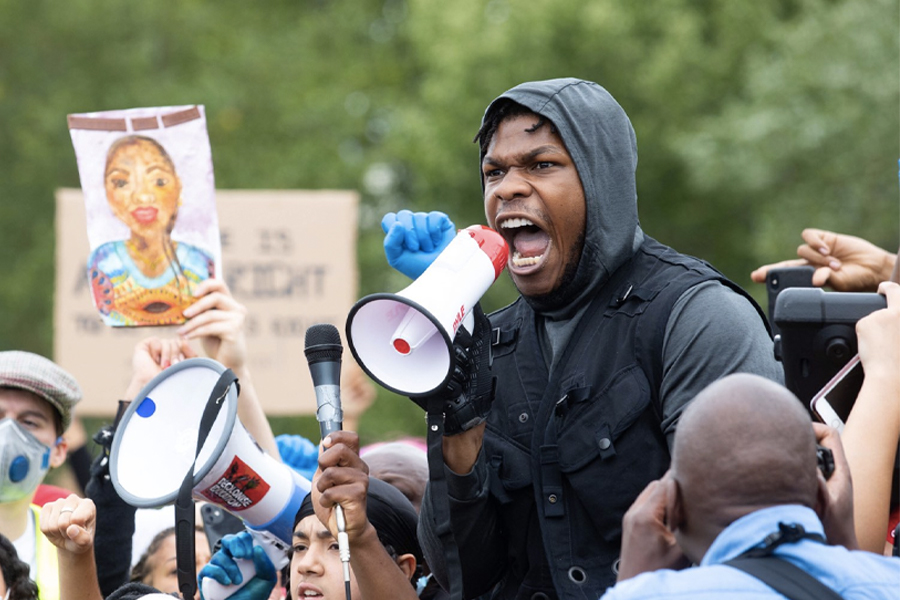 Taking to the megaphone at a Black Lives Matter rally in London's Hyde Park, Boyega voiced his thoughts to the masses, delivering a passionate speech that has since gone viral. "This is very important," he said. "This is very vital. Black lives have always mattered. We have always been important. We have always meant something. We have always succeeded regardless. And now is the time. I ain't waiting."
With his message clear, the Star Wars actor acknowledged his outspoken stance may impact his future endeavours. "I'm speaking to you from my heart. Look, I don't know if I'm going to have a career after this, but f*ck that," he said.
In the days that have passed, however, Boyega has received an outpouring of support, from the general public along with some of Hollywood's biggest directors. Jordan Peele, Edgar Wright and Guillermo del Toro have all shared their approval for the Star Wars actor's message. "We got you, John," Peele wrote to Boyega, a message that was then shared by del Toro. Wright then chimed in, noting "Have before and would again, in a heartbeat".
We stand with and support you, @JohnBoyega. View his full speech: https://t.co/Goxb5y2wrK pic.twitter.com/ZvE0t5tRPY

— Star Wars (@starwars) June 3, 2020
A wealth of other studios, actors and directors have also come out in support of Boyega, including the official Star Wars page. You can watch John Boyega's passionate speech at Hyde Park above.
You'll also like:
What's Keeping Us Sane This Week – June 6
What You Can Do to Take a Stand Against Injustice
Taika Waititi Will Direct and Co-Write New Star Wars Film