Watch Meyne Wyatt Tear Down Australian Racism in Under 4 Minutes
It's being labelled as the best Australian TV watching ever, and now the impassioned speech from Neighbours actor Meyne Wyatt is making its way across the globe. The proud Wongutha-Yamatji man from Kalgoorlie was a guest on Monday night's episode of Q&A, where he spoke candidly and powerfully about the systemic injustice and racism faced by Indigenous Australians.
You'll also like:
Banksy Pays Tribute with Bold New Black Lives Matter Artwork
25 Powerful Black Anthems You Need to Listen to Right Now
"I Ain't Waiting" – Star Wars Actor John Boyega's Passionate Anti-Racism Speech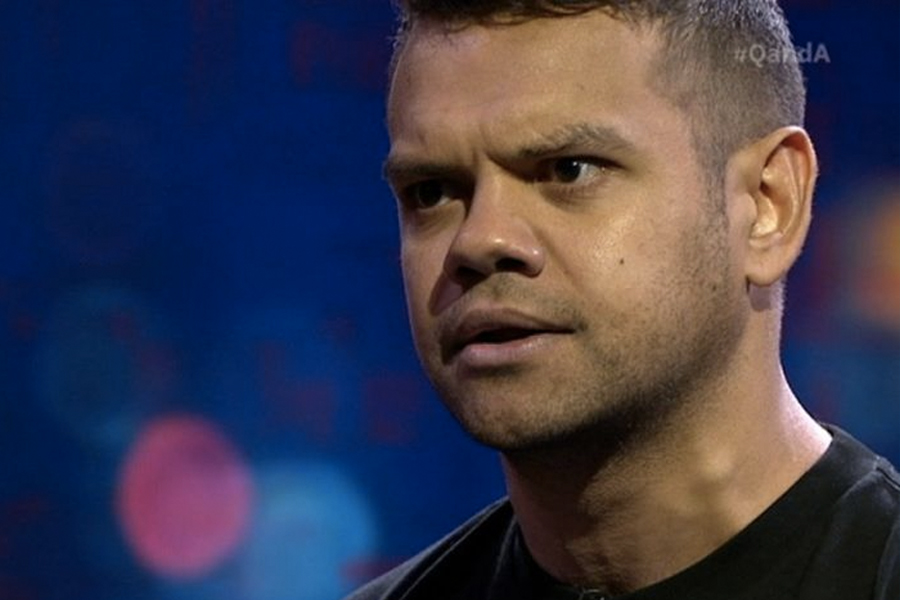 Throughout the episode, which focused on racism and black deaths in custody, Wyatt was open and honest about his own personal experiences. Even as a successful actor, Wyatt revealed he still feels the burden of racism weighing deep on his career. It's a message that the Neighbours actor has transferred into a stage play, entitled City of Gold. Viewers caught a glimpse of the prose in action at the conclusion of the Q&A episode when Wyatt performed a chilling monologue ripped straight from the pages of his life story.
"I'm always going to be a black friend, aren't I? That's all anyone ever sees. I'm never just an actor, I'm an Indigenous actor. Hey, I love reppin', but I don't hear old Joe Bloggs over here being called 'white Anglo-Saxon actor blah di blah,'" Wyatt began. "'But how will we move forward if we dwell on the past?' That's your privilege. You get to ask that question. Ours, we can dance and be good at sport. You go to weddings, we go to funerals."
The stirring speech has received widespread acclaim since it was performed, with prominent Australians and anti-racism advocates labelling it a triumph. Australian comedian Nazeem Hussain referred to it as "the best two minutes of Australian TV ever", while author Benjamin Law stated it "might be the most incredible and shattering thing I've ever seen".
Wyatt's open honesty is a stark reminder, not only of the plight of Indigenous Australians in custody but on the casual racism we see and exhibit on a daily basis. It might not be as widespread and overt as some of its more typical counterparts, but this passive complicity is just as poisonous.
You can watch Meyne Wyatt's impassioned speech in full above.
You'll also like:
Banksy Pays Tribute with Bold New Black Lives Matter Artwork
25 Powerful Black Anthems You Need to Listen to Right Now
"I Ain't Waiting" – Star Wars Actor John Boyega's Passionate Anti-Racism Speech