Tesla 'on Autopilot' Slams into Overturned Truck in Taiwan
When videos first emerged of Tesla's unique autopilot mode, people were shocked. The awesome technology seemed to be able to predict accidents and obstacles long-before they had even happened, pushing us one step closer to that badass highway Will Smith cruised along in I, Robot. Unfortunately in the years that have passed, however, certain accidents and legal disputes have called Tesla's autopilot technology into question, and based on the latest reports, it seems Elon Musk might have some explaining to do. Footage has emerged of a Tesla Model 3 sedan reportedly on autopilot mode slamming directly into an overturned truck on a Taiwanese highway.
You'll also like:
Guy Crashes 2020 Corvette C8 Immediately After Picking It Up
Polish Driver Launches Suzuki Swift Into Another Dimension
Influencer Destroys $1.2 Million Porsche During Quarantine Cruise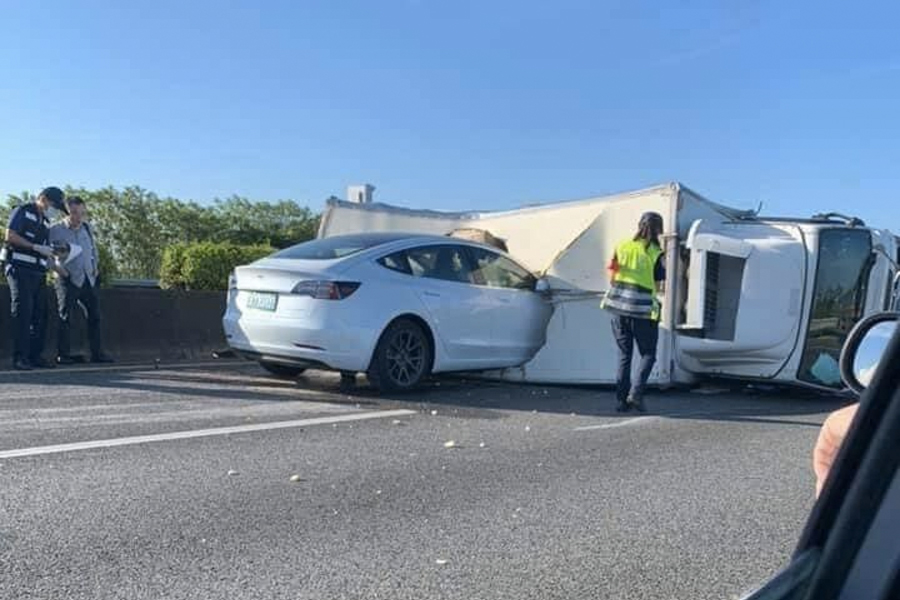 The video is pretty ridiculous. Before the Tesla drives into the truck, a pedestrian, who some social media users have suggested is the driver of the truck steps out to wave the vehicle down. When it doesn't slow, the pedestrian moves back, before watching the Tesla launch itself headfirst into the carriage of the truck. Much like your grandma reversing out of the Coles carpark, the Tesla seemingly has no idea what is in its general vicinity, which is absolutely terrifying considering the footage was captured on Taiwan's National Highway 1 where the speed limit is around 100kmph.
Several clips of the crash have been posted on Twitter and YouTube, from every discernable angle and vantage point. According to a number of translated Taiwanese reports, the Tesla is believed to have been on autopilot mode, however, the company is yet to clarify or make an official statement regarding the accident. Regardless, you can bet some onus will fall on the driver. Tesla's autopilot system is contingent upon the driver's understanding that the car is not 100 per cent capable of driving on its own. The driver still needs to pay attention to the world around them and take responsibility in case of an emergency.
Look, there is no denying this one was a statistical anomaly, but it does prove that technology is prone to failures and that good, old-fashioned human reflexes still come in handy, albeit only occasionally. Let's just hope those SpaceX astronauts aren't relying on autopilot for their commute home.
You'll also like:
Guy Crashes 2020 Corvette C8 Immediately After Picking It Up
Polish Driver Launches Suzuki Swift Into Another Dimension
Influencer Destroys $1.2 Million Porsche During Quarantine Cruise