Watch Adam Savage Build an Epic Custom Nerf Rifle
Former Discovery Channel Mythbusters and Unchained Reaction host Adam Savage created one badass Nerf Rifle recently. Savage designed this rifle for a fan as part of a Secret Santa exchange. The former TV host started with a Nerf Longstrike Blaster CS-6 and turned it into something that looks like it was developed by the military.
Aside from the bright neon colors, Nerf Longstrike Blasters look pretty cool as they are. Savage spent a day making the Blaster look like something that you might find in a sci-fi thriller. The end result is pretty cool.
Savage started by deconstructing the Longstrike Blaster. He then uses several tools, including brushes, paints and real gun parts to transform this Nerf gun into a cool sci-fi looking rifle. Several very cool additions were added to Savage's mod, including a tactical light, telescopic sight and bipod. As if that were not enough, he added a five kilogram spring, which ensures that the foam darts travel farther. The Longstrike Blaster was then reconstructed and given a custom distressed paint job to complete the look.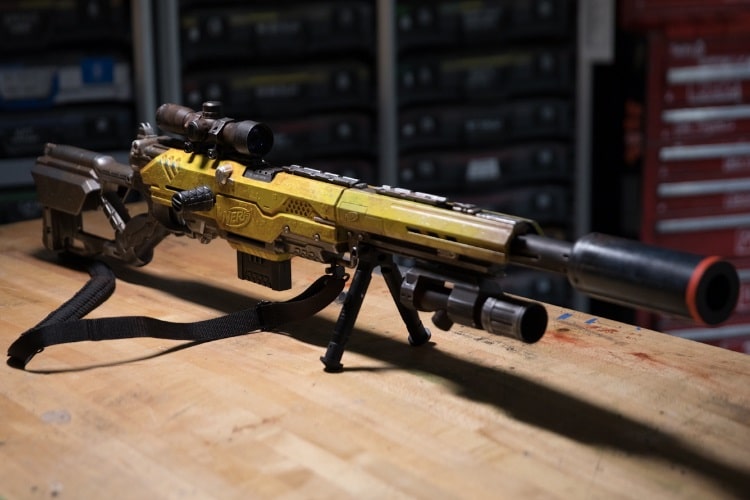 Lucky fan Adam Johnson received the Nerf Blaster as part of Imgur's Secret Santa Exchange. Johnson was so impressed with the rifle that he posted photos of him opening the package to the online image sharing community, Imgur.
If you want to replicate this Nerf Blaster, you are in luck. Savage breaks down step-by-step the entire process that he used to build this gun in a 31 minute video on the YouTube channel for his show, Tested.
Have you subscribed to Man of Many? You can also follow us on Facebook, Twitter, Instagram, and YouTube.