Australian Men's Suit, Shirt and Pants Size Conversion Guide
We are men! Of course, I am assuming the gender of the reader. Not very 2018 I know but at least the writer is certainly a man, hell, a manly man…nah just a man. Any event, when it comes to online shopping I, like most men, choose to shop online due to the convenience, selection of options, the straightforwardness of the service and just in general it's a much more pleasant experience.
This opens yourself up to size confusion. Being that, visitors to an online store (Mainly Foreign) will be presented with sizes that are unfamiliar to what you have traditionally been provided in classic bricks and mortar establishments. That's where we come in, our article provides Aussie Gents with a guide to size conversion of suits, shirts and pants.
---
You'll also like:
10 Mistakes Guys Make When Buying a Suit
Made to Measure – Man of Many's Guide to Buying a Tailored Suit
10 Best Blue Suit Brands
---
Firstly, why does size matter? Ahem, well it's important to understand who you are and what you like. Some Gentlemen prefer a more lose relaxed feel whereas others prefer a tighter more tailored fit. Knowing what you like and what suits your body type is obviously extremely important when you are purchasing clothes online. Many retailers offer customers the option to view a sizing chart that provides measurements in both centimetres and inches.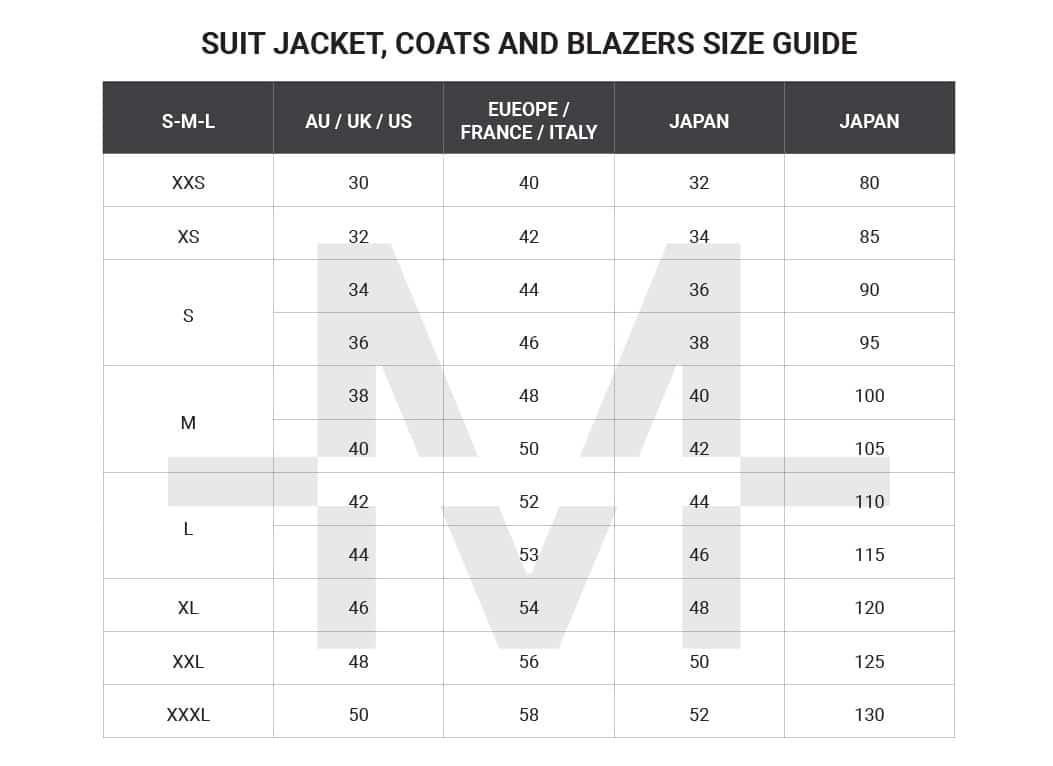 Australian Men's Suit Size Conversion Chart
Suit sizes are determined by various measurements those being chest, neck, sleeve/arms and waist. Measure your chest just under your arms and across the shoulder blades, holding tape level (don't hold your breath). Be sure to cross over the shoulder blades and the fullest part of your chest. For your neck, measure around the middle of the neck, around your Adam's apple or fullest part of our neck, keeping tape level. For the arms, with your arm around your hip, bend your arm to a 90-degree angle. Measure from the middle of the back of your neck, across your shoulder and down outside of your arm past elbow to your wrist. And finally, your waist is simply your pants size.
Once you have these measurements, you can then compare them to industry standard sizes. Rule of thumb for consumers is Australian sizes are based on centimetre measurements. So, here's an example, let's say that your chest measures 96-98 centimetres you would then be a size 38 in inches. Sleeves lengths also come into the question, with three options short, regular and long. This is usually included in the product description. Despite historical inclinations towards the metric system many Australian manufacturers have adopted the British and American forms of measurement (Inches). Italian and other European sizing's are usually the same as American, British and Australian sizing's only with an additional 10 numbers i.e. a 38 suit in Australia would be an Italian 48.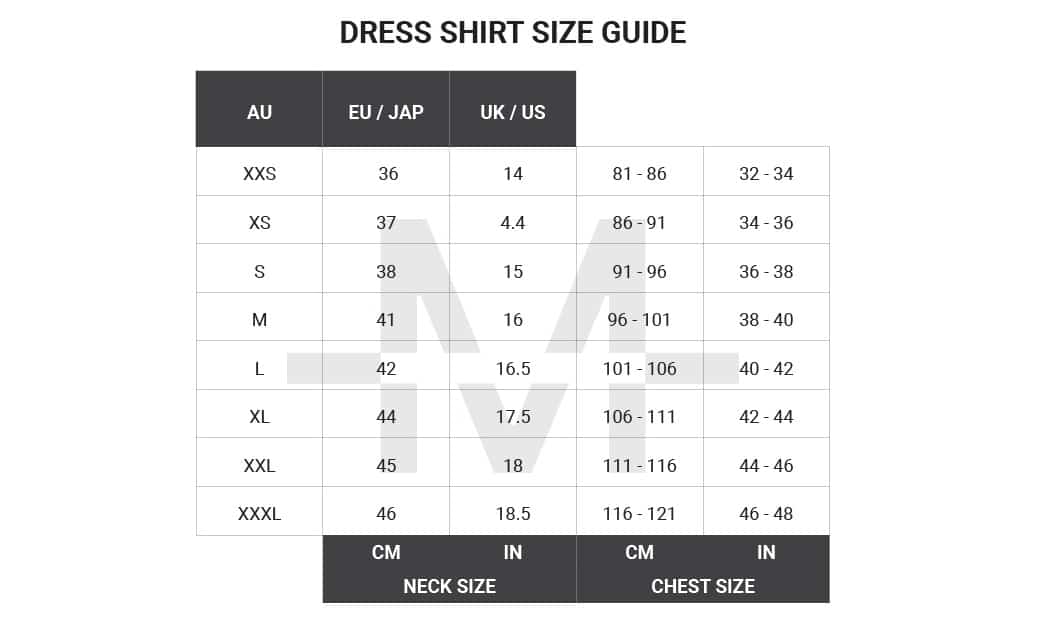 Australian Men's Dress Shirt Size Conversion Chart
Dress shirts are a whole other kettle of fish. In Australia, the lettered sizing method has taken centre stage. This meaning that the sizes Small, Medium and Large determine the size of your shirt. Generally, shirt sizes are determined by the neck circumference measured in either inches or centimetres. A shirt distributed by a US or British company with a size of 15 would be the equivalent of an Australian Small. That same shirt would then convert into a 38 size Italian Shirt. American dress shirts also measure the sleeve length and include that number in the measurement tag, whereas Italian shirts, for instance, will only provide a standardised sleeve length in all shirts.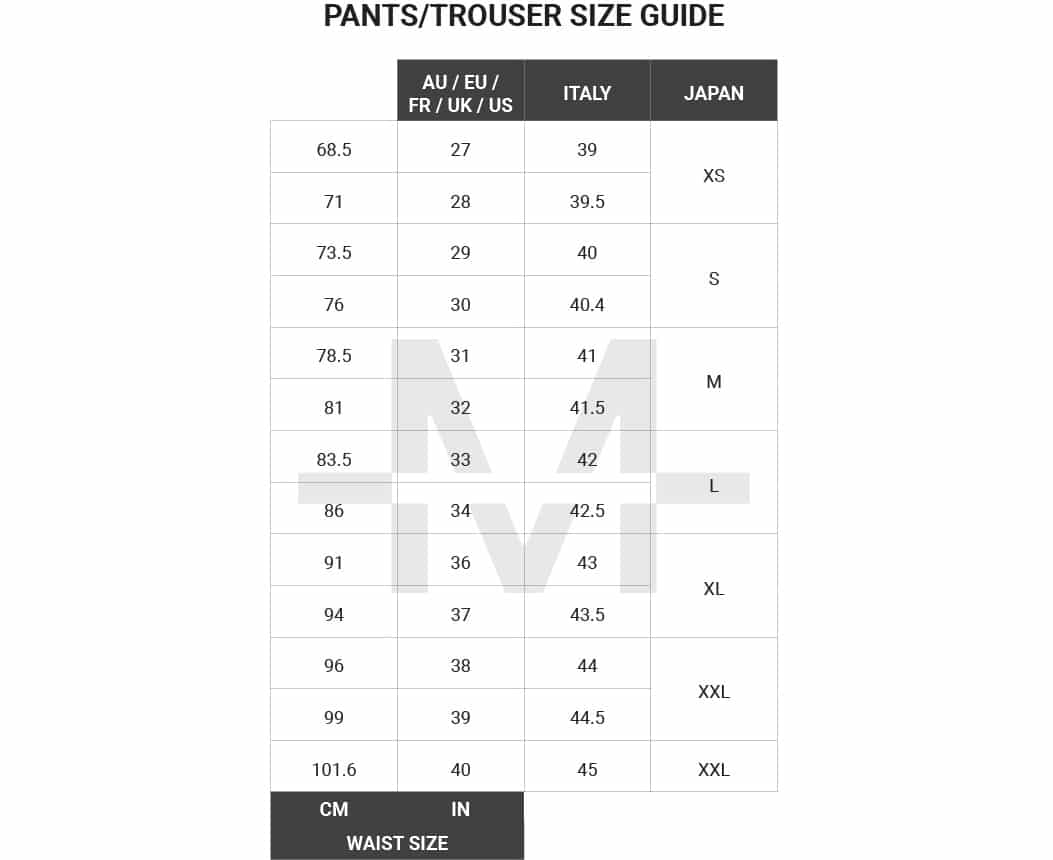 Australian Men's Pants & Trouser Size Conversion Chart
Trousers come into the equation with a similar system to US and British measurements (done in Inches). Italian trouser measurement differs slightly to other national standards. Sizes increase in half size increments, for example, the difference between an Australian trouser size would be 30, 31 and 32. Italian measuring would have the trousers sized as 40, 40.5, 41 respectively.
It's a bit of a different system and one that requires a bit of attention to detail. That being said when you are purchasing a suit, shirt or fine pair of trousers it is important to look for the small details that accentuate and improve your sartorial stature.