Christmas Gift Ideas for Him on All Budgets with Marks & Spencer
In partnership with Marks & Spencer
By now, everybody knows that doyens of English style, suave and practicality Marks & Spencer deliver deliver to Australia and US in a most swift fashion, and if it's news to you then you're welcome. Since 1884, Marks & Spencer have been the one-stop-shop for the London gentleman (and lady), supplying everything from daily clothing essentials (ahem, unmentionables) to the fashions worn on High Street reflecting the stylistic zeitgeist of every current trend since they opened their grand doors all those many years ago. With Christmas fast approaching, Man of Many have put together the definitive gift guide to help you navigate your way through the vast halls of wonderment that are the Marks and Spencer range to help you pick out some gems for your Christmas shopping that you wouldn't otherwise find on Aussie soil.
Australian Dicount Code
Spend $150 and GET 20% off your order with the code SPENDANDSAVEAU. Enter code at checkout. Promotion is valid to 10 December 23:59 AEDT on www.marksandspencerlondon.com/au only
American Discount Code
Spend $125 and SAVE 20% with code SPENDANDSAVEUSA
Gifts Under $50

1. Leather Hip Flask
One for the cheeky drinker in your life. If you're going to sneak the occasional sip of port this Christmas, do it in style with this leather hip flask. Available in navy or tan, it's a winner no matter what you put in it.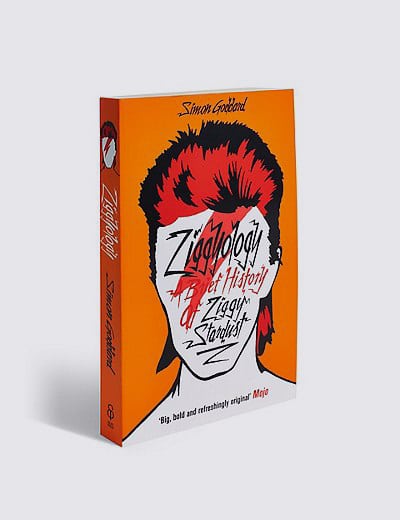 2. Ziggyology
Probably the best time ever to buy a book about how the Starman came to be. He enriched our lives in more ways than one, so give the gift of Bowie; this Christmas especially.
Price: from US$18.95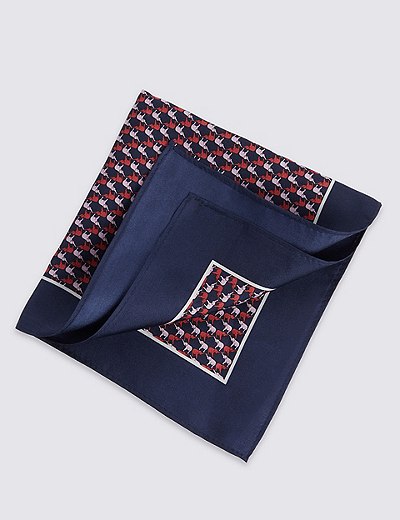 3. Elephant Pocket Square
Everybody know's that one guy who loves African animals but also likes to dress it up a bit, which is why M&S have made this pocket square with red and gold Elephants. It says 'I came for the GnT's, but I'm staying for the safari'.
Features: 100% silk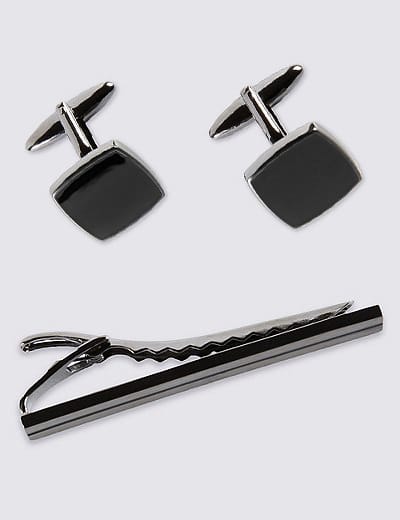 4. Gunmetal Tie Clip and Cufflink Set
Simplicity is the look du jour at the moment, and this cufflink and tie bar set nails it in one, without looking boring. Elegant and succinct, get it for your corporate mate who doesn't want to look like he's trying too hard at after work beers.

5. Stay Soft Joggers
If you're sick of your mate turning up to social events in active wear, then give them some joggers that look as good at the pub as they do on the track. Please. For all our sakes.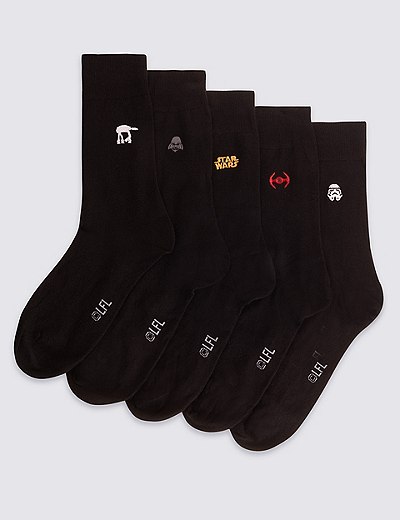 6. Star Wars Socks
Got a mate who loves Star Wars AND warm feet? You've hit the jackpot. Give them this set to ensure the force is with them from Monday to Friday, no matter what galaxy they're in.
Features: 79% cotton, 20% polyamide and 1% elastane
Luxury Christmas Gifts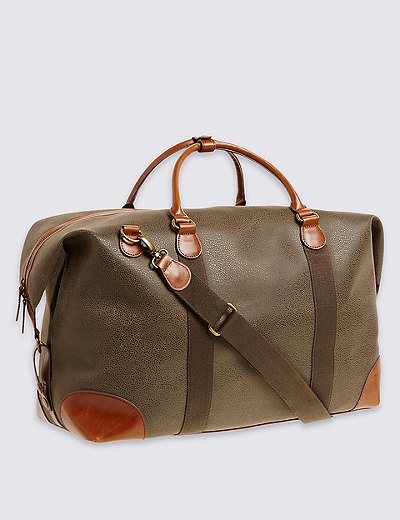 7. Flocked Holdall Bag
Laptop to the office, night at the girlfriend's, day at uni, cheeky interstate bender; a holdall bag is the answer to a man's schlepping woes. This one in sexy olive matches any outfit and does it all.
Features: vegan; zip fastening, Lined, Metal feet, Internal pockets, Two way zip opening, Separate shoulder strap; height: 39 cm, width: 23 cm, length: 49 cm; 100% pvc, lining 100% polyester, Trimming 100% polyurethane, Base 100% polyurethane, Flock 94% viscose, 6% cotton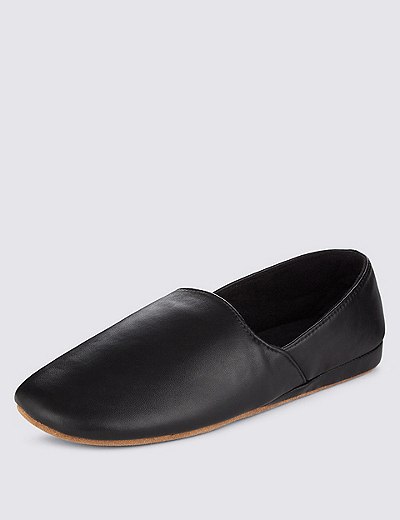 8. Leather Full Cut Slippers
Whoever said that slippers are daggy has obviously never seen these. Perfect around the tiled floors at home, and they'll be able to pop to the café for a piccolo without the fear of judging eyes.
Features: upper and outsole – leather, lining and sock – textile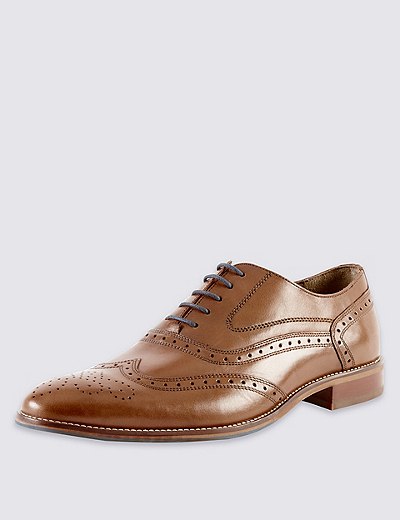 9. Brogues
What started as a casual walking shoe and turned into the footwear a la mode of every guy with half an eye for detail, brogues are the new black. Or tan. Or burgundy. Or brown. Seriously, these go with almost any outfit.
Features: Airflex™, responsibly sourced leather; upper material – leather, lining and sock – leather and textile
Price: from US$84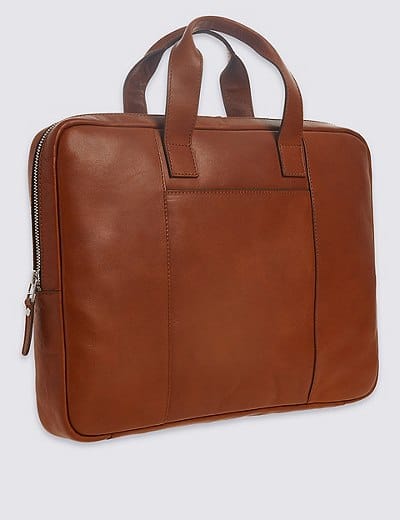 10. Derby Laptop Bag
One thing most of us get wrong is making our technology look less than sophisticated. Be it a Kim Kardashian phone case or a computer cover made from wetsuit fabric, M&S are here to nip it in the bud. This laptop bag is as practical as it is stylish, and screams simple sophistication.
Features: lined with a zip fastening; height 29 cm, width 6.5 cm, length 38 cm; 95% polyurethane, 5% polyester, Body lining – 100% polyester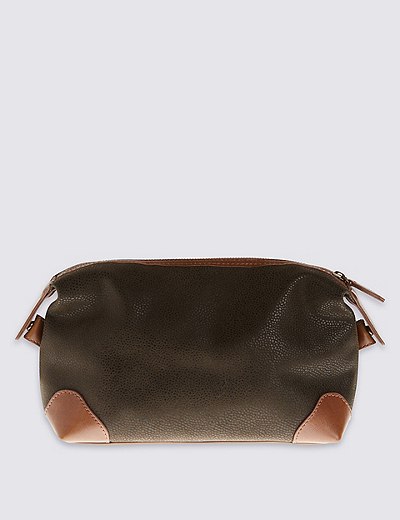 11. Flocked Washbag
Every man needs a toiletry kit, and if you think that a plastic bag with a toothbrush in it counts in 2016, you're sadly mistaken. Lightweight, understated and masculine, M&S have got you or your mate's toiletry woes covered this Christmas.

12. Navy Textured Modern Tailored Suit
M&S know tailoring, so you can sleep easy knowing that it'll look as fresh as the day it left the store for years to come. If you want to go 'all the way', the jacket, trousers and waistcoat are all also available for a more formal look.
Features: 54% wool, 44% polyester and 2% elastane lycra, lining – 100% polyester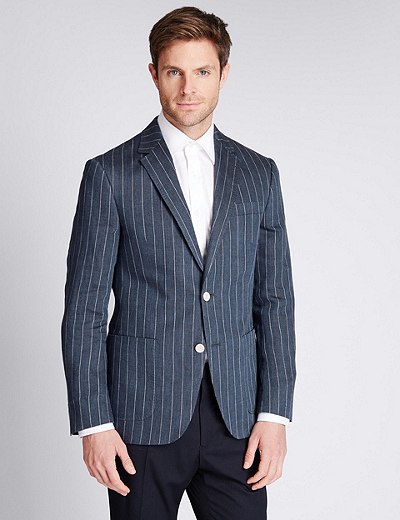 13. Boating Jacket
Barge pole? Check. Pimms? Check. Cucumber sandwiches? Check. If you haven't already reached for your linen pinstripes by now then lucky M&S are here. Classic English style ready for any casual afternoon occasion on the lawn, especially at a time that calls for holiday dress. Stiff upper lip, Gov'nor.