Days of Future Past – TAG Heuer Connected Modular 45
We've come a long way, baby. After all, it was just over a decade ago that smartphones became ubiquitous. Nowadays we're looking at smart-homes, smart-cars and, naturally, smartwatches. Yet as innovation surges ahead at breakneck speed, there's emerging a palpable desire to cling to a tangible aesthetic when it comes to our beloved gadgets and gear. In other words, we still crave the artisanal touch, looking for products that don't sever the past as much as they reconcile it with a briskly encroaching future. Enter the TAG Heuer Connected Modular 45. The second-generation smartwatch is an indisputable stunner designed for watch lovers and tech enthusiasts alike.
Legendary watch brand TAG Heuer has been in the game forever. That makes them the ideal company to represent the best of both worlds. Accordingly, the Connected Modular 45 weaves together DNA from two frequently disparate arenas. That is to say the smartwatch employs the latest from Intel and Google Android, but it was physically designed, developed and assembled at TAG Heuer's own factory in La-Chaux-de-Fonds, a locale synonymous with literally centuries of premium Swiss watchmaking. The luxury timepiece is thereby sturdy, water resistant, beautiful, intelligent and customisable beyond your wildest dreams. It's also a prime representation of where we are as consumers at this very moment, in search of gadgets that boldly move forward but don't forget where they came from.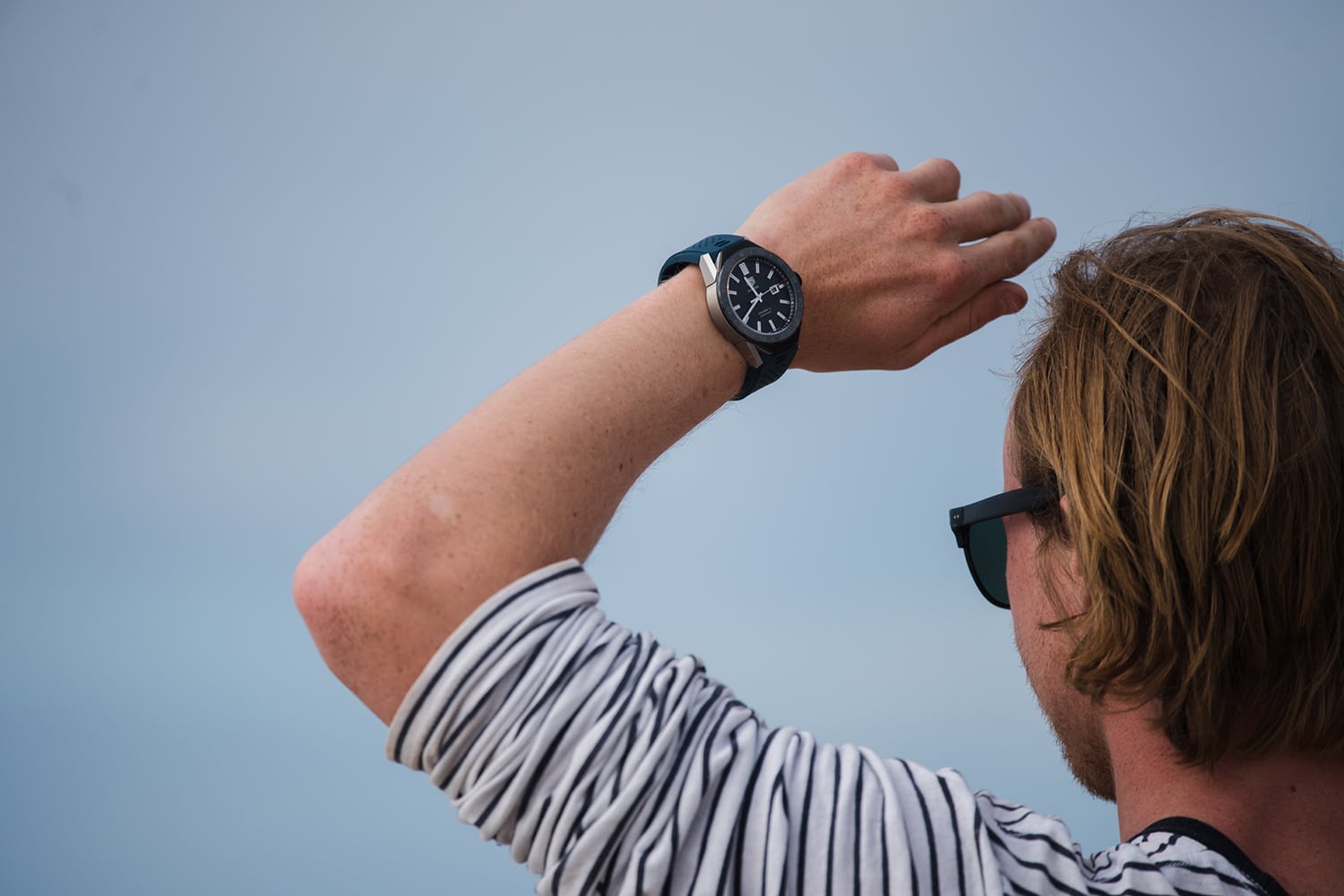 Modelled after the wildly popular TAG Heuer Carrera, the Modular 45 flaunts immediate visual appeal. However, as classic in design TAG Heuer's latest may be, it's certainly a product of our times if not the times ahead. Consider the customisation factor alone. The watch is available in no less than 56 variations, or 11 core models plus 45 additional versions that can be provided upon request. Virtually every outward aspect is up for grabs and that means the case finish to the strap to the lugs and buckles to the actual module itself.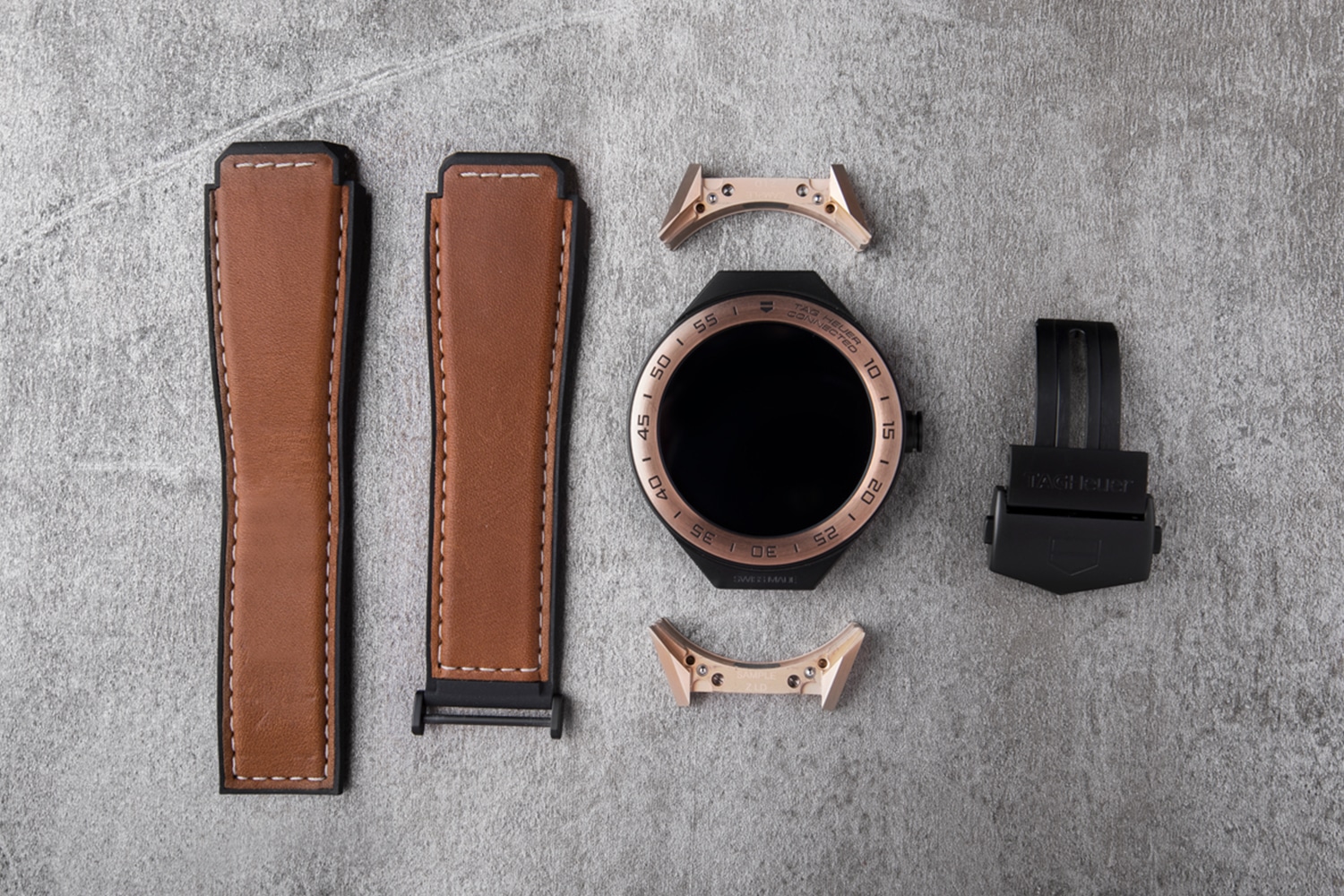 Even with the timepiece secured around your wrist the customisation factor still looms large. You can select from among a slew of dial displays on the sharp OLED touchscreen. Presuming you're savvy enough, conjure up a colour scheme that blends with the outfit you're wearing or the environment around you, or change the read-outs depending on what function you need the watch to serve. It's all just a few swipes or adjustments away. As if that wasn't enough, the Modular 45 includes a built-in design studio, allowing for even more aesthetic possibilities. And if all that wasn't enough, there's the option to switch out the smart module for a Calibre 5 mechanical watch module (more on that in a moment).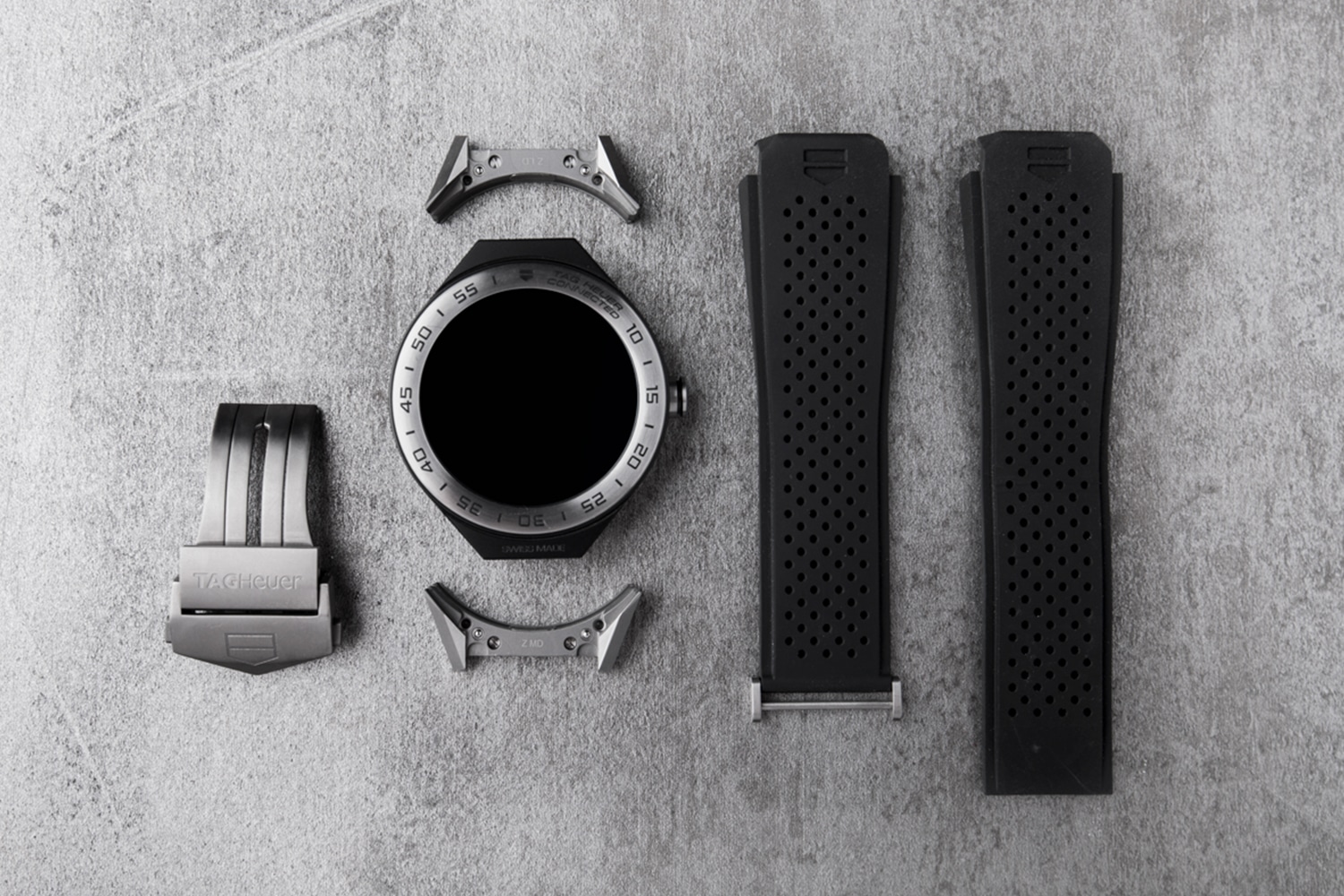 Purely as a smartwatch, the TAG Heuer Connected Modular 45 is everything a modern user wants it to be. Distinguishing it from its predecessor is the ability to use intelligent features independently from your smartphone. For computations and communications, you just need a Wi-Fi connection and access to the Cloud. Meanwhile, GPS is already installed, as is an NFC chip for Android Pay transactions. There are also plenty of apps built into the watch that don't need a smartphone or Wi-Fi connection. Pair that with 4GB of storage, a voice command response system and a battery that lasts all day and the Modular 45 exudes all the modern functionality you've come to expect from a superior smartwatch.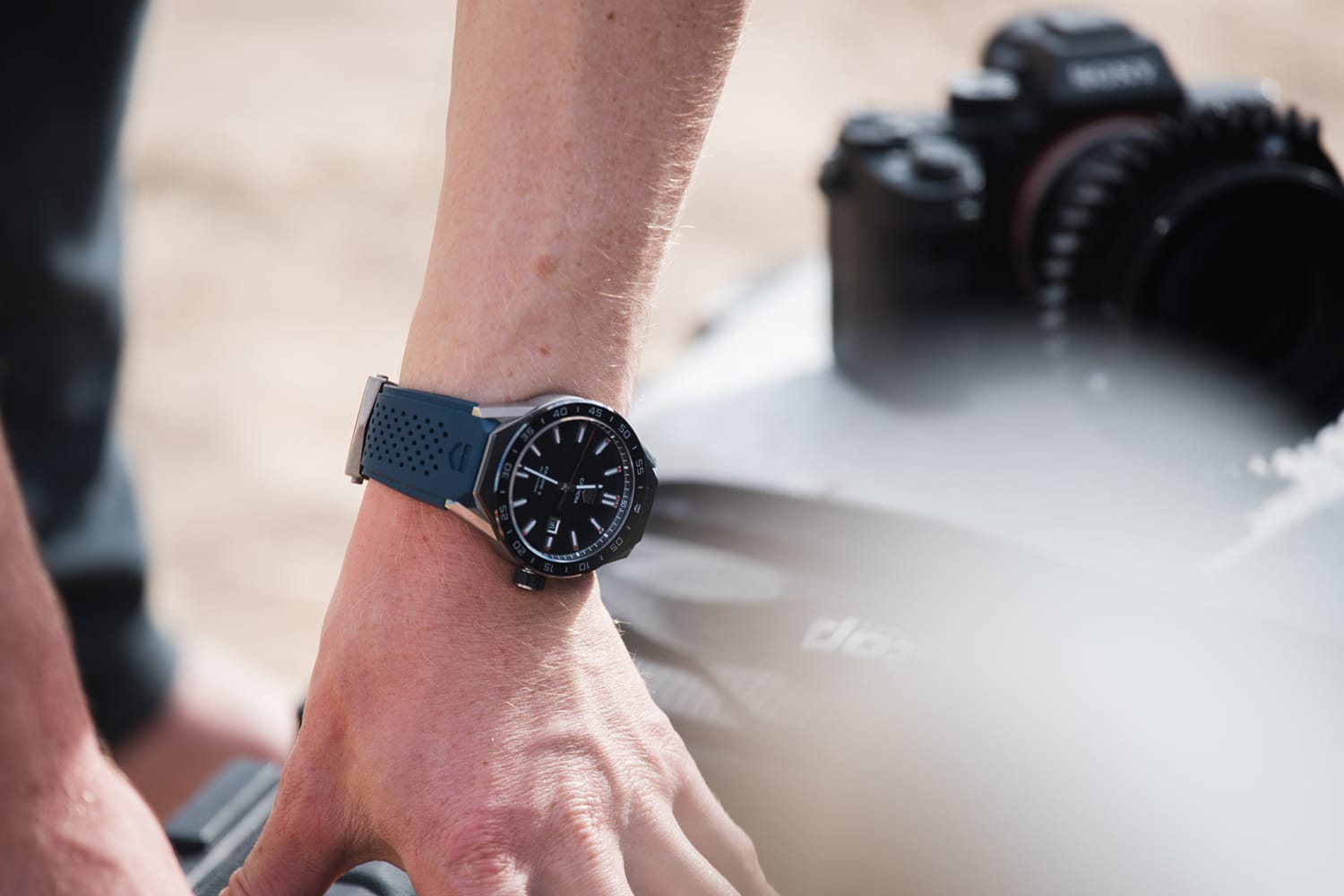 However, for all its intelligent charms, the TAG Heuer Connect Modular 45 uses its customisable platform to honour the age-less beauty and brilliance of a superb Calibre 5 mechanical watch module. More specifically, users can pop out their digital watch and put a Calibre 5 automatic or Calibe Heuer-02T tourbillon in its place. With this move alone, TAG Heuer's latest delivers a product built to outlast any smartwatch trend by sticking with a trend that simply never went out of style–that of traditional, classic horology. It's perhaps an instant acknowledgement of how true artisanship might stay its course while so many current technological designs seem fleeting by comparison.
As TAG Heuer CEO Jean-Claude Biver told GQ: "The problem of a connected watch is it becomes obsolete. And when it is obsolete, as with my phone, I have to throw it away…Big Ben is 150 years old and, damn, it still works! There is no car, there is no phone that can work after 150 years. The modular watch enables you to have tradition and the future. And if you are fed up with the future because the future becomes obsolete, you have your tradition."
Indeed, the future has arrived. Both information and control is usually just a voice command away. A ton of gadgets once bogged down by cords are going wireless. Our accessories are taking on the storage capacity of a small computer. Yet with each new stride there seems to be a sacrifice to aesthetic elegance and timeless craft. Meanwhile, the simultaneous demand for customisation, connectivity and convenience remains as strong as it's ever been. Instead of choosing sides, TAG Heuerdecided to bridge the gap, wrapping the future and past together in one exceptional package. As a result, the Connected Modular 45 is a smartwatch for tech heads and watch lovers alike.
In collaboration with TAG Heuer