Drake Just Dropped $600k on Two Diamond-Encrusted Tupac Necklaces
Looking as insane as the theories behind Tupac Shakur supposedly still being alive, Drake's tribute chain duo to the late, great Thug Life toating rapper, is reportedly worth a whopping US$600,000.
Featuring shoutouts to both the notorious Bloods and Crips, with red and blue bandannas on either necklace, the bespoke pieces were created for Drake by contemporary jeweller Jason of Beverly Hills. Video of the chains shared to his Instagram page praise and thank the recording artist for trusting him with this project. "Unbelievable honour to help pay homage to the legend, Tupac Shakur." In response, Drake shared his video story of the custom pieces, writing proudly alongside, "always wanted twin Jesus pieces thank you @jasonofbeverlyhills".
You'll also like:
How to Get Drake's Haircut
What is Drake's Net Worth?
Take a Peek Inside Drake's 50,000 Square-Foot Toronto Mansion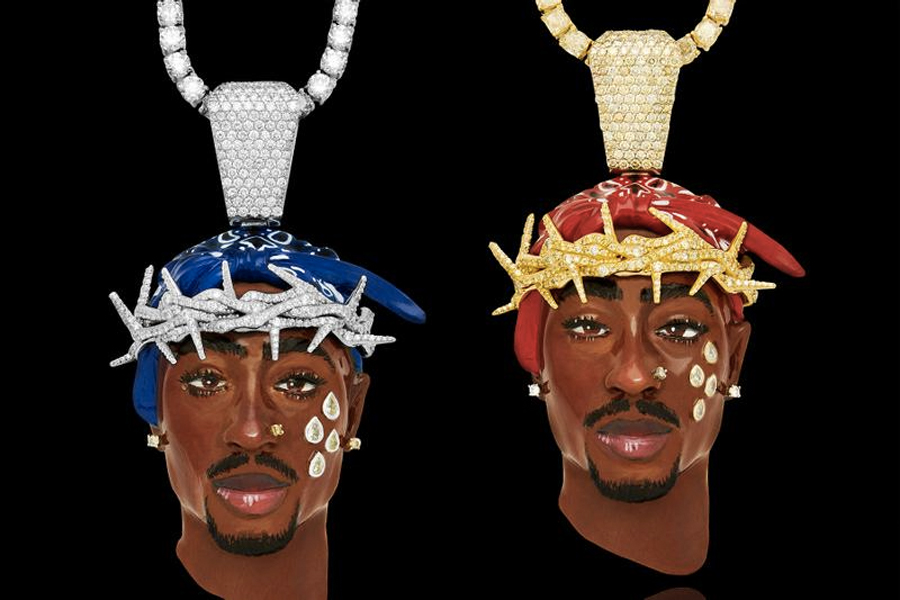 Taking a total of five weeks to complete (150 working hours), each pendant is matched with a 70-carat diamond chain and half a kilo of gold. The blue version sports white gold and diamonds, with the red edition using natural yellow diamonds and yellow gold. To complete the Jesus theme, the included thorns are iced out, just like the nose ring, tears, and earrings.
While some might question what a 90s hip-hop artist, with major hits like Wanted Dead or Alive and Ride or Die, has to do with Jesus. Fans will be quick to remind them what Thug Life really stands for. Commonly misinterpreted to mean "criminal life," the phrase stands for 'The Hate U Give Little Infants Fucks Everyone'. A warning to those that if we bring up children in a negative environment, then the vicious cycle will continue its negativity. Kinda like "love thy neighbour".
"When I say 'thug' I mean, not criminal or someone that will beat you over the head, I mean the underdog. I mean someone who goes out there and succeeds who has overcome all obstacles."
Jason From Beverly Hills is no more a stranger to rap icons as he is a stranger to insane jewellery pieces. His work includes everything from a Jurassic Park inspired diamond-encrusted Gold T-Rex, to the very first interchangeable NBA championship ring. In January he also commissioned a piece of the late rapper ASAP Yams, who passed away on 18 January 2015.
He's also done necklaces for Radio Killa Records and works regularly with ASAP Rocky, who Jason describes as a celebrity that values the feelings of others.
This latest design comes just months after the sale of Tupac's black BMW 750Li – the car he was fatally shot inside, way back in '96 – for US$1.75 million, it's clear the love for the West Coast icon hasn't changed since 2Pacalypse Now released in 1991.
You'll also like:
How to Get Drake's Haircut
What is Drake's Net Worth?
Take a Peek Inside Drake's 50,000 Square-Foot Toronto Mansion