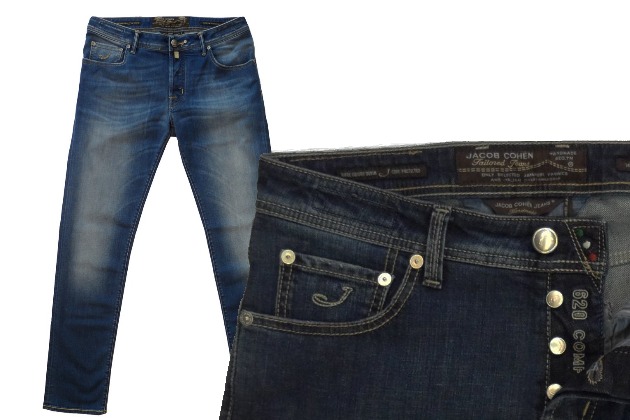 Denim is something that most high end fashion designers leave to the pros. Some use it in their collections, but the real denim designing is done by those who live and breathe denim. The great houses of denim, Levi Strauss, Gap, Miss Sixty and those who predominantly deal in denim are the ones that you look to for trends in denim. Jacob Cohen Jeans is a house of design that centres its collection on stylish denim quality.
Jacob Cohen is an Italian brand that specialise in tailored jeans. Their jeans are designed to be suitable for every occasion. The designer uses Japanese kurabo to make his jeans with, a type of denim widely considered to be the finest quality a man can buy.
Spring/Summer 2013 Men's Collection
Jacob Cohen's spring and summer collection is light, colourful and beautifully cut. Jeans are the epitome of relaxed cool and there is no way of making denim as smart as dress trousers, but somehow Jacob Cohen blurs the line. There are no slouchy crotch flaunting jeans to be seen, and while there are a couple of pairs of lighter denim with distressed detailing, it keeps the look smart with a turn up that exposes the ankle. This is a theme that continues throughout the collection, showing socks with brogues and ankles with loafers.  Bright orange trousers are the standout piece of the collection, paired with a light denim shirt. A great way to inject some colour and life into your wardrobe for spring, wearing Brights means that you can get away with wearing a colour that might nor match your colouring. The shorts in the collection end just above the knee and vary from dark denim to cotton check, pair with a t-shirt and a light blazer for a summer but smart look.
The collection features other garments in their collection to complement the denim, including leather bomber jackets and cotton and denim shirts.
Denim might not be on the mind of most designers, but almost everyone wears jeans at some point in their lives. Jacob Cohen Jeans are for the smart young man, looking to cut a sharp, but relaxed figure. Even if you're not a jeans type of guy, there will be something for you among this collection too.
Guest Post Bio: Charles Hammerman is a freelance fashion writer based in the UK, who has a passion for writing about designer clothing and men's style.