Four Essential Summer Suits to Get You Through Every Occasion
When summer rolls around at the end of each Australian year, she brings with her a raft of events, special occasions, reasons to celebrate and celebrations with no reason other than it's sunny and champagne is delicious. While shorts are the norm whenever possible down under once the mercury peaks, there are some occasions which call for big-boy trousers and a shirt that has buttons, which is why we've teamed up with suiting specialists Van Heusen to coordinate four looks that'll help you get through summer's inevitable revelry.
Whether you're sipping champagne on the deck of your rich mate's yacht, gin and tonics at your sister's garden party, Heinekens on the town or cocktails before the theatre (not to mention the countless other occasions these suits would look terrific), we've literally got you covered.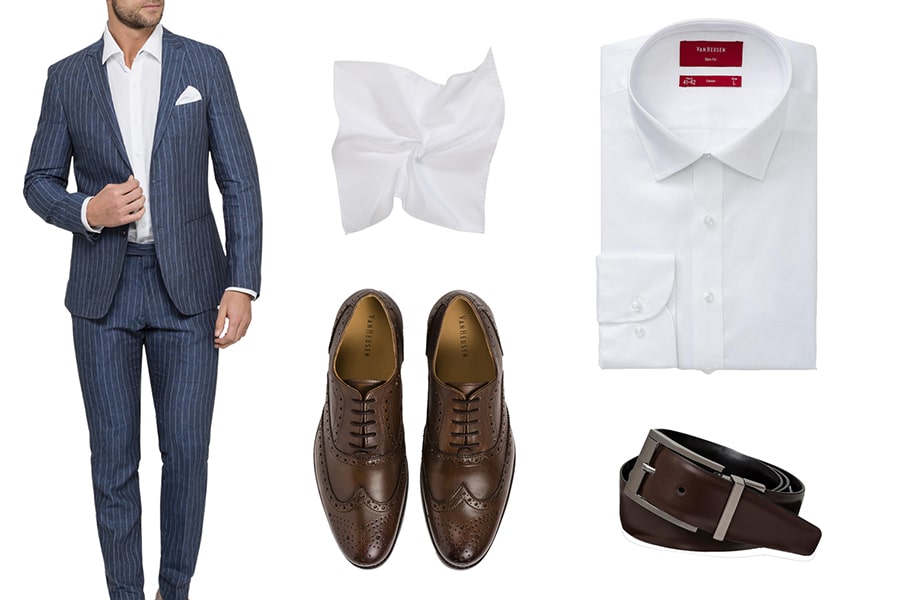 Day on the boat
Stepping onto the pristine teak deck of a luxury yacht isn't the same as going crabbing in Mooloolaba in your best mat Robbo's dingy, and as such, your ruggers won't cut it. Linen is a perfect suiting material for summer as it's natural, and it breathes, meaning you can look the goods all day long without sweating in the summer sun reflecting off the harbour.
Pinstripes are a bold and sharp aesthetic, offset nicely with a casual plain white shirt and understated shoes, plus a plain pocket square to add a touch of class.
Black Label Pinstripe Linen Jacket
Black Label Pinstripe Linen Trousers
Slim fit White Dobby Shirt
Oxford Brogues – Dark Chocolate
Brown Smooth Texture Belt Buckle
White Pocket Square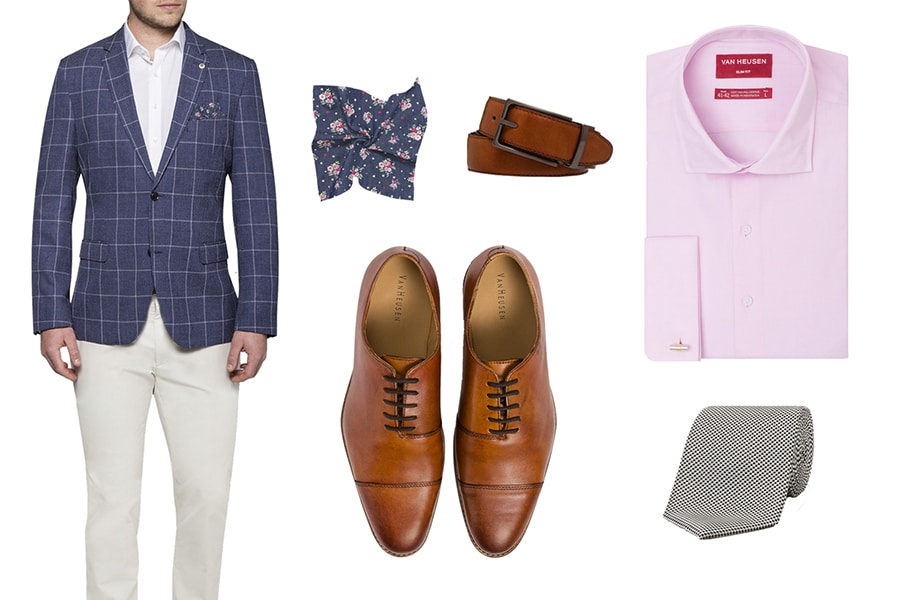 Garden party
Engagements, baby showers, birthdays, you name it: the humble garden party comes in many forms, but all of which call for a little flair and sophistication, whatever you might be celebrating. Mixing up a blazer with some simple light coloured chinos is a great place to start, but, being outdoors and in the sun, why not experiment with a splash of colour and come contrast for maximum effect?
Matching tan shoes and a belt will tie together the pink shirt and pocket square, and tonally muted cross-stitching on the tie will help contrast it with the window check blazer. The only accessory missing from this summer outfit is a Hendrick's and tonic.
Navy Window Check Casual Blazer
Tailored Fit Light Chinos
Slim Fit Pink Herringbone Shirt
Plain Oxfords – Tan
Tan Smooth Gunmetal Buckle Belt
Classic Grey Cross Stitch Tie
Floral Pocket Square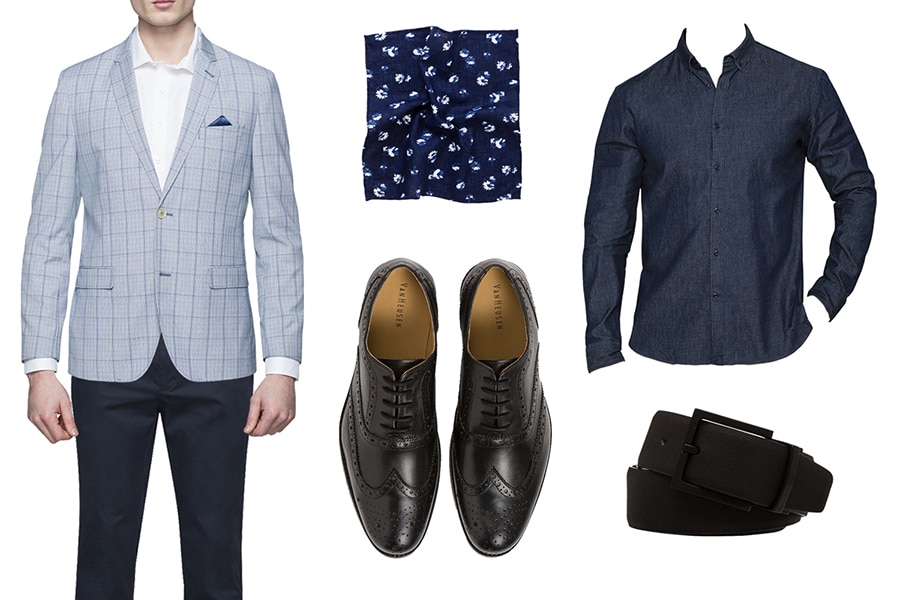 Night on the town
Janis Joplin might have counted on the lord to buy her one, but we all know good and well that you need more than tie-dye and patchouli to get in anywhere these days. As much as summer is all about long afternoons in the sun, those afternoons very easily extend to long evenings on the town, and having the right outfit to match the twilight revelry is imperative.
Darker colours with a casual, open collar are brought together with a pale blazer to draw the eye, and an indigo pocket square to help mute the brighter tones of the jacket.
Sky Blue Window Check Casual Jacket
Dark Casual Chinos
Athletic Fit Casual Denim Shirt
Oxford Brogues – Black
Black Rough Texture Etched Buckle Belt
Indigo Flowers Pocket Square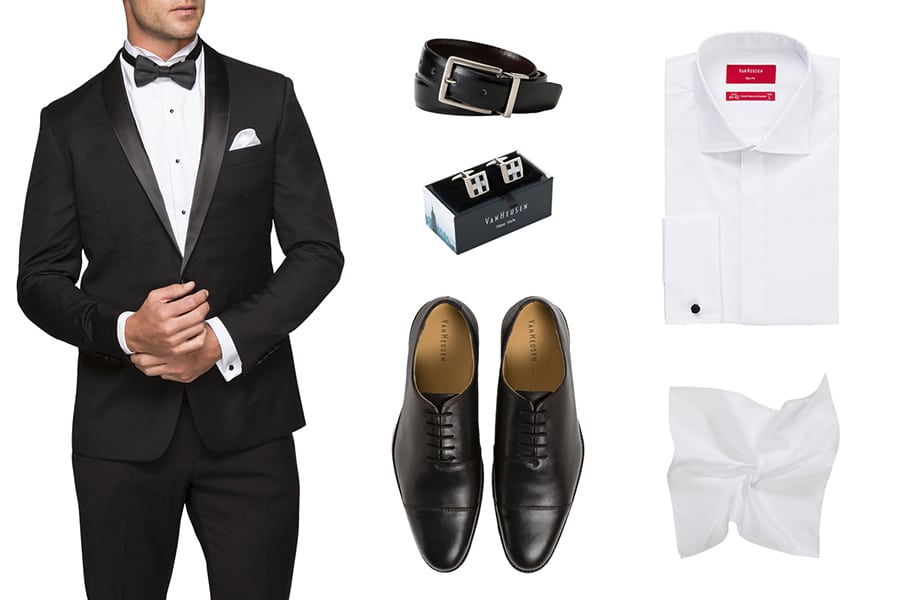 Dinner and a show
You might be loath to donning a penguin suit during the hotter months, but a balmy evening is as good an excuse as any to put on your glad rags and treat yourself to fancy food and some live entertainment. While a tuxedo is as classic as an ABBA song, making sure it's accessorised properly is key.
Keeping it simple with black and white, fit over flair is essential. French cuffs and simple, plain shoes add a touch of elegance, and once you've got it all together, it'll always be there for your next black tie outing.
Tailored Fit Tuxedo Jacket
Tailored Fit Tuxedo Pants
Slim Fit Dinner Shirt
Plain Oxfords – Black
Black Curved Buckle Belt
Black Bow Tie
Mother of Pearl Cufflinks
Plain White Pocket Square
Have you subscribed to Vario's Empire Automatic Watches are Selling Fast? You can also follow us on Facebook, Twitter, and Instagram.